Project adds affordable housing in C-Falls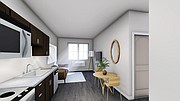 Columbia Falls City Manager Susan Nicosia is happy the city has an experienced partner helping to boost rental opportunities.
The Highline Apartments complex now under construction is a project of Greenway Capital, which has a history of successful and well-managed projects in the Midwest, she said.
"They understand how you do an apartment complex," she said of the development group based in Springfield, Missouri. "They will own and manage the apartments and have an on-site property manager."
Brent Brown, a partner in Greenway Capital and co-owner of the Highline Apartments, became interested in creating an affordable housing project in the Flathead Valley after he purchased a home in Whitefish. His company considered building in Columbia Falls, Whitefish and Kalispell, and chose Columbia Falls after locating the 14-acre site with a scenic mountain backdrop and finding a flexible partner in the city.
The new apartments are at the end of Bill's Lane, on the east side of the city. Nicosia said a planned-unit development for apartments had been granted for the property in the early 2000s, but the project stalled in the recession.
The first phase of Highline Apartments construction, which began in November 2018, will offer 72 units in two three-story buildings, with a mix of studio, one-bedroom and two-bedroom units. The builder is Compass Construction of Whitefish.
The final buildout is planned to offer 207 units in six buildings. The complex will feature a "considerable amount" of green space, Brown said. As the property develops, recreational amenities will take shape, including walking paths, sports courts, a clubhouse and Frisbee golf course. Covered parking and extra storage are also planned.
Brown said representatives from the city of Columbia Falls, though flexible, voiced some firm expectations before approving the project.
"The city was very involved in shaping this planned-unit development," Brown said. "They had some requirements for the look of the building. The architecture is kind of a rustic-revisited look. When you look at the new credit union and the hotel and conference center, we wanted to match that look with a modern lodge-y feel. It will look different than what we have built in other places."
The Highline Apartments leases will be more flexible than is typical for his company's projects because of the seasonality of the market, Brown said. He said there has already been "tremendous response" to the apartments, which will rent for $675 a month for studios, $850 for one bedroom and $995 for two-bedroom units.
The apartments, though affordable, are not "low-income," but quality units at reasonable prices, Brown said. The kitchens will have granite countertops and stainless steel appliances and the units will feature large closets.
Nicosia appreciates Greenway Capital's educated approach to the process.
"When they first started evaluating, they looked at whether they should also do some commercial area, but they really did believe that in this area, what we really needed was housing and not more retail space," she said. "They did their homework, which they have done many times before and they do it well."
Having dedicated rentals is important, Nicosia said, so the apartments will not turn into short-term housing for tourists.
"Through the process of public hearings, the only concern expressed was whether they would become vacation rentals," she said.
Columbia Falls wanted a commitment to the community, Brown said.
"We are going to continue to be there," Brown said. "We'll park there and run it like a business, as we do in every market. We're not just developers who come in, build and move on."
Applications are now being taken for the Highline Apartments. For more information, visit rentthehighline.com or email info@rentthehighline.com
Business reporter Heidi Gaiser may be reached at 758-4438 or hgaiser@dailyinterlake.com.
Recent Headlines
---