Kalispell artist transforms metal into works of art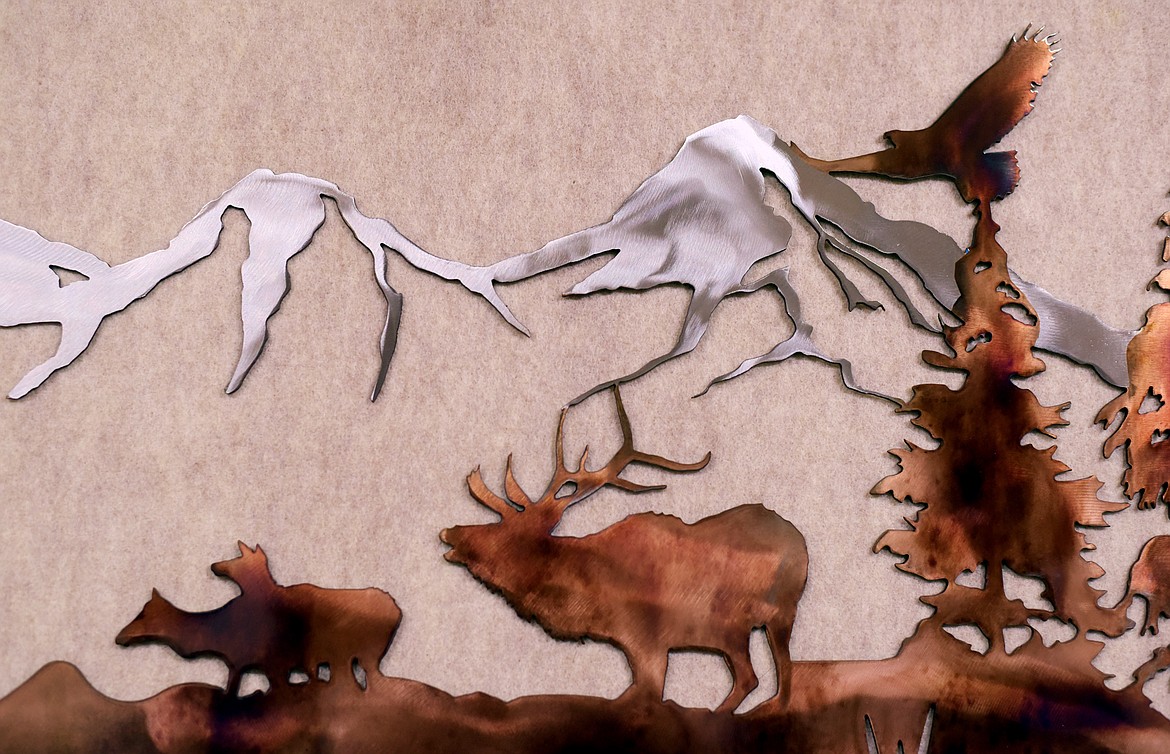 Metal art by Donna Freebury. Freebury is one of the artists who will have work on display at the Christmas at the Fairgrounds event this weekend. The event begins on Friday, Nov. 29 and goes until Sunday, Dec. 1. Hours are 10 a.m. to 6 p.m. Friday and Saturday and 10 a.m. to 5 p.m. Sunday. (Brenda Ahearn/Daily Inter Lake)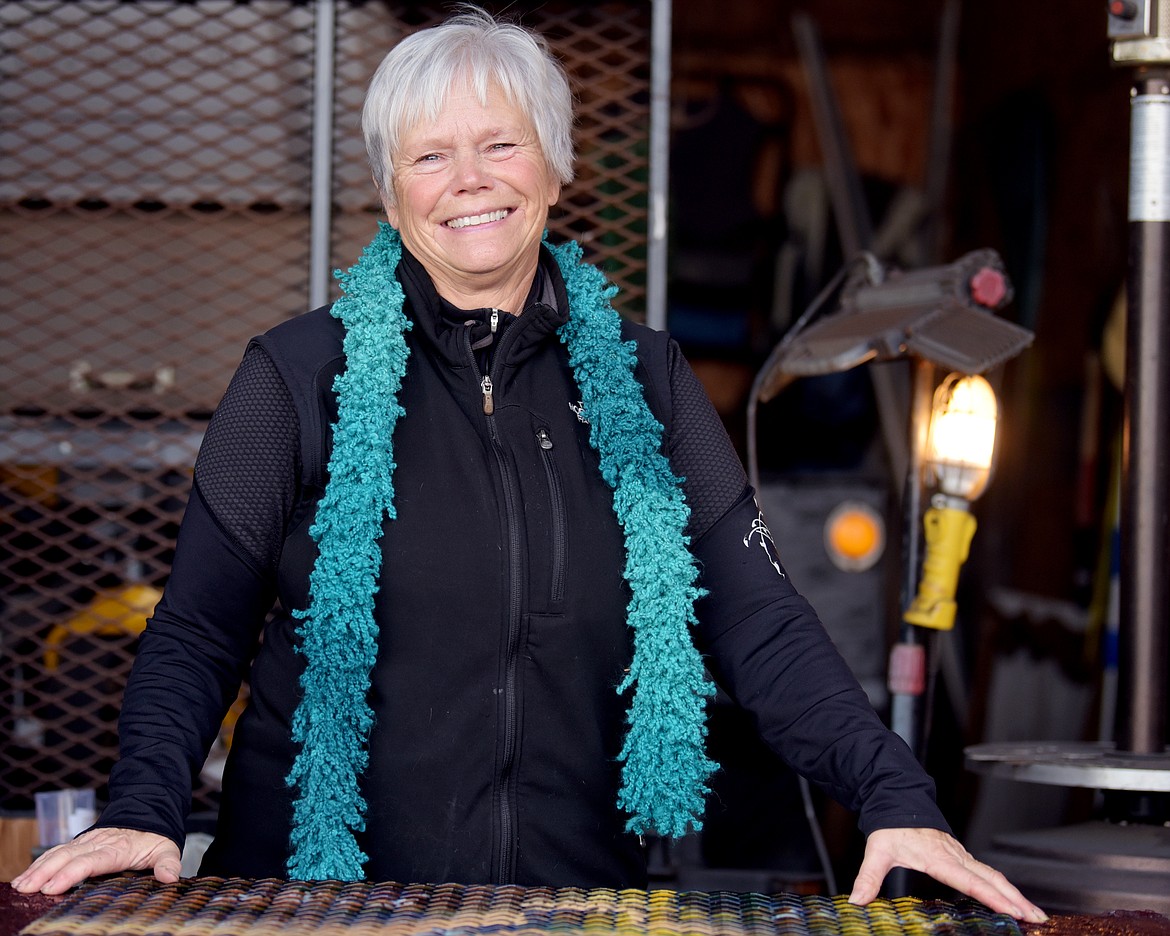 Donna Freebury is a self-taught metal artist (Brenda Ahearn/Daily Inter Lake)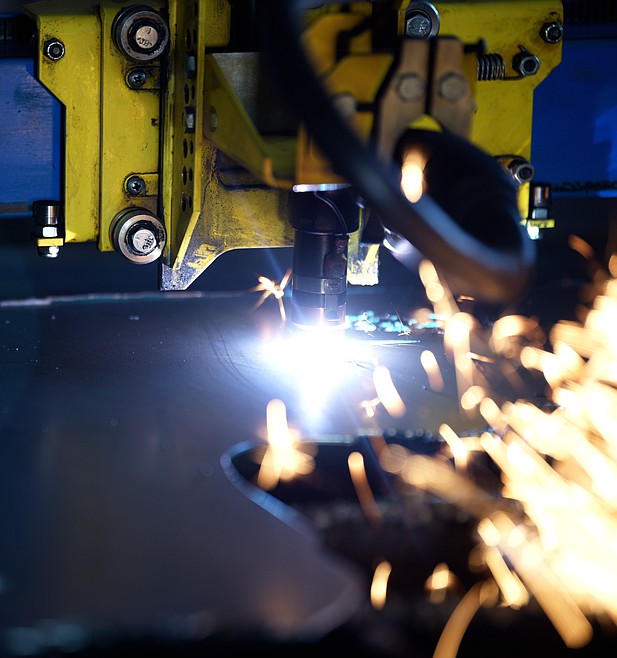 Metal plates spark as a sea turtle design is cut out at the studio of Donna Freebury on Tuesday, Nov. 26. (Brenda Ahearn/Daily Inter Lake)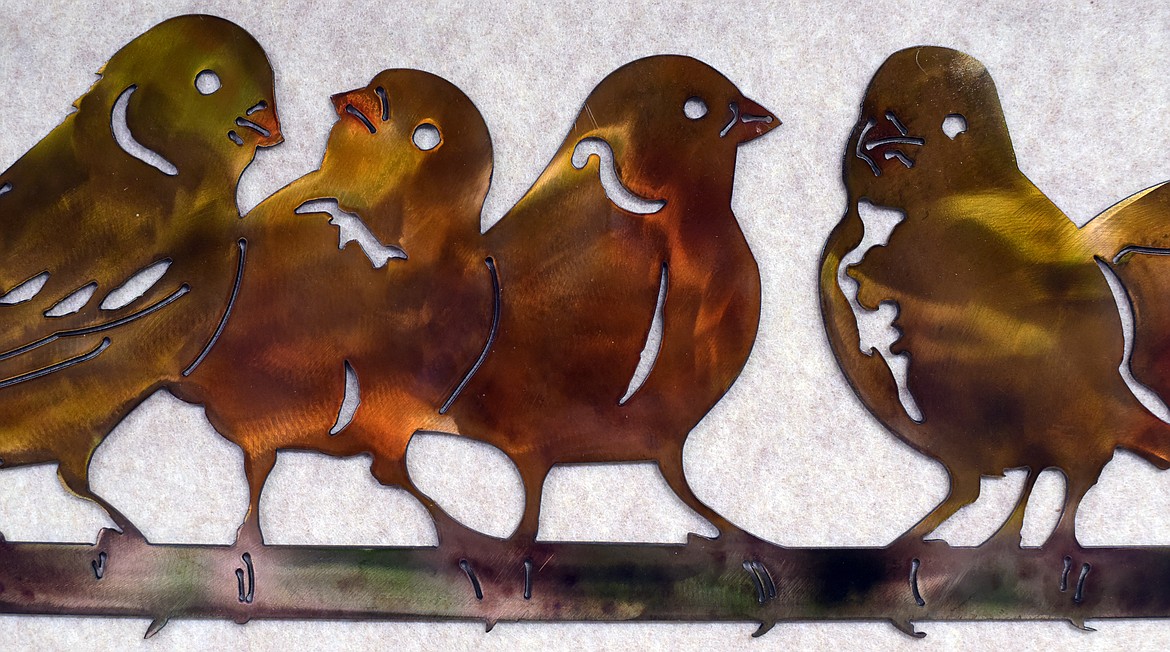 Metal art by Donna Freebury. Freebury is one of the artists who will have work on display at the Christmas at the Fairgrounds event this weekend. The event begins on Friday, November 29 and goes until Sunday, December 1. The show which features handmade crafts will run Friday and Saturday from 10-6 and Sunday from 10-5.(Brenda Ahearn/Daily Inter Lake)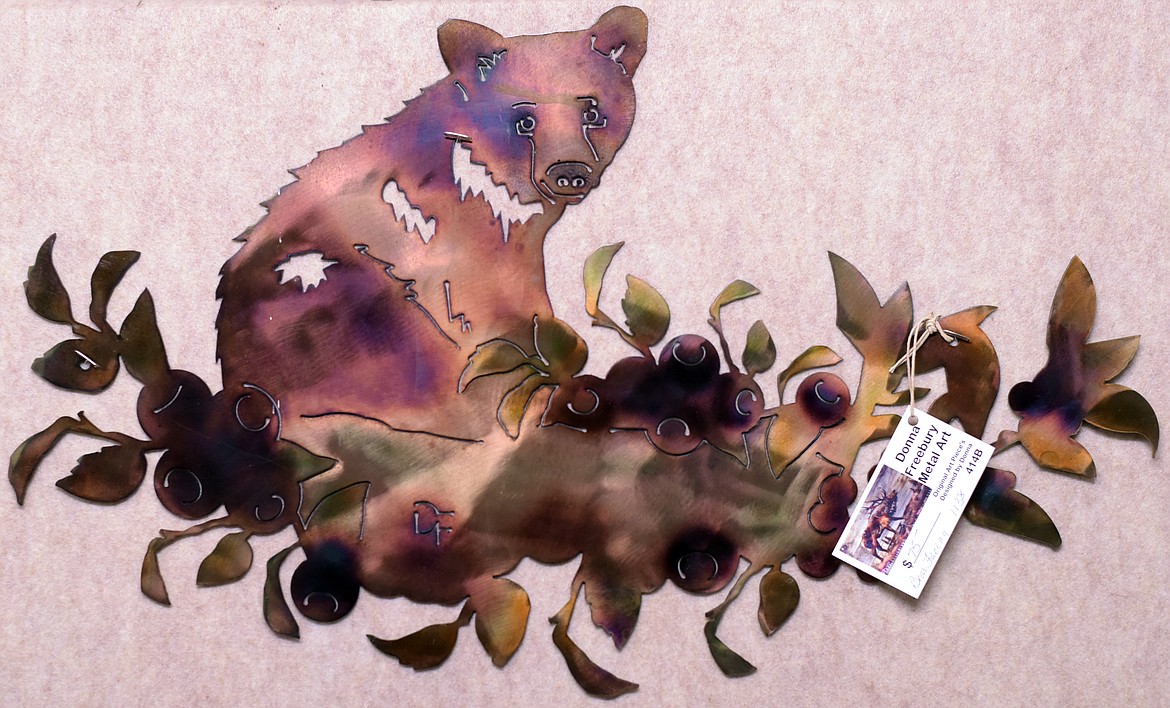 Metal art by Donna Freebury. Freebury is one of the artists who will have work on display at the Christmas at the Fairgrounds Friday, Nov. 29 through Sunday, Dec. 1. (Brenda Ahearn/Daily Inter Lake)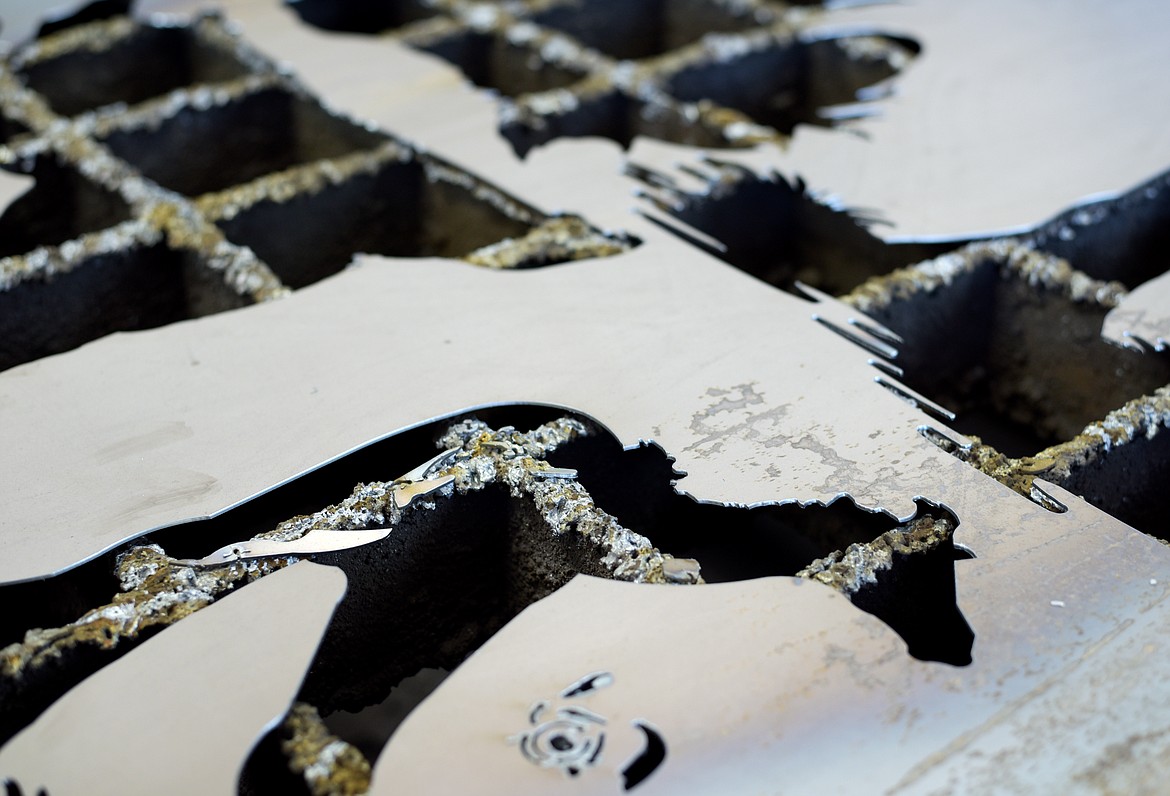 A metal plate with the first round of cutouts made in the studio of Donna Freebury on Tuesday, November 26.(Brenda Ahearn/Daily Inter Lake)
Previous
Next
by
Colin Gaiser Daily Inter Lake
|
November 29, 2019 4:00 AM
For five years, Donna Freebury's idyllic farm south of Kalispell has doubled as an art studio as she has pursued her passion for custom metal art.
But before she started, she did not even know how to use the equipment.
"I jumped in full force and didn't have a clue what I was doing. Had to teach myself everything," Freebury said. "But if I'm gonna do it, I'm gonna do it, I've been that way my whole life."
Now, her work spaces — right next to her family's donkey corral and hay barn — are packed with beautiful metal works of art.
She displays her finished pieces in a red shed made to look like a tiny barn. There is a variety of metal art pieces to admire — American flags, deer, bears in huckleberry patches, giraffes in African landscapes and ocean creatures.
For "two-and-a-half or three years now," Freebury has worked exclusively with her own designs, with the exception of the occasional commissioned piece.
"I kind of do the things I like," she said, and fortunately "people seem to like them all."
She could not definitively point out a best-selling series of artworks, but said it was probably her American flags. The flags are made to look delicate and torn along the fringes, and often feature inscriptions of the Pledge of Allegiance or other patriotic sayings.
The designs "start in my brain," Freebury said, before she translates them to a computer specific to the cutting machine – a large, cube-shaped piece of equipment called a PlasmaCAM. She learned on her own how to use the intimidating machine.
Freebury places a large sheet of 16-gauge steel on the surface of the PlasmaCAM, and in a loud show of heat and sparks it cuts the steel into the initial design.
But after the PlasaCAM does its job, Freebury is still a long way from the finished product. Her workspace, both indoor and outdoor, is an assembly line. The artwork goes from a bath of muriatic acid – which takes one to three days, depending on the weather — to a rinsing station to a place where she sands the metal to give it its shiny hue.
Metal dye and a "rainbow torch" (it's not "an actual torch with heat," Freebury said) give the art its color and texture. This summer, Freebury started working with alcohol ink for the first time. She can use the ink to hand-paint the bright, lively colors on her octopi, birds and turtles.
The creative element of metal art was never a problem for Freebury, as she used to paint watercolors and portraits.
"I had the composition and design and drawing ability already," she said. "It was a matter of figuring out how to put that in the computer so it could be cut into metal."
She acknowledged that while a lot of people "really struggle" with watercolors, for her "it kind of flowed."
Meanwhile, Freebury has operated a lawn-mowing business since 2005. She had previously been a dental assistant for many years, but "got tired of that," she said.
"I came home one day and told my husband, 'I'm going to buy a Walker lawnmower, a truck and trailer,'" Freebury said. She said her husband tells her "you're never one that just goes into anything slowly."
For a while she worked seven days a week on her mowing business. Now she splits time between her artwork and mowing.
And somehow, she still found time to build a koi pond right outside her home – five-and-a-half feet deep, featuring a waterfall and a walking path made with large, flat rocks she put in herself.
You can see Freebury's work at the Arts and Craftsmen of the Flathead show at Christmas at the Fairgrounds on Nov. 29-30 and Dec. 1.
Reporter Colin Gaiser may be reached at 758-4439 or cgaiser@dailyinterlake.com
Recent Headlines
---