Flathead child killer denied parole again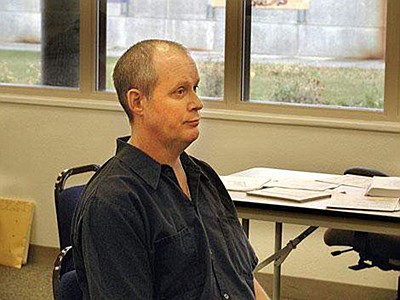 CONVICTED MURDERER Karl "Randy" Bachman at a previous parole hearing. Bachman's latest bid for freedom was denied Wednesday by the Montana State Board of Pardons and Parole. Bachman was convicted of the 1973 murders of two young girls in Marion. (File/Daily Inter Lake)
by
Scott Shindledecker Daily Inter Lake
|
October 10, 2019 12:28 PM
A sadistic killer will remain behind bars after the Montana State Board of Pardons and Parole denied his latest attempt at parole.
Karl "Randy" Bachman, 69, was convicted in 1977 of murdering two young girls from Marion in 1973 and was sentenced to two life terms in the Montana State Prison. Bachman's parole hearing was held Wednesday in Deer Lodge.
Bachman was first eligible for parole Feb. 28, 1992.
Bachman was convicted of the deaths of 9-year-old Jessica Westphal and 11-year-old Karen Tyler. Investigators said Bachman took both girls into the woods July 31, 1973, and shot each in the head six times. The girls had ridden their bikes to the Marion store to buy candy.
The disappearances of the girls shocked the Flathead Valley and searches lasted for weeks by authorities and for years by family members.
Finally, after more than three tortuous years, the remains of both girls were found Nov. 1, 1976, by a hunter in a horrific discovery just 2 miles from where they were last seen. Their identities were confirmed with dental records for one of the girls.
Flathead County Attorney Travis Ahner spoke at the hearing, reiterating some of the things his predecessors, County Attorneys Ed Corrigan and Tom Esch, had said about Bachman.
"It was humbling to be the third county attorney to address the board about this case and what I expressed was that this case was cut from different cloth," Ahner said. "In some fashion, he (Bachman) had already received his parole on the front end for the four years he was free after he murdered those two little girls.
"The day he murdered those girls he incurred a debt to the family, to Janet Miller (a woman Bachman later molested), to the state of Montana, to Flathead County, that he spend the rest of his God-given years behind the bars of the Montana State Prison," Ahner said.
He added that Bachman showed no reaction after the board made its decision.
"He never showed any signs of remorse for what he had done," Ahner said.
It was something that a friend of the girls, Laurie Sabins, echoed.
"He's never seemed remorseful and it's very disappointing," Sabins said. "He even changed his story at the hearing, saying that he had been smoking a lot of marijuana that day and blamed that for why he did what he did. He just sat there with a smirk on his face."
Sabins read several letters from those opposed to Bachman receiving parole.
Jessica Westphal had stayed with Sabins at her home the night before the abduction and murders.
"This still affects both of her brothers (Creed and Ben Westphal)," Sabins said. "Some of the friends were supposed to go with Jessica and Karen, but for various reasons didn't and it still haunts them to this day."
According to previous Daily Inter Lake stories, Bachman was a prime suspect in the murders, but he passed three out of five polygraph tests. His attorney eventually obtained a restraining order to keep detectives away from him.
He wasn't charged with the murders until 1977 after he molested and threatened to shoot Janet Miller, a 19-year-old Glacier National Park employee at the time. Miller was hitchhiking to work when she was picked up by Bachman in a truck. Instead of taking her to Glacier Park, he drove down a road at Lake Five.
Bachman molested her, showed her he had a gun and ordered her to lay down on the floorboard of the truck. Miller grabbed Bachman's gun, but he wrestled it back. He then told her he "must be crazy" and "didn't want to do anything like this," and Miller convinced him he needed to talk to her.
When he agreed, she jumped out of the truck and ran. Miller later identified the man as Bachman.
During a 2005 parole hearing, Jessica's brother, Creed Westphal, referred to Bachman's confession, saying he raped the two young girls and shot them repeatedly "like it was target practice."
In a 2013 story, Corrigan said Bachman's case was one of the worst he'd seen in his three decades as a prosecutor.
Both Ahner and Sabins said if Bachman lived to have his next parole hearing in October 2025 when he will be 75, they will be there to speak against his release.
"I'm afraid if we don't stay on it, he could be released," Sabins said.
Reporter Scott Shindledecker may be reached at 758-4441 or sshindledecker@dailyinterlake.com.
Recent Headlines
---