Hospital employees join nationwide protest for protective equipment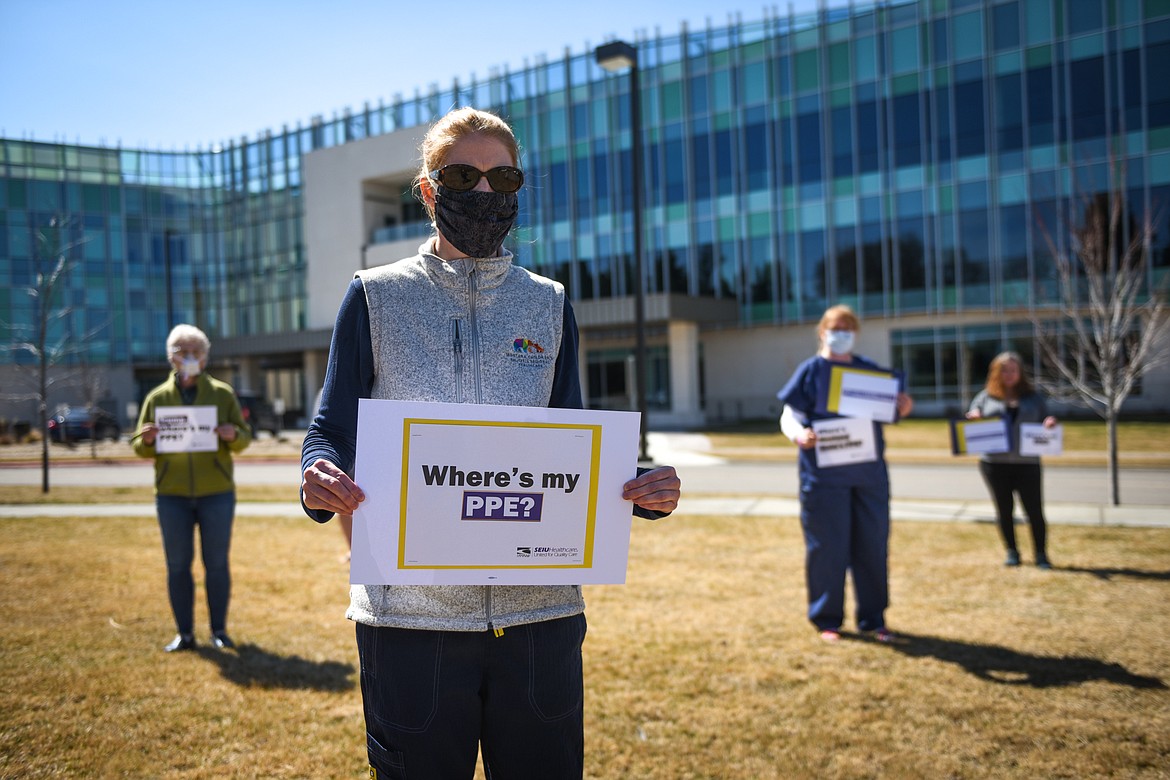 Nurses and health-care workers hold signs during a protest to demand the federal government deploy its full force and power to get more personal protective equipment into the hands of health-care workers during the COVID-19 pandemic. The #GetMePPE National Day of Action protest was held in front of Montana Children's on the Kalispell Regional Medical Center campus on Thursday. (Casey Kreider/Daily Inter Lake)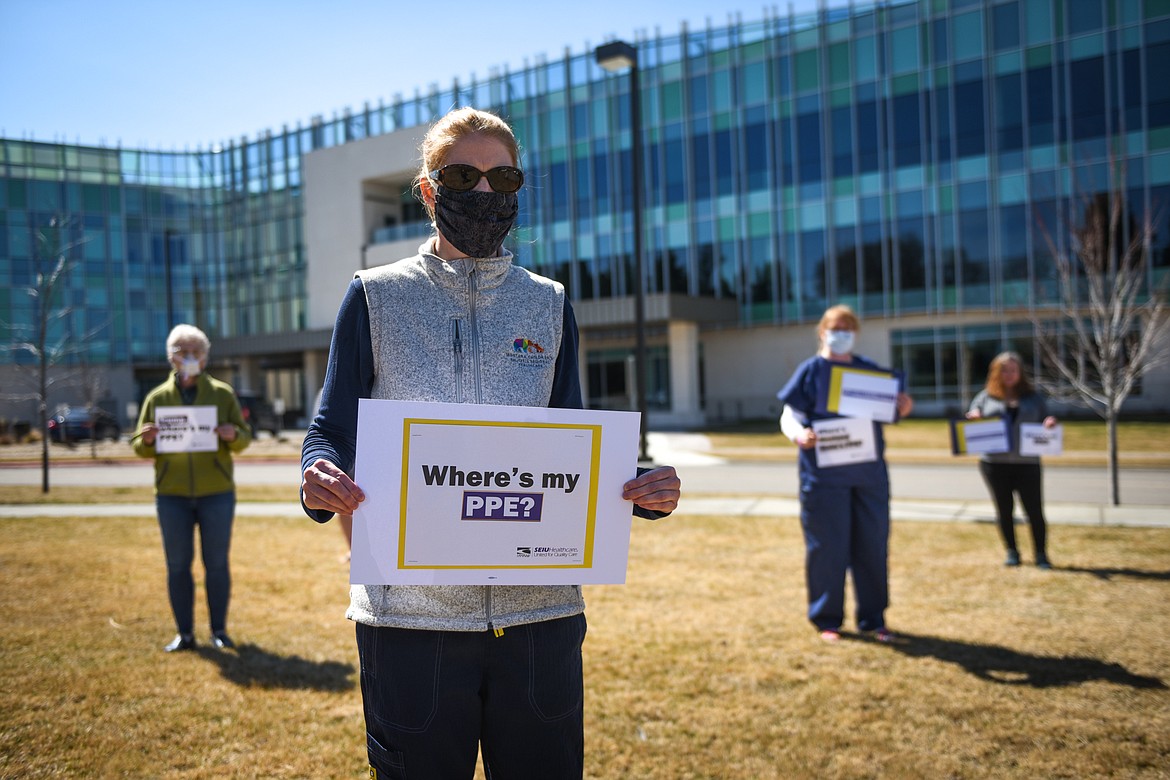 Nurses and health-care workers hold signs during a protest to demand the federal government deploy its full force and power to get more personal protective equipment into the hands of health-care workers during the COVID-19 pandemic. The #GetMePPE National Day of Action protest was held in front of Montana Children's on the Kalispell Regional Medical Center campus on Thursday. (Casey Kreider/Daily Inter Lake)
Previous
Next
by
KIANNA GARDNER
Daily Inter Lake
|
April 10, 2020 5:00 PM
A handful of employees with Kalispell Regional Healthcare gathered briefly on Thursday afternoon outside of Montana Children's to join in a nationwide protest asking the federal government to supply an adequate amount of personal protective equipment to hospitals during the coronavirus outbreak.
The protest commenced locally at about 1p.m. Around this time, other health-care employees across Montana and Washington that are represented by the 1199NW branch of the Service Employees International Union stepped out in protest as well, according to a press release. The event was part of a nationwide effort that has sparked the hashtag #GetMePPE.
Tara Lee, a registered nurse with Kalispell Regional Medical Center and union member, emphasized the protest was not against hospital, but was to join others in asking the federal government to take action on the nation's shortage of personal protective equipment, otherwise known as PPE.
"Health-care workers all over the United States are standing and participating in this," Lee said. "If we are essential workers, we should be treated like it by our government. This is about making sure every health-care employee has the equipment we need to provide safe care during this crisis."
The Kalispell Regional employees held signs that read "Trump, where's my PPE?" and "Where's Montana State's PPE?" among others.
According to the union's press release, nationwide person protective equipment shortages have prompted hospitals to ration necessities such as masks and hospital gowns and reuse them when able.
"Hospitals have reacted to short stocks of PPE by rationing necessary equipment. Unnecessary exposure to the novel coronavirus due to inadequate person protection puts health-care workers at risk…" the press release states.
Lee said that while to her knowledge Kalispell Regional has an appropriate amount of masks and other equipment on hand, she and others hope the small protest will remind the federal government that equipment is needed in rural areas, not just densely populated places like New York City and Seattle.
"Even though a shortage hasn't really hit here nearly as bad as it has in other areas, we aren't sure what the future looks like," Lee said.
MELLODY SHARPTON, a spokesperson for Kalispell Regional Healthcare, said in an email the hospital has placed an order for reusable plastic face masks to "augment our existing supply." Funding for the masks came from a portion of a $150,000 donation from Candy and Eddie DeBartolo and family which established the First to Goal Fund that supports frontline health-care staff as well as area first responders. Sharpton also said Kalispell Regional has equipment "readily available in high-risk areas, namely the respiratory screening clinics, emergency department," and elsewhere.
Although Kalispell Regional may be in good shape equipment-wise, the issue has caught the attention of local and state governments from both sides of the aisle.
According to a press release from Sen. Jon Tester's office, in March the Trump Administration had committed to sending nearly 80,000 masks to the state, but only delivered about 11,000. Tester described this disparity as "staggering" in a press call.
However, the press release also said the federal government committed to a shipment of 68,000 N95 masks to Montana. A state health official on Friday confirmed that the masks had arrived.
The commitment came after Montana health officials notified the Federal Emergency Management Agency that the state needs approximately 460,000 masks in total.
"I hope this means welcome progress for Montana's frontline health-care workers—but until every last mask the federal government promised our state is in the hands of the folks that need it, this is no time for a victory lap," Tester said in the press release.
According to a press release from the office of Sen. Steve Daines, he and staff have been working for some time to secure the equipment, stating "Daines has been actively working to ensure Montana has N95 masks and additional PPE across the state to handle the coronavirus outbreak. Daines brought concerns directly to HHS, FEMA and other top level officials and can confirm there will be a shipment of 68,000 N95 masks to Montana by the morning."
Reporter Kianna Gardner can be reached at 758-4407 or kgardner@dailyinterlake.com
This story has been updated to reflect that the shipment of N95 masks arrived Friday.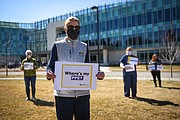 Recent Headlines
---