Opposition mounts for races, commercial events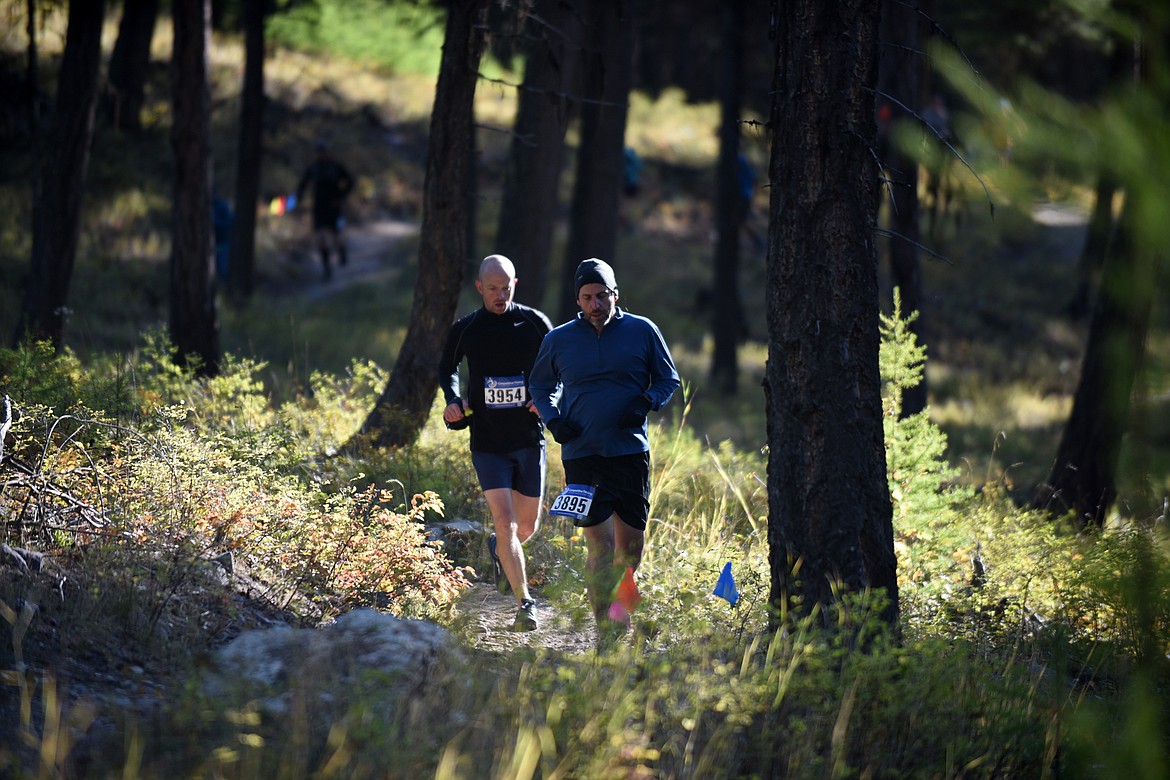 by
KIANNA GARDNER
Daily Inter Lake
|
April 30, 2020 1:00 AM
Several events and temporary outfitting and guiding activities slated to occur on Flathead National Forest lands this summer — pending permit approvals — have sparked controversy among a nonprofit and other individuals who say the events pose risks to people, animals and wildlife habitats.
The Swan View Coalition, a nonprofit organization focused on conserving community and quiet wilderness habitats, submitted a letter to the Flathead National Forest earlier this week. Chief among the group's concerns are the proposed Foys to Blacktail Trail Marathon and the Whitefish Trails Ultra Marathon, two events that have experienced a fair amount of public push-back in recent years.
According to a recent press release from the Flathead National Forest, those participating in the proposed Whitefish marathon will run on portions of trails located in and around the Whitefish Mountain Resort, including the Summit, Kashmir and Danny On Trails. And those who plan on running the Foys to Blacktail Marathon will begin at the Lakeside to Blacktail trailhead and navigate up into the Blacktail Mountain Ski Area.
Both events, which are just two of one dozen proposed activities the public can comment on until May 1, would take place in focused recreation areas where, in some cases, "the use would be enhanced through an emphasis on trail, road and facility maintenance; increased visitor contact, education, and/or the development of additional recreation opportunities," according to the Forest plan.
However, Swan View Coalition chair, Keith Hammer said the group opposes the permits "because it sends absolutely the wrong message to the public about safe travel in the habitat of bears and mountain lions."
In addition to his letter to Forest officials, Hammer included two additional 2019 letters from an independent wildlife biologist and a grizzly bear expert. Both individuals wrote in opposition to the marathons around this time last year and submitted their commentary along with the coalition's.
In his 2019 letter, grizzly bear expert Chris Servheen highlighted several basic measures experts recommend people practice when recreating in bear country, including carrying bear spray and making sure not to run.
"For the USFS to issue a permit to allow and therefore promote what all state and federal agencies have been telling the public not to do will negate years of public education efforts," Servheen wrote. "Issuing such permits will send the public a very conflicting message about how to recreate in bear habitat and send a bad message about the veracity of agency advice about how to recreate safely where there are bears."
But Forest Public Affairs Officer Lauren Alley said in an email there are risks associated with nearly every type of recreation activity, marathons included.
"Being struck by a falling tree, lightning strike, rock fall, slipping, drowning and wildlife attacks have all happened in our area, though are all unlikely," Alley said in an email.
Alley also said the temporary permits would include measures to reduce risks to participants and wildlife. These measures include requirements to provide education about bear-country safety and the sweeping of trails to look for animal carcasses and other attractants before and after the event.
ASIDE FROM the proposed events taking place in what experts consider prime wildlife habitat, Hammer expressed concerns over the size of the proposed Whitefish marathon, describing the requested number of allowed participants as being an "exorbitant increase" from years prior.
In 2019, the marathon was only analyzed for a maximum of 200 participants and spectators were estimated at a maximum of 300. But this year's permit would allow for 400 participants in addition to 300 spectators.
Alley said "it's important to note that only a small portion of the event actually occurred last year and is proposed this year on Forest Service administered lands," and that spectators on Flathead National Forest lands in 2019 were low.
Whitefish Legacy Partners, the organization that requested the special-use permit for the event, proposed doubling the maximum number of participants this year based on last year's participation interest, Alley said.
However, Hammer said the possible event numbers are concerning not only to wildlife habitat, but also because of the novel coronavirus. He said although Montana's outbreak is mild compared to many other states, health-care experts such as President Trump's national health advisor are "making it clear that COVID-19 will still be with us this fall."
"We've already made our case for why such trail runs present a heightened risk to the health of people and wildlife," Hammer wrote. "Now we ask that the Flathead also consider the increased risks of holding a 700-person event in one of the states currently among the least-infected with COVID-19."
While it is uncertain how long Montana's outbreak will last, a press release from the Flathead National Forest said the proposed events will "adhere to state and local public health authorities related to the COVID-19 pandemic."
ALTHOUGH THE marathons are some of Hammer's biggest sticking points, he also raised concerns about other proposed temporary activities, including ATV tours and guided bike tours.
In his letter he said he believes the Forest Service shouldn't encourage the burning of fossil fuels as a form of recreation or promote such activities in critical wildlife habitats, among other reasons.
Striking a balance between recreational activities and maintaining wildlife habitat has proven challenging over the years as a growing population seeks more recreation opportunities throughout Flathead Valley. And meeting this demand often leads to humans further encroaching on wildlife habitat — something that is being experienced in Montana and beyond.
Maintaining this balance is something new Flathead Forest Supervisor Kurt Steele said in a recent interview would be a focus of his. He emphasized the trade-offs that often occur with the Forest Service's actions and decisions.
"In general with the Forest Service's multiple-use mission we are always attempting to balance the short- and long-term needs of people and nature.
"It is important for our agency's relevancy for our public to continue to use and enjoy their public lands so they will continue to see value in them," Steele said. "We're fortunate here at Flathead National Forest that its 2.4 million acres lend themselves to many different uses and users. For these types of events that take place in identified focused recreation areas, we can realize one aspect of that multi-use mission."
To read more about the proposed events and to submit comments, go to https://www.fs.usda.gov/flathead. The Swan Valley Coaltiion has posted additional supporting documents about the events on the organization's website at www.swanview.org
Reporter Kianna Gardner can be reached at 758-4407 or kgardner@dailyinterlake.com
---