In Drish, the Lakers have their anchor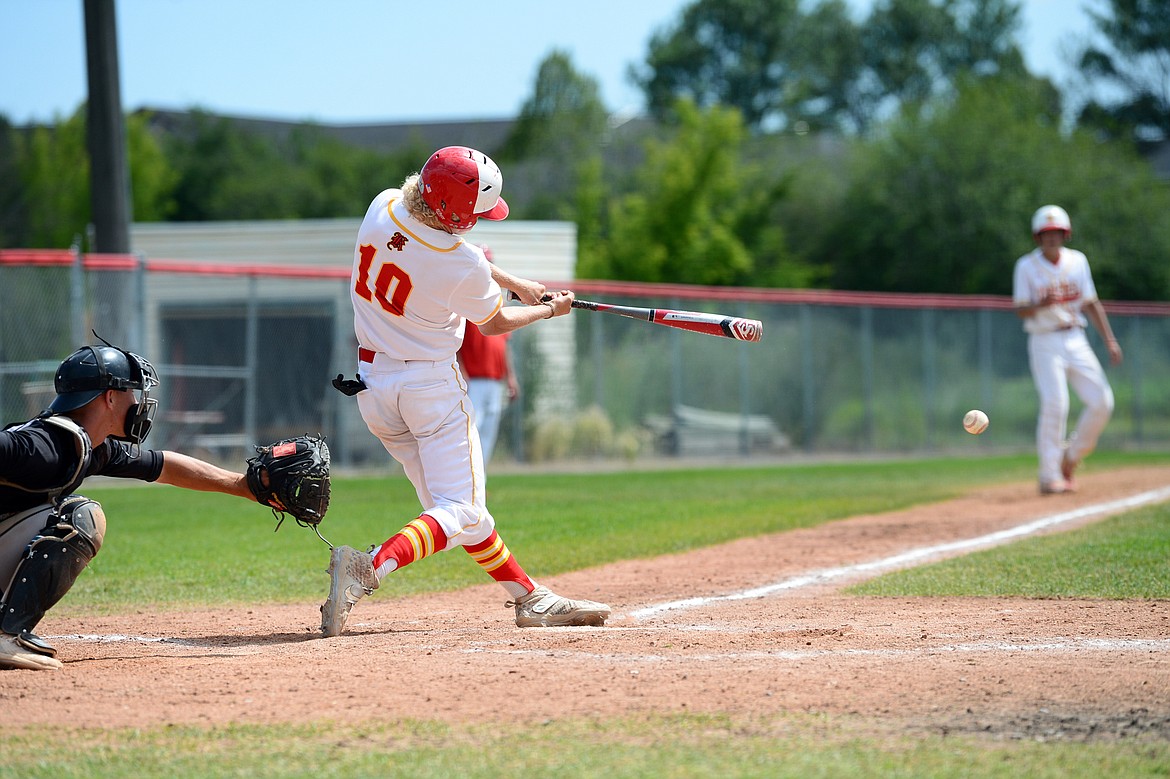 Kalispell Lakers AA's Connor Drish connects on a two-run single in the bottom of the sixth against Belgrade at Griffin Field on Thursday, July 16. (Casey Kreider/Daily Inter Lake)
Kalispell Lakers AA shortstop Connor Drish fires to first against Belgrade at Griffin Field on Thursday, July 16. (Casey Kreider/Daily Inter Lake)
Previous
Next
by
FRITZ NEIGHBOR
Daily Inter Lake
|
August 1, 2020 9:02 PM
This story begins several summers ago when the Drish kids were visiting their grandparents in Kalispell. The American Legion Lakers' summer camp coincided with their visit and the three boys were very interested.
But their mitts were back in Arizona.
"It was the summer before we all moved up here," Connor Drish, the oldest, remembered. "We called dad and he sent us all our gear in the mail."
Which is a cool story even if Lakers' coach Ryan Malmin doesn't remember it, but he does. Connor Drish was, he figures, 12 years old.
"He stood out immediately in that camp," Malmin said. "We knew he was special even then."
Six years later Drish is in his second season as the Lakers' starting shortstop. They're tied for the second seed into the State AA Legion tournament – which was redirected Saturday from Helena to Billings – that starts Wednesday.
He's one of six seniors on the Lakers and an anchor defensively and at the top of the lineup.
"He's a great kid," said Malmin, who's been coaching the Lakers for 14 seasons. "Comes to the field every day with a desire to get better. Loves the grind of the day-to-day workouts, where you're trying to be excellent on all the little details."
Drish has, from the earliest age, been a shortstop. Malmin saw as much when he reappeared at Lakers' tryouts a few years ago. He notes his plus arm, which he showed off Thursday on a grounder to deep short: In what ended up a 19-6 rout over Great Falls, the Lakers were willing to give up a run for an out. But Drish noticed the runner at third hesitate and threw him out at home.
"We have complete confidence in his capabilities," Malmin said. "We've moved him around the lineup to 1 (leadoff) to 2 to our cleanup guy.
"He can handle off-speed pitches, fight off pitches and extend at-bats."
Drish is part of a lineup that was cruising along until July 25-26, when the Lakers traveled to Bozeman and suffered a four-game sweep at the hands of the top-seeded Bucks.
"They did beat us four times but I'm not too worried," Drish said. "We saw their best pitchers. They pitched pretty well… and I think it was just an off week and we'll come back and get them in the tournament."
The Lakers bounced back to sweep a doubleheader from the Great Falls Chargers and sit 30-14 overall, 14-10 in league. They'll be the No. 3 seed into state having lost a tie-breaker with Helena.
Confidence boosts are nice but what Drish really likes is just playing – and for a time this season was in doubt because of the COVID-19 pandemic.
"I've been playing baseball since I could barely walk," said Drish, who plans to walk on at Grand Canyon University in Phoenix. "It's definitely been a huge part of my life. I was not too ecstatic about possibly not having a season. I'd been working a lot in the offseason, taking ground balls and hitting in a cage.
"You realize how much you truly love the game when you don't have it. And being one of only two or three states that can play (Legion) baseball – you feel pretty lucky, too."
With a little luck and some timely hitting the Lakers can do damage at state. The program fought for the state title in 2016, finishing second; since then they've finished as a top-three seed every season.
Drish looks back over the season and figures it's time to take the next step.
"We've won so many close games," he said. "I don't know how many tight games we've had but we always seem to find a way (latest example: a 2-1 win in their last game against the Chargers). Somebody always seems to come up with the clutch hit or clutch play.
"I think that will carry over to the state tournament – which would definitely help in winning that state title."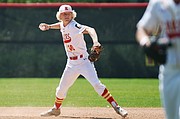 ---