Catherine Lee Hunter, 77
Catherine Lee Hunter, 77, passed away on July 23, 2020 at her home.
Catherine was the first baby of the New Year in Steamboat Springs, Colorado, 1943 on January 3rd; the only child born to Argyle Lee Hunter and Dorothy Edith Howard. Dorothy went on to have four more children in different marriages. Catherine was raised by her father and stepmother in California. Her childhood was full of cruelty yet she found sanctuary in nature. She had one person in her young life who understood her and taught her how to be strong and have a kind heart, her "Favorite Grandmother" Olivia Hunter.
Catherine married Charles Robert Vacker in 1961 in Salinas, California, and had a daughter Connie in 1963. They lived in Salinas, California, until Catherine divorced Charles and traveled with her daughter and Paul Martin to find a new home up north. Their travels took them up to Canada then back down to the wilds of Montana in 1975. Catherine had another daughter Pamela in 1976. They lived in Kila for several years as the only residents on Wild Bill.
Catherine was not reunited with her mother, nor met her half siblings, until she was in her 20s. Lynn Phipps was second oldest and he adored his older sister he called her "Mom's First and Mom's Best." Julieanna "Julie" was her closest sister they formed a bond that surpassed death. Her sister Julia had two children Billy and Luv Marie; when Julia died from breast cancer in the late '80s Catherine brought her daughter Maria from Colorado to raise her as her own. Maria called Catherine "Momma II" and later, even when Maria moved back to Colorado, Catherine always considered her as a daughter. She also met her brother Mark and they hit it off immediately. Myra was Catherine's youngest sibling, Myra had two wonderful children a daughter Erica and her son Elton, he was one of Catherine's favorite kids his phone calls always brought her joy.
In 1990, Catherine and her daughters moved to the big city of Kalispell and there she met her future soul mate Gregory Wayne Kerzman. When Greg and Catherine fell in love so did Greg's three brothers and she had a whole other family to enjoy.
Catherine had experience working as a physical therapist in the late '60s. When she came to Kalispell in 1975, she noted all of the different industries and centers available to help special needs children and adults in the valley. She volunteered to help with the Special Olympics, thinking her skills as a physical therapist would be welcomed. They liked her so much that she was asked to stay on as a permanent staff member of Flathead Industries. When FVCC was just getting going and the community was being built she went to college and earned her AA in human services. Later, after a car accident, the same spirit of wanting to help others led her to work with the state mental health.
A simple write-up such as this cannot contain the many aspects of such a diverse life. Catherine loved the beaches of Monterey and the fields of eastern Montana, she made an old schoolhouse into a home in the hills of northern California and lived in a rustic log cabin with no electricity in the mountains of Montana. One of her favorite things about Montana was the Native Americans and the history. She loved going to powwows and cherished Native American artwork. Catherine loved children and would always find a way to enjoy the simple ways that children view the world and play. Using her unique talents, she was able to help many children learn how to read and do simple arithmetic while always making it fun. Knowing how her life began and the sorrow in her childhood she sought to share nothing but joy with others and help them through their own sorrows.
Catherine is survived by her husband Gregory Wayne Kerzman, daughter Connie Rennay Vacker, daughter Pamela Rose Martin, honorary daughter Maria, brother Lynn Phipps, brother Mark Phipps, sister Myra, honorary brother Keith Kerzman, honorary brother Ken Kerzman, and honorary brother Jeff Kerzman. Through Gregory she is survived by her two honorary daughters Beverly Henry and Jen Kerzman and granddaughter Makaila Kerzman and grandson Gregory Michael Kerzman.
Johnson-Gloschat Funeral Home is caring for the family.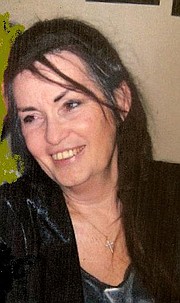 ---