Winery set to open with global selection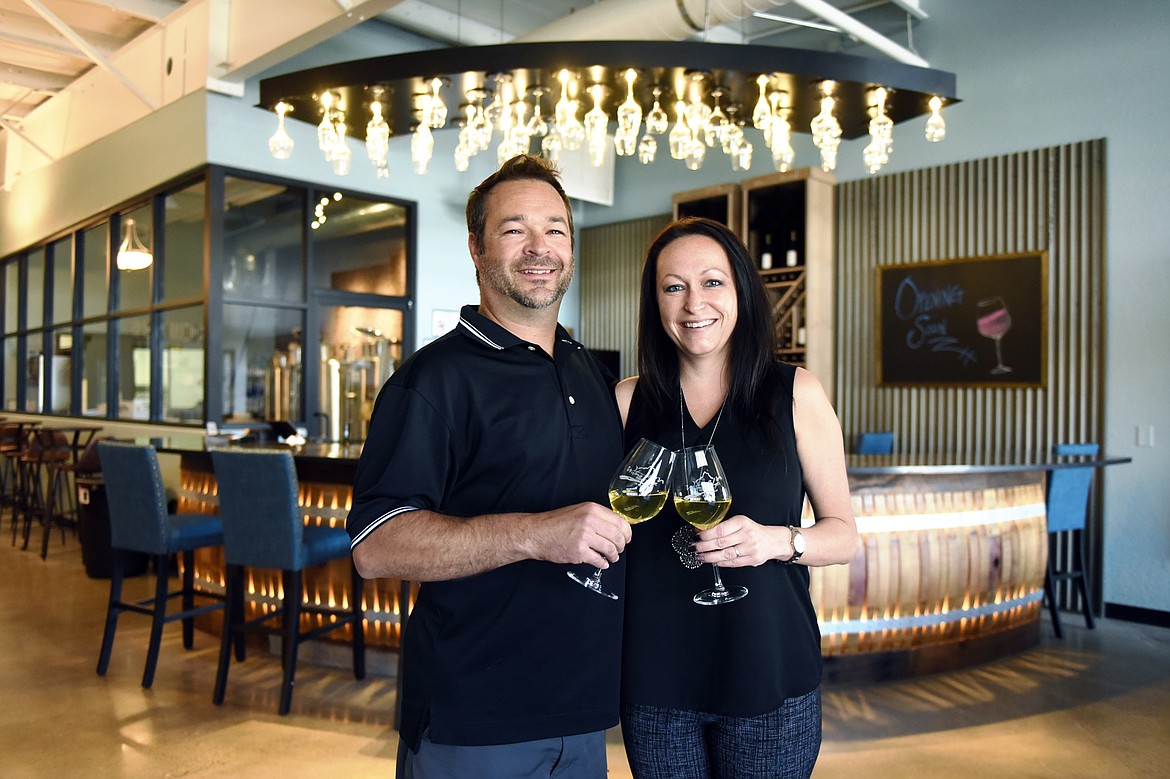 Trevor and Angela Zuba are the owners of the soon-to-open Water's Edge Winery & Bistro in Kalispell. (Casey Kreider photos/Daily Inter Lake)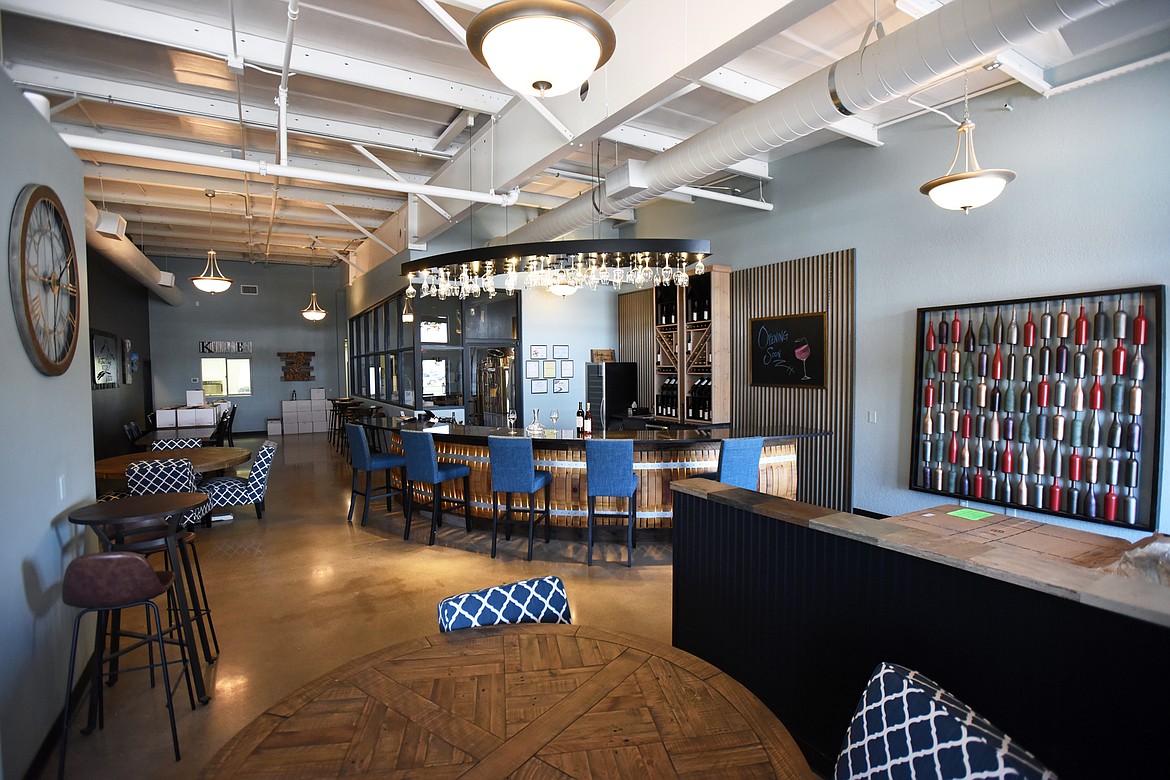 The interior of Water's Edge Winery & Bistro is focused on the theme of wine.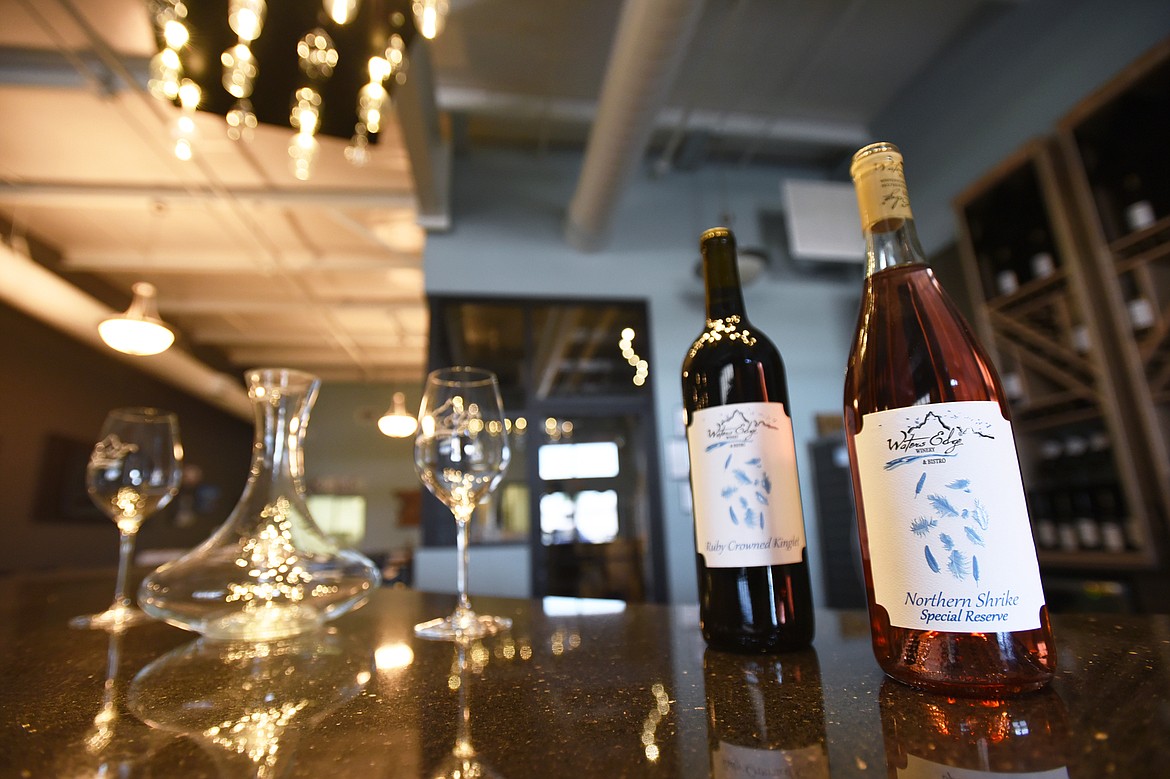 A pair of wines, Ruby Crowned Kinglet, a red, and Northern Shrike Special Reserve, a white, on display at Waters Edge Winery & Bistro in Evergreen on Thursday, July 30. (Casey Kreider/Daily Inter Lake)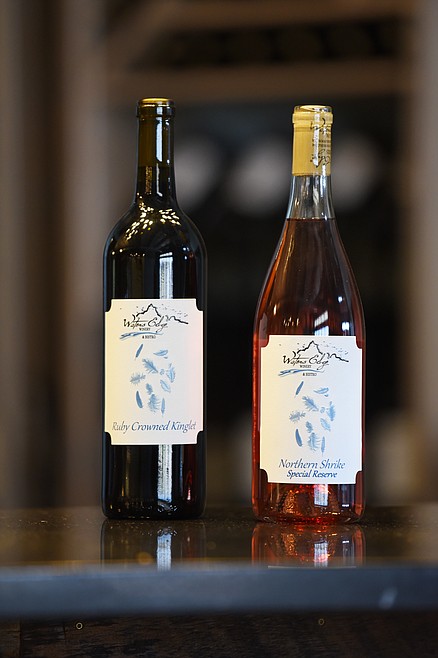 Ruby Crowned Kinglet, a red wine, and Northern Shrike Special Reserve, a white variety, are on display at Water's Edge.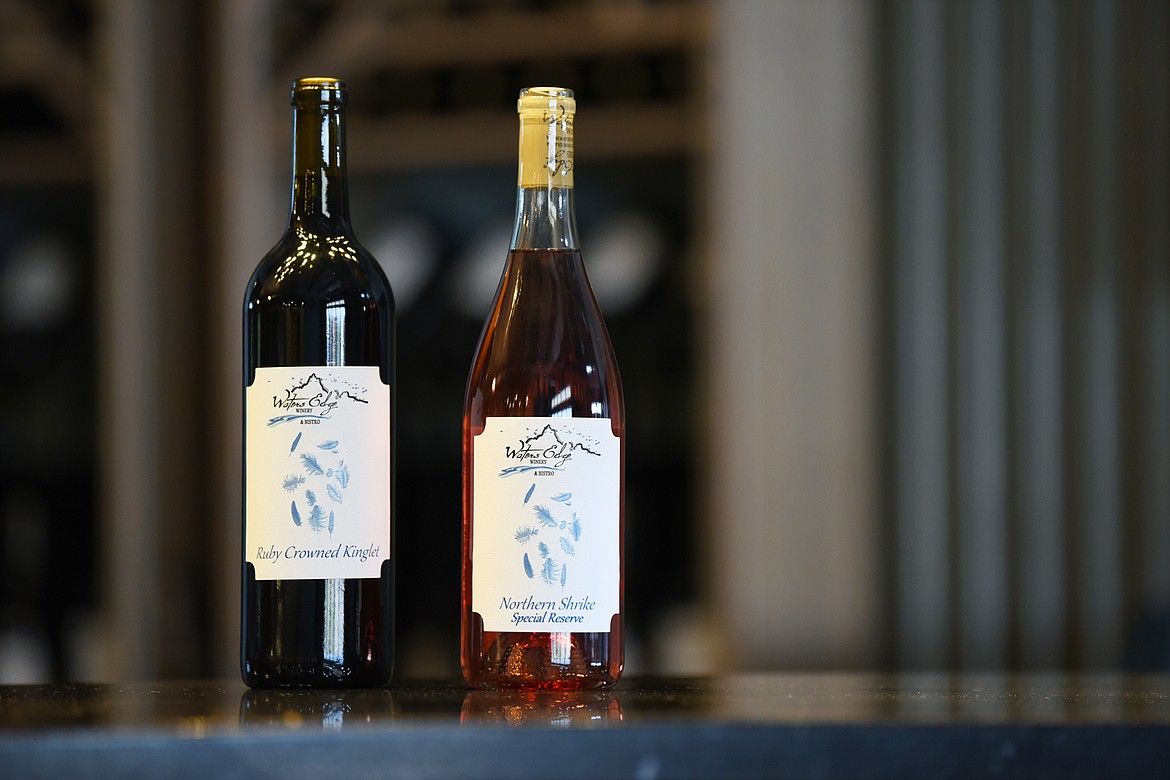 A pair of wines, Ruby Crowned Kinglet, a red, and Northern Shrike Special Reserve, a white, on display at Waters Edge Winery & Bistro in Evergreen on Thursday, July 30. (Casey Kreider/Daily Inter Lake)
Previous
Next
by
BRET ANNE SERBIN
Daily Inter Lake
|
August 2, 2020 1:00 AM
These days, it's harder than ever to be a world traveler, so Angela Zuba is bringing global tastes to local wine lovers. She expects to open Waters Edge Winery & Bistro on Aug. 8 after six months of preparation.
"We had so many delays because of COVID," said Zuba, who started laying the groundwork for the new winery on U.S. 2 E. in Kalispell in December 2019.
It was tough timing for Zuba and her husband Trevor, since the undertaking started with the idea of bringing an international wine selection to the Flathead Valley. Their original opening was scheduled for May, but now the Zubas have reached the point where they're ready to start pouring.
"The biggest thing is our wines are global, not just local," Zuba stressed. "It's not just California and Washington."
While those popular domestic regions are well-represented at Waters Edge — including three limited-time blends from an exclusive Monterey, California vineyard — their selection also incorporates grapes from Italy, France, Argentina, Australia and Chile.
Zuba's favorite varietal out of their current offerings is their Sanderling Reserve, a red Australian wine that blends Grenache, Syrah and Mourvèdre grapes. Their website describes this "classic mix" as a combination of "black fruits and bold tannins," which will "develop impressive finesse and complexity as it ages."
"The original idea was to bring something new to the valley," Zuba recalled. She said the evolving circumstances have changed their mindset in the months since this idea first took root. Now, the Zubas are going for a homey, comfortable feel in the winery that encourages visitors to stay awhile. But the innovative approach to the new business is still alive and well.
Besides the exotic flavors, the Waters Edge Winery & Bistro franchise stands out for its one-of-a-kind tank production system. The machinery gives wineries throughout the company the ability to create their own concoctions on-site, no matter where they are in the country. "The only thing we don't do on-site is grow the grapes," Zuba said.
The grapes come from various vineyards around the world, and their proprietary preparation allows them to ship to their destination in good condition. Once they arrive, the winery prepares their beverages using four massive 110-gallon metal tanks and thirteen 50-gallon plastic tanks for specialty blends. One 50-gallon tank is the equivalent of about 20 cases of wine, according to Zuba. The larger tanks will produce about 50 cases.
Waters Edge Winery & Bistro will eventually start offering wine-based sangrias such as a huckleberry blend, and a light food menu with unique choices including chocolate hummus mousse and hand-smashed, made-to-order guacamole.
Zuba hopes the winery will become a lunch destination for the many businesses near the busy corner of Reserve Drive and U.S. 2, but their main focus is expanding the limited wine selection in the area.
"Montana isn't known for wine," acknowledged Zuba, who relocated with her family from Alberta, Canada, to start the business. She is hopeful this new endeavor will help transform the valley into a "wine hub."
The self-described "wine aficionado" has put a lot of thought into how to get to that point.
The atmosphere at Waters Edge is a wine-lover's dream, complete with a hand-blown wine glass chandelier, a wine barrel-shaped bar and music choices that are tailored to the current wine selection. "Music changes the flavor of wine," Zuba explained, and she wants the ambiance to enhance that flavor.
Waters Edge Winery & Bistro will also offer various activities to complement the sipping experience, although most of those won't be up and running when the winery first opens in early August. Wine drinkers will soon be able to participate in paint and sip nights, yoga and wine events and the Waters Edge Winery Wine Club, which offers complementary bottles and exclusive member events. Guests will eventually be able to bottle their own wine and make their own vintage, too.
These initiatives already seem to be getting some attention. Zuba said she's turned away hundreds of guests who have tried to visit the winery before their official opening.
"People are itching for something new to do in the valley," she observed, and she expects Waters Edge Winery & Bistro will quench that thirst.
Waters Edge Winery is located at 2593 U.S. 2 E., Suite 8. Hours are 11:30 a.m. to 8 p.m., Monday through Wednesday, and 11:30 a.m. to 10 p.m. Thursday through Saturday.
Reporter Bret Anne Serbin may be reached at (406)-758-4459 or bserbin@dailyinterlake.com.
Recent Headlines
---