Fair events jeopardize health of community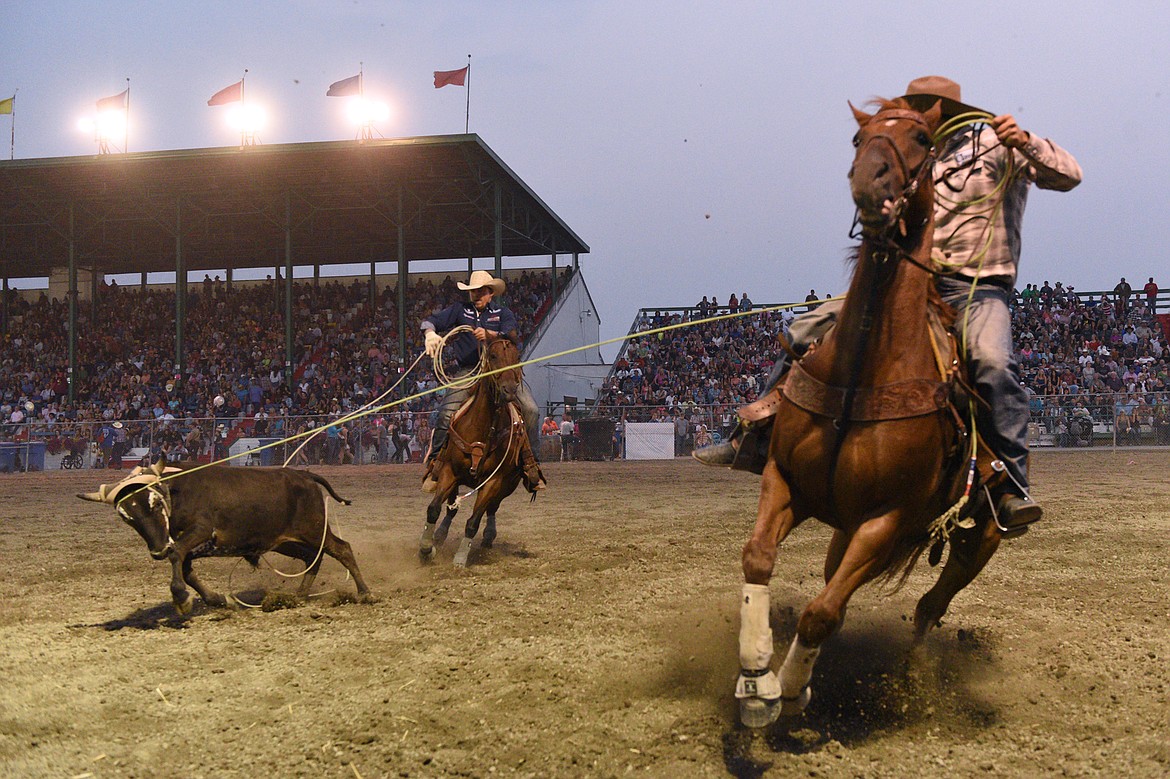 The Northwest Montana Fair PRCA Rodeo at the Flathead County Fairgrounds. (Casey Kreider/Daily Inter Lake FILE)
We are at a significant juncture in our community as we stand approximately a month before the scheduled start of the school year. Unfortunately, the timing of the Northwest Montana Fair is the weekend before this start date.
Last year, 80,000 people attended the fair. This year, as we are one of the only county's in the state currently proposing to have all events (rodeo, concert, carnival, etc.), one might anticipate that even more may be drawn to our community.
As members of the health-care community, we urgently request that the county Health Board require the fair be significantly scaled down as other communities have done. We can certainly celebrate the efforts of the 4-H participants while still protecting the health of our community. The proposed plan of carnival rides and large crowds during the COVID-19 pandemic with rapidly rising cases in our county is dangerous to our community and jeopardizes our plans to send our children back to school for in-person learning this fall.
RN George Allen, DO Aaron Alme, MD Jonathan Amick, DO Elise Anderes, MD Brenda Anderson, PA Jonathan Anderson, MD Anne Armstrong, PA Christina Armstrong, RN Dan Arnold, PT Elizabeth Askew, CMA Shelley Astle, RN Deborah Aubrey, LPN Brittany Austin, RMA Anthony Babb, RN Kendall Babb, ACNP Megan Bagnoli, RN Lori Bainter, RN Sadie Baldwin, FNP Cody Bartholomew, MN, RN, CNL Dohansan Barten, RN Andrea Barton, CNA Pebbles Bates, RN Cierra Bauer, LPN Jennifer Beazer, RDN Valerie Beebe, FNP William Benedetto, MD Quincy Bennetts, MSPT May Berentson, FNP Christina Berg, RN Todd Bergland, MD Kelly Berkram, MD Paul Berkram, MD Abigail Bersnak, RN Adam Birks, CLS Robert Blair, MD James Blasingame, MD Karen Blasius, RN Amy Bottomley, RN Anaka Broste, RN Laura Brown, RN Lindzy Brunson, MHA, RN Andy Burbine, RN Kelly Burbine, RN Debbie Burgi, RN Susan Burt, RN Jessie Cady-Kauffman, NNP Rachel Cain, RN Nick Cantrell, MD Leah Carlburg, MD Desiree Caro, NP Shana Carter, APRN Erica Case, NP Emily Casey, RN Nola Chandler, RN Savita Chaudhry, MD William Cobell, MD John Cole, MD Kayla Cole, RN Theresa Cole, RN Mariah Connolly, RN Stephanie Cowden, RN Andrew Craig, MD Tammy Craig, RN Dawn Cummings, CLS Heather Curtiss, RDCS Mona Cuthbert, MD Jessica Dahlman, RN Nancy Dallman, RN Greg Danielson, PA Meghan DeGroot, RN Thomas deHoop, MD Jose de Souza, MD Mary de Souza, NP Brian Dahl, RN Kimberly DeVries, RN Timothy DeVries, PA Rebecca Dickey, RN Chelsea Dietsh, MS, CCC-SLP Chelsea Dunshee, DNP Lynn Dykstra, MD Bennett Dykstra, MD Kerry Eby, MD Jennie Eckstrom, MD Kristine Edwards, RN Kristy Ehrmantraut, PA-C Morgan Erb, RN Jay Erickson, MD Irene Feria, MD Quinn Fitzpatrick, RN Katie Flass, PA-C Tom Flass, MD Linda Fedenberg, RD Jo Fjelstrom, LCSW, PhD Ken Fratacelli, MD Diana Fredendall, RN Melanie Fretwell, RD Richard Friedman, MD Shilo Fritz, RN Patricia Fogleman, RN Joy Fortin, RN Sadie Fuller, RN Vicki Gaines, RN Justine Gavagan, MD Carla Genovese, RN Kimberly Gibson, CNA Kimberly Gilmore, RN Amy Gonter, RN Rose Goosens, PBT Laurel Grady, MSPT Kenneth Graham, MD Marlayna Gran, RN Shelly Green, RNC Robert Griffin, PA Margarite Haaland RDLN David Habel, MD Maura Hamilton, CPNP Brenda Hanson, RN Thomas Harrell, MD Whitney Hart, RN Sarah Hartig, RN Sadie Harris, RN Alexis Harrison, MD Angela Hawman, RN Sharon Hecker, MD Garrett Heide, MLS Pat Heil, PT Michelle Helwig, FNP Nancy Henrickson, RN Mike Henson, MD Marissa Hepner, RN Peggy Hertlein, RN Wendy Hilliard, ACNA Danielle Hineman, RN David Hobbs, RN Deb Hoffman, MD Katherine Holley, DO Maggie Honcoop, RN Tyler Hoppes, MD Marisa Hoyne, MD Melissa Hulvat, MD Karen Hunnicut, MSW Will Hunt, PA-C Emily Hutchins, RN Christianne Jaffe, APRN Martha Jessop, NP Tanya Johnson, RN Gwen Jonas, MD Ken Jonas, MD John Kalbfleisch, MD Jessica Karminski, RN Margaret Karolak, RN Patricia Keane-Richmond, RN Kevin Keeton, MD Matthew Keller, DO Holly Kelly, RMA Kaelyn Kelly, CCMA Jennifer Kelllner, RN Camilla Kenwood, RN Elizabeth King, DNP, FNP Karen King, MLT Kira Kitchens, DNP, FNP Nancy Knaff, NP N. Camden Kneeland, MD Angela Knox, RN Theresa Knutson, RN Kevin Kropp, DO Daniel Korb, MD Teresa Ladenburg, CLS Jeffrey Lanners, RN Jenna LaRose, RN Rachel Larson, RN Amber Lavin, CNM Rebecca LeDonne, RN Tara Lee, RN Erica Lengacher, RN, MPH Sidney Lillard, MD Kurt Lindsay, MD Stephanie Linne, RN Kimberly Longcake, ANP Robert Love, MD Andrea Lueck, RN Ellery Luikens, RN Charles Luka, CPC Jeannette Luka, RN Courtney Lyle, MD Herman Lyle, MD Hikmat Maaliki, MD Ashleigh Magill, MD Elizabeth Marin, LPN Kari Marsenich, PTA Juan Martinez-Poyer, MD Jane Masters, RN Ann Lee Maude-Simpson, MS Thomas, McClure, MD Paula McDonald, MLS James McKee, MD Chelsea McKoy, RN Danielle, McRae, RN Tammy McVean, LPN Cora Meredith, RN Megan Miletich, LPN Steve Milheim, MD Chris Miller, DO Aviation Jon Miller, MD Laura Mirch, MD Deanna Mitchell, RN Michael Mitchell, MD Leslie Moody RN Kimberley Morkrid, CNA Michelle Nail-Noftsinger, FNP Gina Nelson, MD Jolene Nelson, RN Megan Nerdig, RN Joshua Newsted, MD Rita Nixon, CMA Mary Nguyen, RN Amber Norbeck, PharmD Amanda Norenberg, RMA Mark Ochenrider, MD Tyler Ofstad, MD PhD Mary Opalka, CRRN Jaffa Olson, RN Denise Pacovsky, MS, MLS Tiana Pallister, GC Andrew Palmer, MD Jill Pate, RN Erik Peltz, DO Nichole Perisho, RN Robert Perkins, MD Karen Perser, MD Ashley Peters, RN Dennis Peterson, MD Laura Pierson, RN Sharon Pillsbury, RN Brent Pistorese, MD Aaron Pitman, PA Melanie Pittard, DO Brigham Pitts, EMT Mandy Pokorny, RN Michael Poston, RRT Marrene Preacher, OTR/L Sabrina Pulse, RN Jana Pursell, RN Amy Ramer, FNP Estrella Ramon, RN Pamela Rankin, RN Shilo Rasmussen, RRT Kelly Redfield, MD, MPH Anne Redman, RN Mark Remington, MD Katrina Restivo, RN Cheryl Richards NPD Jamie Roberts, RN Cory Robertson, MD Annie Robbins, MD Sarah Robinson, MD Scott Rogers, MD Amy Rohyans, MS, CCLS Jennifer Romero, RRT Nick Satovick, MD, MPH Betsy Schilling, MD Christina Trieweiler Schmidt, SLP Jason Schmidt, MD Alison Schneider, MD Mike Schwaller, MD D. James Schumacher, MD Alice Seifarth, MD Federico Seifarth, MD Breanna Severson RRT Tammie Sharpe, RN Jennifer Shipley, CPNP Justin Shobe, PA Andrew Shors, MD Heidi Shors, MD Samantha Shreffler, OTR Cathleen Simensen, APRN Austine Siomos, MD Vassilis Siomos, MD Pamela Smith, DNP, ACNP LeAnn Speakman, RN Chelsey Spence, DO Michelle Spring, MD Kayla Stanley, RN Derek Starker, RN Samantha Stewart, SLP Mary Strauss, RN Hope Steele, RN August Stein, MD Ryan Stolte, RN Alyssa Stone, PA-C Tessa Stotnicki, PA Timothy Stidham, MD Valerie Stine, MD Michelle Stone, DO Linda Storle, RN Kristi Steitmatter, RN Michael Sugarman, MD Stephanie Sugars-Morsett, RN Melissa Sutton, RN Lexi Tabor-Manaker, MD Julie Thompson, RRT Jill Thorn, PA Jeremy Tietema, CST Edgar Trevino, MD Jeffrey Tjaden, MD Tessa Topley, RHIA Steven Trimble, PA Kendyl Turner, CST Jenna Upham, FNP Jill Van Niece-Steiner, RN Maria Vogel, FNP Peter Wagner, MD Dani Walker, RN Jennie Walker, RN Kelly Walker, FNP Jordan Waverek, MS Harry Whitley III, RN Clay Widdekind, RN Kathy Wiebelhaus, CMA Dacey William, CST Felicity Williams, RN Amanda Willis, RN Tracy Wills, RN Ally Wilson, RN Pat Wilson, RN Dennis Winkel, MD Laura Wharton, FNP Emilie Wyman, RN Carli Yarde, RN Michele Zachary, RRT Melanie Zander, ARNP Jill Zemke, RN Dan Zlogar, MD Aimee Zupicich, NP
---