Virus-closures keep some local businesses down for the count
by
BRET ANNE SERBIN
Daily Inter Lake
|
August 14, 2020 1:00 AM
By the end of March, the COVID-19 outbreak had closed the doors to most small businesses in the Flathead Valley — some of them, for good.
Restaurants, fitness studios and small shops have all folded under the weight of mandatory business closures, a trickle of customers and a sluggish system for accessing government assistance.
"We're probably one of the ones that do not survive," predicted Craig Witte, the owner of the Evergreen Perkins Restaurant and Bakery, in June.
Perkins certainly isn't alone.
Two gift shops in downtown Kalispell — Flair Gifts & Cards and The Montana Marketplace (formerly Montana Marie) — closed their Main Street stores this spring because they couldn't offset their overhead costs without any in-person customers.
Yoga Hive gave up its Kalispell and Columbia Falls locations for the same reason. "I still don't know if it makes sense to have a physical studio moving forward," admitted Yoga Hive owner Mollie Busby, who paid two months of rent for unused space at the last remaining Yoga Hive in Whitefish.
And the massive footprint of Mountain Cinema Four proved too burdensome for the Whitefish movie theater, which posted its closure on the U.S. 93 marquee after spending weeks attempting to get by solely on popcorn sales.
For these business owners, the novel coronavirus is far more than an invisible threat.
"We closed our brick and mortar store because of COVID," stated Misty Minnehan, co-owner of The Montana Marketplace. "It was something we struggled with doing, [but] we just knew that, being the store we are, our overheard was just too much to try and wing it."
Minnehan and her daughter opened the store, then called Montana Marie, about five years ago on Kalispell's Main Street. The gift shop specialized in Made in Montana artwork from more than 70 Montana artists and its own line of Montana Marie apparel. Minnehan's daughter eventually left the venture and Christa Jacobs joined Minnehan, rebranding as The Montana Marketplace about a year ago.
"We were so lucky to have had the store for a couple years on Main Street," said Minnehan. "Downtown Kalispell has been amazing. We absolutely loved being there."
"It was really building up, really growing," Jacobs pointed out. But the uncertainty of the pandemic made the shop untenable.
"We can't just continue to just go further and further into debt with the unknown," Minnehan explained.
They tried to get a jump start on government relief funding, but the rigmarole of navigating the federal system ended up being the nail in the coffin for The Montana Marketplace.
"I can't even tell you the runaround," Minnehan lamented. Even though she attempted to apply for relief grants early on, she said her application got lost in the shuffle as government workers were quickly overwhelmed with applications. Her application was inadvertently deleted and she lost her place in the funding queue. By that time, it was too late to try to start the process over again without sinking into major debt.
"With it taking as long as it was, we had to make the call," Minnehan recalled.
The store owners are still hopeful they might be able to open a new storefront downtown. In the meantime, they've launched a website with thousands of products from their artist partners and their own clothing line.
"We're still hoping to grow and make it through," Minnehan maintained. "We're excited about our new plan."
Moving online seems to be the key to weathering the storm for many businesspeople, like Yoga Hive's Mollie Busby, who started offering a suite of online yoga classes.
"This is new direction that we're going in. It's a complete shift of our business model," Busby said. "When you close two studios, you kind of need to redo the whole model. We believe this is a positive direction for us."
Those that don't have the option of doing business digitally have resorted to other adaptations. Big Sky Waterpark in Columbia Falls, for example, is closing about half of their attractions for the summer and operating others on a rotating basis.
Montana's largest water park opened for the season with limited hours on June 20, its latest start date ever, according to owner Roger Elliott.
And relief funding seems to be a successful solution for some lucky business owners. Mike McFeely said the Knead Café in Kalispell was fortunate to receive federal funding from both the Payment Protection Plan and the Economic Injury Disaster Loan to get through the spring.
The café closed for seven weeks starting in March, then operated at a loss for another six weeks before the situation started to stabilize.
"We're very appreciate of the government's support," McFeely emphasized. He stated The Knead Café likely wouldn't have survived this long "if it weren't for government assistance."
But small businesses like the café aren't out of the woods yet. In May, a survey from the University of Montana's Institute for Tourism and Recreation Research found that nearly half of all tourism-related business owners in the state felt they would be out of business in six months if the current conditions continued.
Almost a quarter of the survey respondents said they could survive up to a year under the same circumstances, suggesting shuttered businesses like Flair, Perkins and Mountain Cinema Four might get more company in the coming months.
Reporter Bret Anne Serbin may be reached at (406)-758-4459 or bserbin@dailyinterlake.com.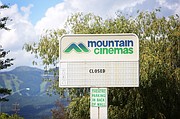 Recent Headlines
---