Garden offers pick of beautiful blooms
by
BRET ANNE SERBIN
Daily Inter Lake
|
August 16, 2020 1:00 AM
Cathy Stansbury and her family have devised the ideal business for social distancing.
Hurst Flower Meadow, tucked unassumingly into a neighborhood near Airport Road, offers 5 acres of space for visitors to pick their own flowers and immerse themselves in an array of idyllic outdoor activities.
"You'd never know it's back here," said Stansbury, who opened the business this summer with her daughter, Christine Hurst. Her grandson, Aohdan Hurst, and partners Mark Cometti, Amanda Lunde and Alex Reis have also played a key role in bringing the unique business to life.
Hurst Flower Meadow is brimming with lavender, sunflowers, sweet peas and rows of other plant varieties. Visitors can pick their own bouquets and decorate a vase in the nearby studio, enjoy coffee, tea and breakfast items at the on-site café, or simply sit and listen to the babbling of Ashley Creek.
The peaceful property also includes a children's garden, walking paths and benches scattered around the area where guests can unwind. Christine, a licensed clinical therapist, conducts counseling sessions in the pleasant outdoor setting, where yoga classes are also held.
"It all just kind of fell together," said Stansbury. "It felt like the fun and right thing to do."
The philosophy at Hurst Flower Meadow is all about getting back to nature, but developing the expansive layout didn't just happen organically.
Over the past three years, Stansbury, her family members and a few hired hands worked diligently to turn the former wild grassland into a productive flower meadow. While the family's homes are considered city of Kalispell property, their backyard area is zoned for county agricultural use, which paved the way for the transformation of the site.
"People always ask me, 'how in the heck did you get the soil to grow flowers?'" Stansbury related.
It helps that one of her daughters is a master gardener in Colorado, and another is a prodigious grower of native plants in Minnesota, where Stansbury lived before making the move to Montana. Stansbury said she's also done a lot of her own research into gardening techniques, and now she's embarking on her third garden plot—which she promises her daughter will be her last.
"We're all kind of nature people," noted Stansbury as she picked lavender alongside her 9-year-old grandson and right-hand man, Aohdan.
Even though Stansbury was a casual nature enthusiast before moving to Kalispell, the business idea really started to germinate when she was diagnosed with rheumatoid arthritis a few years ago. Her doctor prescribed outdoor activity to help treat the debilitating condition, and since she started bringing the garden to life, Stansbury said she's never felt better.
"I attribute that to being outside and nature," Stansbury said. "It just does something to you, being outside."
"It's hard to tell people how good you'll feel after you've been here," she insisted. "I could say that a million times…I just don't think people realize."
She hopes to keep the community connected to nature even throughout the tough Montana winter when U-pick flowers won't be quite so popular. She's planning on hosting gardening classes during the off-season in the Aspire building in downtown Kalispell.
As the business continues to bloom, she also plans to host small events like weddings and reunions, flower arranging parties for birthdays or bridal showers and free events like a "come fly your kite" day. She's also looking into adding a duck habitat along Ashley Creek to accompany the chickens and existing wildlife that frequent the property.
While she doesn't want the serene space to get too crowded, Stansbury hopes these developments will bring a few more guests to Hurst Flower Meadow. Opening in the midst of the pandemic has led to a slower start than Stansbury had hoped, but she said everyone who has discovered the meadow has fallen in love with the charming atmosphere.
Even Aohdan, who has spent his summer getting his hands dirty helping out his grandmother, loves the meadow so much he never wants to move away. "There are so many things I love about this place," he said as gazed out across the multicolored meadow.
Hurst Flower Meadow is located at 1849 N Belmar Dr., Kalispell. Hours are 8 a.m. to 12 p.m. on Mondays, Wednesdays and Fridays, as well as 9 a.m. to noon on some Saturdays. Reservations are required to pick flowers or eat at the café, and can be made at https://www.hurstflowermeadow.com/book-online or by calling (406) 307-2912.
Reporter Bret Anne Serbin may be reached at (406)-758-4459 or bserbin@dailyinterlake.com.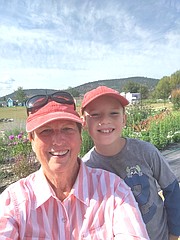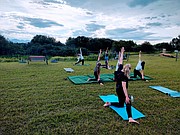 Recent Headlines
---