Students navigate pandemic changes as semester opens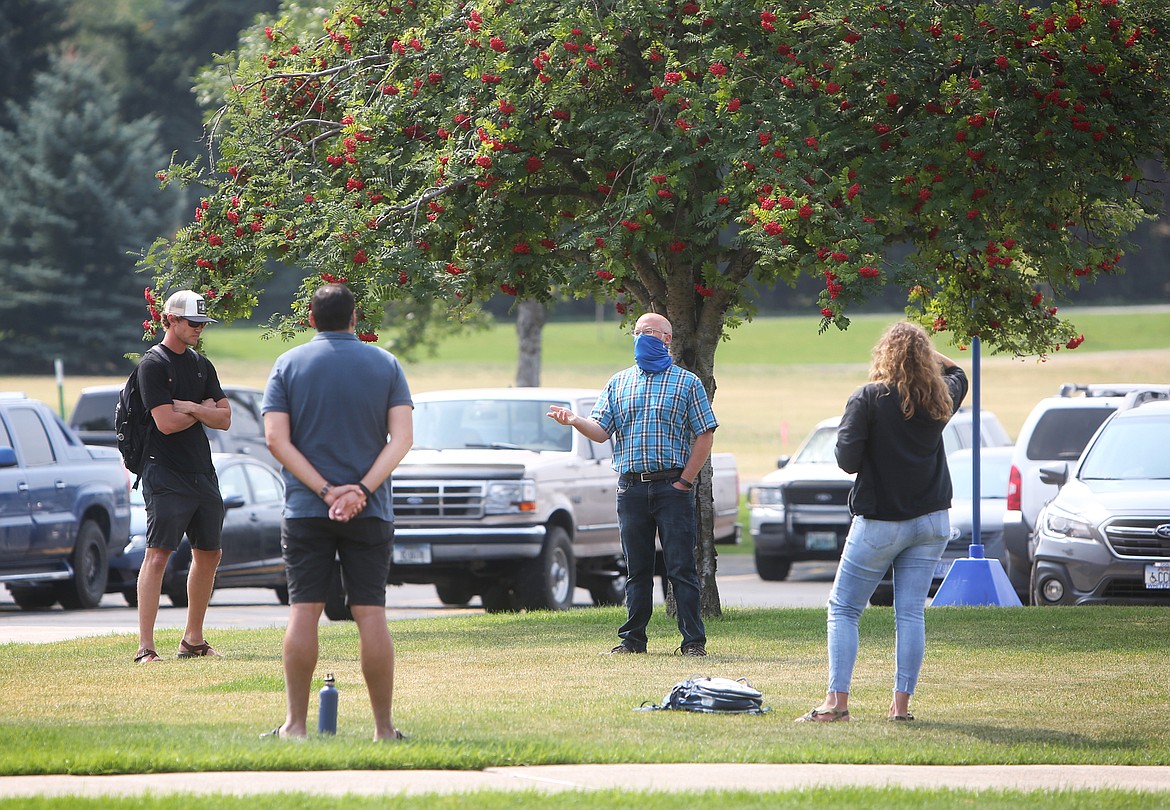 Professor Tim Eichner leads a class outdoors at Flathead Valley Community College during the first day of the fall semester, Aug. 24. (Mackenzie Reiss/Daily Inter Lake)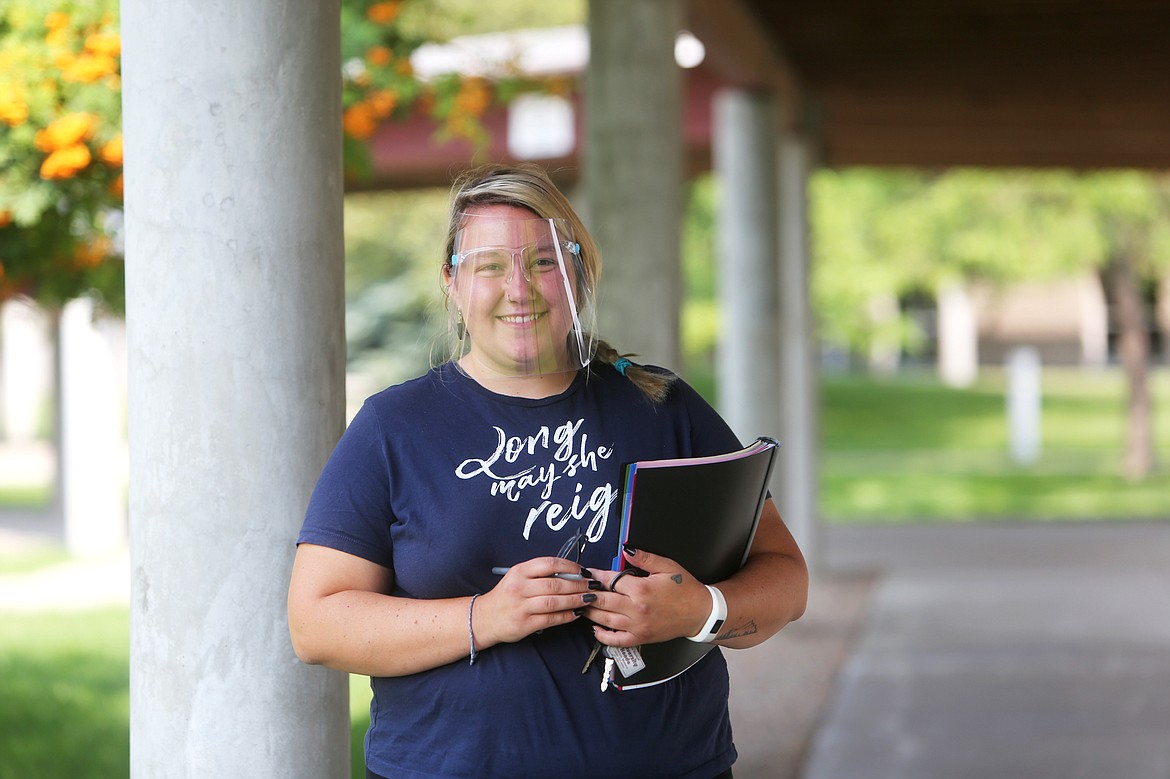 FVCC student Mara Hanks dons a face shield on her way to her first class of the fall semester. (Mackenzie Reiss/Daily Inter Lake)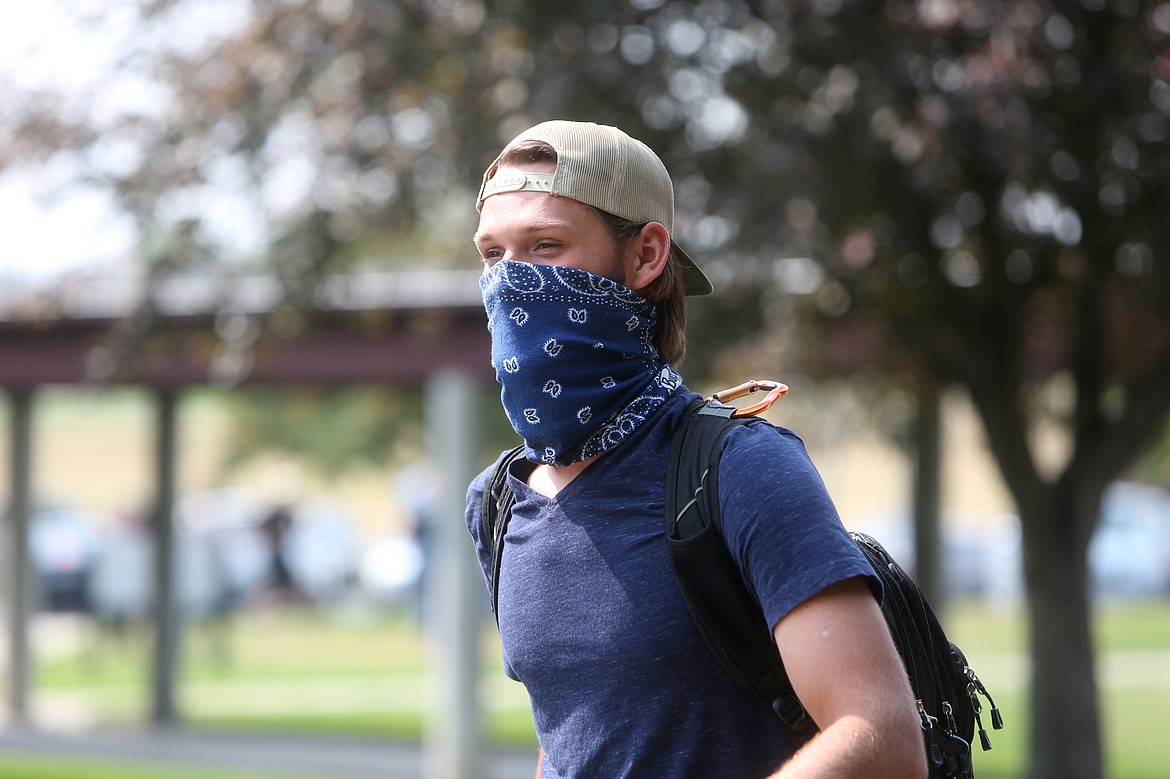 Caleb Karow, a communications student from Kalispell, heads to class at Flathead Valley Community College on the first day of the fall semester.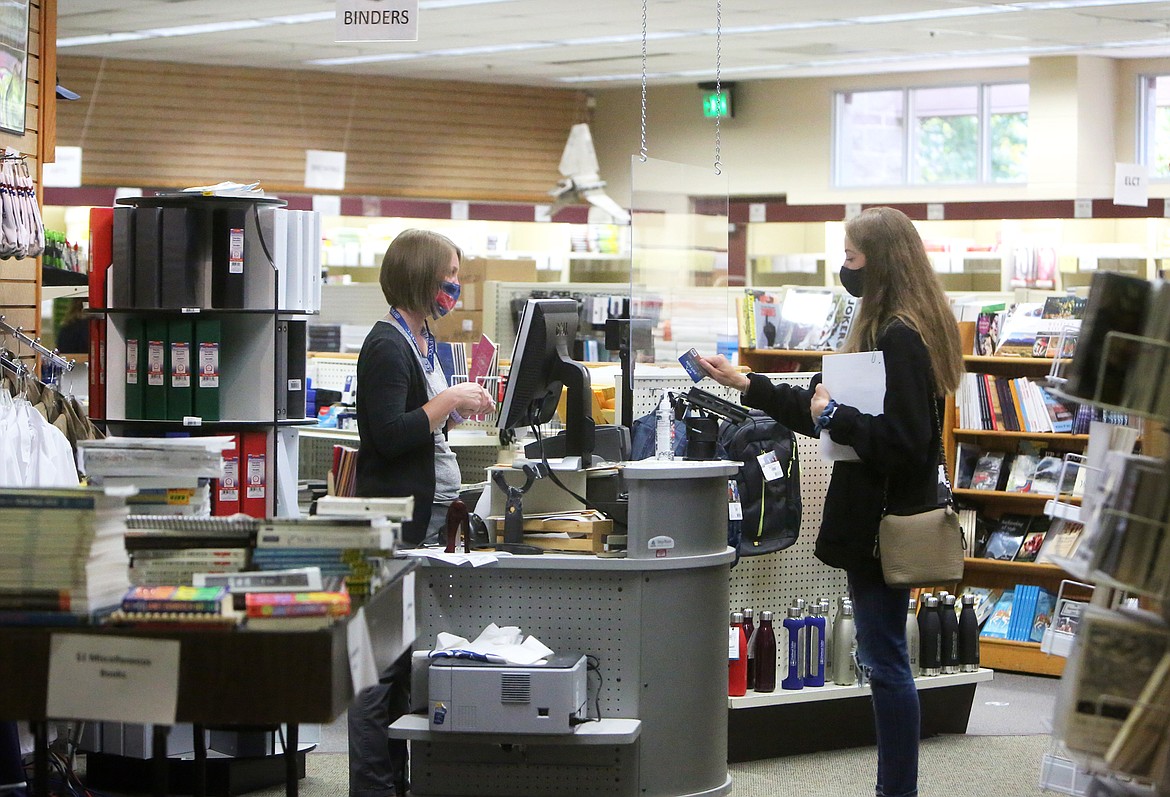 Kendall Pyron, an education student from Kalispell, buys books from Dawn Steele at the FVCC bookstore on Monday, Aug. 24. (Mackenzie Reiss/Daily Inter Lake)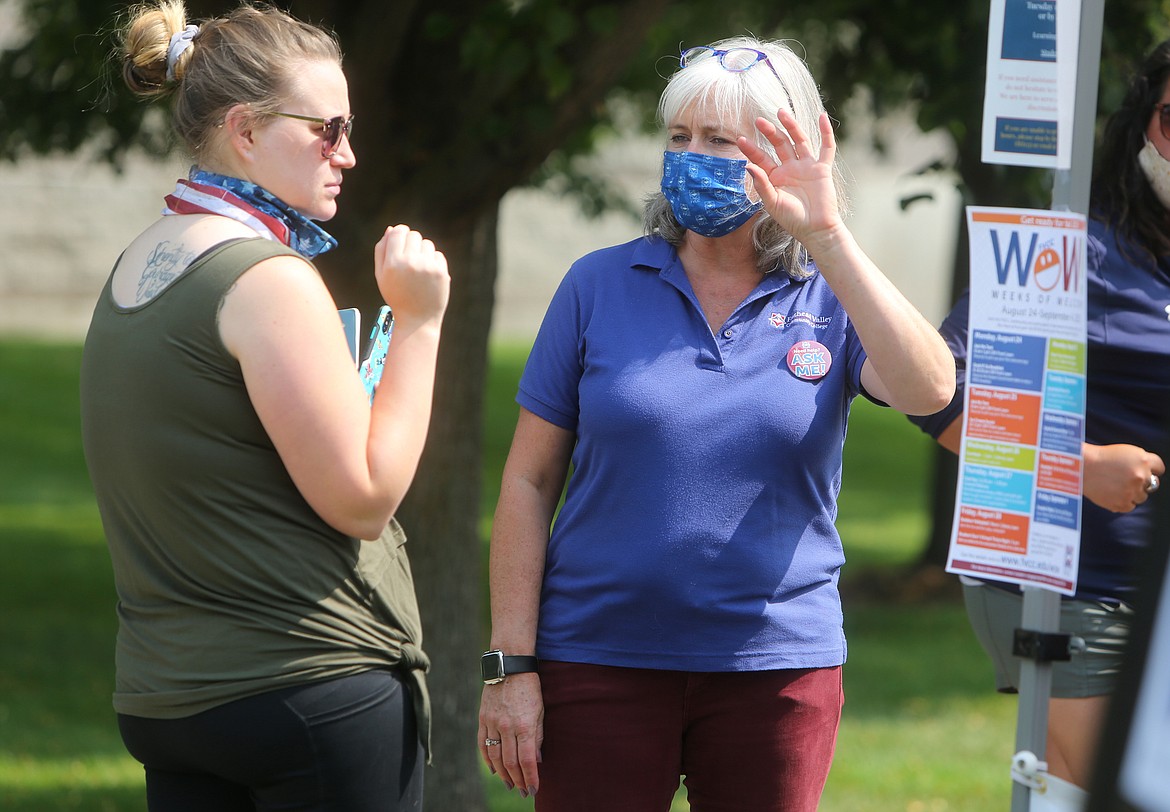 Student engagement coordinator Wendy Jeschke answers a question from pre-nursing student Rachel Dunegan, of Kalispell. (Mackenzie Reiss/Daily Inter Lake)
Previous
Next
by
MACKENZIE REISS
Daily Inter Lake
|
August 25, 2020 1:00 AM
On Monday, students returned to Flathead Valley Community College for the first day of the fall semester. But this year, things looked a little different.
The majority of students donned masks, bandannas or even face shields as they made their way around campus. A pane of plexiglass formed a barrier between the bookstore clerk and a shopper. And students in a natural resources class gathered outdoors, spaced out in a circle at least 6 feet apart from one another.
"It feels good to be back, but it is a little bit of an adjustment, of course," said Caleb Karow, a communications student from Kalispell. He's observed fewer students gathering in groups and a little uncertainty when it comes to greeting one another while being friendly, yet socially distant at the same time.
"I understand there's a lot of uncertainty about this …. But I don't want to be the guy who makes people feel uncomfortable. If it makes other people feel comfortable, I'm cool with wearing a mask," he said.
Masks are required in all campus buildings, including in classroom settings, in accordance with Gov. Steve Bullock's latest mask directive. In mid-August Bullock extended his original order requiring masks in indoor spaces in counties with four or more active cases to include schools.
Apart from mandatory face coverings, students are adapting to changes in the classrooms themselves. Seats are set apart for in-person classes, Karow noted, and some of his courses are split between in-person days and online sessions.
"We have half of our class online and then half of our class in the classroom and we flip flop Monday and Wednesday and then on Friday we're completely remote learning," he explained. When it came time to register, Karow made it a priority to sign up for as many in-person courses as he could.
"If it's going to be the same price, I'm going to try to get into the hybrid classes. I can do the remote if needed to fit that class in, but I'd like to be on campus as much as possible because you get the college experience," he said. "Even sitting in the same room with your instructor is extremely beneficial."
Mara Hanks, an RA and elementary education student from Kalispell, donned a face shield for her first day back on campus.
"It's nice because as an RA, people can see my whole face so they can recognize me. And also, it's so much easier to breathe and it's cooler … I often forget that I'm wearing it," she said.
She doesn't like having to enforce the mask requirement and has been pleasantly surprised by how willing students are to follow the restrictions. There have been some challenges though — since guests aren't allowed in the dorms, moving in is even more of a chore.
"The moving process was really hard. I couldn't have a group of people help and it's just so overwhelming," Hanks said. "I can't show people my place … and how cool the dorms are … That's been kind of challenging, not being able to share that with people."
She said she'll also miss not being able to attend the pow-wow she and other members of the Native American Student Association were planning this September and hopes that she'll be able to find new ways to build community that comply with COVID-19 precautions.
"How can we bring people together physically distant, but not socially distant?" she said.
Wendy Jeschke, student engagement coordinator, has a few ideas up her sleeve. She's in charge of FVCC's Week of Welcome, a week of free events designed to introduce students to the college's resources and each other. For example, on Sept. 2, the college will host hybrid grocery bingo. Students will play to win groceries and have the opportunity to participate live or using the online video platform, Zoom. And on Friday, they'll host virtual trivia.
"If you have a little bit of creativity it's easy to figure out [the logistics]," she said. "It's still exciting to see the students and make it somewhat normal."
Despite the many safety-related changes implemented, going back to school in the midst of a global pandemic isn't dramatically different, according to some students. There are still classes and homework, friends to be made and dorm rooms to personalize.
"I'm excited for this upcoming year — it's my last year here," Hanks said. "Everything's different, but not that different."
Reporter Mackenzie Reiss may be reached at 758-4433 or mreiss@dailyinterlake.com.
Recent Headlines
---