PHOTOS: Glacier sweeps Flathead in crosstown soccer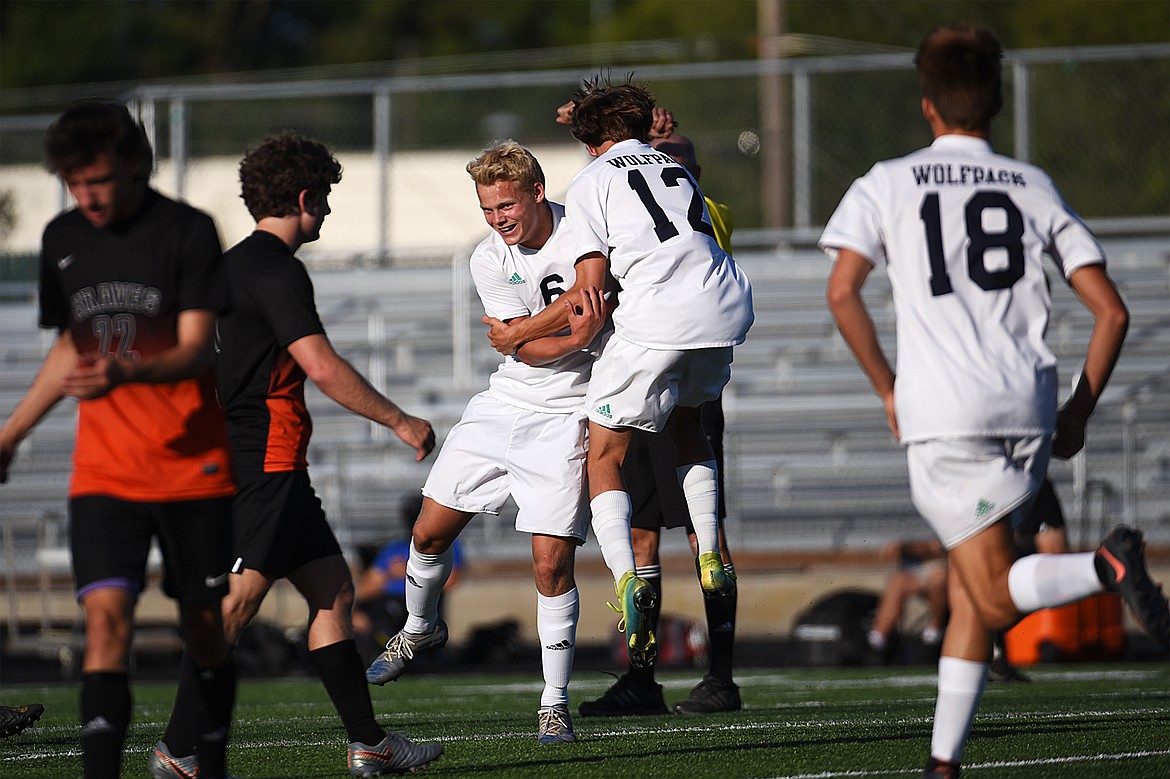 Glacier's Hunter Lisowski (6) and Campbell Smith (12) celebrate after Lisowski's first-half goal against Flathead during crosstown soccer at Legends Stadium on Thursday. (Casey Kreider/Daily Inter Lake)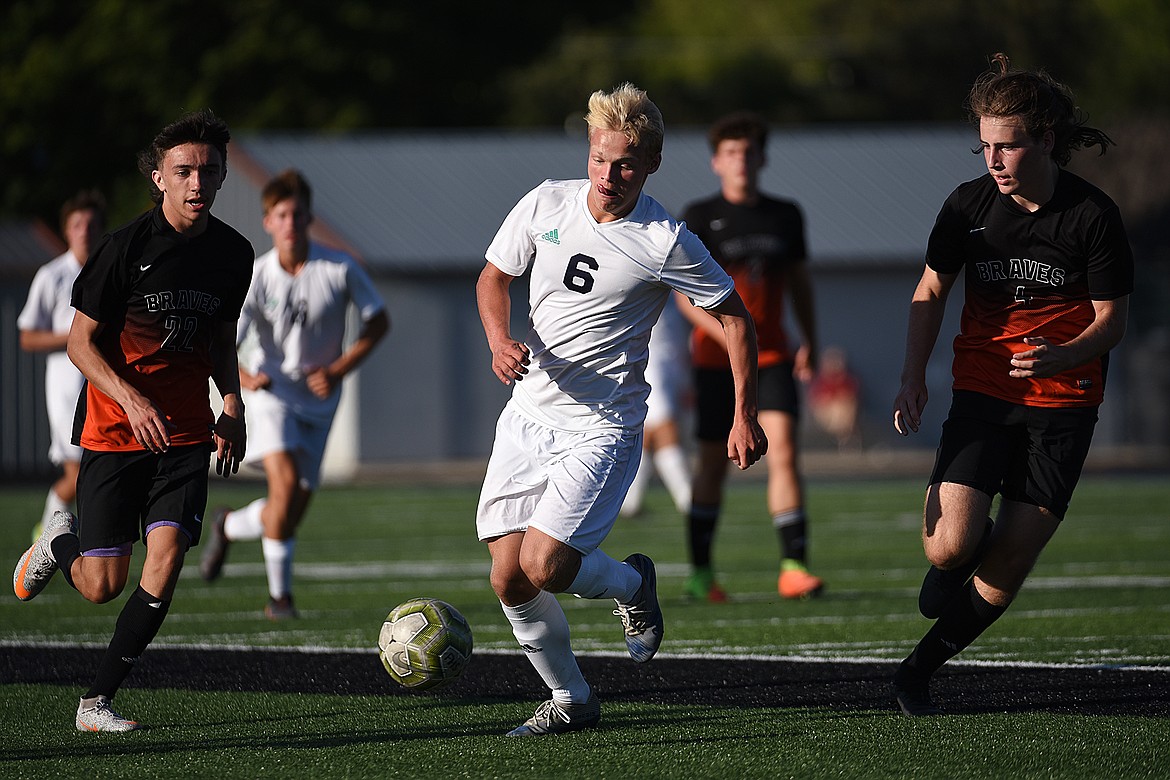 Glacier's Hunter Lisowski (6) moves the ball upfield against Flathead during crosstown soccer at Legends Stadium on Thursday. (Casey Kreider/Daily Inter Lake)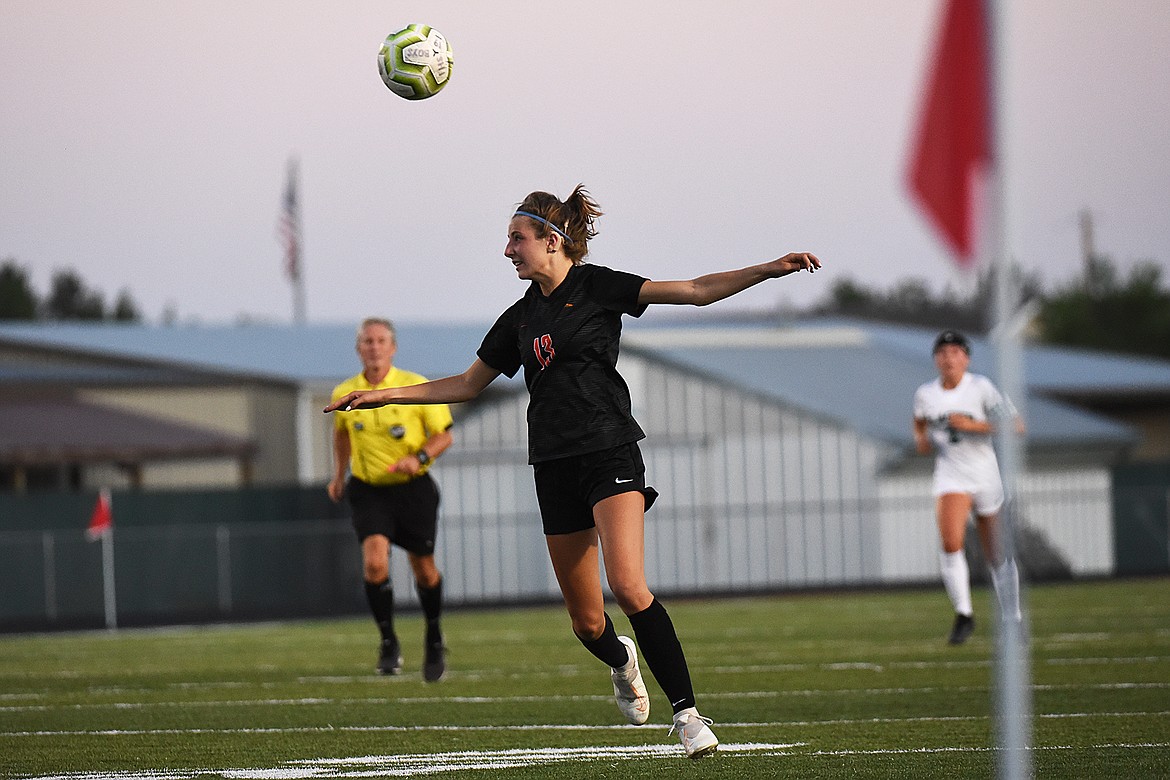 Flathead's Tessa Smith (13) plays the ball off her head against Glacier during crosstown soccer at Legends Stadium on Thursday. (Casey Kreider/Daily Inter Lake)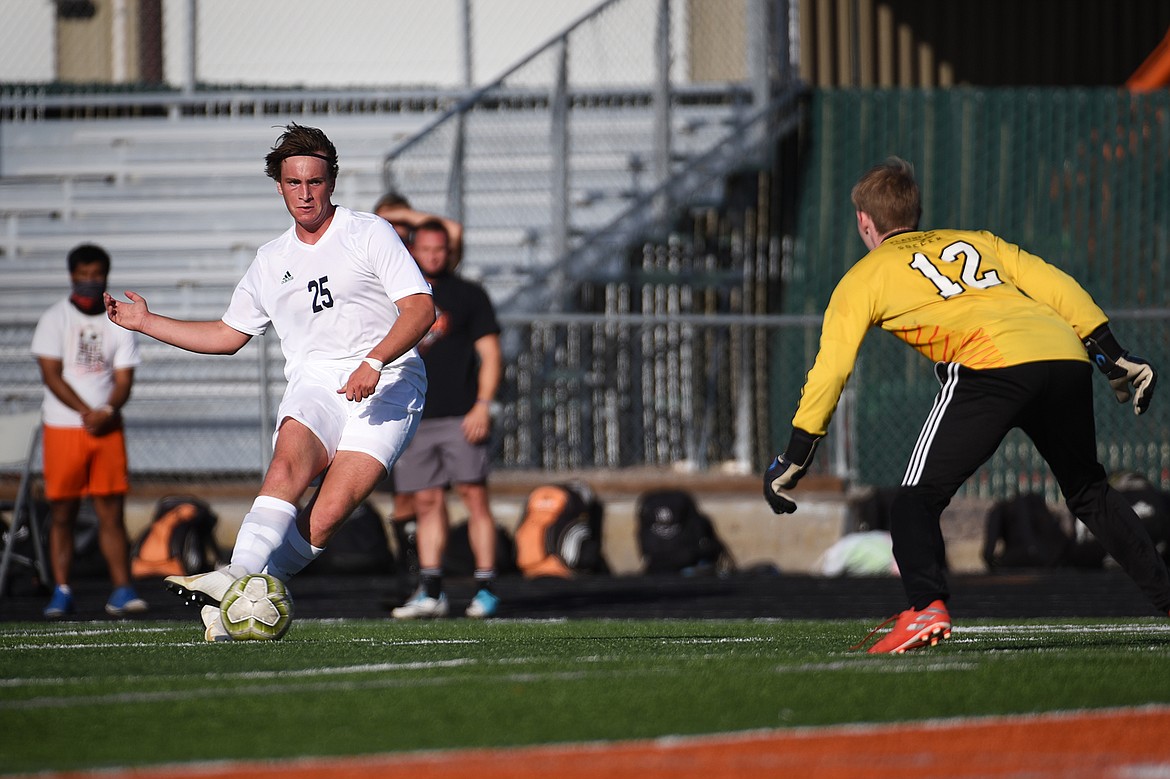 Glacier's Braden Nitschelm (25) scores a second-half goal against Flathead during crosstown soccer at Legends Stadium on Thursday. (Casey Kreider/Daily Inter Lake)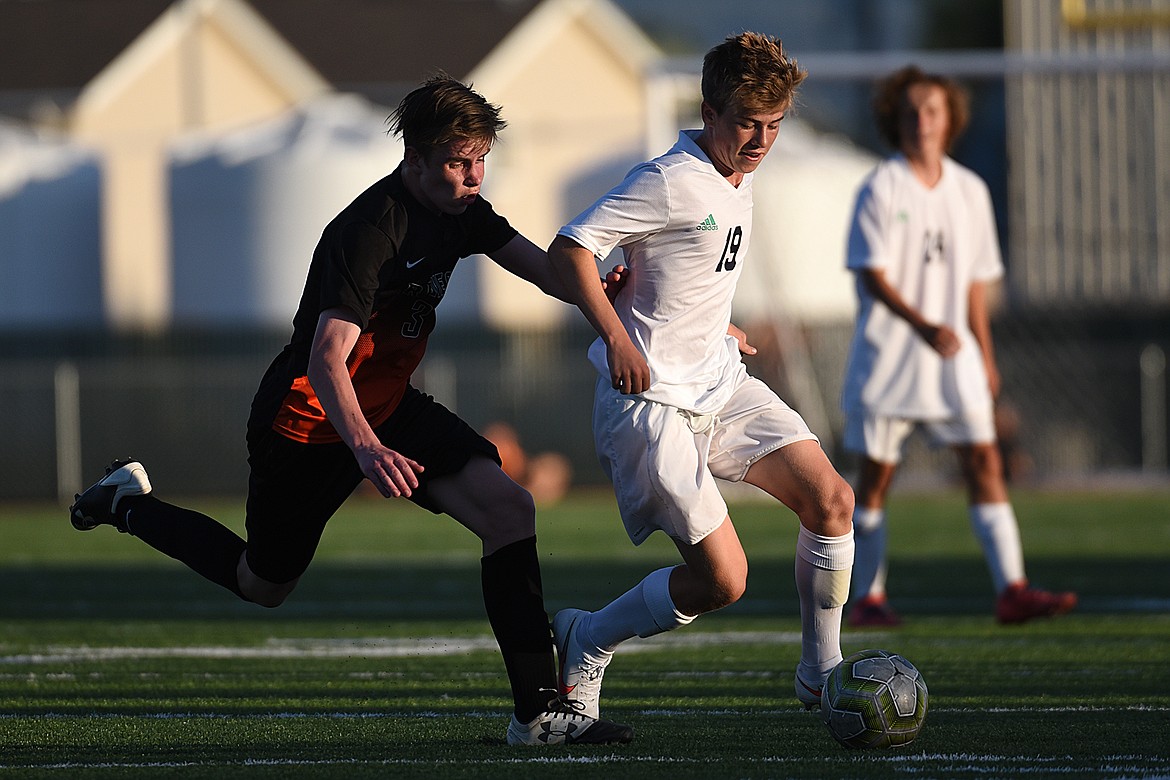 Glacier's Harrison Sanders (19) and Flathead's Kian Tanner (3) battle for possession during crosstown soccer at Legends Stadium on Thursday. (Casey Kreider/Daily Inter Lake)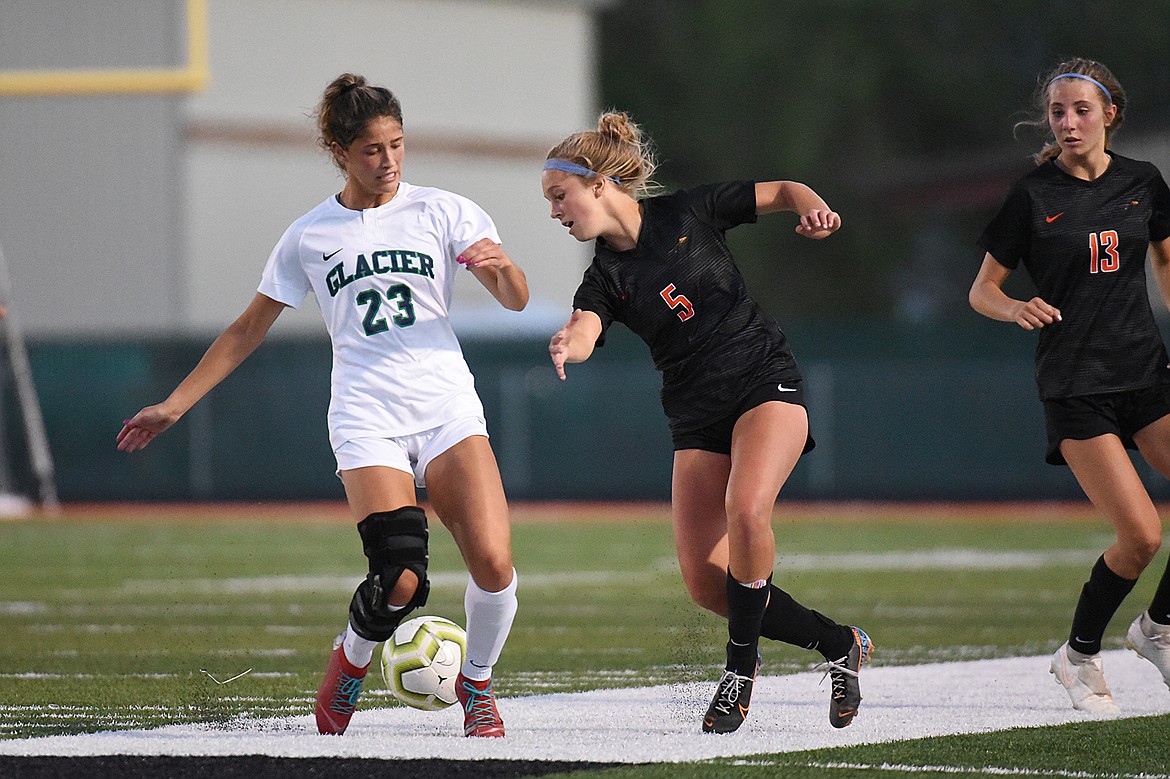 Glacier's Taylor Brisendine (23) and Flathead's Ellie Hawes (5) battle for possession during crosstown soccer at Legends Stadium on Thursday. (Casey Kreider/Daily Inter Lake)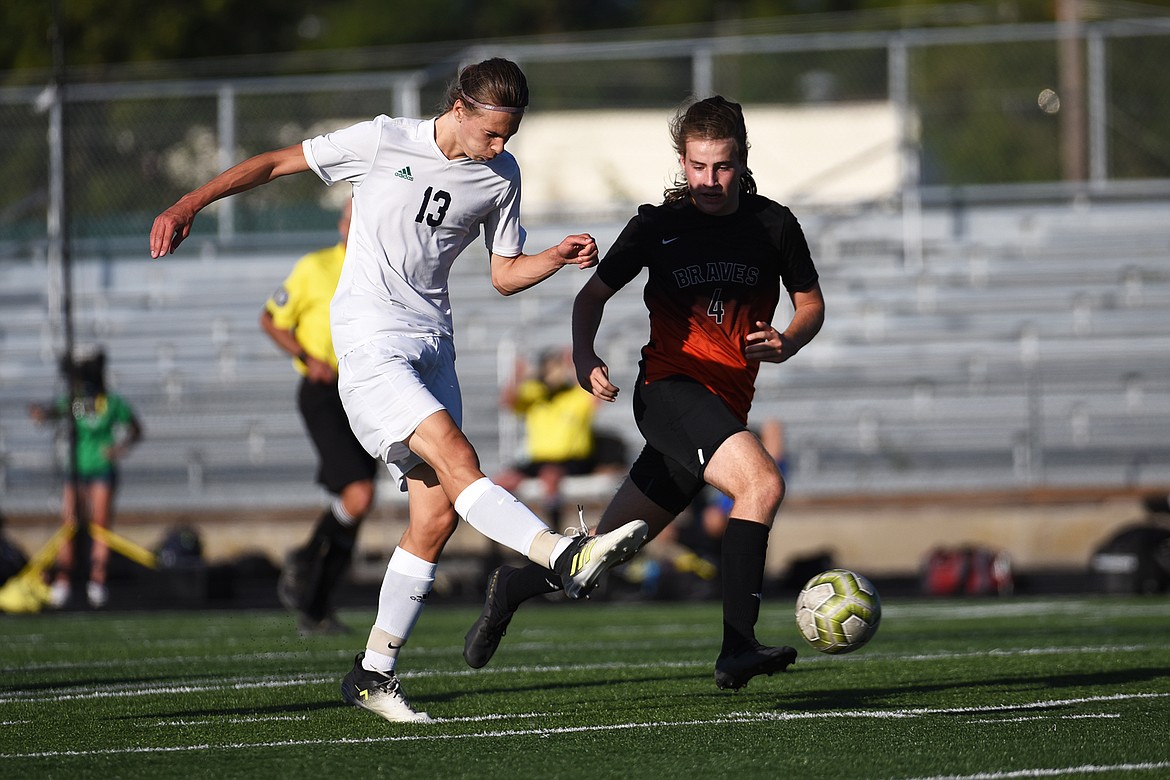 Glacier's Sol Dalla Betta (13) looks to shoot against Flathead's Aiden Christy (4) during crosstown soccer at Legends Stadium on Thursday. (Casey Kreider/Daily Inter Lake)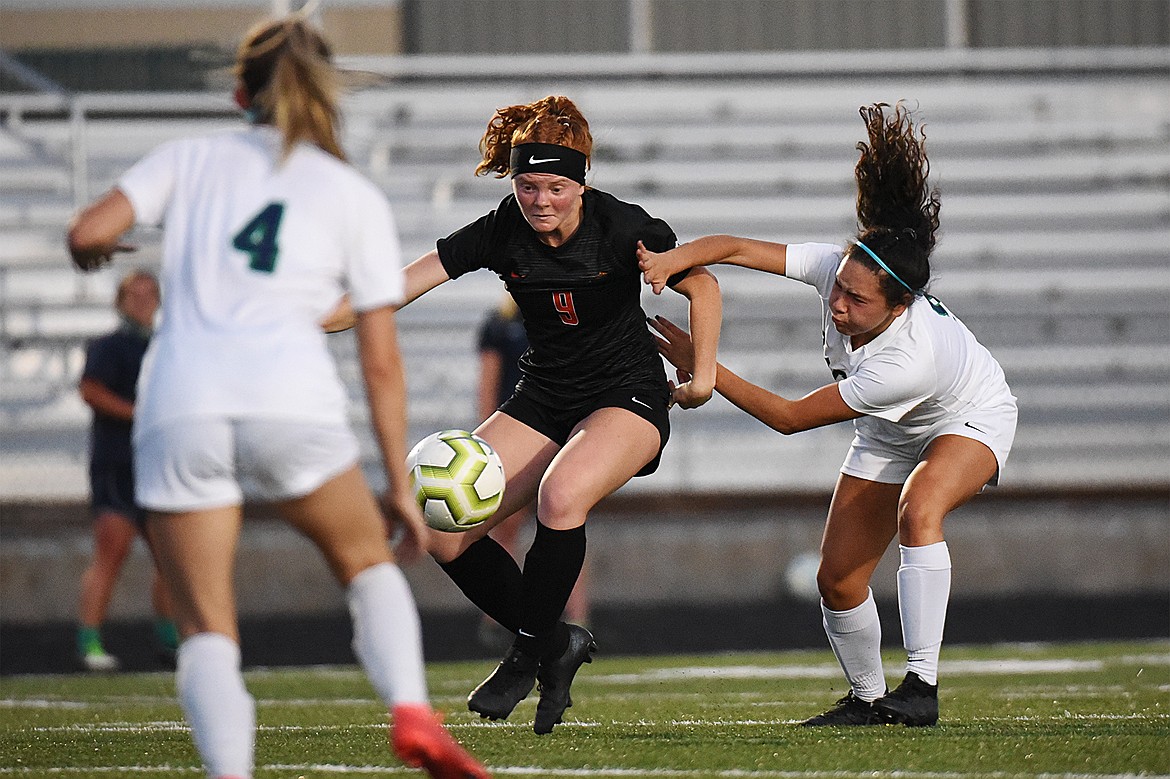 Flathead's Skyleigh Thompson (9) gets a look in the Glacier zone during crosstown soccer at Legends Stadium on Thursday. (Casey Kreider/Daily Inter Lake)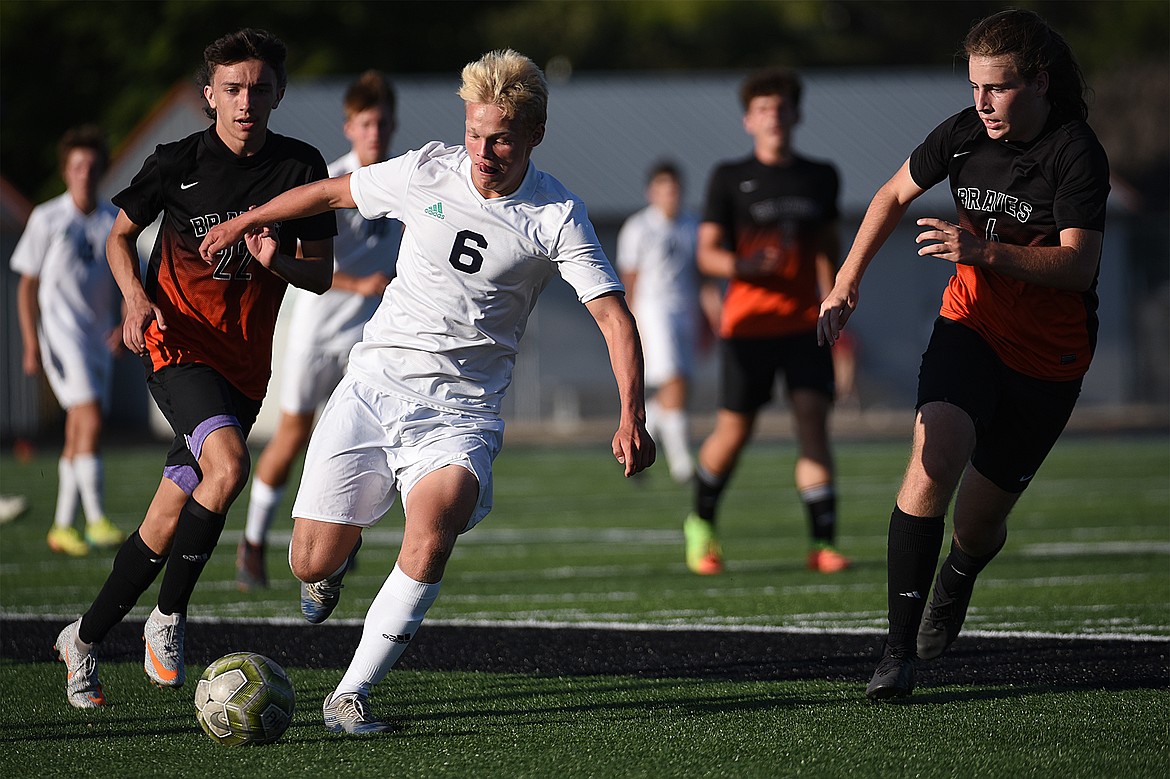 Glacier's Hunter Lisowski (6) moves the ball upfield against Flathead during crosstown soccer at Legends Stadium on Thursday. (Casey Kreider/Daily Inter Lake)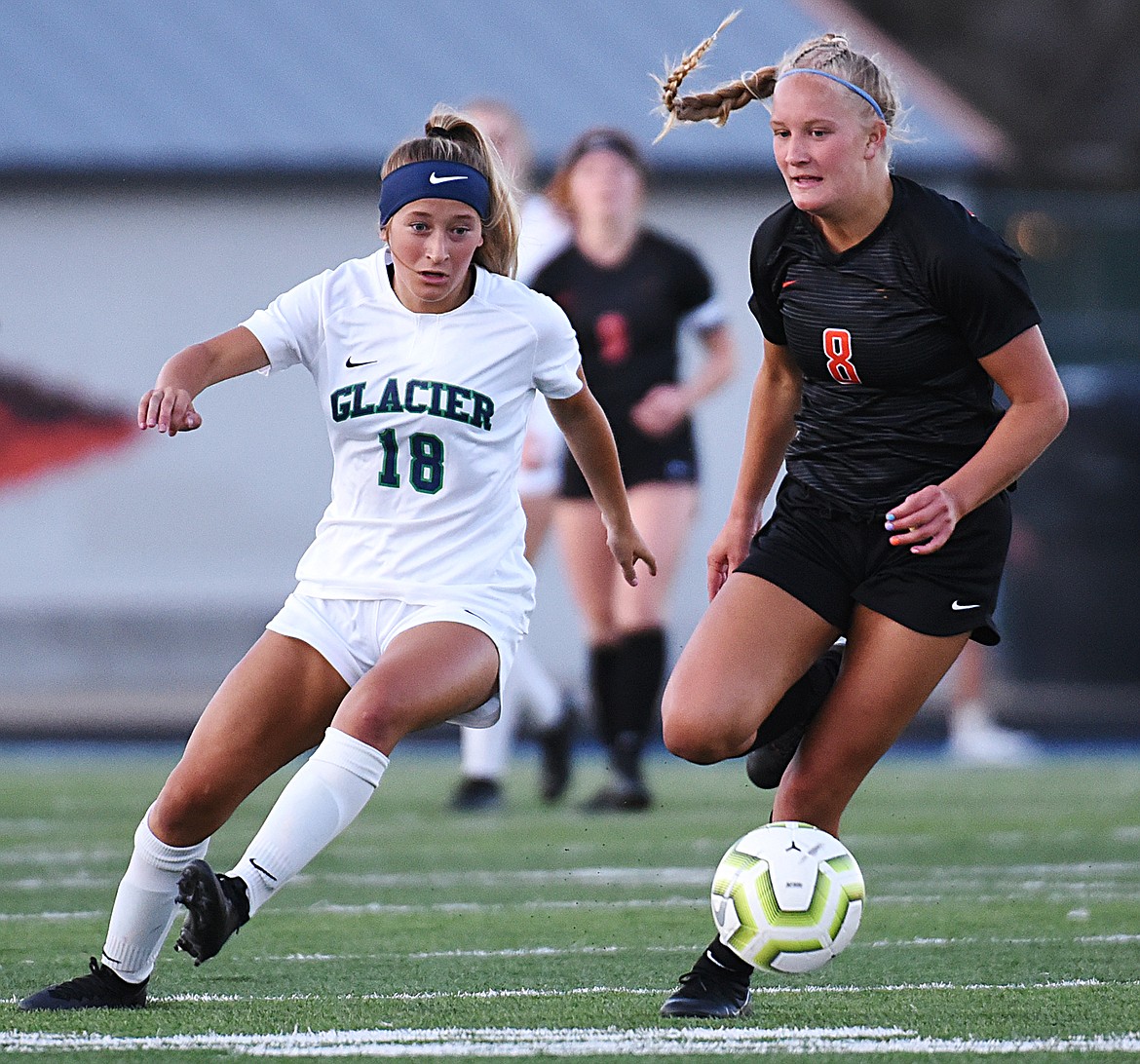 Glacier's Madison Becker (18) and Flathead's Chloe Mohatt (8) battle for possession during crosstown soccer at Legends Stadium on Thursday. (Casey Kreider/Daily Inter Lake)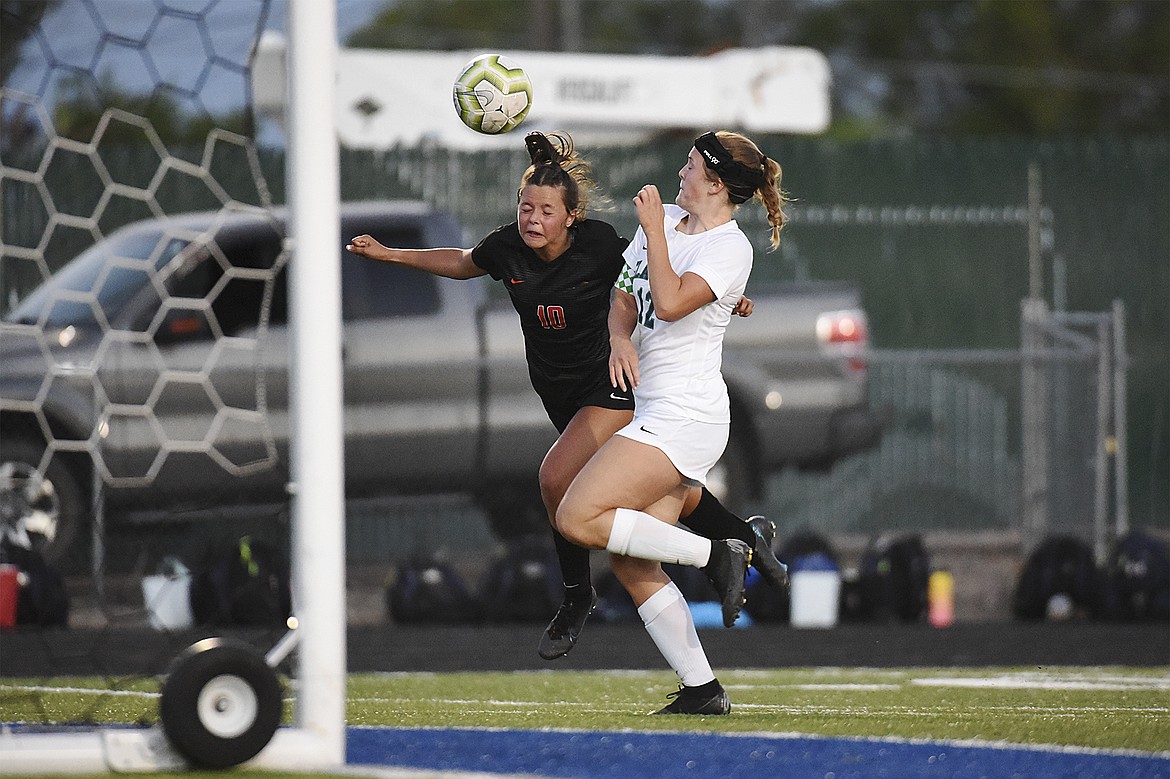 Flathead's Ashlynn Whiteman (10) and Glacier's Kenzie Williams (12) battle for a header near the Glacier goal during crosstown soccer at Legends Stadium on Thursday. (Casey Kreider/Daily Inter Lake)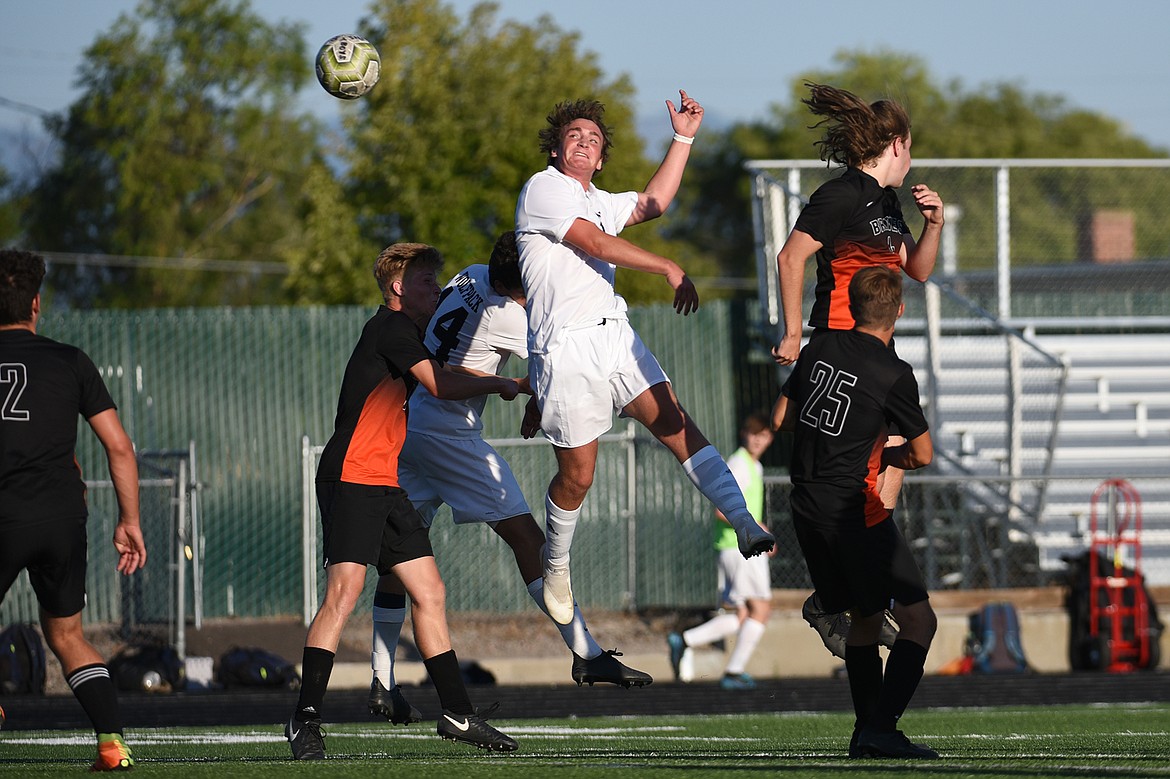 Glacier's Braden Nitschelm (25) heads a ball toward the Flathead goal during crosstown soccer at Legends Stadium on Thursday. (Casey Kreider/Daily Inter Lake)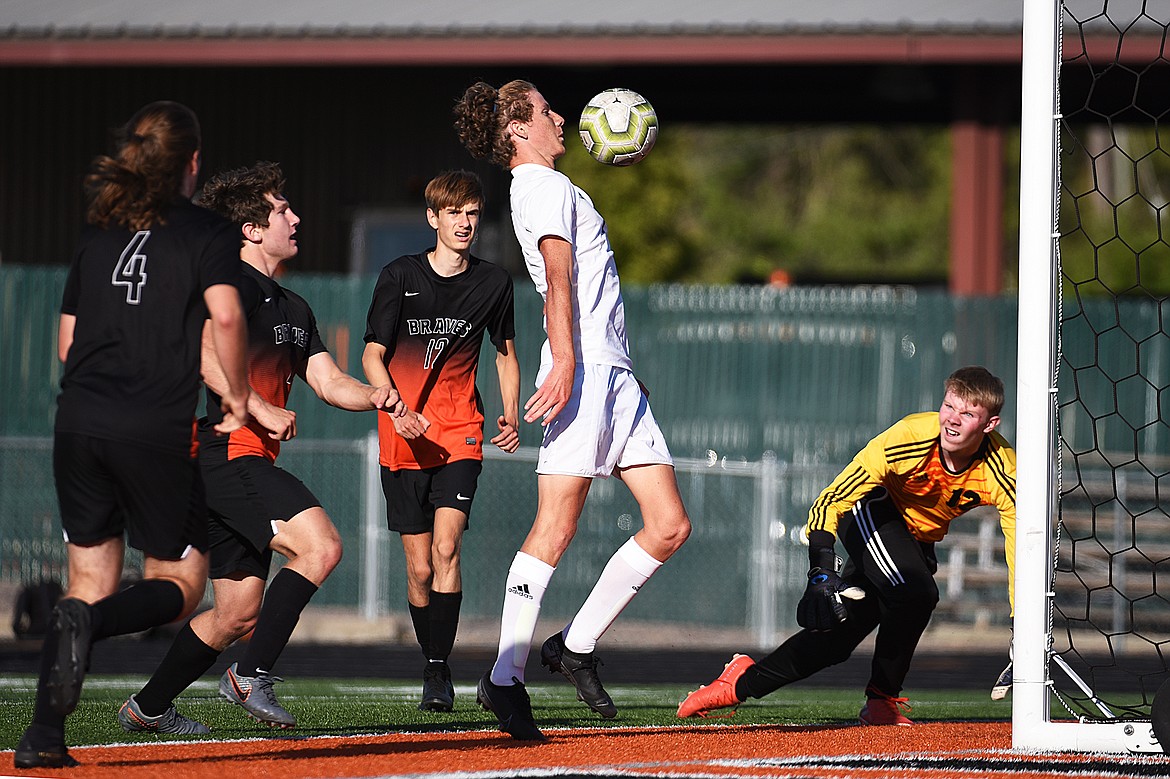 Glacier's Sullivan Coggins (7) scores a first half goal off a rebound against Flathead during crosstown soccer at Legends Stadium on Thursday. (Casey Kreider/Daily Inter Lake)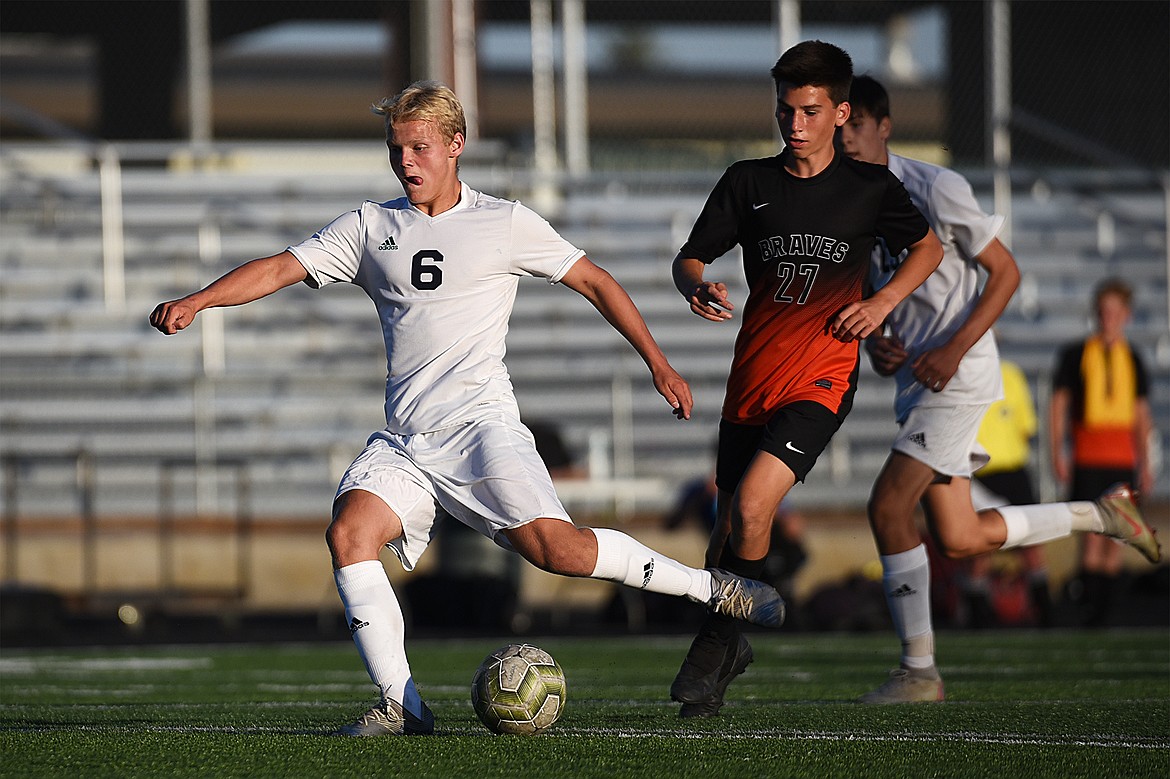 Glacier's Hunter Lisowski (6) scores a second-half goal against Flathead during crosstown soccer at Legends Stadium on Thursday. (Casey Kreider/Daily Inter Lake)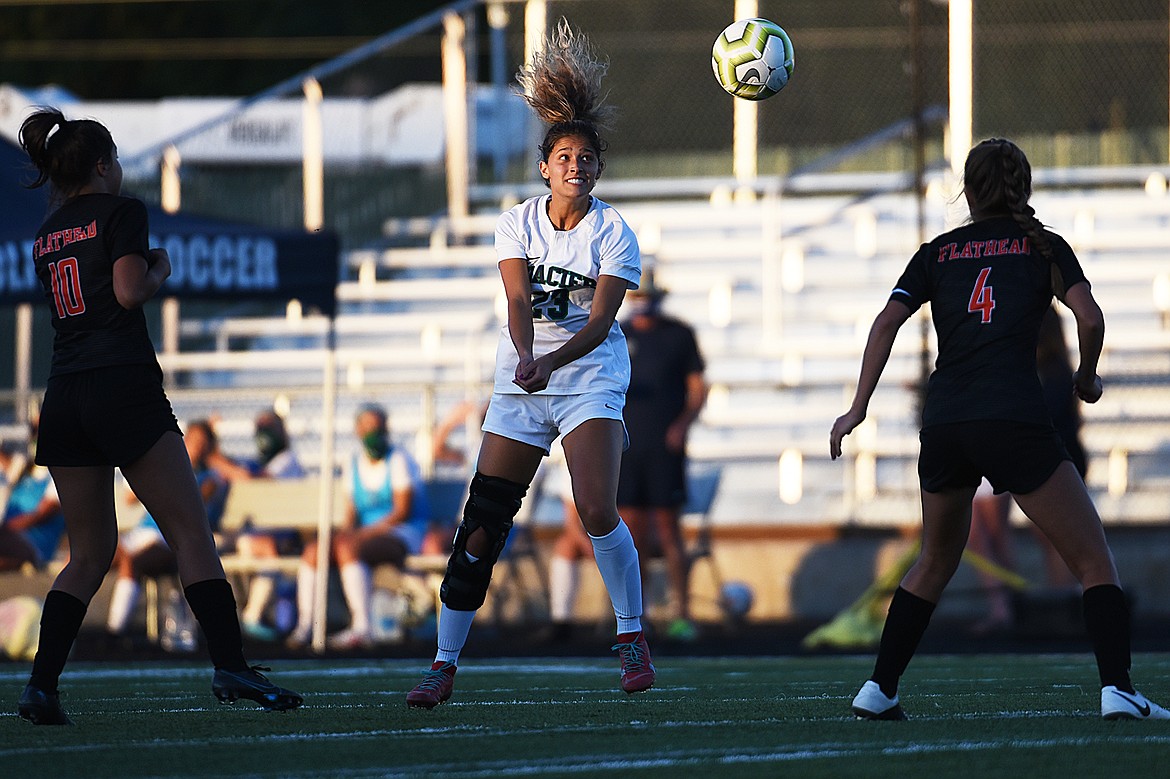 Glacier's Taylor Brisendine (23) heads a ball upfield between Flathead defenders Ashlynn Whiteman (10) and Kami Darrow (4) during crosstown soccer at Legends Stadium on Thursday. (Casey Kreider/Daily Inter Lake)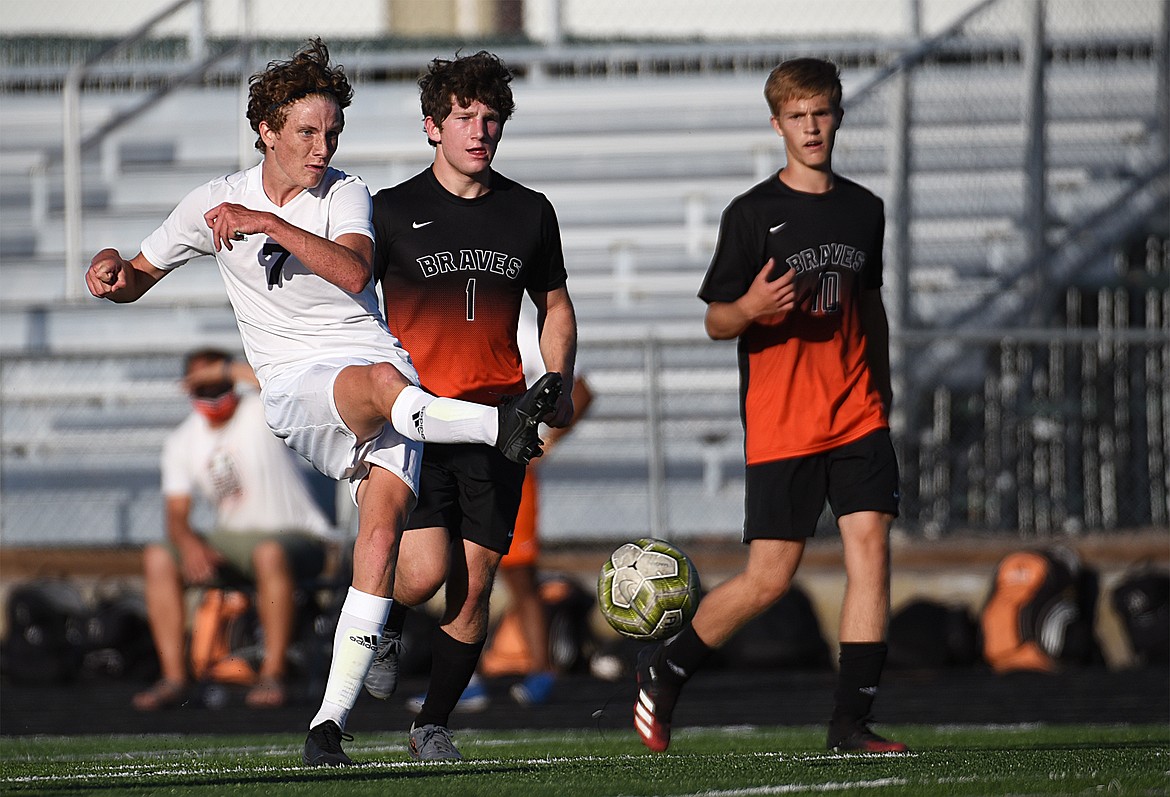 Glacier's Sullivan Coggins (7) scores a first half goal against Flathead during crosstown soccer at Legends Stadium on Thursday. (Casey Kreider/Daily Inter Lake)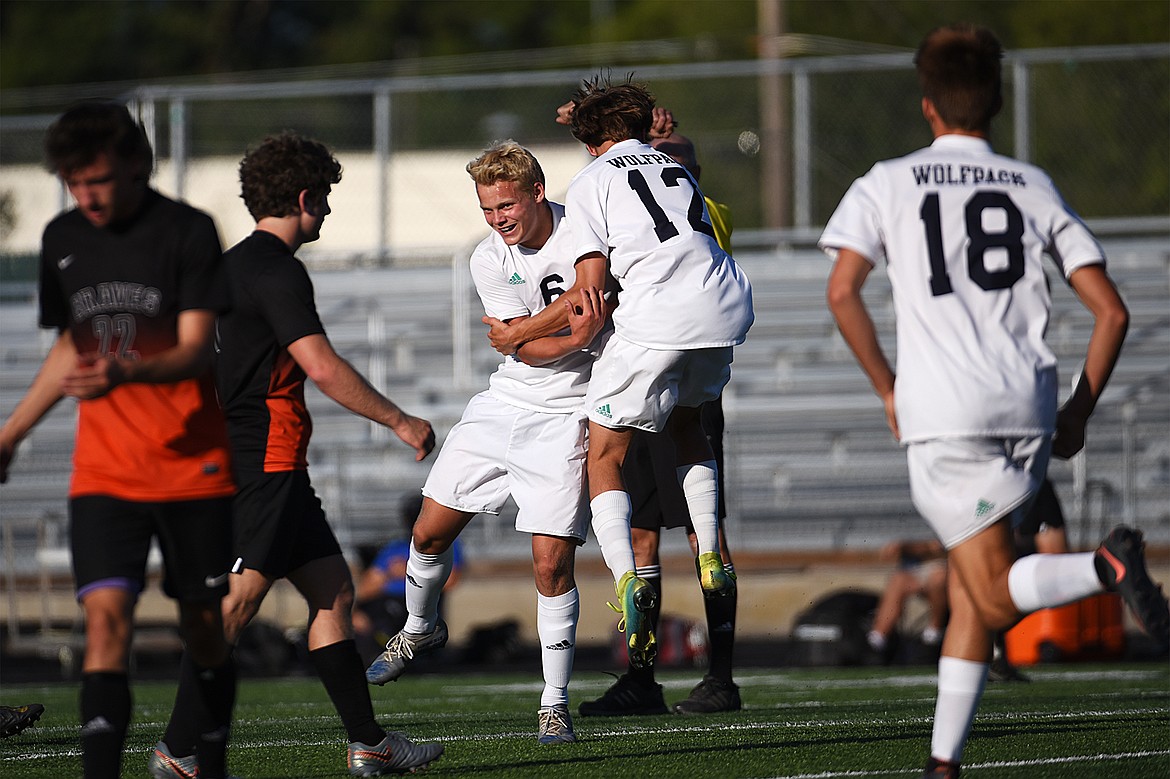 Glacier's Hunter Lisowski (6) and Campbell Smith (12) celebrate after Lisowski's first-half goal against Flathead during crosstown soccer at Legends Stadium on Thursday. (Casey Kreider/Daily Inter Lake)
Previous
Next
|
August 28, 2020 1:25 PM
Photos from crosstown soccer action between Glacier and Flathead at Legends Stadium on Thursday night.
Braden Nitschelm and Sullivan Coggins each scored two goals as the Glacier Wolfpack blanked the Flathead Braves 6-0 in the boys Class AA soccer season opener for both teams at Legends Stadium on Thursday. Hunter Lisowski and Zane Elliott also scored goals for the Wolfpack in the win.
The Glacier girls, who were leading the Flathead Bravettes 3-0 in the second half as of press time, ended up pulling out a 4-0 win.
---