Montana officials weigh in on electoral college vote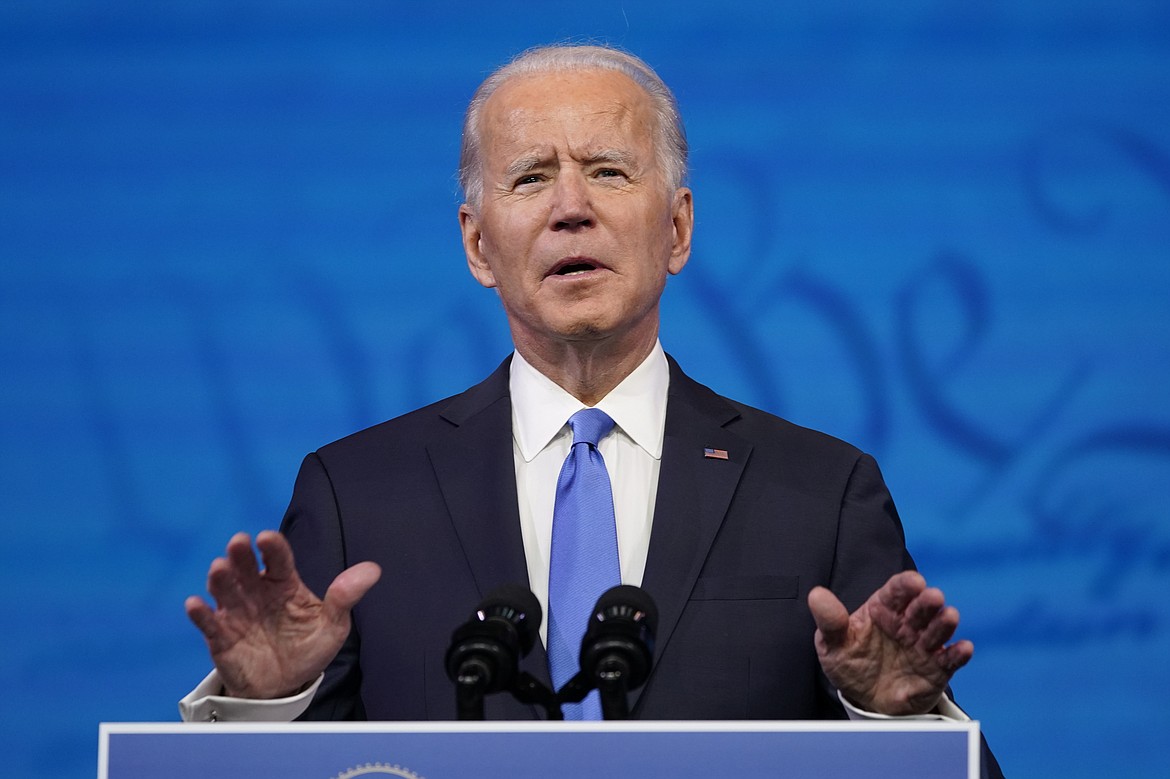 President-elect Joe Biden speaks after the Electoral College formally elected him as president, Monday, Dec. 14, 2020, at The Queen theater in Wilmington, Del. (AP Photo/Patrick Semansky)
by
Associated Press and Daily Inter Lake
|
December 15, 2020 12:00 AM
WASHINGTON (AP) — The Electoral College gave Joe Biden a majority of its votes Monday, confirming his victory in last month's election in state-by-state voting that took on added importance this year because of President Donald Trump's refusal to concede he lost.
California's 55 electoral votes put Biden over the top, clearing the 270-vote mark that affirmed he will be the nation's next president.
Heightened security was in place in some states as electors met on the day by federal law. Electors cast paper ballots in gatherings that took place in all 50 states and the District of Columbia, with masks, social distancing and other virus precautions the order of the day. The results will be sent to Washington and tallied in a Jan. 6 joint session of Congress over which Vice President Mike Pence will preside.
There was little suspense and no surprises as all the electoral votes allocated to Biden and Trump in last month's popular vote went to each man.
In Arizona, Georgia, Michigan, Nevada, Pennsylvania and Wisconsin — the six battleground states that Biden won and Trump contested — electors gave Biden and Vice President-elect Kamala Harris their votes Monday in low-key proceedings. Nevada's electors met via Zoom because of the coronavirus pandemic.
When all the votes are in, Biden was expected to have 306 electoral votes to 232 for Trump. Hawaii was the only state that had yet to vote. Biden topped Trump by more than 7 million votes nationwide.
"In this battle for the soul of America, democracy prevailed," Biden said in remarks prepared for an evening speech. "We the people voted. Faith in our institutions held. The integrity of our elections remains intact. And so, now it is time to turn the page. To unite. To heal."
IN MONTANA, Trump beat Biden with 57% of the popular vote. On Monday, the state's three Republican electors – Thelma Baker, Becky Stockton and state Rep. Brad Tschida – met at the state Capitol in Helena to cast their votes. Secretary of State Corey Stapleton, the state's top election official, presided over the brief meeting.
"Every four years there's a renewed interest in the Electoral College – especially this year," Stapleton remarked, before delving into a brief history and explanation of the system. "While the Electoral College is not a flawless system, it has passed many difficult tests during the presidential elections in which it has been used."
Stapleton is one of few Republican leaders in Montana who publicly acknowledged Biden's victory after the outcome of the presidential race became clear in November.
U.S. Sen. Steve Daines' campaign sent a text message to constituents last month claiming Democrats were "stealing" the presidential election. On Monday, his office provided a statement that read in full, "The Electoral College meets today, Congress will ratify the results in January and a president will be sworn into office on Jan. 20."
U.S. Rep. Greg Gianforte, Montana's governor-elect, signed onto a court brief challenging election results in four battleground states in a lawsuit that the U.S. Supreme Court rejected on Friday. On Monday, Gianforte said in a statement, "Americans cast their ballots, the electoral college convenes today, and I expect them to vote for Joe Biden as our next president."
Republican state Auditor Matt Rosendale, who was elected to succeed Gianforte in the House, also has not publicly acknowledged Biden's victory. His office did not respond to messages seeking comment Monday.
In an email, a spokesperson said Democratic U.S. Sen. Jon Tester "is glad that the Electoral College stood firm against baseless attempts to overturn the outcome of the election, and he believes it's long past time for these irresponsible attacks on our democratic process to come to an end. The election is over – Sen. Tester believes both sides need to begin working together to heal our partisan divisions and start addressing the serious issues facing our nation."
Associated Press writers across the United States and Daily Inter Lake reporter Chad Sokol contributed to this report.
---