Hospital, nurses union still working toward contract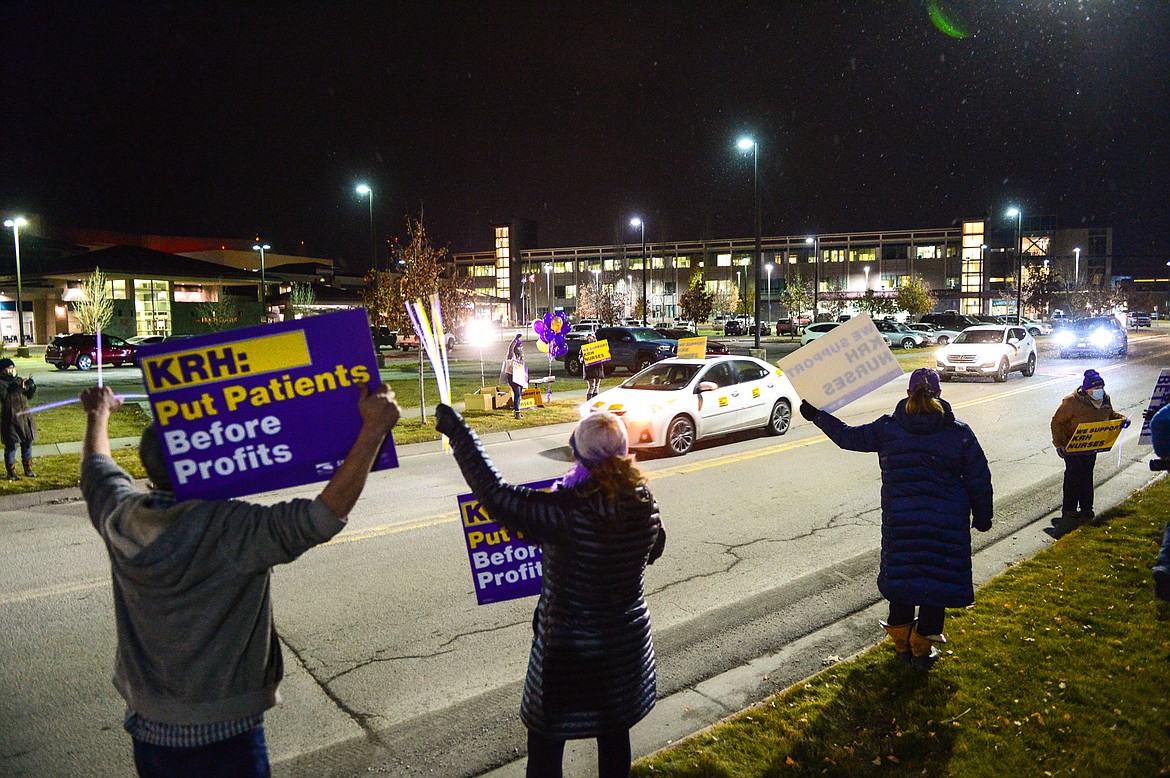 Participants hold signs as drivers circle around during a Solidarity Drive car caravan for a fair contract for Logan Health registered nurses outside Kalispell Regional Medical Center on Friday, Dec. 11. (Casey Kreider/Daily Inter Lake)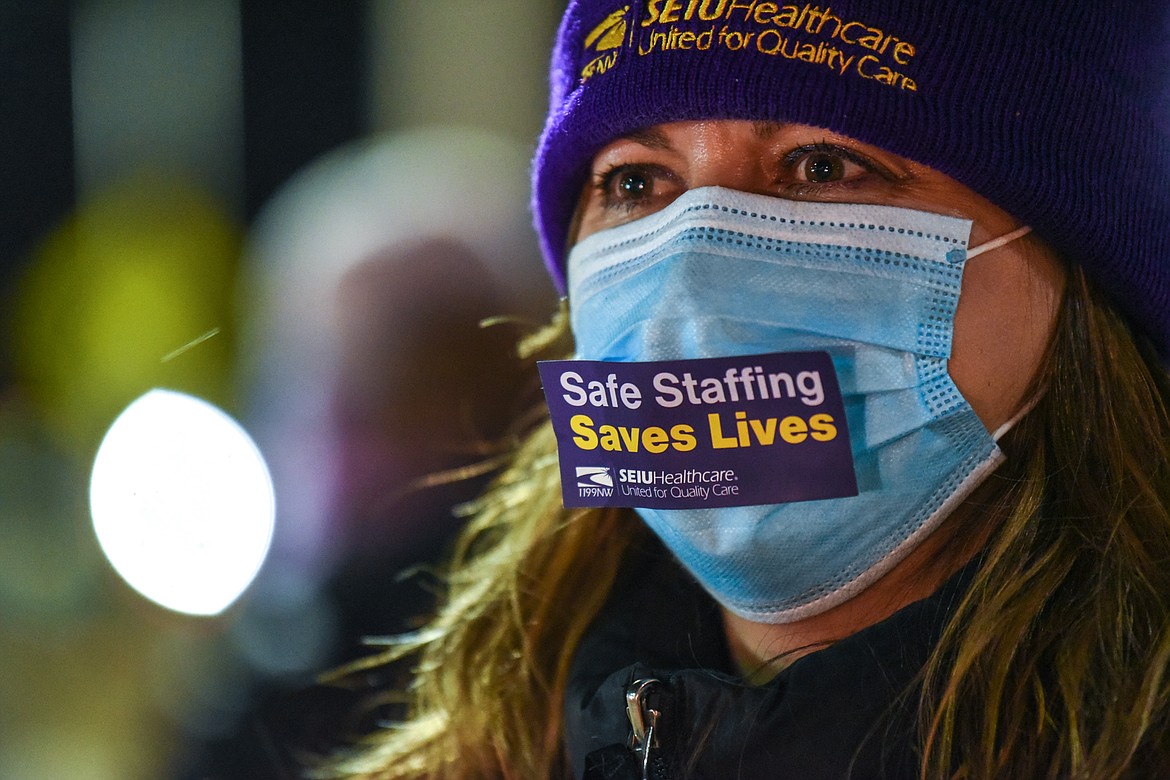 Julie Anderson, a registered nurse with Logan Health, wears a sign on her mask during a "Solidarity Drive" car caravan for a fair contract outside Kalispell Regional Medical Center on Friday, Dec. 11, 2020. (Casey Kreider/Daily Inter Lake)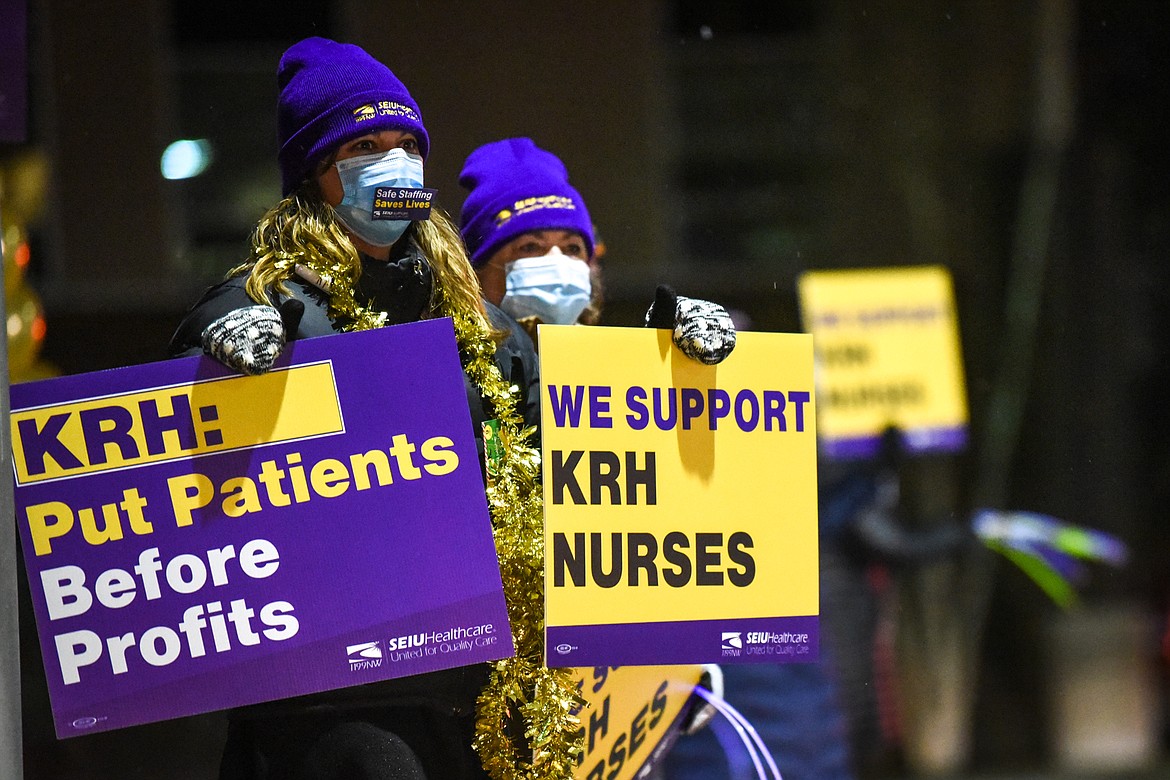 Logan Health registered nurses hold signs during a "Solidarity Drive" car caravan for a fair contract outside Kalispell Regional Medical Center on Friday, Dec. 11, 2020. (Casey Kreider/Daily Inter Lake)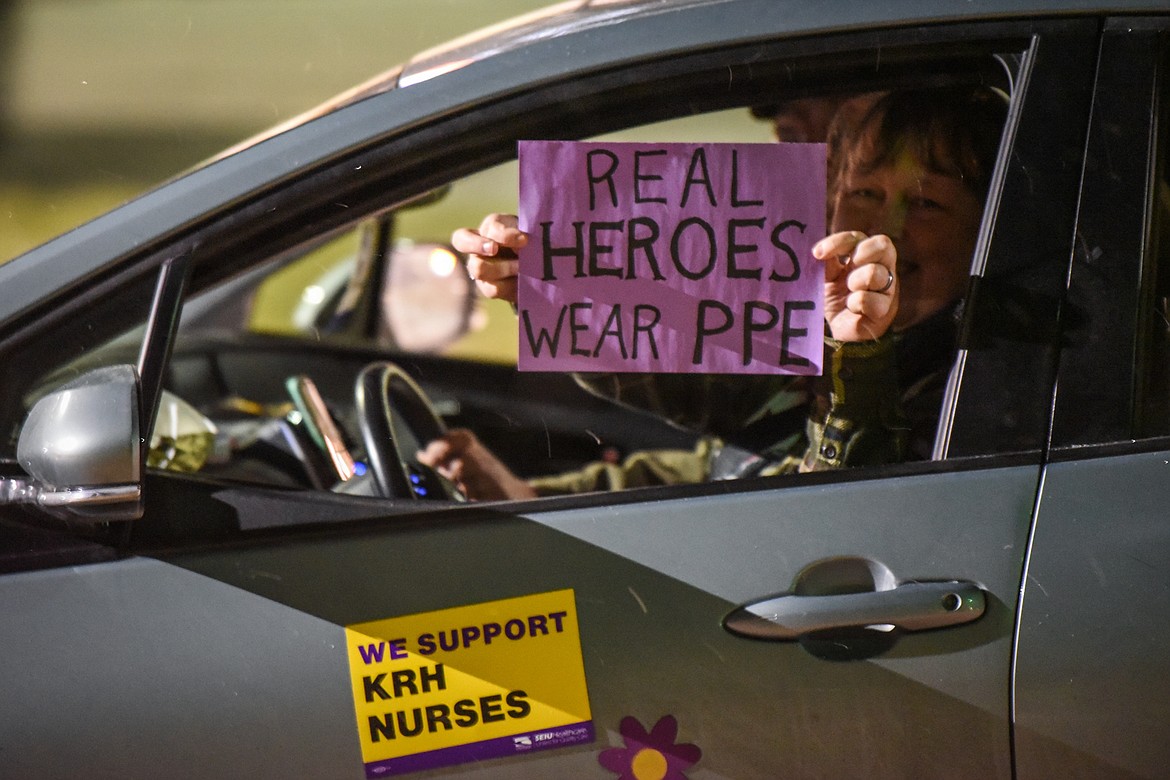 Drivers and passengers honk horns and wave signs as they participate in a Solidarity Drive car caravan for a fair contract for Logan Health registered nurses outside Kalispell Regional Medical Center on Friday, Dec. 11. (Casey Kreider/Daily Inter Lake)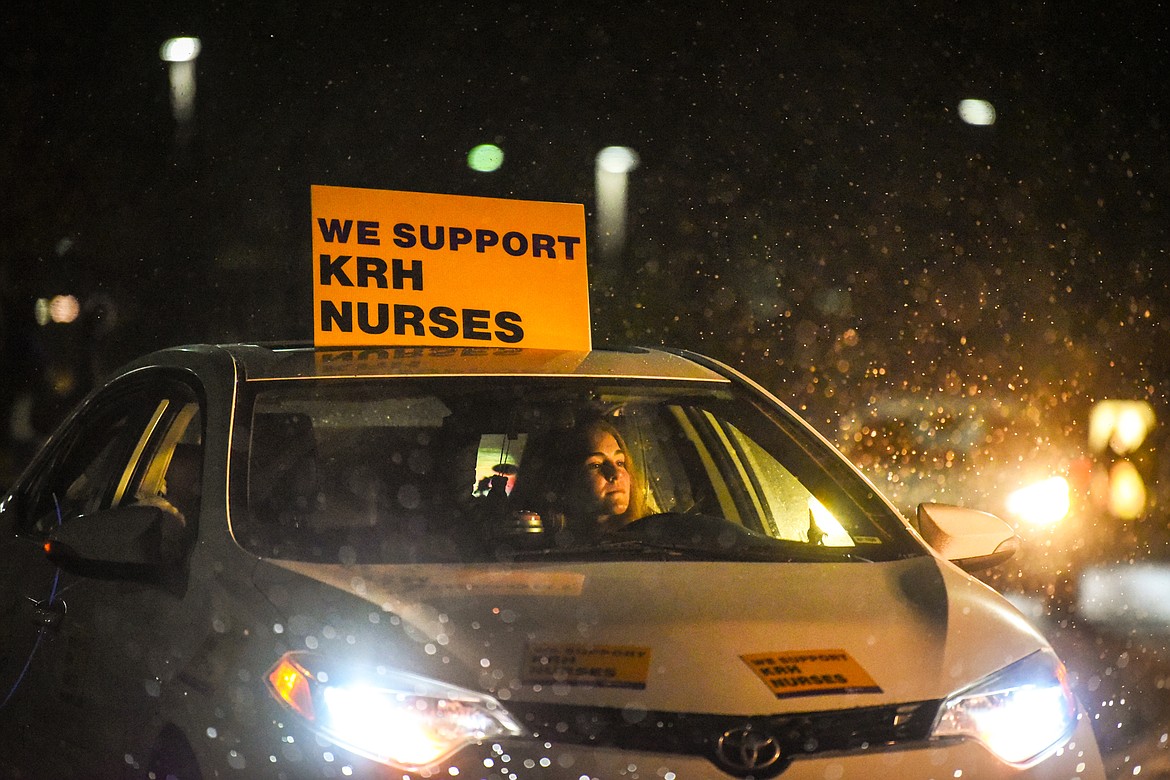 McKenna Flannigan, whose mother is a registered nurse with Logan Health, participates in the Solidarity Drive car caravan for a fair contract outside Kalispell Regional Medical Center on Friday, Dec. 11. (Casey Kreider/Daily Inter Lake)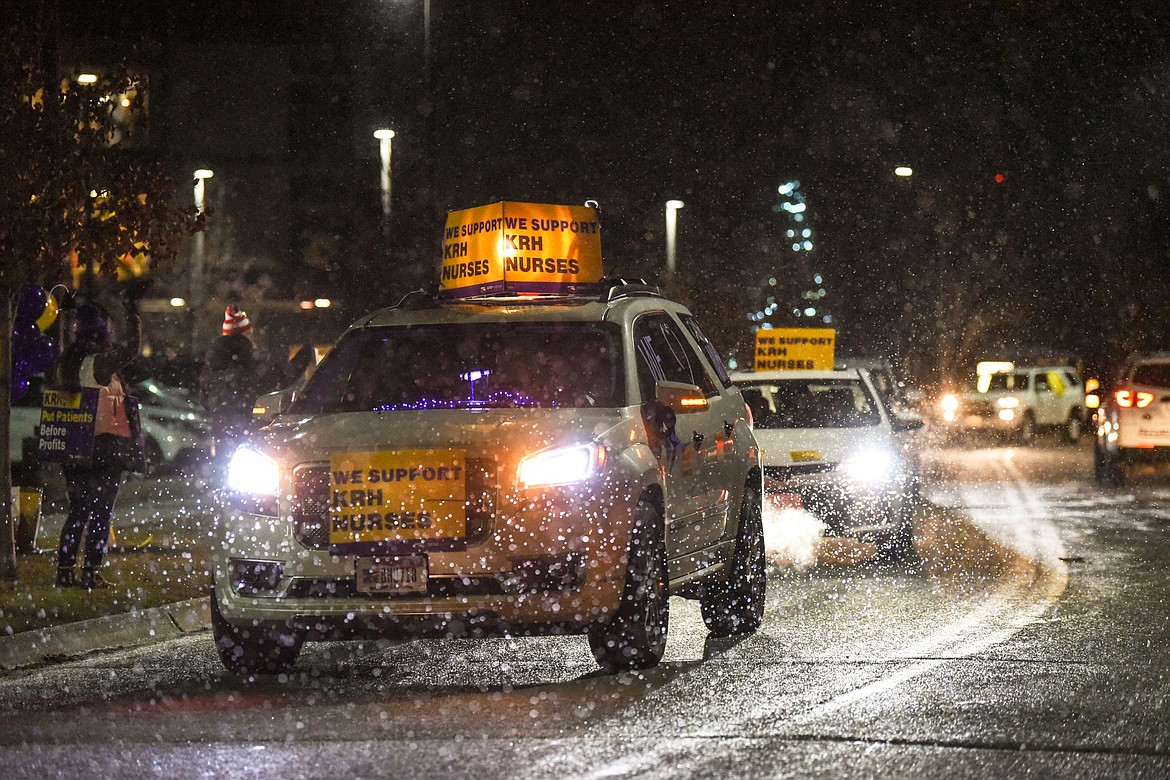 Drivers and passengers honk horns and wave signs as they participate in a Solidarity Drive car caravan for a fair contract for Logan Health registered nurses outside Kalispell Regional Medical Center on Friday, Dec. 11. (Casey Kreider/Daily Inter Lake)
Previous
Next
by
KIANNA GARDNER and CHAD SOKOL
|
December 19, 2020 12:00 AM
It's been nearly 18 months since Kalispell Regional Healthcare management, nurses and union representatives entered into negotiations, and the parties have yet to settle an initial contract. The delay has prompted an increase in campaign activity throughout the valley.
Last week, nurses and community members participated in a "Solidarity Drive" that began at Northridge Lutheran Church and ended at Kalispell Regional Medical Center. At least 20 vehicles participated in the drive and an additional 20 or so individuals held signs outside of the hospital displaying messages of support for union nurses, including "Honk for Nurses," and "Make Staffing Great Again."
Prior to the event, representatives from the SEIU Healthcare 1199NW union sent a press release stating nurses had submitted proposals to increase staffing on all units "so they can safely provide the patient care our community deserves on each shift." The team is also bargaining for better wages and benefits, which they say would tackle recruitment and retainment issues at Kalispell Regional, which is rebranding to Logan Health in January.
Nurses within the 650-person union say hospital management has been slow to respond to several economic proposals, though non-economic items such as job titles and discipline procedures, have progressed swiftly. Nurses hope making the process more public will help speed the bargaining.
Initial efforts emerged late this summer when yard signs reading "KRH: Put Patients Before Profits" and "We Support KRH Nurses" began popping up throughout the valley. Andrea Lueck, who has been a nurse at Kalispell Regional Medical Center for about 10 years, said in early October that the decision to go public with the yard signs was put to a vote.
"We still are working on negotiations and we felt we needed to push KRH a little bit more to bargain," said Lueck, who is also part of the nurses union.
At the time, nurses had been waiting several months for hospital management to formally counter various economic proposals. But according to Tara Lee, a registered nurse at Montana Children's who is also part of the nurses union, management has since come back with more than one counter. Lee, in part, credits this to ongoing campaign activities.
"Progress is definitely being made and it may seem like it's not going fast enough, but every single time we bargain and every single time we take different actions in the community, we move forward," said Lee, who has been with Kalispell Regional since 2007. "Involving the people in this valley has helped keep us on track."
Kalispell Regional spokeswoman Mellody Sharpton also said via email that bargaining has "been slower than either side would like, but we are making progress." She added that "KRH remains committed to bargaining a fair, competitive labor contract with the union." Neither Sharpton nor Lee could say when a contract may be completed.
The National Labor Relations Board requires employers to bargain "in good faith" with their employees and their representative and to sign any collective bargaining agreement that is reached. There is no official time-frame for when a contract must be settled, but initial contracts tend to take longer.
Sharpton said the groups continue to meet on a regular basis. The most recent bargaining session occurred Wednesday and another will unfold in January, though no official date has been set.
WAGES AND BENEFITS continue to be sticking issues for both sides.
Lee emphasized an "appropriate and competitive" wage is what's needed to attract qualified employees to the Flathead Valley. The area has historically struggled to recruit and retain health-care staff across multiple disciplines, including mental health, specialty services, registered nurses and certified nurses assistants.
"It has always been difficult to bring qualified staff to this valley. People are attracted to what the area has to offer with its mountains and outdoor activities, but if they can make more working somewhere else in Montana, they're going to consider that," Lee said. "Our focus is bargaining for a living wage for this community."
Economic proposals aside, Lee did say the COVID-19 pandemic has led to some additional bargaining asks and also prompted the nurses to form a COVID committee. The committee, developed about two months ago when Flathead County was experiencing a major upswing in new cases, consists primarily of frontline bedside nurses.
"Both the union and Kalispell Regional want the highest level of protection possible for staff and patients and we felt creating this committee would help with that," Lee said. "They are a really productive problem-solving group that can advocate for what is needed to get through this pandemic."
ON WEDNESDAY, the nurses and union proposed additional paid leave for individuals who may suffer various symptoms after taking the COVID-19 vaccine. A shipment of the two-dose vaccine created by Pfizer and BioNTech arrived at Kalispell Regional Medical Center earlier this week and the immunization of willing frontline workers began Thursday morning.
Specifically, the union has recommended workers be allowed five paid days off following inoculation from COVID if they suffer any adverse side-effects, and the leave must not accrue against any paid leave employees have banked.
When asked about the proposal, Sharpton said "we are bargaining paid time-off terms with the union, which includes paid time-off terms related to COVID. Again, out of respect for the process and the parties involved, we will not comment on specific details."
The initial vaccine shipment consisted of 975 vials and according to Sharpton, the hospital is anticipating a second delivery next week, though the number of vials in that delivery is unclear.
Lee is one of hundreds of employees who received the voluntary vaccine on Thursday.
"As a nurse, I am thrilled to take the vaccine as I want to do everything possible to protect myself, my patients, family and community," Lee said prior to receiving her shot. "This has been a long time coming."
In an interview Monday, Christina Bradbury, a registered nurse in the cardiovascular services unit at Kalispell Regional, echoed that statement, saying she intends to take the vaccine, which is the route she believes most of her coworkers will take as well. But Bradbury, who is also part of the nurses union, said some health-care workers still wanted some questions answered.
"I'm certainly glad it's become available, and become available so soon. But because it is so new, I do have questions about specifically how it works," Bradbury said. "It's encouraging, and I'm definitely optimistic about it, but I do know that more information would be beneficial about the vaccine itself."
Lee said Thursday the individual in charge of distribution at the hospital released an email midweek explaining more about the vaccine and the tiers of individuals who should be inoculated first. She described the email as "comforting" and said it was "nice to have all of the vaccine information compiled in an email from management."
Reporter Kianna Gardner can be reached at 758-4407 or kgardner@dailyinterlake.com
Recent Headlines
---