Hardcore: Whitefish adventure racer tests his limits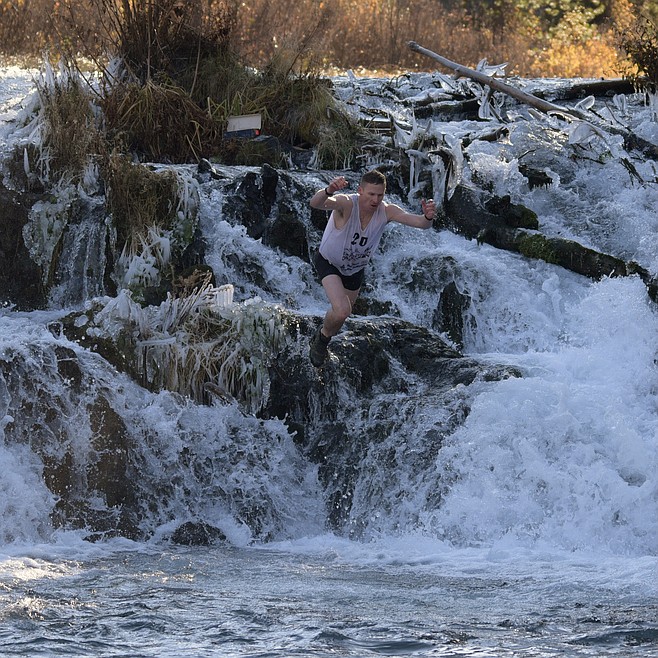 Jesse Nelson plunges into a freezing river during a recent adventure race in Oregon. (courtesy photo)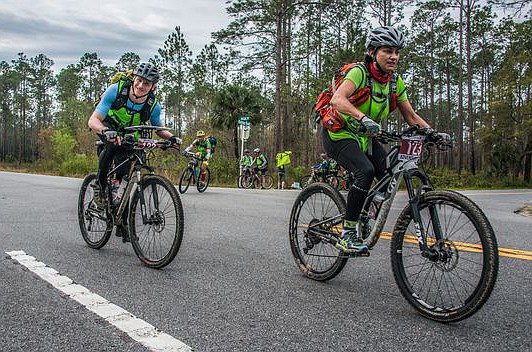 Flathead resident Jesse Nelson makes his way through the cycling section of the Sea to Sea Adventure Race in Florida. (courtesy photo)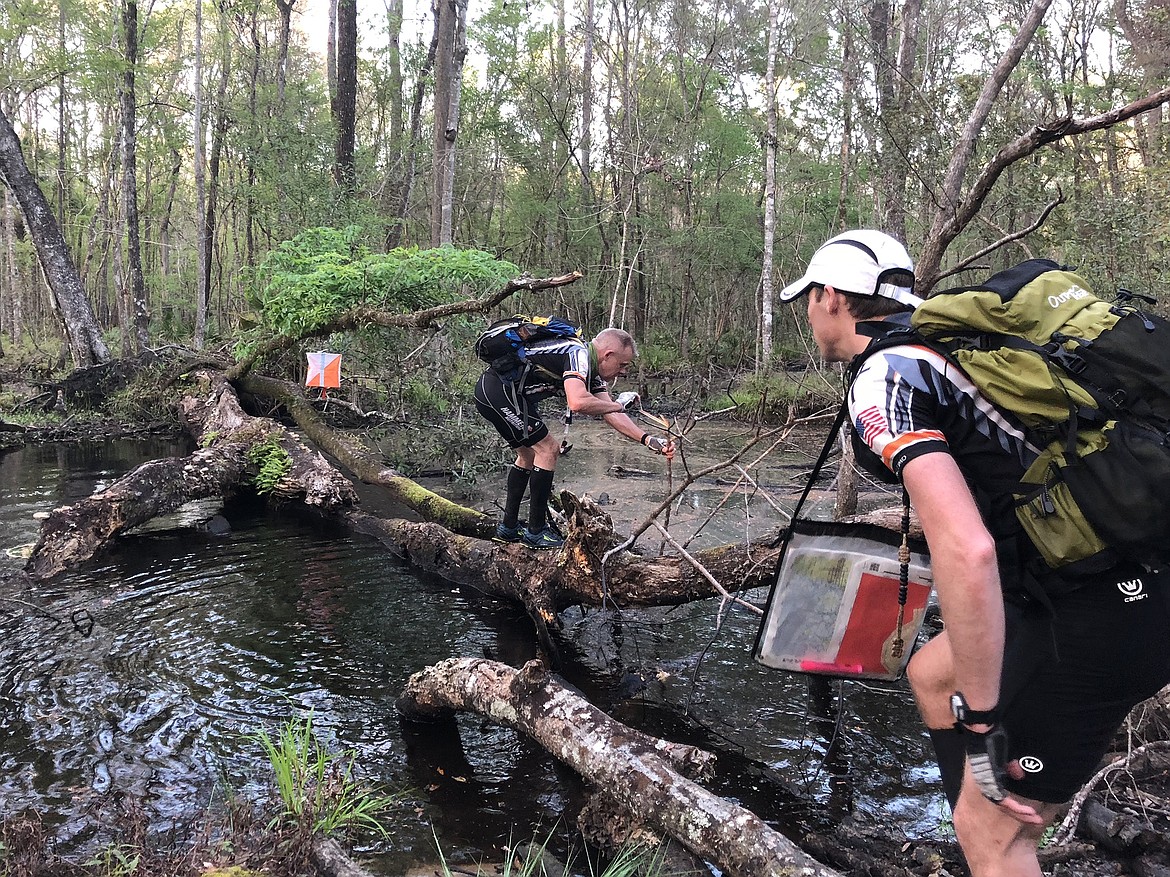 Jesse Nelson and his teammates reach a checkpoint during the Sea to Sea Adventure Race in Florida.(courtesy photo)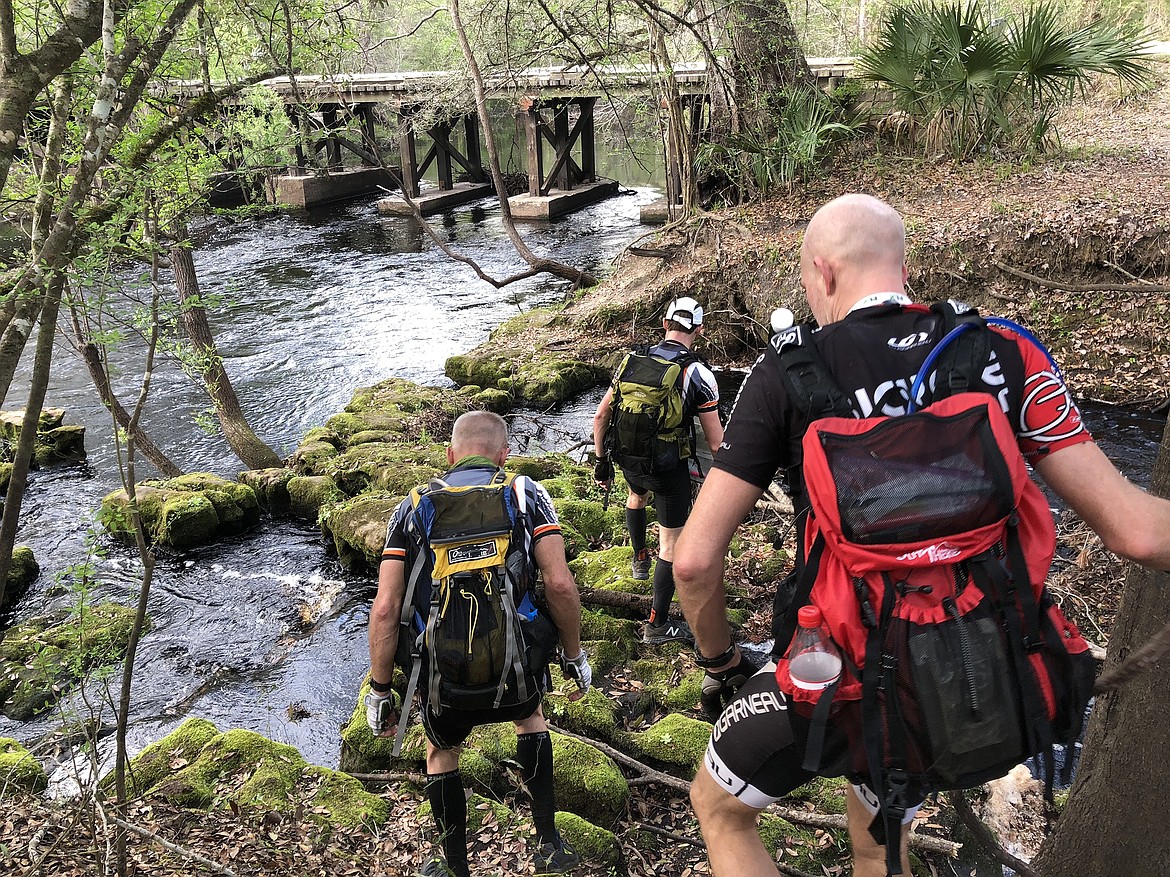 Jesse Nelson and his teammates make their way between checkpoints during an adventure race. (courtesy photo)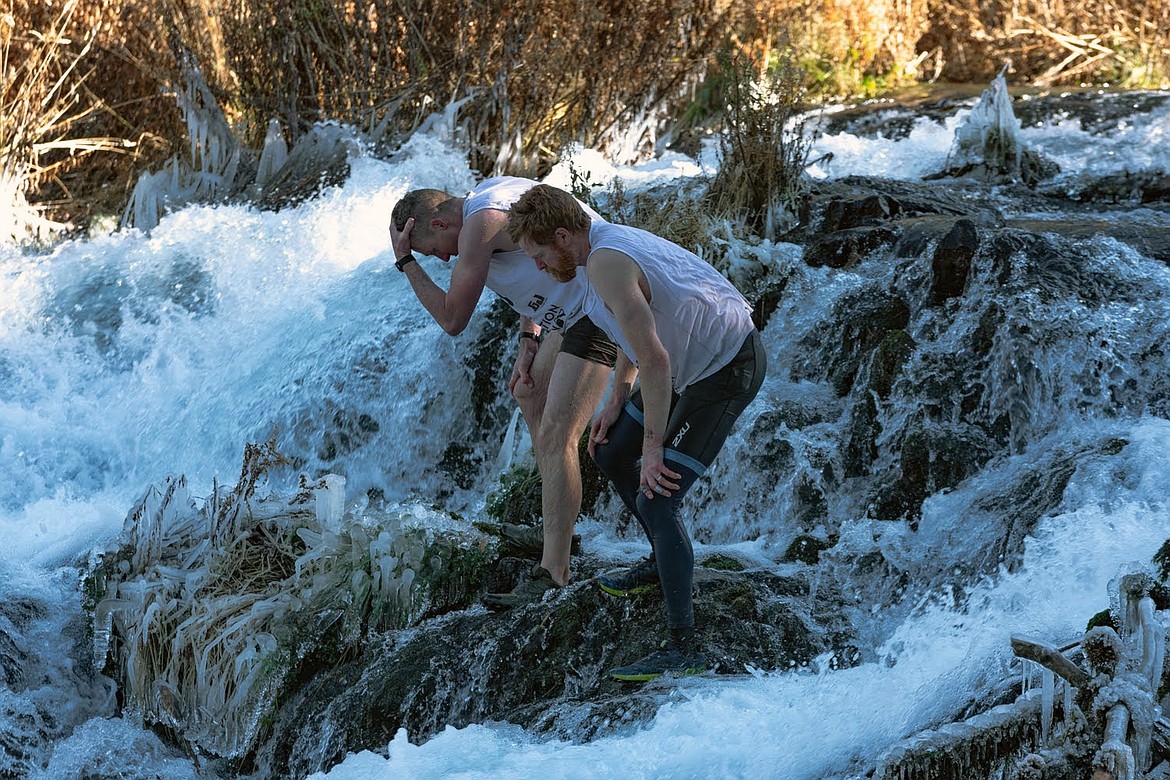 Jesse Nelson, left, and Tom Case take a moment to prepare themselves before jumping back into freezing water after completing a checkpoint during an adventure race in Oregon. (courtesy photo)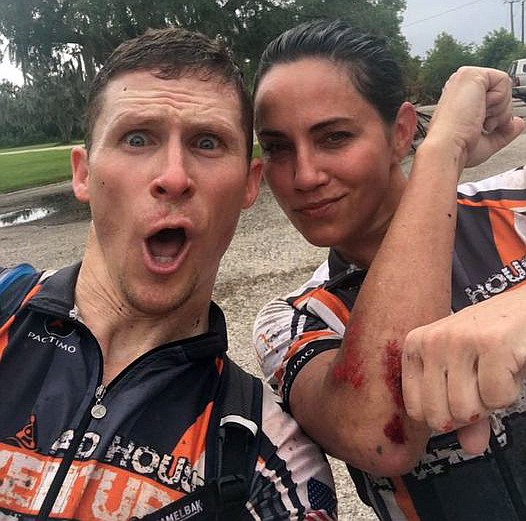 Jesse Nelson reacts to teammate Kristin Castro's injury sustained by colliding with a wild pig during the cycling section of the Sea to Sea Adventure Race in Florida. (courtesy photo)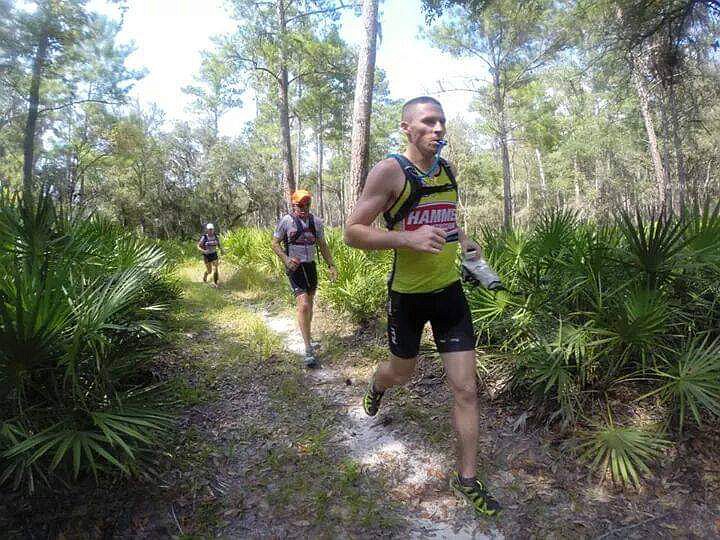 Jesse Nelson makes his way through Florida during the Sea to Sea Adventure Race. (courtesy photo)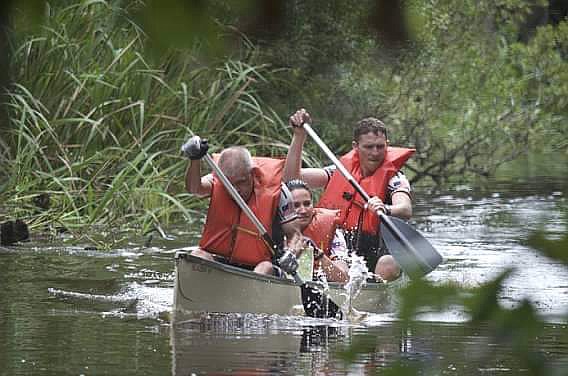 Jesse Nelson and his teammates make their way through the swamps of Florida during the Sea to Sea Adventure Race. (courtesy photo)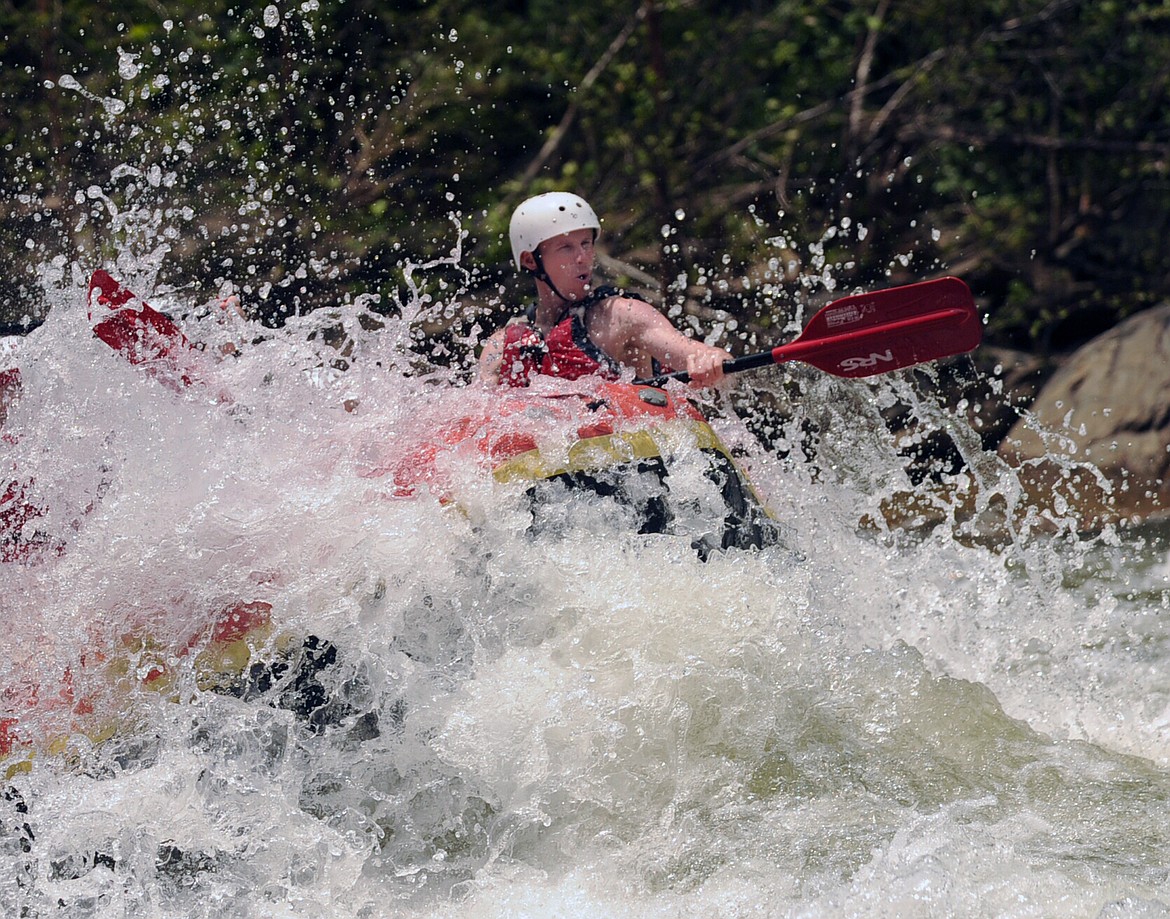 Paddling during an adventure race can be across a calm lake or a whitewater thrill ride. (courtesy photo)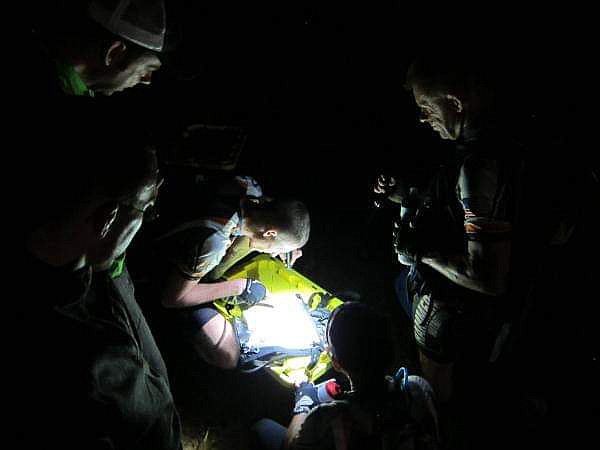 Jesse Nelson uses his flashlight to check the map during an overnight adventure race. (courtesy photo)
Previous
Next
by
JEREMY WEBER
Daily Inter Lake
|
December 20, 2020 12:00 AM
Tremendous dread fills the heart of Happy Valley resident Jesse Nelson as he stands in the frigid air above a freezing-cold river in Oregon.
He knows what it is he must do, but is reluctant. With a last look at his teammates, he takes a breath, summons all his courage, and plunges into the icy water. This is the world of adventure racing and thus are the challenges one must face if they want to compete.
A unique and grueling sport, adventure racing pits competitors against each other, the elements and unforgiving terrain as teams of two to five people, consisting of at least one male and one female, make their way across courses that can be hundreds of miles long. There are sprint races, which last two to eight hours, races that last days and expedition races, which can take up to 10 days to complete.
With the races almost always taking place in remote areas, competitors must master disciplines such as biking, climbing, paddling and trekking as they make their way from checkpoint to checkpoint with only a map, a compass and whatever they can carry on their backs. Racers must plan their movements carefully, but quickly, as they take on challenges that aren't for the faint of heart.
Adventure racing can be so difficult that only a small handful of teams finish a race course as it was originally designed. Occasionally, no teams finish.
"There is so much strategy that goes into this and that's what I love about adventure racing. I've done marathons, triathlons and iron man races, but there is nothing like adventure racing," Nelson said about the sport. "In other races, you turn your brain off and run in a straight line as fast as you can go until you are told to stop. There's no real thinking or adventure involved. Adventure races showcase some of the most beautiful places the world has to offer, typically in places where few people ever go, doing things that most people never do and all bets are off. It's you, your teammates, a compass and a map."
Each person on a team has a specific role and cooperation is most often the key to success. A skilled navigator is crucial to success as maps are handed out just hours before the start of each race. Marked only with the finish line and a number of checkpoints, the navigator must use his skills to determine the fastest and most efficient route.
"Navigators are hard to come by. You can easily find four fit athletes, but it's hard to find someone who is proficient enough with a map and compass to find the quickest and most efficient route," Nelson said. "Do we go around this mountain or up and over it? Those are the kind of decisions a navigator has to make."
The team captain helps set the strategy, determining the pace and when to stop for rest and the pack horse helps carry supplies when other racers are too tired, injured or sick to do so on their own. Generally a physically strong person (male or female), the pack horse can carry packs or even drag their teammates along. This is a position that can be filled by more than one person during a race as need dictates.
Knowing your own limits and being willing to let your teammates know you need help is often the difference between finishing the race or dropping out.
"The ability to swallow your ego and hand your pack off to someone who is feeling better than you are is often the difference between a team that can win and once that doesn't have a chance. This is not a race for tough, macho guys who never ask for help. To win, you have to check your ego at the door and realize the only way to truly compete is to work as a team."
WHILE THE exact origin of adventure racing is debatable, the modern adventure race debuted in 1989 with the launch of Gerald Fusil's Raid Gauloises in New Zealand. The 400-plus mile race included all the modern elements of adventure racing, such as gender-mixed teams, multiple disciplines and extreme length.
The sport grew in popularity with the launch of the televised Eco-Challenge race in 1995 and the United States Adventure Racing Association was formed in 1998. Races continued to be organized around the world and the top event organizers came together in 2001 to form the Adventure Racing World Series, culminating with a world championship race at the end of each season.
NELSON'S JOURNEY into the world of adventure racing began just before he entered high school in his home state of Louisiana in the summer of 1996. A huge Steve Irwin fan with dreams of becoming a herpetologist, Nelson was watching "The Crocodile Hunter" on the Discovery Channel when he began seeing advertisements for the Eco-Challenge. Intrigued, Nelson watched the coverage of the race and was quickly hooked.
"I watched it that first time and just thought it was the coolest thing I had seen in my life. I just had to do it someday. The very next day, I went out and signed up for my high school cross-country team and took my first steps into the running world."
Nelson continued to run throughout high school, but never pursued adventure racing. Life moved on and he joined the Army after high school, serving in Afghanistan before eventually earning his degree and completing Officer Candidate School to become an engineering officer.
It was in 2012, as he was transitioning out of the Army, that Nelson got into the adventure racing world. Running a trail race with some friends in Louisiana, Nelson came across a runner who was training for the longer adventure racing events. The man was in need of a navigator and, having learned the skills in the Army, Nelson volunteered.
It didn't take Nelson long to learn that adventure racing was quite different from the Army.
"There are a lot of combat vets who take on these races thinking they have all the experience and training they need, only to quickly find out just how wrong they are. I am a combat vet myself and I didn't know nearly enough when I started in adventure racing," he said. "I was an excellent navigator, but I still got lost because navigating in an adventure race is a lot different from what they teach you in the Army. In the Army, it's all about stealth while adventure racing is all about speed and efficiency."
NELSON CONTINUED to race and quickly found his footing. Soon, he and his teammates were winning nearly every sprint race they entered along the Gulf Coast, but there was still a lot to learn.
"Almost every race I do, there is almost always something new that I learn while we are out in the field. There are just so many things with navigation that you may think you know, but you really don't. There are so many things you can't learn in a classroom," he said. "What happens when you are in the swamps of Florida and the trail disappears? The trail you see in front of you may be completely different from the one that was there when the map was made years ago. What do you do then? Most people panic. Only experience can get you out of a situation like that."
In 2015, Jesse started taking on the challenge of 24-hour and multiple day races. It was another new learning experience. Serving as navigator on his first overnight race in Georgia, Nelson and his team were in the top three going into the final trekking stage of the race before a navigating mistake left the team lost for five hours. They eventually finished in the top 40.
Undaunted, Nelson continued racing and soon led a team to a fifth-place finish at the Sea to Sea Adventure Race in Florida, the only non-professional team to finish in the top five.
WHILE PROFESSIONAL adventure racers train year-round and center their lives around racing, Nelson likes to plan his family vacations around races each year. If there is a beautiful area in the country that is hosting an adventure race, he'll be there to face the challenge. From mountain peaks to frozen rivers and muggy swamps, Nelson is up for it all.
"If there is one moment from racing that I will never forget for the rest of my life, it's having to jump into a freezing river during the Bend, Oregon race earlier this year. I had been dreading it for weeks, but it was time to turn my brain off and just do it. There are not that many people who get to face those kinds of challenges in their lives," he said. "It was one of the few times in my life when I pushed my limits and I found them. Two more seconds and I would have passed out from lack of oxygen. I know, because it wouldn't have been the first time. I dreaded it, but I was able to face that dread and move past it."
It was a tough challenge, but Nelson says that's what adventure racing is all about.
"That's part of the fun of adventure racing. You never know what is going to happen. You never know what challenges the course will present. You never know what kind of danger you are going to be in and what you will experience until you get there," he said. "The way I look at challenges is what probably connects me to every other adventure racer out there. We're all crazy, slightly different levels of crazy, but crazy nonetheless. We don't want to do things the easy way. We always want to test our limits and see what we are made of. We want to test ourselves against the best in the world doing things that other people think are absolutely insane."
Reporter Jeremy Weber may be reached at 758-4446 or jweber@dailyinterlake.com.
---