Chef brings experience to classroom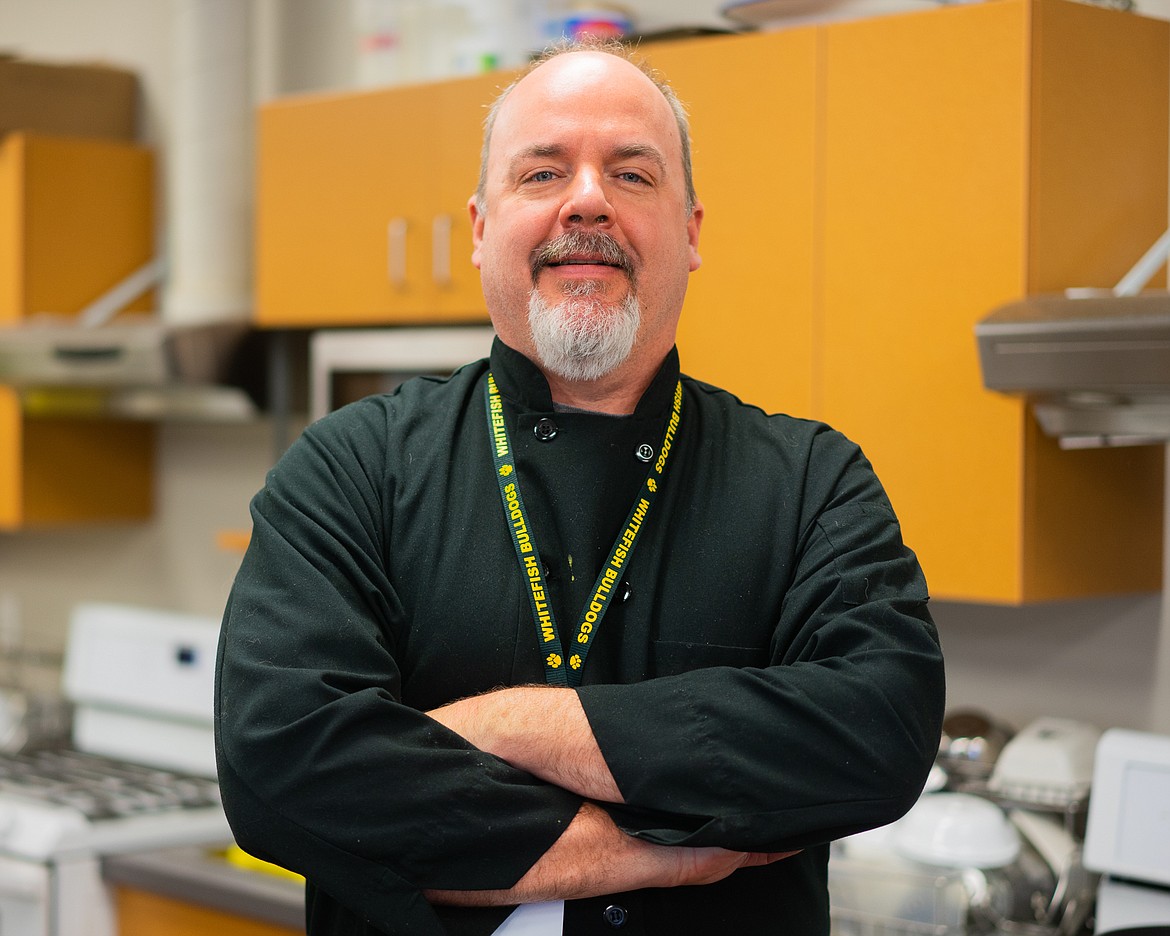 Chef Jason Sanders is the new culinary teacher at Whitefish High School. (Daniel McKay/Whitefish Pilot)
by
Daniel Mckay Whitefish Pilot
|
February 18, 2020 4:00 AM
Chef Jason Sanders is used to taking over kitchens, but his newest workspace is a little different — it's a classroom.
"I've been a chef for 30 years but I've never been a teacher before, so other than teaching some kids in my kitchens, it's a lot different of a setting," he said.
Sanders started in the fall as the new culinary instructor at Whitefish High School, taking over for Amanda Matdies after she moved to teach the same class at the middle school.
Originally from Salt Lake City, Sanders moved to Whitefish in 2000 for a brief stint in a local kitchen.
"It really was just a seasonal three-month job, and then I sort of stayed," he said.
Since then, he's helped open the Iron Horse Golf Club restaurant, worked as the executive chef at The Lodge at Whitefish Lake, and much more.
Food has always been a draw for him, so a culinary career was an obvious choice.
"When I was in business school I geared it toward culinary, I knew that's what I wanted to do," he recalled. "I like to eat. I like when someone puts something good in front of me and I can realize that it's something different and special. I don't like when someone puts something in front of me and it's bad."
His approach to teaching is more practical than strictly academic. He teaches what he knows, so instead of a classroom, it's a working kitchen, and students are employees for the duration of the class.
"I approach this like it's a job for them. I don't use words like tardy, it's more like, 'If you're late for your job, you get fired,'" he said. "It's a restaurant model, and they're the employees."
Sanders said he gets a mix of experience levels from his students, with some who can't boil pasta and others who are looking into culinary arts as a career.
For the latter, he wants to be the mentor they can use to build their career, something he's always been a fan of with young cooks.
"I have a lot of students who want to do this as their career, so I approach it that way with them. I've gotten a number of them jobs so I can progress them in to places like Abruzzo that uses cool ingredients that are a little better," he said.
"My favorite part in the kitchens in Montana was when I had an employee that was into it, and they wanted to do it so I would take extra time and teach them. I have more like 10 in each class that are like that now, so I can really make a difference and show them that every day with different stuff."
For those with no experience, Sanders hopes to leave them with valuable life skills.
"I want them to have a life skill. I want them to learn how to cook," he stressed. "I've been doing some cool high-end stuff, and then I've been doing a lot of, 'If you're on your own and you graduate, here's how to make marinara, meatballs, pasta, a huge batch to spread out over a week.'
"The kitchen provides all kinds of life skills, whether you use them in the kitchen or not," he added. "You've got to be prompt, aware, present, work in a team, you have to listen and you have to be fast on your feet. There's all kinds of things in this that relate to life in general."
---