At fireworks stands, business is booming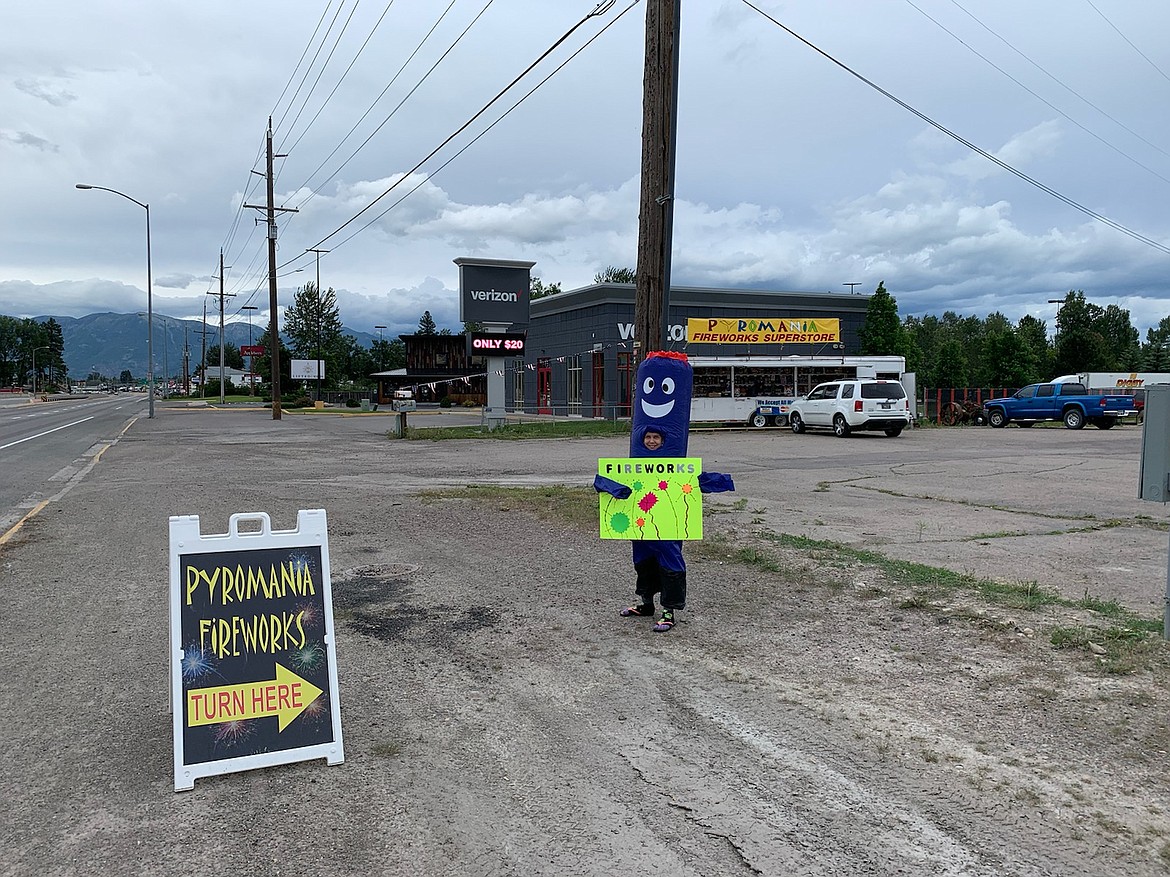 Vienna Stewart, daughter of manager Brian Stewart, advertises for Pyromania Fireworks in Evergreen while dressed as a blue firework. (courtesy photo)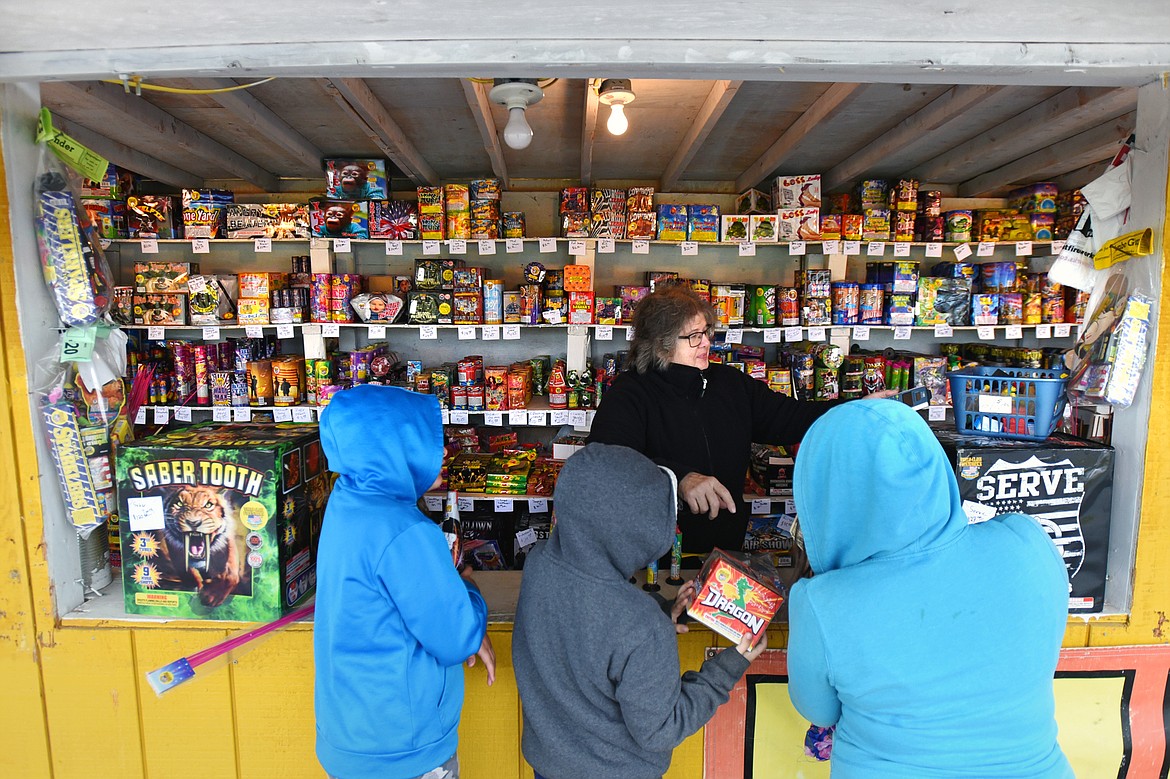 Customers purchase fireworks from Dorothy Robinson at Robinson's Fireworks in Evergreen on Tuesday, June 30. (Casey Kreider/Daily Inter Lake)
Previous
Next
by
BRET ANNE SERBIN
Daily Inter Lake
|
July 2, 2020 1:00 AM
COVID-19 has sparked a growing interest in fireworks stands leading up to 4th of July, according to managers at the outposts around the valley.
With the cancellation of many public Independence Day events such as the fireworks display on Whitefish Lake and traditional Fourth of July parades in downtown Kalispell and Bigfork, fireworks fanatics are turning to small stands for this year's festivities.
"With everything canceled, everybody is trying to put on their own show," observed Alicia Nieves, the manager at the Black Widow stand in Evergreen. Compared to this time last season, Nieves said her sales numbers are up about 40%. Looking at her records over the past five years, she marveled at the explosion of sales this summer.
Nieves and her counterparts at other stands in the area expect sales to continue to increase. Usually, Fourth of July itself is their busiest day and business nears its peak a few days beforehand.
But a lot of sellers are already way ahead of their projections this season, such as Consuela Mcvay and Bruce Sapp at Hong Kong Harry's in Evergreen. At the shop along U.S. 2 next to Point S Tires, the managers said they have already encountered a few sales days totaling a couple hundred dollars, and one day they topped $1,000 in sales. Normally in the first few days of being open, their daily totals hover around $80 before sales really pick up closer to the holiday.
Per state law, fireworks stands were permitted to start selling their wares on June 24 and stay open until July 5.
Demand at Hong Kong Harry's warehouse in Columbia Falls has apparently doubled this year, the Evergreen salespeople added. The locally owned warehouse supplies 58 stands across the state. Mcvay has worked with the company since 1992, when there were only two stands in the franchise. Her partner Sapp, who moved to the area from Spokane, said running a fireworks stand had always been an item on his bucket list. But neither of the fireworks aficionados anticipated the surge they are now seeing.
"It's not that there are more customers, but they're spending more," Mcvay noted. This seemed to be the consensus at various stands. The total number of customers hasn't noticeably picked up lately, but the customers who do visit have been dropping more money on larger loads of pyrotechnic novelties.
Nieves said some individual buyers have spent hundreds of dollars in a single visit to her stand this year.
Operators at the various stands attributed the increase to the stress of the pandemic, the cancellation of public celebrations and the influx of cash from government assistance programs like Pandemic Unemployment Assistance.
"People really want to celebrate this year," Nieves pointed out. She explained she doesn't make a habit of asking her big spenders about the motivations behind their purchases, but she suspected customers receiving stimulus checks or unemployment benefits might be using some of those funds to fuel fireworks purchases this summer.
She sympathized with a general desire to blow off a little smoke after enduring the stresses of the pandemic and closures of schools and businesses.
"Everyone deserves a break…They're going to thoroughly enjoy it this year," she predicted.
At Black Widow, Nieves noticed there has been a particular uptick in sales of larger fireworks. "People are leaning more towards the 'bigger boom' stuff," she said.
But at other shops, the traditional favorites are still ruling the day. "It's the same as always—smoke balls, novelty smaller items," reported Brian Stewart at Pyromania near the Verizon store in Evergreen. This is his second year running the stand, following 15 years in the industry prior to opening his own shop.
These varied interests might partially be explained by different demographics: Nieves has gathered that some products are particularly popular with out-of-state visitors who face stricter regulations in their home states. She said she has recently received a lot of comments from out-of-town customers like Californians, who are excited to set off artillery shells because those are illegal back on the West Coast.
The general attitude toward fireworks might have been best encapsulated by 8-year-old Havyn Nieves, who is helping her mother run the stand near the Exxon gas station on U.S. 2: "Fourth of July is going to be nice this year because we get to celebrate our freedom."
Reporter Bret Anne Serbin may be reached at (406)-758-4459 or bserbin@dailyinterlake.com.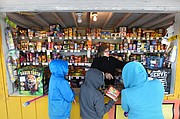 ---