Kalispell Regional announces $7.4M in pay raises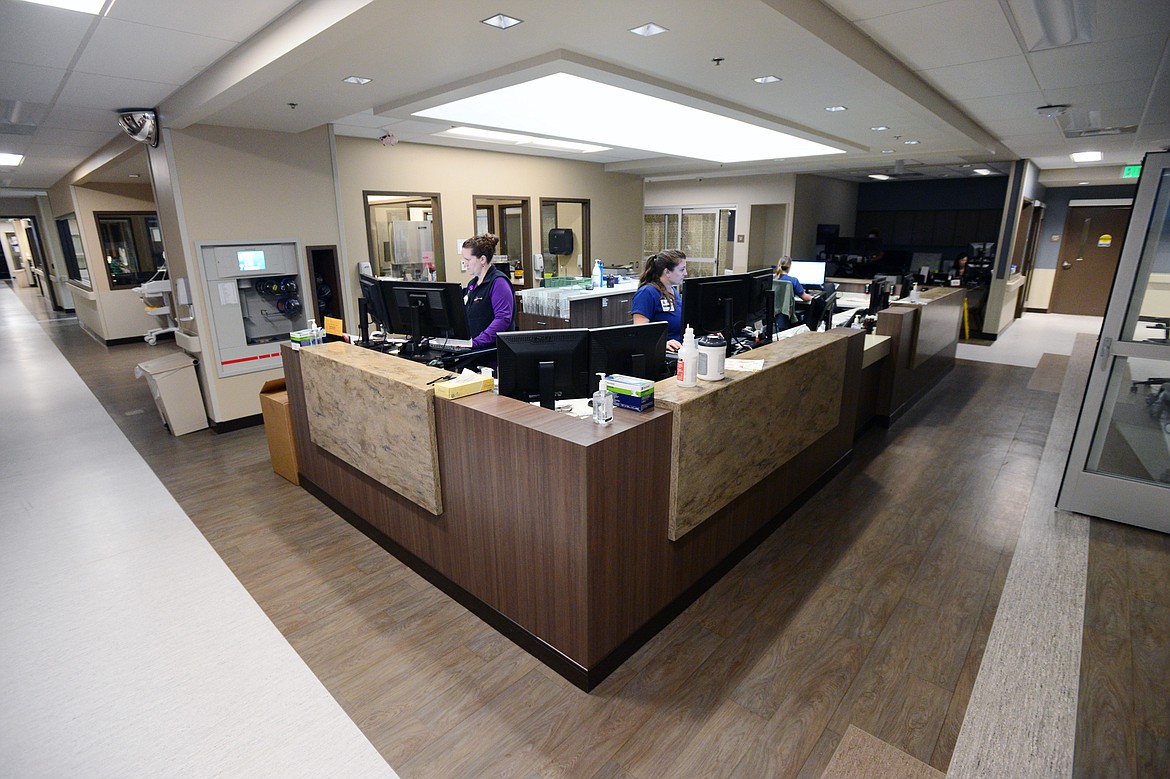 Nurses work in the ER wing at Kalispell Regional Medical Center. (Casey Kreider/Daily Inter Lake FILE)
by
KIANNA GARDNER
Daily Inter Lake
|
July 4, 2020 1:00 AM
Kalispell Regional Healthcare recently announced the "vast majority" of hospital employees will be receiving pay raises beginning in early July.
The hospital is providing a total of $7.4 million in wage increases. The enhancement includes an increase to the system's minimum-wage scale for all non-clinical and clinical staff and a separate 3% across-the-board wage raise for many others.
The minimum-wage scale will be upgraded to $13 an hour for non-clinical staff such as medical coders, receptionists and others, and $14 per hour for clinical staff making minimum wage. According to an email to employees announcing the pay adjustments, individuals who are already making $13 and $14 per hour will "have their wage adjusted in the appropriate proportion to the new wage scale." Those not on the minimum wage scale will receive a 3% wage increase.
According to Cindy Morrison, chief transformation officer for Kalispell Regional, nearly 4,000 employees from multiple departments and units will receive some variation of a raise. Employees can expect the increases to take effect on the pay period that begins on July 5, regardless of the employee's anniversary date.
While Morrison emphasized the "vast majority" of Kalispell Regional's workforce will receive a compensation adjustment of some kind, there are some exclusions. She said the system's executive leadership and the nurses union will not receive the across-the-board 3% raise.
The email to employees states that because the compensation increases are new and are not based on performance appraisals as raises normally would be, union nurses are not eligible for the wage adjustments "as we [Kalispell Regional] are required to bargain for any changes to the terms and conditions of their employment."
Union nurses will receive wage increases based on performance appraisals instead.
In the email to employees, Kalispell Regional Chief Executive Officer Craig Lambrecht wrote, "when I spoke with a number of you last fall, we talked about a new compensation philosophy and the work that needed to be done to begin addressing long-standing compensation issues. We intend to continue this work and I hope that you will see this as a good step in the right direction."
Morrison said hospital officials started talking critically about sweeping pay raises last fall shortly after Lambrecht came on board in early 2019 and leadership spent several months engaging with employees on changes they would like to see at the hospital. According to Morrison, many employees discussed the need for more appropriate and consistent pay raises.
"We know we still have some things to work on based on all of those conversations we had last year, but we feel like this is a nice step forward in the right direction," Morrison said. "We were pleased to be able to officer this to our employees."
Reporter Kianna Gardner can be reached at 758-4407 or kgardner@dailyinterlake.com
Recent Headlines
---