Manufacturing disruptions trickle down to the Flathead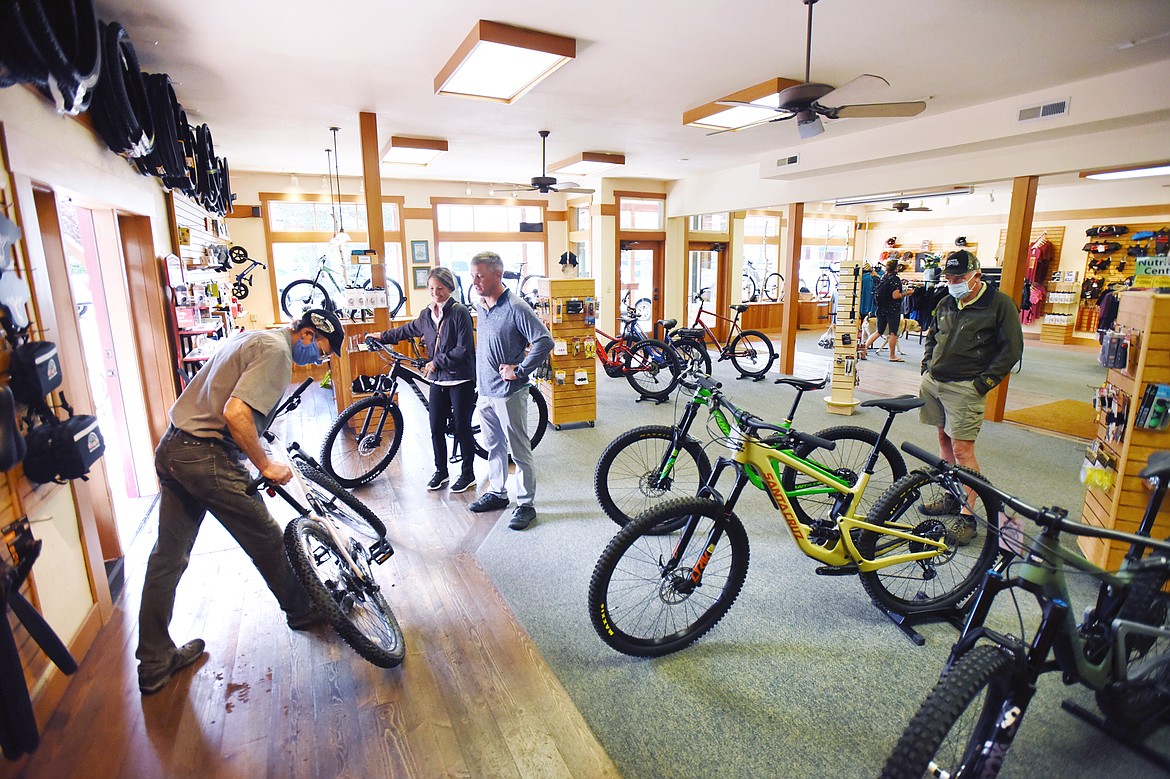 Mark Ambre, left, checks out a trade-in bicycle belonging to Hilary and Brady Lund, of Watford City, North Dakota, at Glacier Cyclery & Nordic in Whitefish on Friday. (Casey Kreider/Daily Inter Lake)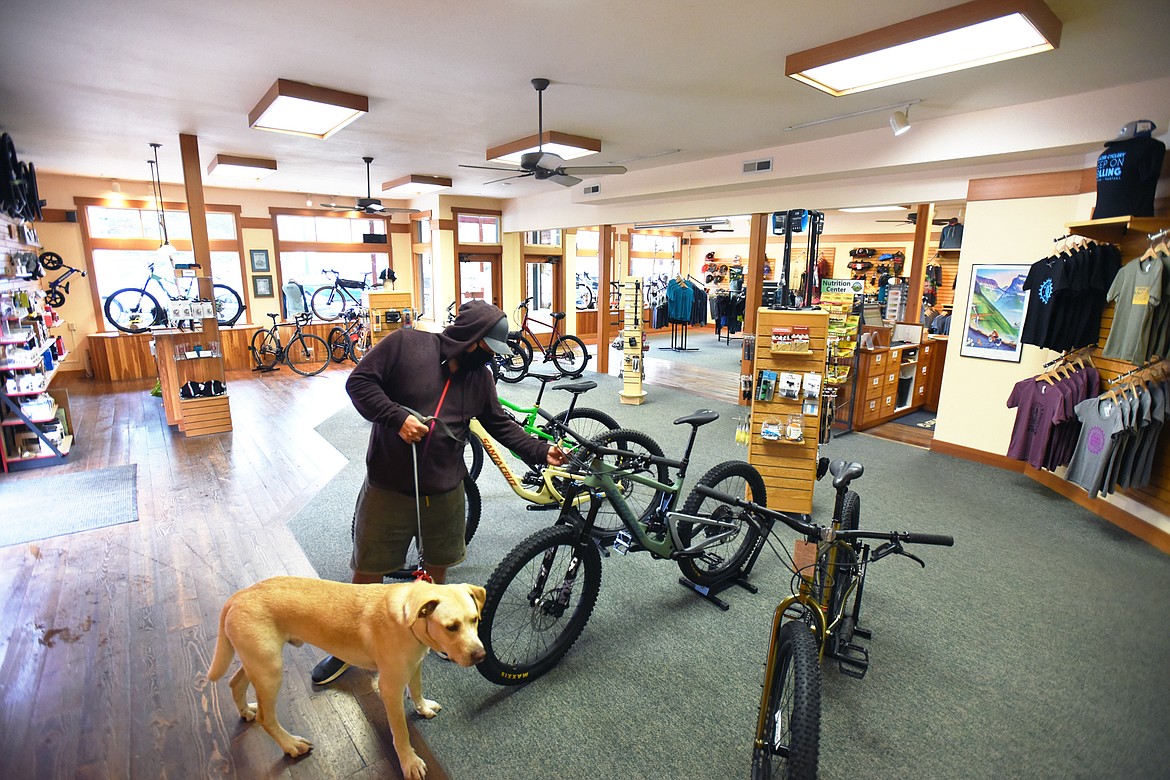 Josh Phillips, of Asheville, North Carolina, checks out a Santa Cruz full suspension bike with his dog Captain at Glacier Cyclery & Nordic in Whitefish on Friday, July 10. (Casey Kreider/Daily Inter Lake)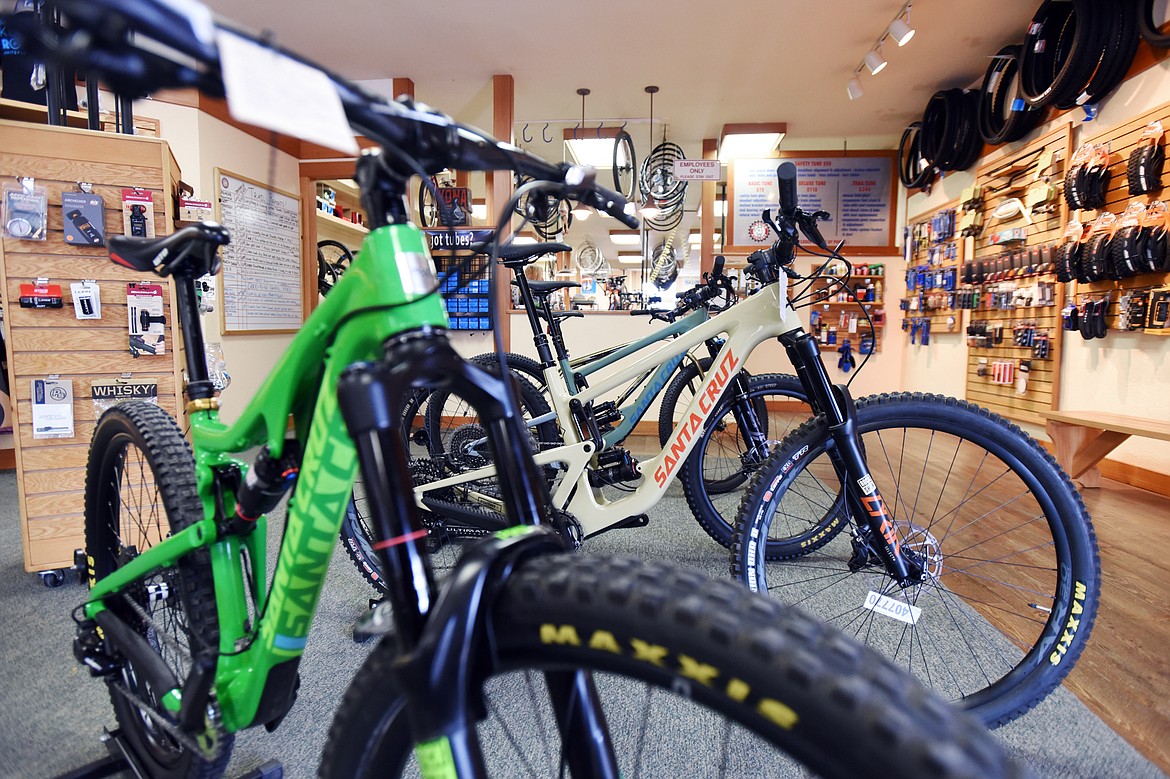 A selection of Santa Cruz full suspension bikes on the floor at Glacier Cyclery & Nordic in Whitefish on Friday, July 10. (Casey Kreider/Daily Inter Lake)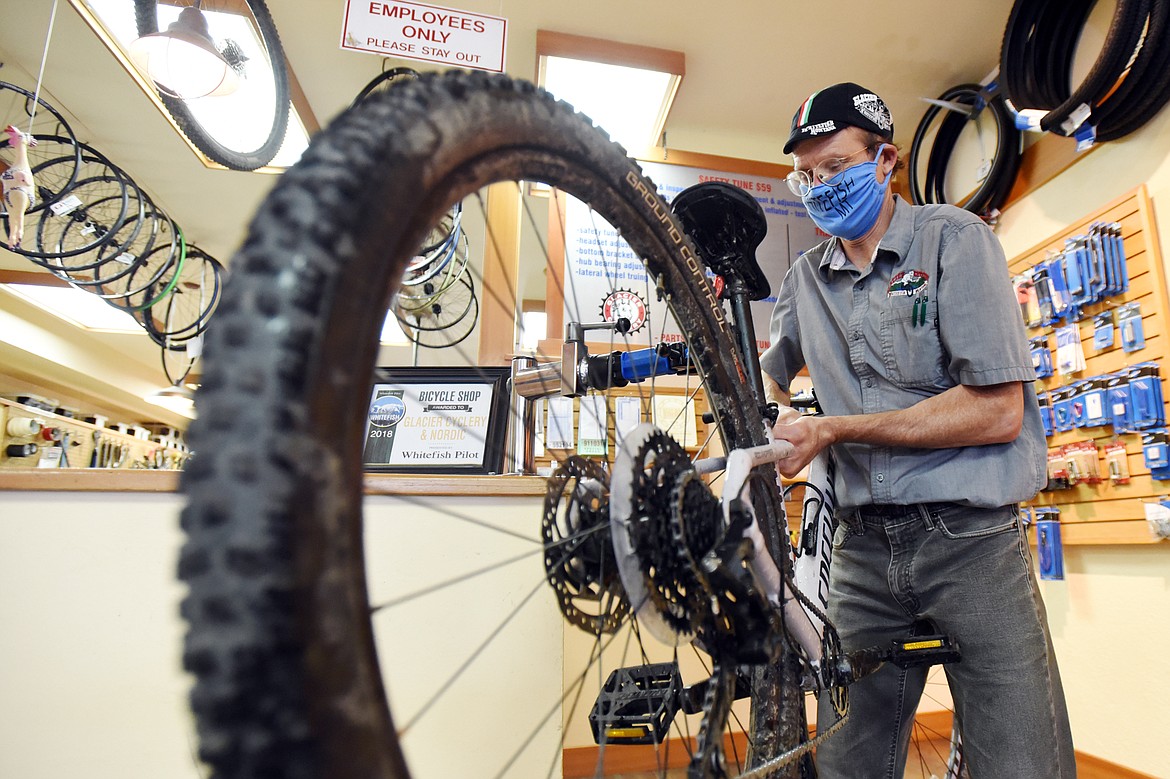 Mark Ambre checks in a customer's trade-in bicycle at Glacier Cyclery & Nordic in Whitefish on Friday, July 10. (Casey Kreider/Daily Inter Lake)
Previous
Next
by
BRET ANNE SERBIN
Daily Inter Lake
|
July 12, 2020 1:00 AM
The early days of the COVID-19 pandemic, when it seemed easier to spot a grizzly bear in town than a roll of toilet paper on a store shelf, already feel like a distant memory. But the coronavirus continues to disrupt the global supply chain, and the effects are apparent in stores around the Flathead Valley. Freezers, hot tubs, bicycles and other retail goods are becoming more difficult to find, and many local business owners believe it could be weeks, or even months, before they are available once more.
"As everybody knows, freezers are a lot like toilet paper was at the beginning of all this," said Doug Stanley, the general manager of Fred's Appliances in Montana.
During the early onslaught of coronavirus worldwide, the factories that produce freezers and an assortment of other goods shut down completely. Production came to standstill at facilities from the United States to Mexico, to China. Most of these manufacturers are resuming production, but they are still contending with limited capacities due to social distancing and the challenge of filling the enormous backlog of orders from the past few months. The end product is a major shortage of manufactured goods, and local retailers have not been spared.
"We may not see full recovery in a lot of cases until September or October—if that early," Stanley predicted.
Freezers are by far the hardest-to-find appliance, according to Stanley, but other large appliances, such as side-by-side refrigerators and top-load washer-dryers have become elusive, too. He explained goods made in Mexico are currently the hardest to come by, and production out of China and South Korea is also extremely limited.
"When we started this pandemic, we had a decent stock in appliances," said Stanley, explaining each Fred's Appliances location maintains an on-site warehouse with a supply of items. But as the outbreak has dragged on, those stockpiles have taken a substantial hit.
"We still have some goods," Stanley pointed out, but the variety of options is severely depleted. "If you go back six months, there were a myriad of choices. That's really pared down."
Customers who are interested in one specific model of refrigerator, for example, will likely be out of luck, he cautioned. He suggested shoppers thinking about buying an appliance in the next few months get ahead on their purchasing plans. The best bet for purchasing a particular appliance is to give the store two or three months' notice, Stanley advised.
Getting ahead of the crowd is the name of the game for large equipment, too, according to Ryan Wood at Parsons Tractor. As construction season gets into full swing, the Parsons dealer on U.S. 2 West is readjusting to include "more lead time" for its orders.
"It could be a week or forever out," before products become available, Wood said. Everything from "whole goods," like large machinery, to small parts now requires a much longer waiting period to arrive in the store.
The lengthy process has become "frustrating," Wood acknowledged. He urged customers to be patient and understanding with the dealer. "We're kind of the middleman," he pointed out.
"Just bear with us," reiterated Jim Owens, the manager at Anderson's Masonry Hearth and Home. He reported a few customers have been surprised and even enraged when they show up to find empty spaces at the store.
"We can't do anything about it," Owens said. "We'll get it here as quick as we can."
Hot tubs are clearly the hottest commodity at Anderson's these days, Owens reported. "We have none right now because of manufacturing issues," he said. "We're hoping [to get them] soon."
Anderson's sources its hot tubs and many other hard-to-find products from Washington state. He said this is the source of manufactured stone, pavers and landscaping supplies, which are all extremely limited in the store right now.
Natural stone, too, is in short supply, because pickers haven't been able collect the stone with social distancing measures. Owens said natural stone orders are probably delayed by about six to eight weeks, "maybe longer."
The outlook at bike shops seems to be a little brighter, even though stores such as Glacier Cyclery & Nordic were "almost out of bikes" on Wednesday morning, according to Mike Meador.
"We have very, very few in stock," Meador reported Wednesday, but by Thursday afternoon he said the supply was starting to recover. He explained the Whitefish shop usually has about four or five times more bikes available than their current selection, but by the end of July they anticipate getting closer to their usual numbers.
Glacier Cyclery & Nordic sources most of its bike parts from factories in Malaysia, China and Vietnam, Meador said. Major brands like Japanese company Shimano were completely shuttered for weeks, which "completely interrupts the supply chain," he said.
Rubber shortages have also plagued the cycling industry, creating a scarcity of tires and tubes, but Meador said those products seem to be getting replenished now.
Meador is optimistic things will be looking up in the next few weeks for the bike shop, and there are still options to buy or rent at the Whitefish store. Even in July, when they expect the supply to be better-stocked, he warned "it's not going to be huge." But he added, "we're doing the best with what we can."
The upshot of the shortages, however, is that business is booming for those who offer repairs and used goods. Cates Appliance Sales & Repair in Evergreen, for example, has been inundated with recent requests for repairs as appliance owners try their best to keep their existing machines in working order.
Cindy Block at Bud Blocks Services & Appliances said the company is currently booking repair appointments a month in advance, doubling their normal waiting period.
In fact, she said their technicians have been so busy focusing on repairs, they haven't had time to sell any products or parts, even though demand has increased.
"We could be selling all kinds of appliances if we weren't busy fixing them," Block said.
Reporter Bret Anne Serbin may be reached at (406)-758-4459 or bserbin@dailyinterlake.com.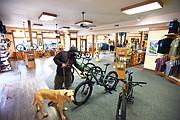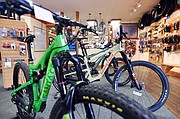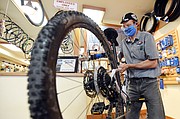 ---