Food truck offers Korean cuisine in C-Falls
by
BRET ANNE SERBIN
Daily Inter Lake
|
June 7, 2020 1:00 AM
Janet Paek and Justin Johnston plan to introduce the valley to a little Seoul Food — that is, traditional cuisine typically found in Seoul, South Korea, such as kimchi, bibimbap and bulgogi beef.
After years of serving her family's traditional dishes to friends at house parties, Paek decided to share authentic Korean meals with the community through her new venture, Seoul Food Truck.
"We kind of want to introduce the valley to this different type of food," Johnston said. "It's something that the valley just doesn't have."
Both Paek and Johnston have lived in the valley for a few years, and they were looking for a way to get more permanently established in the area when they decided to start a food truck last year. Paek, the head chef, has worked as a nurse for about 15 years, and Johnston, who does the food truck's preparation and cleanup, is trained as a research chemist.
This is their first go-round running a food truck, but Paek is used to cooking for large groups of people and Johnston said there are actually "a lot of correlations" between cooking and chemistry. The food truck started serving up Korean staples three weeks ago in the Fruit Factory parking lot along U.S. 2 in Columbia Falls.
So far, Johnston said the food truck has been a welcome addition to the local culinary landscape, "despite having fairly intimidating names and descriptions," he remarked with a laugh.
To begin with, they're keeping the menu pretty simple. They offer bibimbap, a classic rice bowl with vegetables and marinated meat; bindaeduk, a savory pancake with rotating fillings, depending on the day; and japchae, a dish made with sweet potatoes vermicelli noodles and vegetables stir-fried in a sesame/soy-based sauce. The food truck will also serve kimchi, a popular spicy fermented cabbage concoction, and a rotation of different dumplings.
"We specialize in bulgogi beef and spicy pork," Johnston said, although he also stressed the food truck offers vegetarian and gluten-free options as well. Korean cuisine, he explained, tends to be healthy but hearty, with a mix of fresh vegetables and meats in simple, savory sauces.
Already, Johnston said they've had some adventurous eaters give the food truck a try without any prior knowledge of Korean cuisine, and many early visitors have turned their trucks around just to rave to them about how much they enjoyed the food. He appreciated how customers have "taken our word on what to order and [are] just going for it."
Nonetheless, he admitted it's been challenging getting the food truck off the ground with the uncertainty of the COVID-19 pandemic and its impact on tourism. They had originally planned on opening up on the last day of ski season at Whitefish Mountain Resort after spending the winter outfitting a truck from Portland to meet their specific needs. "We had to pump the brakes real hard on when we're going to open and how were going to serve the public," Johnston lamented. They ultimately had to wait about a month and a half after their scheduled opening date to get ready to serve the public under the new circumstances.
It was tricky, too, to navigate the paperwork, rules and regulations for local food truck operations. He said the couple chose Columbia Falls for their first destination because the city was cooperative in helping them set up the business. They hope to expand to other spots in the valley, especially Whitefish, but they still have a lot of permits, inspections and various pieces of red tape to wade through before that becomes a reality.
Even though it's been a serious undertaking for the couple, Johnston said they enjoy the opportunity to prepare unique dishes for local customers, and they're excited for the summer season to start picking up.
"It is a lot of work," Johnston acknowledged, "but it's enjoyable. It's a lot of fun."
Seoul Food Truck is currently open during the Columbia Falls Farmers Market from 5 to 8 p.m. every Thursday, as well as 5 to 8 p.m. some Friday and Saturday evenings. The truck can be found outside the Fruit Factory building in Columbia Falls at 207 Ninth St. W.. For a full menu and more information, visit: https://seoulfoodmontana.com
Reporter Bret Anne Serbin may be reached at (406)-758-4459 or bserbin@dailyinterlake.com.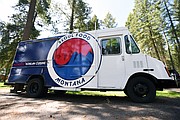 ---