Business closures leave thousands without jobs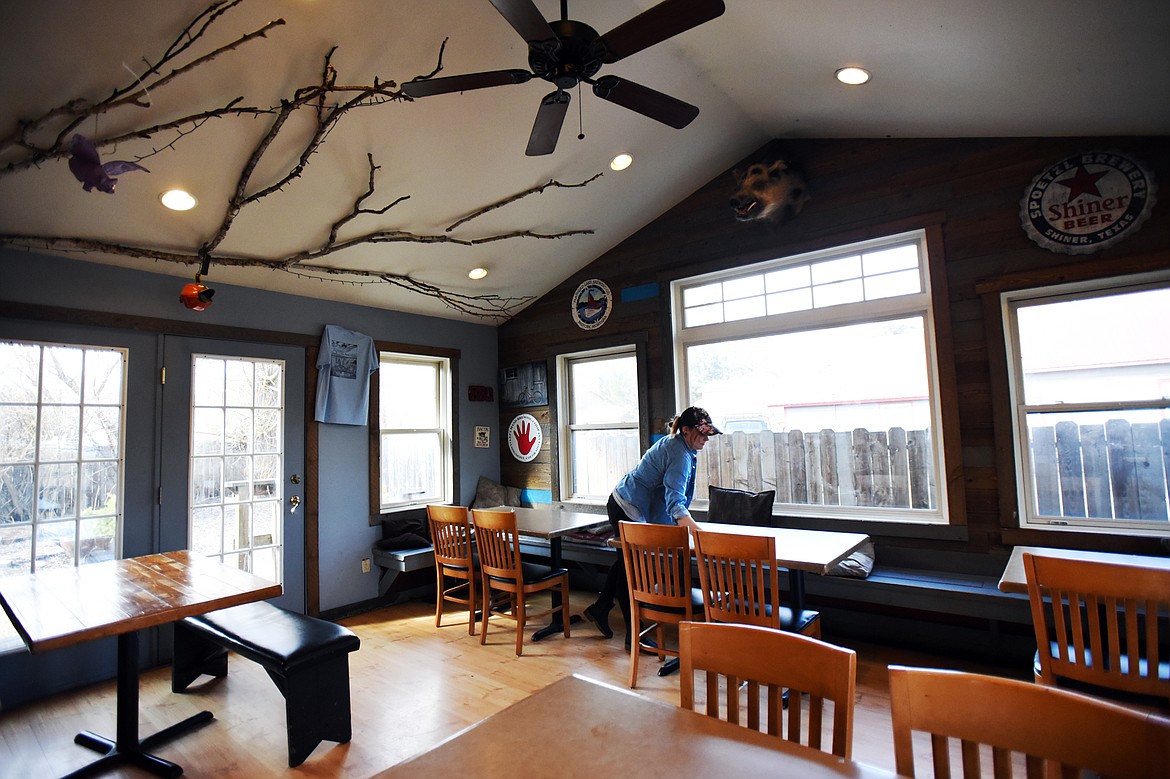 Candace Lost-Bear wipes down tables in the empty dining room at Piggyback BBQ in Whitefish on Thursday, March 19. The abrupt closure of restaurants, bars and related businesses has affected the employment of scores of Flathead Valley workers. (Casey Kreider/Daily Inter Lake)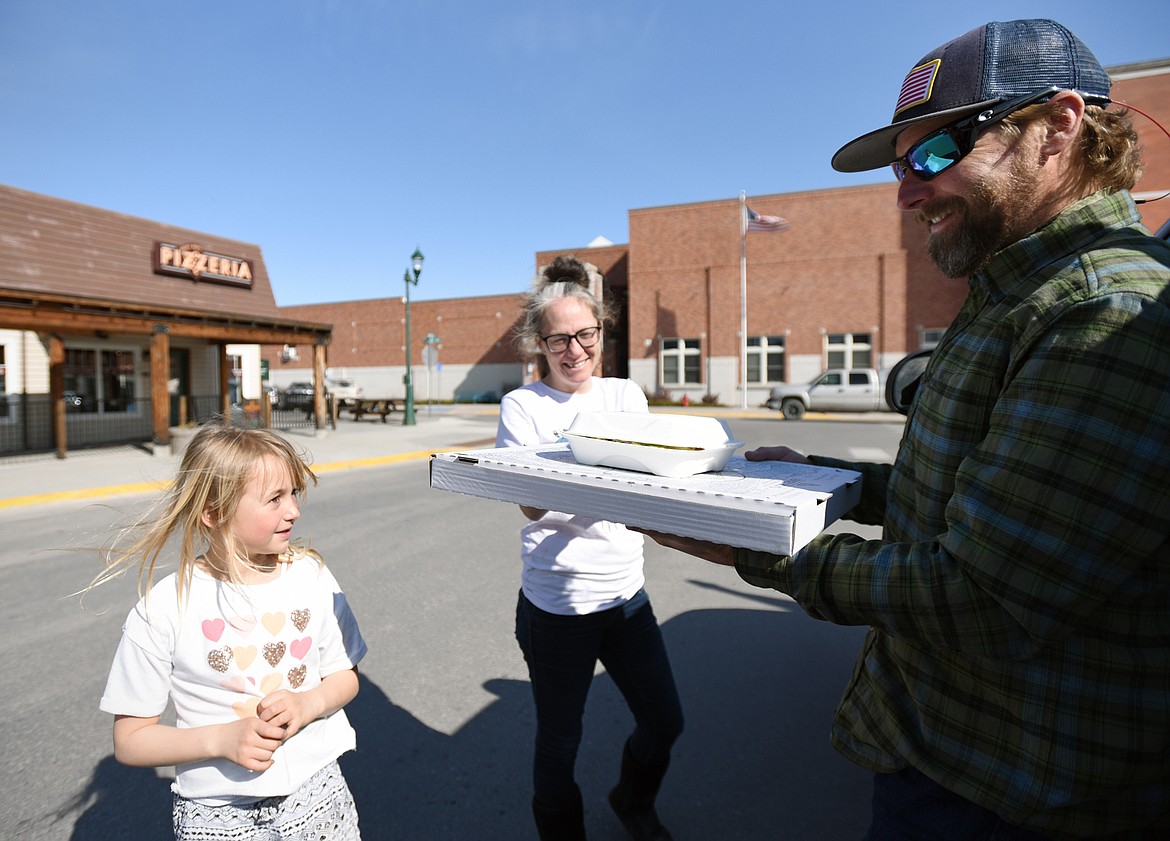 Chris Brooks, right, and his daughter Bella pick up a takeout order from Becky Ojennes at Jersey Boys Pizzeria in Whitefish on March 19. On Thursday, the Flathead City-County Health Board voted to close all bars, restaurants, casinos and fitness facilities to the public for at least 10 days in an effort to fight the coronavirus pandemic, but many restaurants have converted to curbside pickup service. (Casey Kreider/Daily Inter Lake)
Previous
Next
by
BRET ANNE SERBIN
Daily Inter Lake
|
March 22, 2020 1:00 AM
Emergency closures ordered by the state of Montana and Flathead County in connection with the threat of a novel coronavirus, or COVID-19 outbreak has left scores of workers across the Flathead Valley suddenly out of a job.
In Whitefish, hundreds of workers lost their jobs last week as Whitefish Mountain Resort closed, and restaurants, bars, casinos and related businesses across the valley were forced to close, though many restaurants have regrouped to provide pick-up or delivery service.
The decision to end the ski season at Big Mountain three weeks early affected almost 500 full or part-time seasonal workers at Whitefish Mountain Resort, according to Public Relations Manager Riley Polumbus.
And with visitors slowing to a trickle, The Lodge at Whitefish Lake on Thursday completely shut down many of its amenities, including the Boat Club Lounge and Restaurant, valet and concierge service. Among the numerous workers affected by these sudden layoffs were many international employees in the country using J-1 visas.
"There have been so many canceled reservations," said Colleen Keating, assistant front office manager at The Lodge. "There's no one really to serve or work for."
She said she started to notice changes at The Lodge at week ago when Whitefish Mountain suddenly ended the ski season, which cut off the hotel's main supply of visitors. "It seemed kind of eerie," she added.
Less than a week later, most of her coworkers were temporarily let go. She said she didn't know if they were being offered any assistance such as housing, although she said the international workers were eligible to stay in their current housing for a month without work, rent-free.
"It's been a snowball effect of bad news," she said.
Whitefish Mountain Resort also reported offering optional work and free lunches to the hundreds of employees suddenly impacted by the early end to the season.
"All seasonal employees will be given the opportunity to receive work assignments through their scheduled work period," a press release about the closure promised.
But Tyler Schmittel, who spends the winters working in the ski resort's rental shop, said he wasn't interested in staying on to fulfill odd jobs such as housekeeping.
Instead, he, like a lot of the valley's recently unemployed workers, decided to file for unemployment benefits.
Lauren Lewis of the Montana Department of Labor and Industry urged workers who have been laid off to file for unemployment benefits, given the recent implementation of emergency rules. Lewis explained workers could still be eligible for benefits even if they expect to eventually return to work.
But for people like Schmittel, relief seems to be coming at a much slower pace than the layoffs.
He said it's been difficult to apply for benefits online as so many people have tried to use the state's website at the same time.
"It could crash at any moment. Good luck if you can get through," he said.
Lewis confirmed, "we are experiencing heavy traffic on our UI claimant portal and have seen a significant increase in both new claims and claim reactivations this week."
On Wednesday, March 18, she said the department received 2,830 new UI claims, compared to 57 new claims on the prior Wednesday, March 11.
She said the department is working on maintenance to the overburdened website "to ensure our system can handle this massive increase in claimants." She reported service had been restored on Friday and they were working on equipping the website for higher traffic on Friday and Saturday.
But Schmittel said this assistance can't come soon enough. "Who knows when I'm going to hear about that," he said about his benefits application.
With his second job also on hold due to coronavirus and his summer river-guide position unavailable until June, he said, "I don't know where I'm going to get money for the next month and a half to two months."
For their part, employers across the valley are doing what they can to help workers despite the widespread closures. Grocery stores such as Wal-Mart and Smith's Food and Drug are actively hiring as they deal with increased demand for staples.
"If you find yourself needing work doing these trying times, we are actively hiring for all positions and shifts," the Kalispell Wal-Mart announced in a Facebook post. "We are receiving 5-6 trailers every day and are doing our best to restock our shelves." Applicants can apply at Walmart.com/careers, and come to the store for an immediate interview.
Many other businesses are facing significant customer decreases, but many valley employers insisted they are still doing their best to support their employees. "We're avoiding layoffs at this moment," said Alex Maetzold at The Buffalo Cafe, a popular Whitefish restaurant that reopened for takeout with reduced hours on Friday after closing temporarily.
"Our employees are our main priority right now," Maetzold said, along with providing locals with a sense of "normalcy."
"We've been around for 40 years," he pointed out. "We have customers that see us as a staple in town."
Another iconic restaurant, Moose's Saloon in Kalispell has shuttered the bar for now but still offers drive-thru pizza service.
Sarah Peterson, assistant general manager at Flathead Lake Brewing Co. in Bigfork, pointed out "the service industry is hard enough this time of year in the valley. As a small business, you need income to keep open. It's particularly hard for small businesses.
"It's unfortunate we don't have enough hours for our staff," Peterson added. This week, the large brewery and restaurant switched to a limited takeout menu for food and beer, and Peterson said they are looking into adding delivery service.
The most common solution, however, was simply to encourage out-of-work employees to apply for unemployment benefits, she said.
"It's hard to know what the right thing to do is," Peterson said about the constantly changing situation.
For some employers, the situation made layoffs inevitable. On Thursday, Brandi Peerman at The Farmhouse Inn and Kitchen in Whitefish said she was forced to lay off most of her staff.
She said she offered housing and food at the family's farm to the employees she couldn't afford to keep on, and she and her husband are doing what they can to help the remaining workers pay their bills while they are "essentially working for free."
"We were hit so hard with everything this week," Peerman said, lamenting the need to suspend her staff. She hoped to hire them all back once business picks back up.
In the meantime, she lowered all of the restaurant's prices by about 20 percent, added a take-out service for dinner, and added a free meal program to support struggling community members.
"We're open for three meals a day, even though it's hard to be open," she related. "We've found that giving has been the best way to get through it."
Job Service Kalispell is actively helping out-of-work local residents navigate their unexpected unemployment. While the Job Service hasn't seen much increased traffic yet, Manager Laura Gardner said, "We're expecting it to be even busier."
Job Service Kalispell offers in-person meetings to help with career development, but in the interest of social distancing, Lewis also urged job seekers to utilize the over-the-phone career counseling and the resources online at Montanaworks.gov.
She also said the state agency is advising employers to be generous with their sick and paid leave to accommodate current employees during this uncertain time.
After all, she explained, everyone recognizes the coronavirus situation is "really dynamic and rapidly changing."
Reporter Bret Anne Serbin may be reached at bserbin@dailyinterlake.com or 758-4459.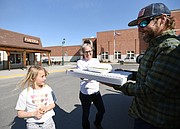 ---