Landmark rural restaurant destroyed by fire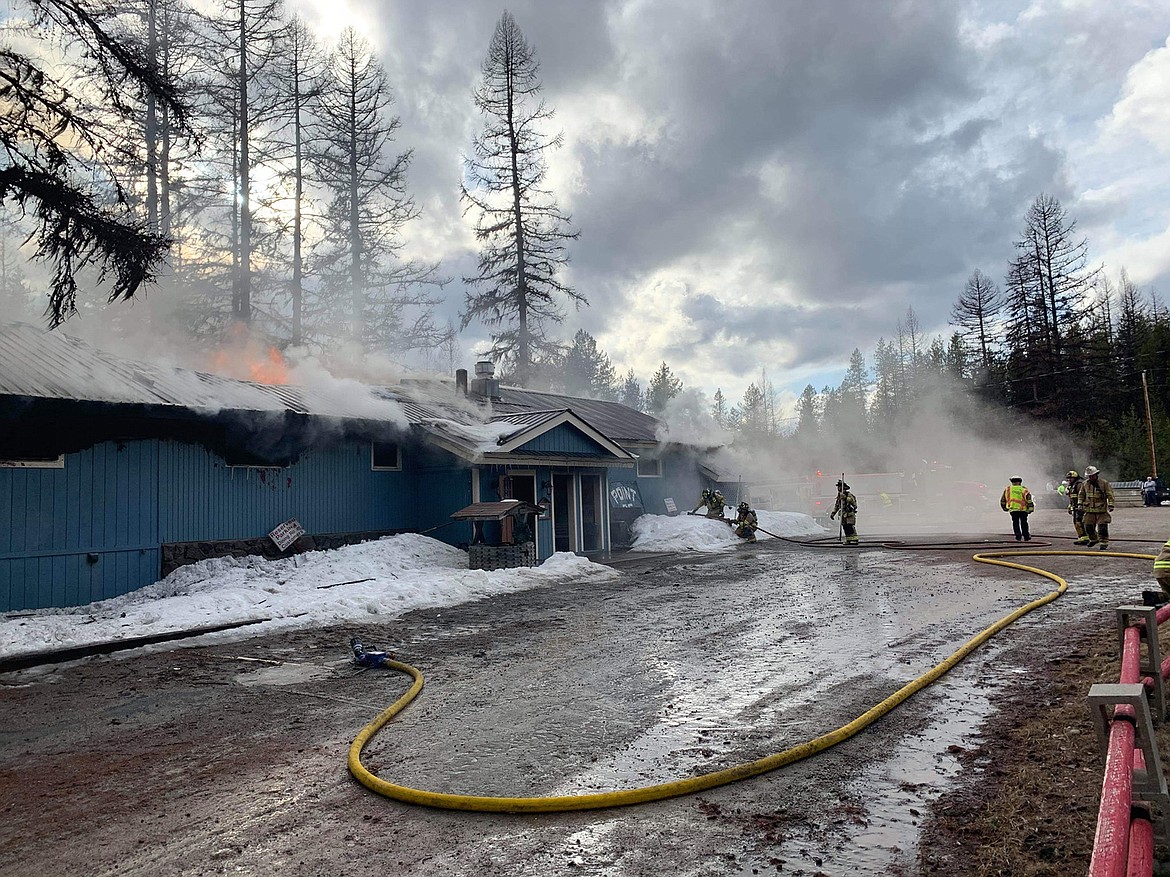 Firefighters work to contain a blaze Tuesday afternoon at Point of Rocks Restaurant and Lounge. The fire restarted Wednesday and the restaurant and residence where the owners and their family lived burned to the ground. (Photo courtesy Olney Fire and Ambulance Facebook post)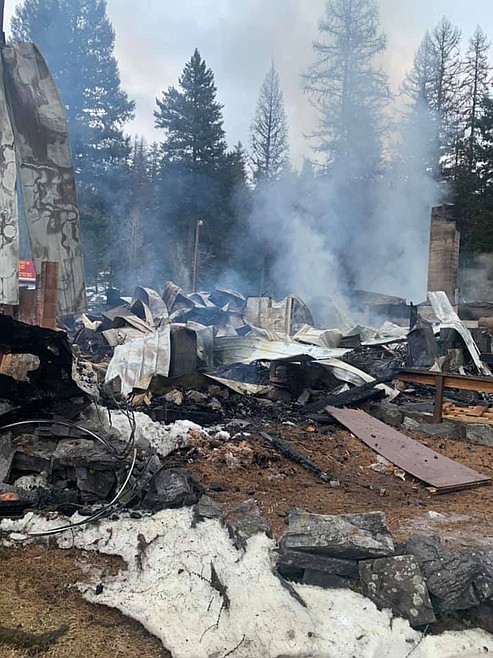 THE REMAINS of Point of Rocks Restaurant and Lounge after a fire destroyed it and a nearby home where the owners and their family lived. (Photo courtesy Point of Rocks Facebook page)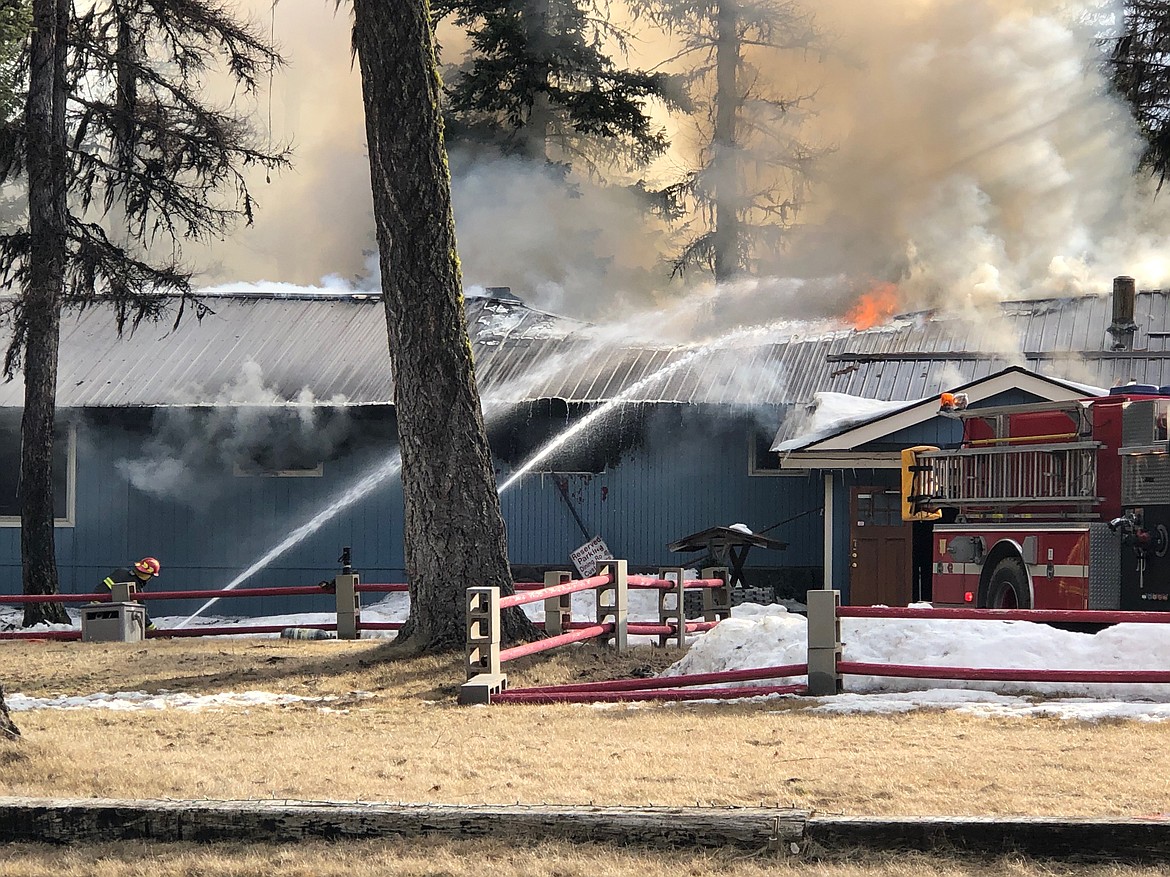 Firefighters of the scene of a blaze at the Point of Rocks Restaurant and Lounge near Olney on Tuesday evening. (Tim Prince photo)
Previous
Next
by
SCOTT SHINDLEDECKER
Hagadone News Network
|
March 25, 2020 4:38 PM
A Northwest Montana landmark was destroyed in a fire Tuesday.
Point of Rocks Restaurant and Lounge, located about 28 miles north of Whitefish on U.S. 93, burned to the ground after catching fire sometime Tuesday afternoon.
According to owner Gregg Johnson, he believes the fire was caused by a wall heater in a bedroom where he and his family lived next to the restaurant.
"Off of the bedroom, there is a bathroom with a hot tub and the kids were in there," Johnson said. "When my 10-year-old son got out to get some towels, he saw the curtains were on fire."
Johnson reported his family is safe and is staying at a vacation rental at Dog Creek Lodge in Olney.
"Our friends had to close it because of coronavirus, so there is a big house we're staying in now," Johnson said.
Point of Rocks was also closed through at least April 1 because of the virus.
The Johnsons posted on Point of Rocks Restaurant and Lounge Facebook page Wednesday morning a photo of what remained of their home and business.
They thanked the fire departments that battled the blaze, as well as family, friends and complete strangers who stopped to help. They also reported the fire flared up again at 3 a.m. Wednesday.
For former longtime owner Ross Meester, the loss of the restaurant was "a real gut punch with everything else that is going on."
Meester and his wife, Rita, bought Point of Rocks in 1981 and ran it until selling the operation in 1994 to Johnson.
"It was built in 1954 and we bought it in 1981," Ross said. "We raised four kids there and we had a lot of memories there.
"My daughter called me to tell me about it, so I went down today and there were just two chimneys still standing."
Ross said he was just 25 years old when he bought Point of Rocks.
"It was in the middle of nowhere, we had three kids and Rita was pregnant with our fourth," he said. "It was an institution before we got there and we ran it seven days a week, just taking one week vacation a year.
"But we were young then and you could do that," Ross said.
Point of Rocks was famous for its food and service, particularly the prime rib.
Crews were on the scene at about 5:30 p.m. Tuesday, including Olney Fire and Ambulance, Whitefish Fire, Trego/Fortine/Stryker Fire, and Eureka Fire.
Olney Fire Chief Jordan Carr posted on his department's Facebook page his thanks to the other departments that responded; nine engine trucks were on-scene. Eureka Ambulance was also on standby.
Carr also reported there were no firefighter injuries during 17 hours they were at the scene.
Reporter Scott Shindledecker may be reached at 758-4441 or sshindledecker@dailyinterlake.com.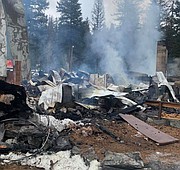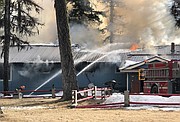 Recent Headlines
---