Governor's office optimistic about 2021 state budget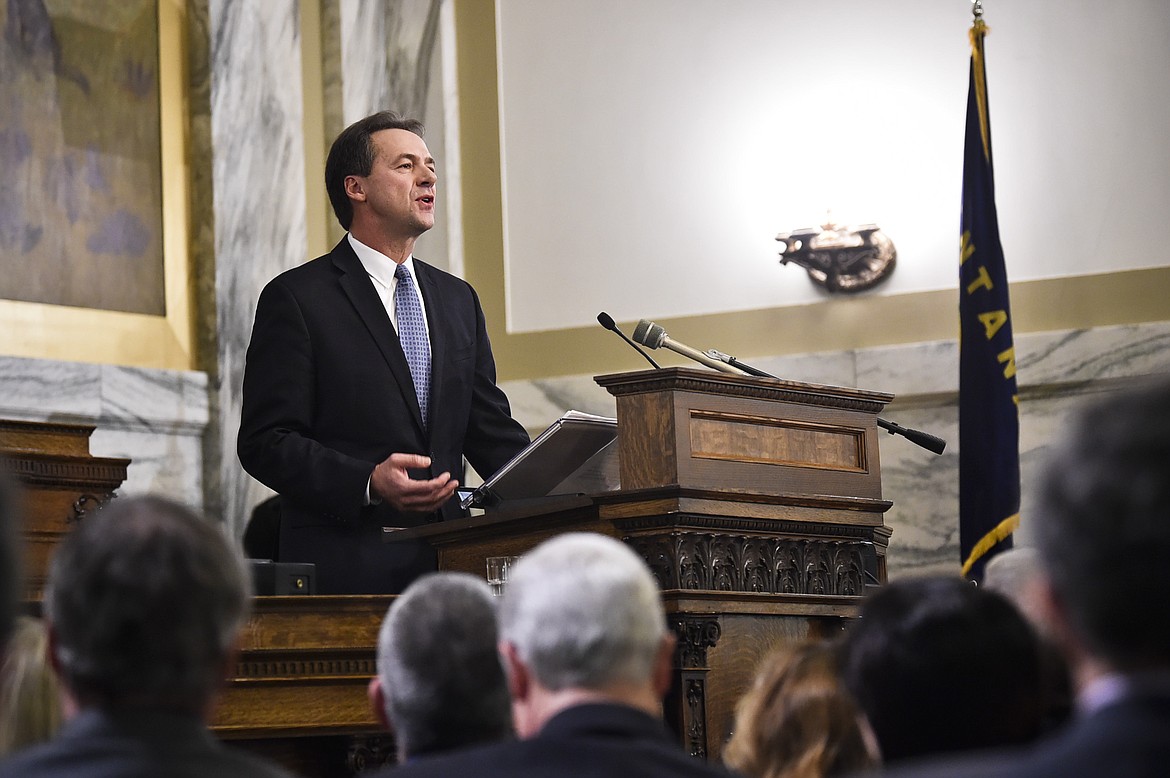 Montana Gov. Steve Bullock delivers the State of the State address in the Montana State Capitol in 2019, in Helena, Mont. (Thom Bridge/Independent Record FILE)
by
COLIN GAISER
Daily Inter Lake
|
May 13, 2020 3:44 PM
Gov. Steve Bullock said during a Wednesday call with the press he believes the state will remain "financially strong" coming out of the COVID-19 pandemic, and that the state is in a better financial position than most other states.
The governor said his office is predicting the state's general fund balance will be $113 million in June 2021. The state entered the fiscal year 2020 with a "historically strong" balance of $360 million in the general fund.
Bullock called the predicted balance "manageable" and said he is "optimistic we are responsibly opening up our economy" after lifting the state's stay-at-home order.
Montana still has the lowest number of cases of COVID-19 and hospitalizations related to the virus per capita in the United States.
But Bullock said "Montana is not immune to the widespread economic issues," caused by the virus.
The state is currently in the first of three phases of its reopening plan. Businesses like bars and restaurants have been able to reopen in a limited capacity, and businesses including gyms and movie theaters are allowed to reopen this weekend under strict social-distancing guidelines.
Bullock said budget decisions will be made "based on science and data and by responsibly handling day-to-day changes," and not politics.
According to a memo released by the governor on Wednesday, "Leaving money in the bank is allowing time to gauge and understand the economic impacts of COVID-19 that are occurring in every corner of the country, and allowing us to preserve and maintain key essential services in the short- and mid-term."
The memo states there will be an additional $92 million available in the Budget Stabilization Reserve. The is also $55 million in the Fire Fund.
But Bullock emphasized that these are just projections, and much of it is at the mercy of "things we can't control."
"The difference between $200 million and $300 million is one bad fire season," Bullock said.
The state will have a better idea of the budget picture when income tax revenues are received in July. In the meantime, the governor's office will continue to assess when will be an appropriate time to welcome out-of-state visitors.
"Montanans have done this right," he said of the state's success at controlling the spread of COVID-19. "And we want to keep it that way."
While Wyoming announced it will open its entrances to Yellowstone National Park on May 18, Bullock said Montana's entrances to the park will remain closed until June 1 at the earliest.
The mandatory 14-day quarantine for out-of-state visitors remains in place, and there is still no date set for when the state will move to phase two of its reopening plan.
Montana has 462 confirmed cases of COVID-19 and 16 deaths. For nearly three weeks, the state has recorded no more than two new cases per day.
Reporter Colin Gaiser may be reached at cgaiser@dailyinterlake.com
---