Yoga Hive closes studios in Kalispell, Columbia Falls
by
BRET ANNE SERBIN
Daily Inter Lake
|
May 20, 2020 1:00 AM
Yoga Hive is closing its Columbia Falls and Kalispell locations due to the economic hardship caused by COVID-19. Because of the pandemic, founder Mollie Busby decided focusing just on the Whitefish location would be the most sustainable choice going forward.
"In order to keep doing this, we have to scale down," Busby realized.
Busby started Yoga Hive in Whitefish almost five years ago, followed by opening the Columbia Falls location in 2016 and the Kalispell studio in 2017. Yoga Hive also has locations in Wisconsin and Alaska, where Busby now lives.
When the COVID-19 outbreak started in the valley, Busby decided to close her studios and switch to all online classes. But she soon became overwhelmed with trying to pay rent and maintain the three studios without the usual demand for yoga. She said revenue has "plummeted" at all three locations as Montanans have been largely staying at home.
The timing, too, was difficult since yoga classes are typically less popular in the spring, as people spend more time outside, and because she had to cancel a spring retreat that could have buffeted the bottom line.
Plus, it was challenging to train all of the staff members in the appropriate practices for reopening without being able to be there in person with them. As she looked forward to potentially reopening, she wondered about her ability to actually hold yoga classes with restrictions like limits on class sizes and requirements to wear face masks.
Overall, she realized preserving her current business model "seemed like an uphill climb."
Busby tried to seek out support like Small Business Administration loans to keep the studios afloat and the yoga teachers paid, but with her model of independent contractors, it was unclear whether and when Yoga Hive might receive this funding. "You can only play the waiting game for so long," she said.
Although Yoga Hive will have fewer studios across the valley going forward, Busby insisted there are still plenty of opportunities to practice yoga. She promised Yoga Hive will remain active at their Whitefish studio whenever group indoor fitness classes are allowed to resume in Phase 2 of Governor Steve Bullock's reopening plan.
"We're committed to being around," she said. "Our sign is not going up in the Great Northern Bar."
Busby said their online classes will also continue indefinitely, and they recently launched Yoga Hive Connect, a set of on-demand online classes that are prerecorded and available to watch at any time.
There are still a lot of creative yoga options in the works as well, including outdoor yoga, paddleboard yoga and corporate yoga classes for workplaces.
And since she no longer has to work on running three studios at once, Busby is also going to start teaching classes again through Yoga Hive's online platform.
"We're so excited about the future," she said.
She recognized much of the future remains uncertain. She said there are no plans yet for the future of the Kalispell and Columbia Falls buildings, and not all of Yoga Hive's 28 teachers will be able to stay on in Whitefish or through the online classes.
But despite all of these changes and question marks, the entrepreneurial yogi has a calm and centered mindset about the future of her business. Busby said practicing yoga has never been a more important component of her wellness or mental health, and she encouraged others to take advantage of its health benefits during this stressful time.
"There's no time to start like the present," she urged. "It really makes a connection on deeper levels within your mind, body and spirit. It helps you live life more fully."
And she pointed out, "yoga doesn't have to look like 60 minutes on a yoga mat. It can be as simple as breathing." People often get overwhelmed by specific requirements and busy life circumstances, especially in the current climate. But Busby said, "life doesn't have to be that way."
Reporter Bret Anne Serbin may be reached at (406)-758-4459 or bserbin@dailyinterlake.com.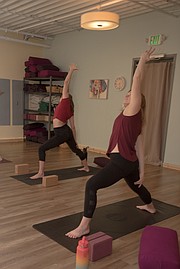 ---