New Direct Primary Care practice opens in Whitefish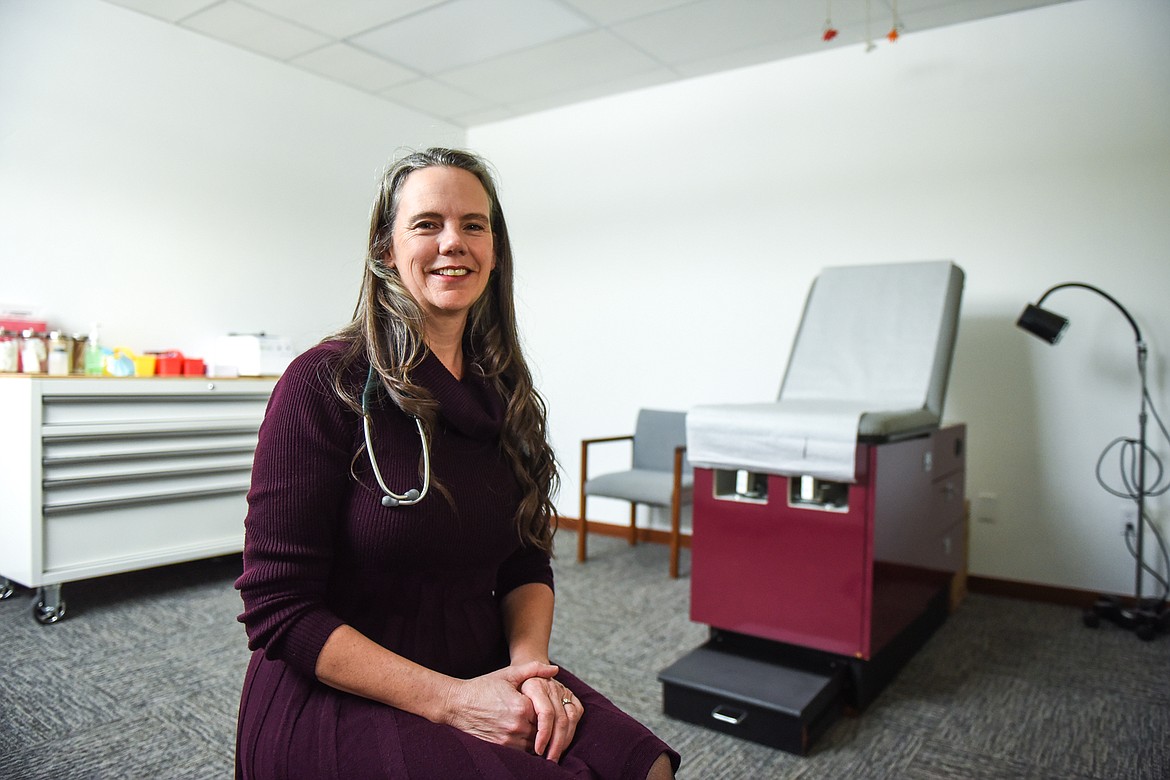 Dr. Morgan Coleman at Big Mountain Family Medicine in Whitefish on Tuesday, Oct. 27. (Casey Kreider/Daily Inter Lake)
Morgan Coleman, a board-certified family medicine physician, recently joined the Flathead Valley's growing pool of Direct Primary Care doctors when she opened her independent practice, Big Mountain Family Medicine.
Coleman, who attended medical school at the University of New Mexico in Albuquerque before completing her residency in Spokane, relocated to Whitefish with her family in 2017. She said there were two overarching reasons for the move. First, Coleman said she and her husband Travis wanted to move to a smaller-scale community to raise their two children, ages 14 and 10. And second, she had hoped to pursue a different practice lifestyle in an area where Direct Primary Care, otherwise known as DPC, would be both welcomed and successful.
DPC is a practice and payment model where patients pay their physician or practice directly in the form of periodic payments for a defined set of primary care services. In other words, providers do not take payments from insurance companies. Instead, the patient's regular medical needs and wellness visits are covered by their monthly payment, which ranges from $10 to $100 per month at Big Mountain Family Medicine, with alternative options available for businesses that wish to provide such coverage to their employees.
Coleman, who has worked in large multi-specialty groups, small hospital-owned groups and urgent-care settings, said she adopted the DPC model because it allows her to build better relationships with her patients by taking on smaller patient loads and by eliminating "middlemen" such as assistants, receptionists and others.
"When you call our office, chances are, I'll be the one picking up the phone. It takes some people aback because they aren't used to speaking directly with their doctor," Coleman said. "With other models, physicians are spread thin. And when looking at the relationship aspect of care that a lot of people find very important, that can't happen over the course of just 15 minute snippets with patients."
Coleman, 46, said with her DPC model she is taking on a patient panel that is far more intimate than what most other primary care doctors typically tackle.
Since opening Big Mountain Family Medicine nearly three months months ago, about 100 individuals have enrolled. As is typical for many DPC practices, Coleman said she will likely tap out at 600 or so patients, whereas other primary care doctors can sometimes see anywhere from 1,500 to 2,000 patients.
"It's just a fraction of what others are taking on and it really shows in the amount of time I get to spend interacting with and helping patients," Coleman said.
A PRIMARY goal of DPC, Coleman explained, is to cut down on the cost of care for the provider, who pays less in overhead for other employees, and for the patients, who pay for regular preventative services that will likely reduce costs associated with future, more serious ailments.

Travis, who is the only employee at Big Mountain Family Medicine other than his wife and helps manage technical systems, the website and other facets of the clinic, said just as a vehicle requires regularly scheduled maintenance, so does one's health and wellness.
"We obviously don't want to compare patients to cars, but think of it a bit like auto maintenance. You won't seize your engine at 50,000 miles if you maintain it well," he said. "A similar concept can be applied to seeing a physician regularly."
Services included in the monthly prices at Big Mountain Family Medicine include preventive care, management of chronic medical conditions, sexually transmitted disease and pregnancy testing, skin lesion and wart removal, pap testing and much more. There are no copays and no office charges and Coleman said she is even capable of doing house visits for those who need them and is willing to travel to neighboring counties.
THERE ARE, of course, limits to what can be provided. For example, if a patient is in need of specialty services or major surgeries, they will be referred elsewhere, or if extensive lab tests must be performed, there may be a cost associated with sending samples elsewhere.
"These are often miniscule prices compared to what one might pay somewhere else, and we already have a predetermined price list that works kind of menu," Coleman said. "It's simple and people know exactly what they are paying for. I can tell you right now for example that the cost of a cholesterol panel is $7.50, no more, no less."
While Coleman's practice is centered around not accepting insurance payments, she does acknowledge that health insurance has its benefits, and in many cases, she would recommend patients keep those plans to assist with covering major, more catastrophic health events. As one example, she said individuals with chronic diseases such as cancer would need health insurance to avoid going into major medical debt for radiation and other treatments. In addition to covering these expenses, she said health insurance plans often cover the costs of pricey prescription medications.
Also on the topic of insurance, Coleman said she is also unable to accept payments from Medicaid and Medicare because the programs, particularly Medicaid, do not currently recognize her or other DPC providers as "legal medical providers." The federal government's intent in not recognizing DPC doctors is essentially to cut down on insurance fraud — something Coleman also acknowledges is a viable concern.
"If Medicare or Medicaid paid me for the services I provided a patient and then I also charged the patient for the process, obviously that would be a huge issue," said Coleman, who made the decision to opt out of receiving payments from either platform, as many DPC physicians do.
By opting out, Coleman can still technically accept patients who are covered by Medicare so long as she contractually agrees to not bill the program. She noted it has been historically more difficult for DPC providers to work with Medicaid than Medicare.
Coleman said in the near future, she and other DPC providers hope the programs come to recognize them as legal medical providers so they can work out a better payment program for those covered by Medicare and Medicaid. She and other DPC providers are also keeping an eye on a number of measures expected to go before the Montana Legislature that involve DPC practices.
Reporter Kianna Gardner can be reached at 758-4407 or kgardner@dailyinterlake.com
Recent Headlines
---