Standing in line, voters feel the weight of 2020 election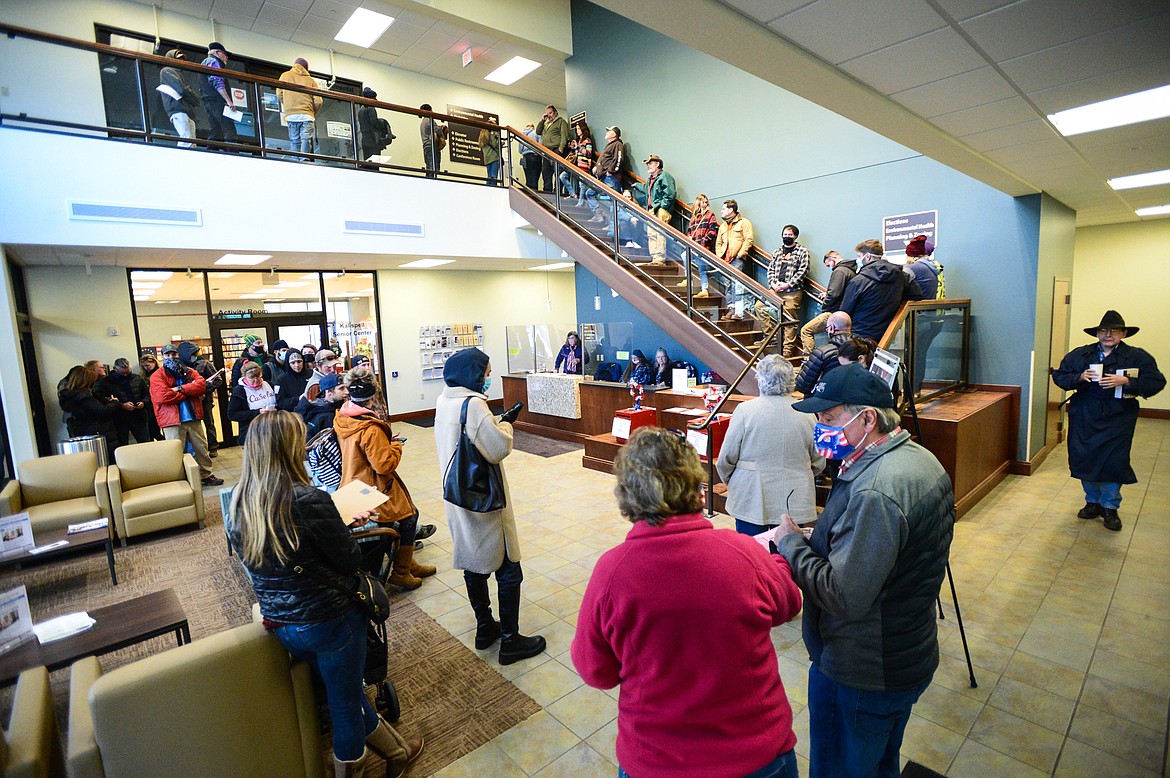 Voters stand in line at the Flathead County Election Department in Kalispell on Election Day, Tuesday, Nov. 3. (Casey Kreider/Daily Inter Lake)
by
CHAD SOKOL
Daily Inter Lake
|
November 3, 2020 1:55 PM
Throngs of Flathead County voters turned out on Election Day to cast ballots in person, in drop boxes and at local drive-thru polling places.
Until late in the evening, hundreds of voters – some masked, some not – formed a line that snaked around the block outside the county election office in Kalispell. Voters reported wait times of up to two and a half hours.
Chris Pound, 32, a lifelong Flathead County resident, described the local political climate as "tense" during the past few months of campaigning between President Donald Trump and former Vice President Joe Biden.
"A lot of people are very passionate on both ends," said Pound, who repairs beer draft systems at local bars. "This is unlike anything I've ever seen before."
He said he felt privileged to make his voice heard at the ballot box.
"It's important to me to exercise democracy," he said.
Lilly Birk, of Kalispell, said she turned out to vote because "I don't want to sit on the sidelines of history."
Birk, who works as an online reputation manager, said she was voting for Trump. Asked if she was enthusiastic about that choice, she replied, "I'm just really against Biden."
Matt Parker, 35, moved to Kalispell from Missoula a few months ago. He declined to say which presidential candidate would get his vote but said he feels strongly about the race.
"If it doesn't go the way I want it to go, I'm moving to Costa Rica to go surfing," Parker said. "So it's incredibly important to me."
The stakes of the election also seemed high enough to make a first-time voter out of Kalispell resident Shawnae Ellsworth-Bratz.
"I'm 54 years old and I've never registered to vote," she said. "I think our country is falling apart, and I finally decided it's time to get out and do something."
Ellsworth-Bratz said she dislikes both Trump and Biden and was instead voting for a third-party candidate.
"I watched the presidential debate and it was embarrassing, absolutely embarrassing. They're like toddlers," she said. "We've got smarter people in this country, and this is who we've got to choose from for president?"
Flathead County voters had until 8 p.m. to cast ballots or get in line to do so. Even on Election Day, confusion abounded about this year's unusual voting process. Poll workers said some voters were sent to Kalispell after showing up at the Bigfork and Smith Valley drop box locations expecting to vote in person.
Drive-thru polling places also were set up Tuesday at the election office and the Flathead County Fairgrounds.
Reporter Chad Sokol can be reached at 758-4434 or csokol@dailyinterlake.com
---