Daines campaign claims 'Dems are stealing the election'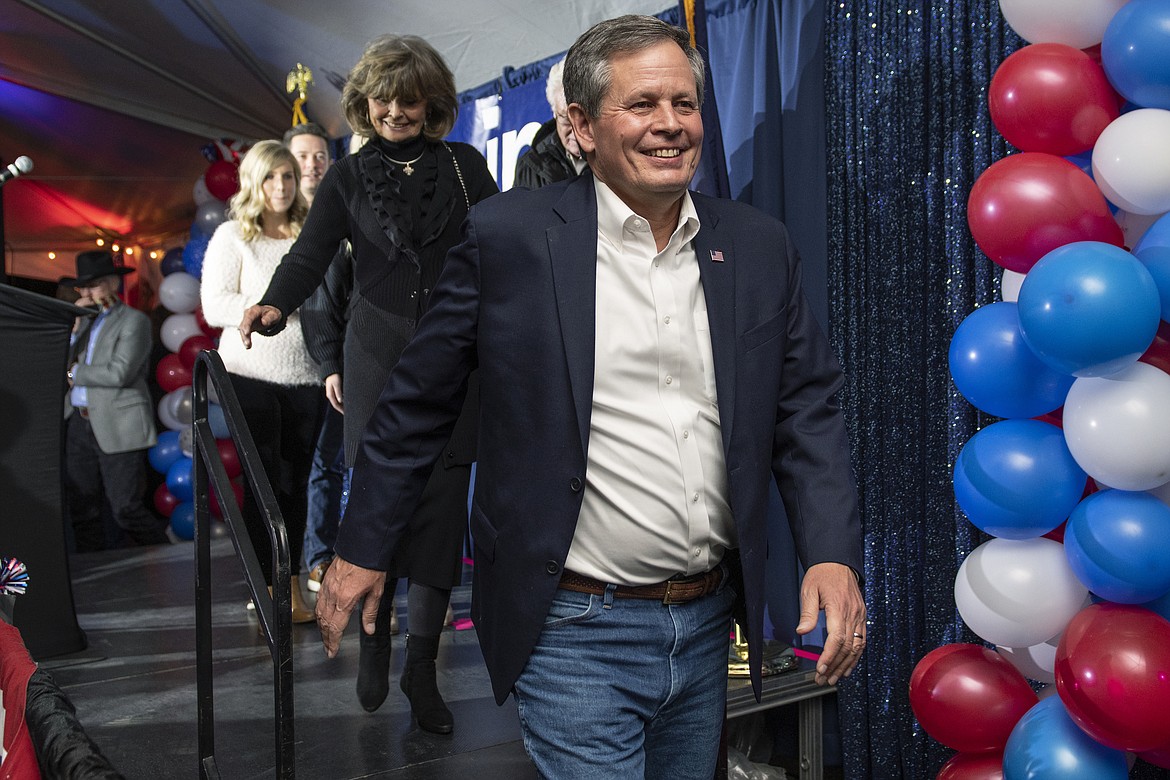 Sen. Steve Daines, R-Mont., with his wife Cindy, arrives to address his supporters after his race was called by The Associated Press, early Wednesday, Nov. 4, 2020, in Bozeman, Mont. (AP Photo/Tommy Martino)
by
CHAD SOKOL
Daily Inter Lake
|
November 7, 2020 12:00 AM
U.S. Sen. Steve Daines' campaign made the baseless allegation that Democrats are "stealing" the presidential election in a text sent to many Montana residents on Thursday, echoing President Donald Trump's rhetoric and casting doubt on the accuracy of the ballot-counting process still underway in several key states.
"Dems are stealing the election. Trump needs our support," read the text from the Republican senator's campaign. "Give $5 & help us fight back now!"
Campaign officials offered no evidence of deliberate vote-rigging by Democrats but pointed to what they called "alarming" reports of transparency and oversight issues in other states, while indicating ballots were counted properly in Montana, where Daines cruised to re-election after a challenge from Democratic Gov. Steve Bullock.
"This text was sent to support President Trump and fair and transparent elections, something Montanans very clearly do after Tuesday night's overwhelming victory for the president in Montana," Daines campaign spokeswoman Julia Doyle said in an email.
Another spokeswoman, Katie Schoettler, said money raised by the Daines campaign would be used to support a ballot recount effort intended to help Trump. The campaign also sent staffers to Maricopa County, Arizona, where they were "helping observe and verifying signatures that are mismatched," Schoettler said in an email.
Former Vice President Joe Biden maintained a narrow lead in Arizona on Friday, offering Democrats hope the state will flip blue. The Associated Press and Fox News had called the state in Biden's favor while other news organizations had not. Biden also had leads Friday in Nevada and Georgia and at least 253 of the 270 Electoral College votes needed to win election.
"The American people decide elections in this country, not politicians," Montana's Democratic Sen. Jon Tester said in a statement. "The president has made it clear that he isn't going to accept the results of this election unless they're in his favor. This is both dangerous and undermines our democracy. I support the local elections officials – both Democrats and Republicans – who have been transparent in their tireless work to count millions of ballots across the country."
Some Republican officials have echoed the Trump campaign's unsubstantiated claims of widespread voter fraud, while others in the GOP have distanced themselves.
Schoettler, with Daines' campaign, pointed to statements made Friday by Ronna McDaniel, chairwoman of the Republican National Committee, and Michigan GOP Chairwoman Laura Cox.
In addition to many vague reports of "irregularities" in Michigan's ballot count and poll workers hindering access to Republican observers, they said a software glitch in one county had erroneously given thousands of votes to Democrats but was corrected. They said the same software is used in dozens of other Michigan counties but offered no evidence that similar errors had occurred elsewhere.
McDaniel also referred to a Detroit attorney's allegation that an unnamed poll worker told her that ballots were being illegally backdated before Election Day – a claim that a Michigan judge deemed hearsay on Thursday before dismissing a lawsuit from the Trump campaign.
Pressed to explain the phrase "stealing the election," Schoettler wrote that "a candidate looking into inconsistencies, lack of transparency and oversight, and other issues is fair."
"The senator," she said, "believes that any candidate has a right to challenge the count and process, including the president, if they believe there are inconsistencies."
Reporter Chad Sokol can be reached at 758-4434 or csokol@dailyinterlake.com
---