Cidery opens tasting room west of Kalispell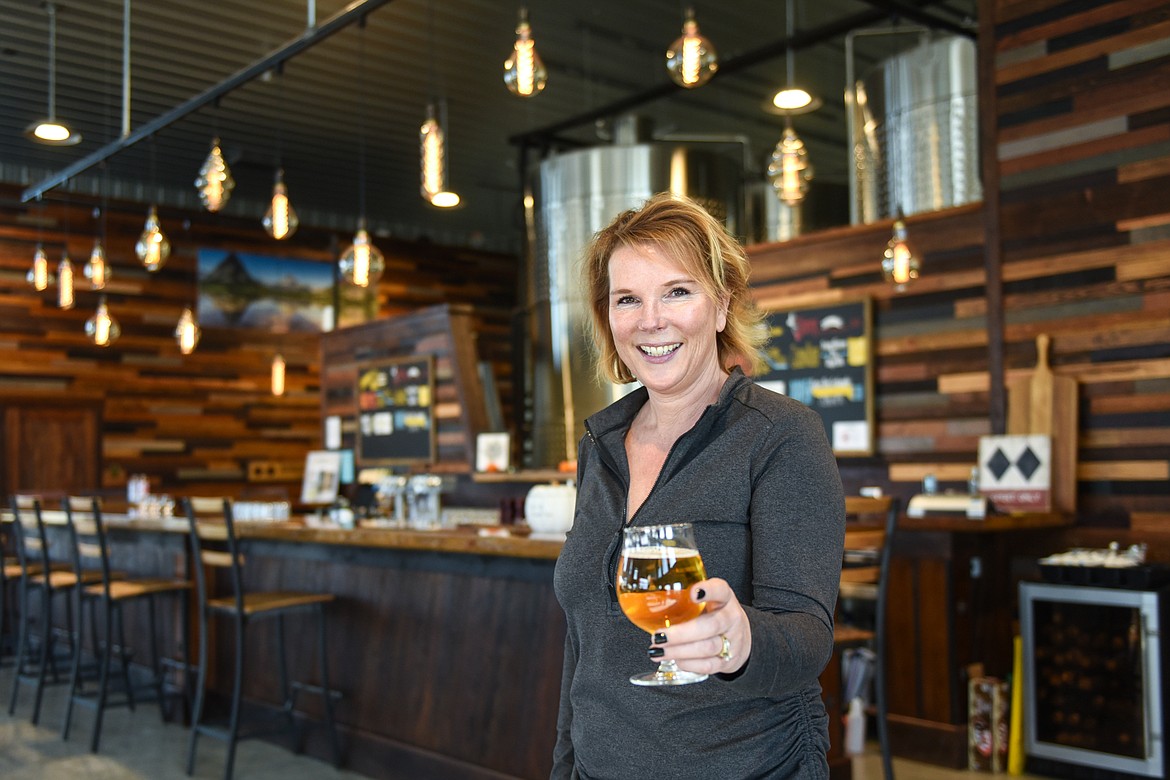 Jennifer Desmul holds a glass of Kingston Black cider at Big Mountain Ciderworks on Tuesday, Nov. 3. (Casey Kreider/Daily Inter Lake)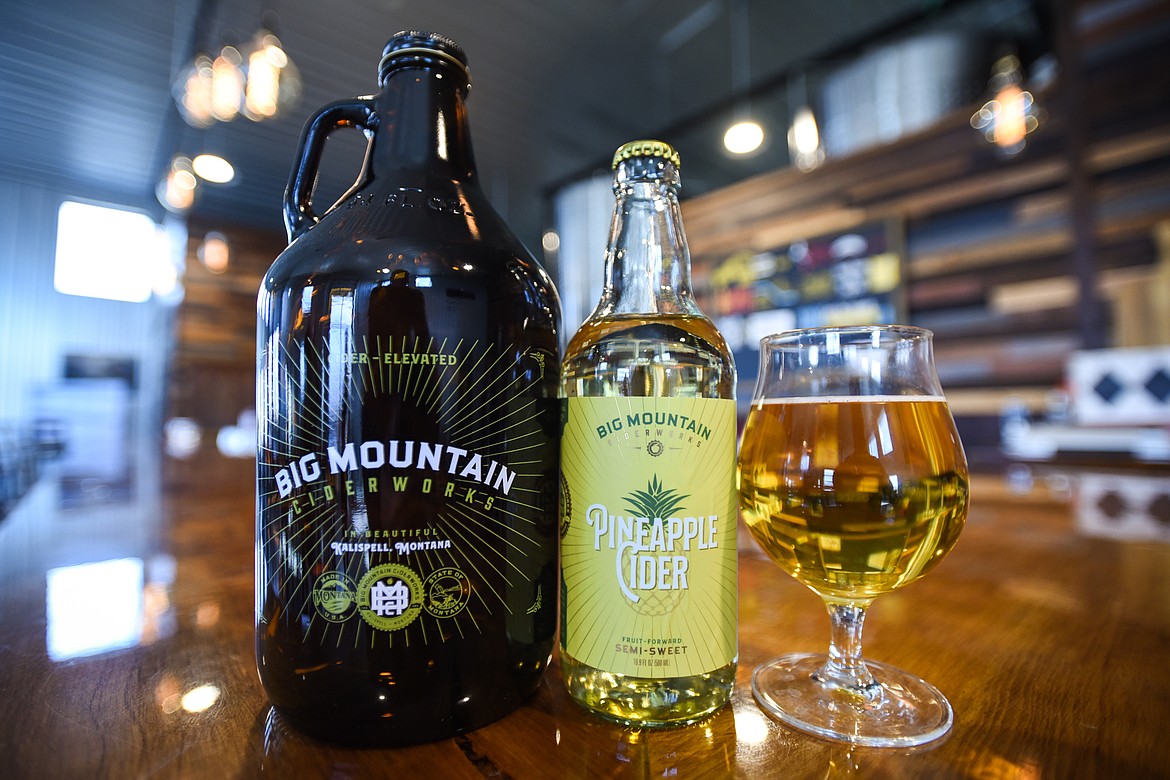 Ciders are available in the taproom in 4, 12 and 16 oz. pours as well as to-go in 64 oz. refillable glass growlers. (Casey Kreider/Daily Inter Lake)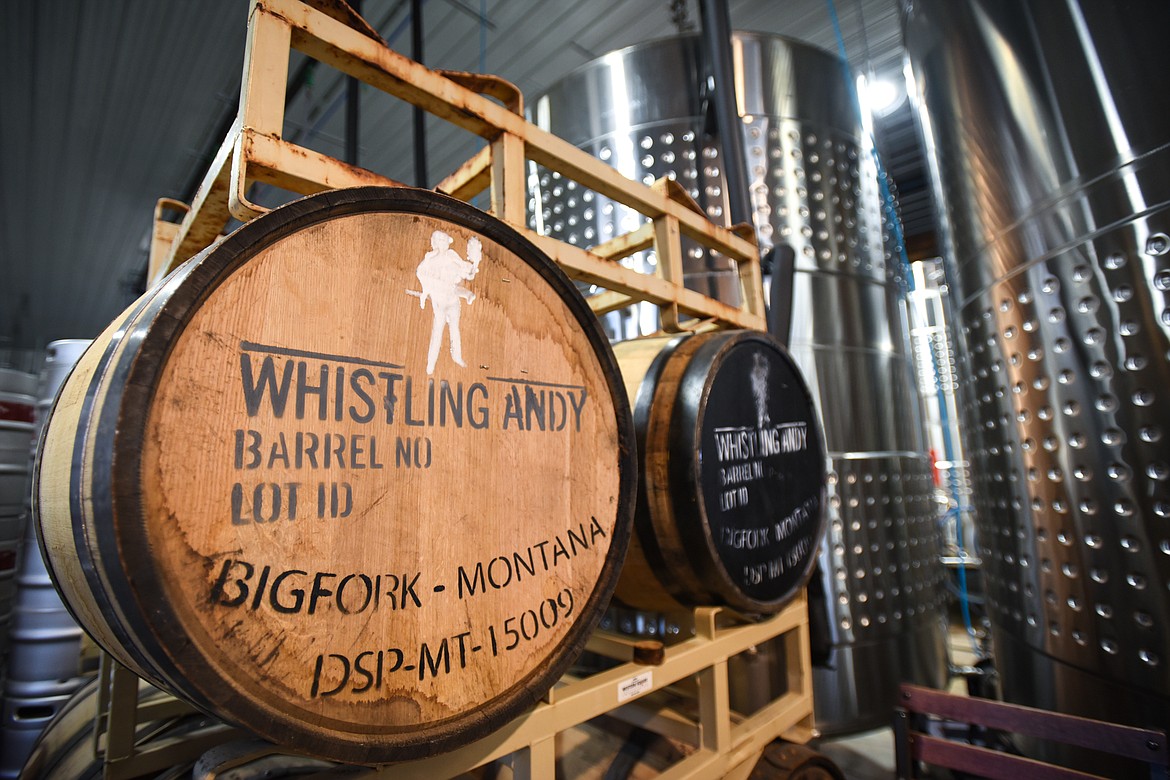 Barrels of Whistling Andy whiskey sit near the tanks for brewing cider at Big Mountain Ciderworks on Tuesday, Nov. 3. (Casey Kreider/Daily Inter Lake)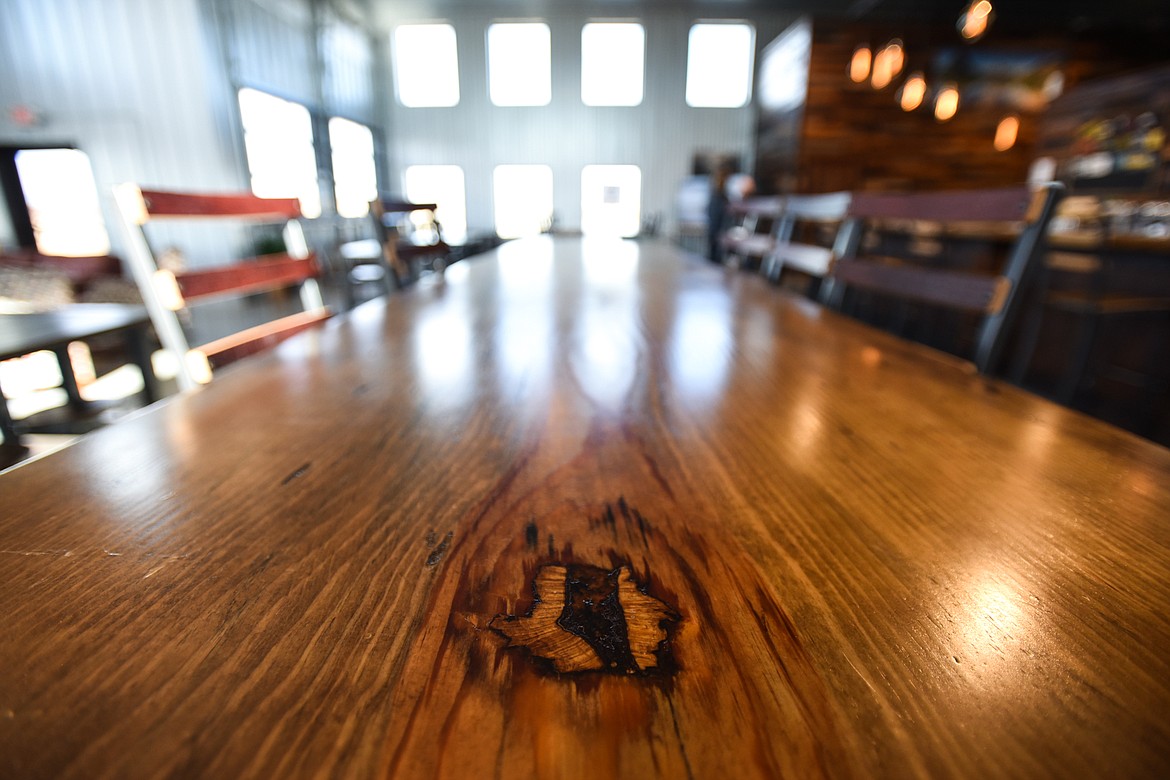 Detail of one of several long, wooden bar tables at Big Mountain Ciderworks on Tuesday, Nov. 3. (Casey Kreider/Daily Inter Lake)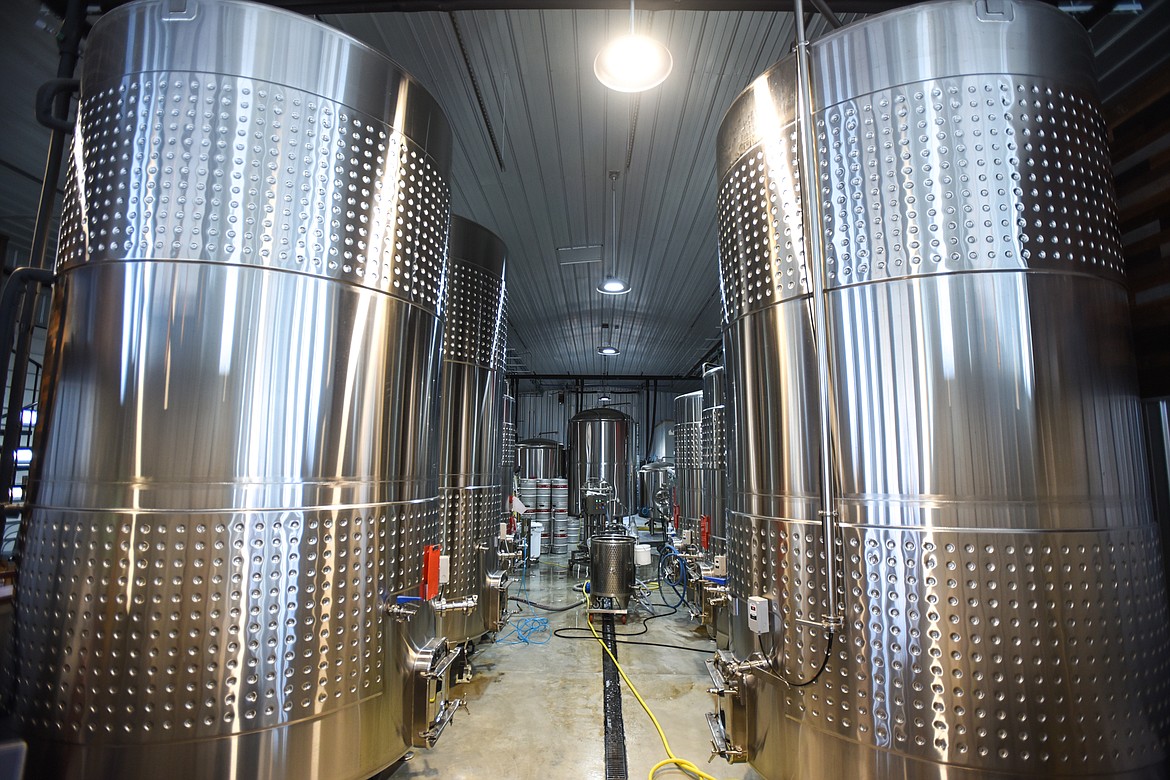 Tanks for brewing cider at Big Mountain Ciderworks on Tuesday, Nov. 3. (Casey Kreider/Daily Inter Lake)
Previous
Next
by
BRET ANNE SERBIN
Daily Inter Lake
|
November 8, 2020 12:00 AM
There's a new tasting room and eatery just west of Kalispell where locals can go to unwind.
Big Mountain Ciderworks quietly opened in mid-October with locally made cider, comfort food and lots of cozy seating, just in time to provide a relaxing hangout in the West Valley.
"A lot of people have said Kalispell needed this — a non-chain, local, family-owned gathering spot," said Jennifer Desmul, who runs the cidery with her husband, Bud, and the help of two of their three sons.
The brand-new red barn on Old Reserve Drive has the capacity to seat 99 people inside the airy, high-ceiling tasting room. There's also an outdoor patio area and 40-acre orchard, where guests are welcome to stroll through the rows of trees while sipping on drinks produced straight from the fruit of the hanging boughs.
In the colder months, the indoor atmosphere is no less idyllic, whether visitors are admiring the towering metal tanks in the production side of the barn or gazing north out the huge windows at Big Mountain, the business' namesake.
It's enough to convince anyone to drive the few extra minutes west of town—if not for the calming environment, then for the unique drinks.
"We've done this all with just family," Jennifer said.
That's no small feat. The Kalispell family started planting the seeds of Big Mountain Ciderworks in 2006 when they started their first small orchard near their home with just 100 trees. For the subsequent four years, they began making cider, creating their first small batches in the family barn.
It wasn't until 2012 that the Desmuls expanded to their West Valley property, and it would be many more years before they truly saw the fruits of their labors.
"This was all bare dirt when we bought it in 2012," Jennifer recalled as she cast her gaze around the spacious tasting room and the orchard outside, now brimming with 7,000 trees in 20 different apple varieties and 10 different types of pears.
WELL OVER a decade later, the taps are finally flowing at Big Mountain Ciderworks with the first tastes of the Desmuls' product. There are currently six flavors of cider on tap at the tasting room, but they have the capacity to pour 15 different cider varieties once they get up to full steam.
Some of the flavors are available in bottles and cans, and the Desmuls hope to soon offer them in local restaurants and, eventually in stores throughout Montana.
"We wanted to start out hyper-local…then branch out into the rest of Montana," Jennifer explained. "We don't want to overextend ourselves."
Despite a cautious approach, she has little doubt the local product will take off. Jennifer said some people might be surprised to learn that Western Montana has long been considered prime country for growing apple varieties such as Honeycrisp and Macintosh.
The cider that comes from these locally grown apples is drier than what many cider drinkers are often used to, and Jennifer said Big Mountain Ciderworks' first tasters have appreciated an alternative to the sweeter drinks made by big brands such as Angry Orchard.
The drink list at Big Mountain Ciderworks includes varieties like Golden Russet, Pippen and Cherry. So far, the most popular choices have been the dry Kingston Black, the closest variety to a traditional beer, and the fruity pineapple blend.
The Desmuls aren't afraid to branch out, either, with experimental concoctions such as the Honey Funk, made from Honeycrisp apples. In the winter, they'll also carry seasonal offerings including the Snow Devil and the Montana Original semi-sweet blend.
Big Mountain Ciderworks has even developed a champagne-like special reserve made out of pears, fittingly called Perry. Jennifer considers cider "a bridge between wine and beer," and there's something for every taste bud at Big Mountain Ciderworks.
The cidery also will start pouring a non-alcoholic cider option, too. Teetotalers and younger customers can also take advantage of the orchard's offerings through the cidery's meal options, which focus on apple-centric specialties such as apple butternut squash soup and orchard chicken pizza.
Big Mountain Ciderworks has partnered with beloved local businesses including Sweet Peaks Ice Cream, Genesis Kitchen and Lower Valley Meats to stock their kitchen, and the West Valley's newest attraction seems well on its way to joining its business partners as a household name in the Flathead Valley.
Big Mountain Ciderworks is located at 1051 Old Reserve Drive, Kalispell. Current hours are 3 to 9 p.m., Monday through Friday, 12 to 9 p.m. on Saturday and 12 to 6 p.m. on Sunday.
Reporter Bret Anne Serbin may be reached at 758-4459 or bserbin@dailyinterlake.com.
---