Flathead's Thompson inks with Montana soccer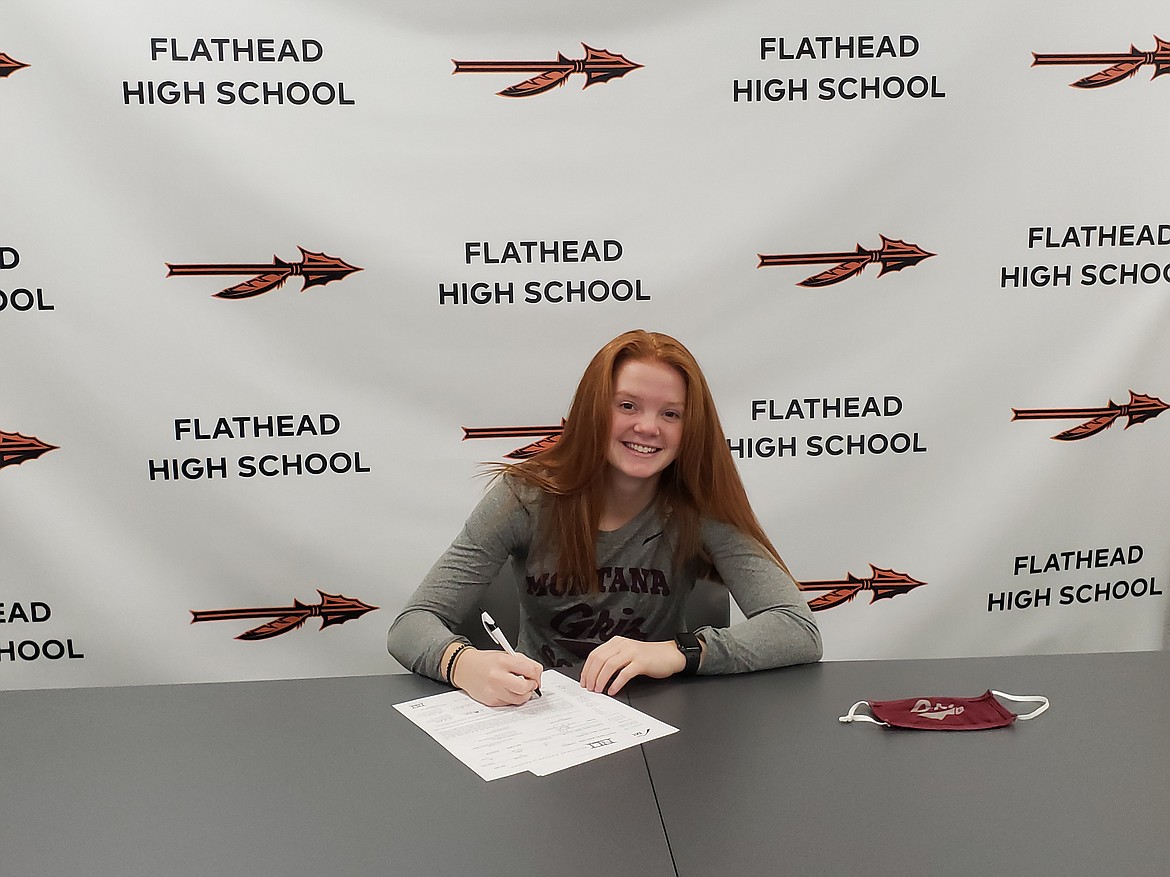 Flathead's Skyleigh Thompson signed a National Letter of Intent to play soccer for the University of Montana on Wednesday at Flathead High School. (Photo courtesy Bryce Wilson/Flathead High School)
by
UM Sports Information and Daily Inter Lake
|
November 11, 2020 8:48 PM
Flathead High School's Skyleigh Thompson made it official Wednesday, signing a National Letter of Intent and joining seven other soccer players in Montana's 2020-21 signing class.
In addition to Thompson, third-year UM coach Chris Citowicki added three players from the state of Washington, three from Colorado and one from California.
"This is a group that is immensely talented," Citowicki said. "I was watching their film the other day, and it's amazing how much talent is in this group.
"Now that I'm used to the Big Sky Conference, I feel like this group is going to be dominant for many, many years."
Thompson will give Montana another in-state player to follow in the footsteps of current Grizzlies Alexa Coyle (Bozeman), Quinn Peacock (Missoula) and Josie Windauer (Columbia Falls).
The forward scored 24 goals as a junior and 17 as a senior.
"She checks all the little things you look for, but the one piece you can't ignore is she scores all the time," Citowicki said. "We brought her to a camp and any window that was open, she would shoot and score. Every single time. You can't ignore that. You have to take a player like that because goal-scoring is so hard to do, and she just naturally does it. We couldn't pass up on that."
Thompson committed to the Grizzlies in late 2019 after that breakout junior season. She signed her NLI at a ceremony with family, friends and coaches at Flathead High at 3 p.m. Wednesday.
"It's so weird, being committed so long," Thompson said. "Today, finally signing the papers it's like, 'Oh, it's coming up soon now.' It's super exciting. I'm excited."
As expected, Thompson, at 5-foot-6 perhaps undersized as a high school center-midfielder, will play forward.
"Absolutely. It's where I feel the most comfortable," she said. "It's nice to be in a comfort position going into something nerve racking."
These days she's continuing cardio soccer workouts ahead of hopefully a full track season – she's a hurdler and sprinter – in the spring. Next early August she'll report to fall camp for the Grizzlies' soccer team.
"As soon as we get there, it's right to training," she said.
From Washington, Citowicki will be bringing in Lena Beaufait of Seattle, Bella O'Brien of Federal Way and Maddie Seelhoff of Snohomish.
From Colorado: Ally Henrikson of Pueblo, Ava Samuelson of Louisville, and Delaney Lou Schorr of Fort Collins.
Riley O'Brien of Huntington Beach, Calif., completes the class.
"The first two years, it was about getting my bearings and figuring out where Montana is as a program. How does it fit into the Big Sky, the region, nationally?" Citowicki said. "Now that I know where these upper mid-major programs are within our region – Gonzaga, Boise, Wyoming – those are the ones we want to compete with in recruiting in addition to trying to out-recruit the Big Sky."
Riley O'Brien and Schorr are also forwards. O'Brien plays high-level club soccer in Southern California for Slammers FC ECNL. Schorr plays with Arsenal Colorado.
The trio will give the Grizzlies even greater depth up front, joining current freshmen Windauer and Meredith Udovich, who are playing alongside scorers like seniors Coyle, Mimi Eiden and Taylor Stoeger.
"The more I'm in this, the more I want to have forwards who can cycle in and out," said Citowicki. "I don't need Alexa to play 90 minutes. It would be great for her to go 45 to 60. If the rules allow for us to sub, then let's sub and run a back line ragged. If you don't have a deep enough back line, sooner or later we're going to score on you."
Citowicki has changed his thoughts on the back line as well. The Grizzlies have allowed 41 goals in his 41 matches as coach, but the defense could be fresher at the end of the season. The addition of Beaufait, an outside back, Henrikson, a center back, and Seelhoff, another outside back, adds depth.
Samuelson, who can play either outside back or on the wing up front, is another potential defender.
Bella O'Brien, whose dad is the technical director for the Pacific Northwest Soccer Club, is the only midfielder in the class.
---