Billings Central topples C-Falls for State A title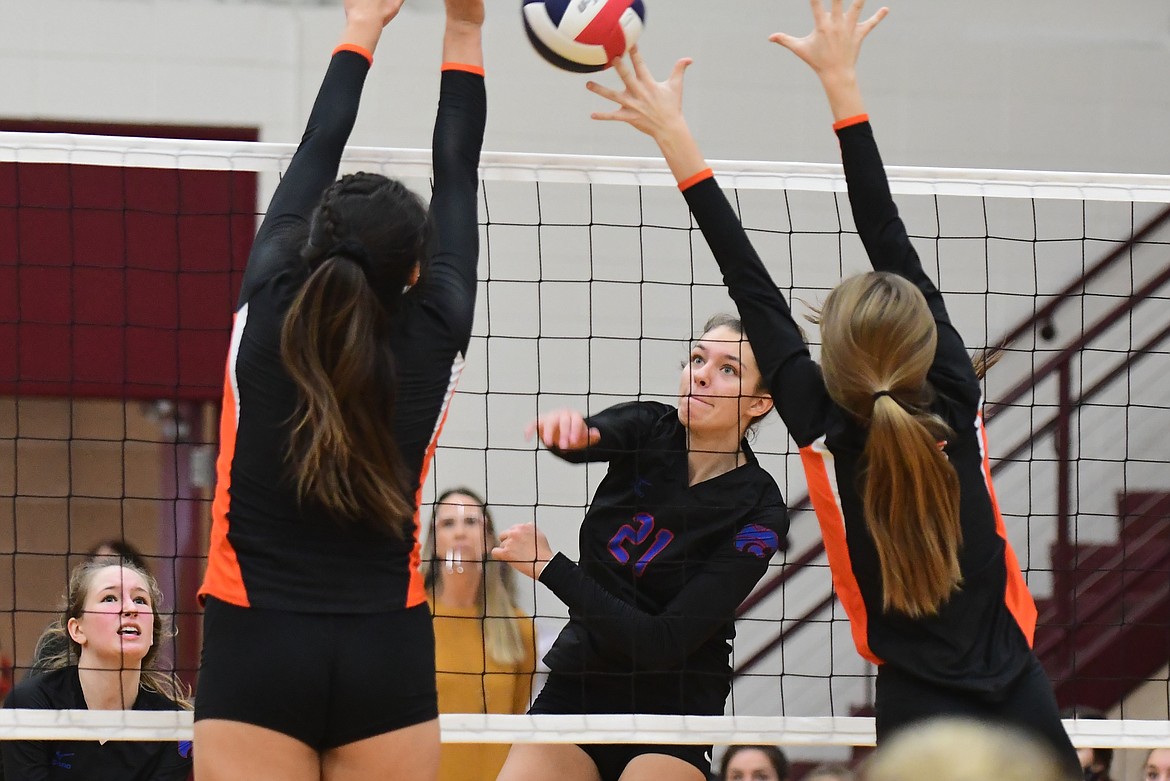 Columbia Falls' Mady Hoerner spikes the ball past Hardin in a comeback match against the Bulldogs that propelled the Wildkats into the championship. (Teresa Byrd/Hungry Horse News)
|
November 14, 2020 10:44 PM
SIDNEY — The Wildkats got back in the State A championship but were stopped short of a title Saturday, after Billings Central topped Columbia Falls for its third crown in four seasons.
The Rams prevailed in straight sets, 25-23, 25-21, 25-15. Columbia Falls ended up 19-2, though the Wildkats avenged a Thursday loss to Hardin by beating the Bulldogs in four sets Saturday morning.
That left the Bulldogs 12-6 on the season and with the third place trophy. Columbia Falls gets second – its first hardware since the back-to-back State A championships in 2015-16.
Billings Central, which has played for the last five championships, won the next two titles in 2017-18.
"I'm certainly proud of them," Columbia Falls coach Jolandie Brooks said of her Wildkats. "Sometimes second place feels like losing, but I reminded them no one can take away the hard work they put in, and the program that they've helped build the last four years. I'm lucky, so lucky to coach them. Phenomenal."
Billings Central def.
Columbia Falls 3-0
Cindy Gray had 14 kills and three blocks to lead the Rams, who also finished up 19-2. Central was tough at the net, coming up with nine blocks as a team.
"They did have the size, but Hardin had size as well," Brooks said. "That wasn't the issue. Billings Central plays really fast and kind of reminded of the tempo that was our goal this year. Our girls did a really nice job, but this is the first team that played at a similar level.
"Then our serve–receive broke down a little bit and all of a sudden we were playing catch-up."
Still, Mady Hoerner had 13 kills for the Wildkats; next was Hannah Schweikert with seven.
Schweikert also had 13 digs, three aces, 23 assists and a block. Dillen Horner had 12 digs and five kills.
"Overall there was just a lot of hype on our team," said Brooks, whose club boasts six seniors. "I was so proud of our girls for making the adjustments after the loss to Hardin. They came together and did what we asked them to do, and our motto was, 'Just go out swinging.'
"At the end I don't think we had enough gas left in the tank."
Zi Morton had three aces, 13 digs and six kills for the Rams.
Championship
Billings Central def. Columbia Falls 25-23, 25-21, 25-15
Kills – Columbia Falls 33 (Mady Hoerner 13, Hannah Schweikert 7, Dillen Hoerner 5), Billings Central 35 (Cindy Gray 14, Zi Morton 6). Assists – Columbia Falls 24 (Schweikert 23), Billings Central 31 (Maria Stewart 30). Digs – Columbia Falls 56 (Schweikert 13, D. Hoerner 12), Billings Central 51 (Grace Zeier 20, Morton 13). Blocks – Columbia Falls 3 (Jazzy Marino 2, Schweikert), Billings Central 9 (Mya Hansen 3.5, Gray 3). Aces – Columbia Falls 5 (Schweikert 3), Billings Central 11 (Ally Foster 3, Morton 3, Zeier 2).
Columbia Falls def.
Hardin, 3-1
Mady Hoerner had 16 kills in this one, while Lauren Falkner added 11 and Dillen Hoerner 10.
Jazzy Marino had 10 digs, three blocks and a pair of assists for Columbia Falls. Hannah Schweikert had 41 assists and two aces. Dillen Hoerner had 25 digs.
Alyssa Pretty Weasel had 14 kills for the Lady Bulldogs.
Columbia Falls def.
Hardin 25-22, 25-17, 23-25, 25-20
Kills – Hardin 51 (Alyssa Pretty Weasel 14), Columbia Falls 55 (Mady Hoerner 16, Lauren Falkner 11, Dillen Hoerner 10). Assists – Hardin 42 (Kylee Kogolshak 41), Columbia Falls 44 (Hannah Schweikert 41, Jazzy Marino 2). Digs – Hardin 117 (Jonna Lind 36), Columbia Falls 74
State AA
Semifinals
Tuesday
Great Falls CMR def. Helena 25-15, 25-13, 25-22
Helena Capital def. Billings West 25-14, 25-27, 21-25, 25-20, 15-7
Championship
Saturday
Helena Capital def. Great Falls CMR 20-25, 25-22, 25-21, 21-25, 15-8
State A
Sidney
Thursday
Columbia Falls def. Havre, 25-21, 25-20, 25-11
Hardin def. Corvallis, 19-25, 25-21, 25-23, 25-19
Glendive def. Polson, 27-25, 25-22, 13-25, 25-19
Billings Central def. Ronan 25-23, 25-21, 25-16
Hardin def. Columbia Falls 25-21, 23-25, 20-25, 25-18, 15-10
Billings Central def. Glendive 25-27, 25-17, 25-11, 25-22
Friday
Corvallis def. Havre 25-23, 25-22, 21-25, 25-20, loser out
Ronan def. Polson 25-20, 27-25, 21-25, 25-16, loser out
Corvallis def. Glendive 25-20, 25-14, 25-19, loser out
Columbia Falls def. Ronan 25-11, 23-25, 25-15, 25-21, loser out
Billings Central def. Hardin 22-25, 27-25, 25-18, 27-25
Columbia Falls def. Corvallis 25-22, 21-25, 25-18, 25-14, loser fourth
Saturday
Columbia Falls def. Hardin 25-22, 25-17, 23-25, 25-20, loser third
Billings Central def. Columbia Falls 25-23, 25-21, 25-15, championship
State B
Shelby
Thursday
Huntley Project def. Florence 25-4, 25-9, 25-12
Choteau def. Thompson Falls 25-18, 25-16, 25-19
Colstrip def. Anaconda 16-25, 25-18, 25-19, 21-25, 15-9
Joliet def. Fairfield 25-19, 25-12, 25-11
Huntley Project def. Choteau 25-23 25-18, 25-6
Joliet def. Colstrip, 25-18, 25-18, 25-20
Friday
Thompson Falls def. Florence 25-9, 16-5, 25-22, 25-16, loser out
Anaconda def. Fairfield 21-25, 28-26, 25-20, 21-25, 15-12, loser out
Colstrip def. Thompson Falls 25-17, 25-16, 25-15, loser out
Choteau def. Anaconda 25-16, 25-18, 25-12, loser out
Joliet def. Huntley Project 25-20, 25-22, 21-25, 25-20,
Choteau def. Colstrip 23-25, 25-22, 25-18, 25-16, loser fourth
Saturday
Huntley Project def. Choteau 20-25, 25-14, 20-25, 28-26, 15-12, Loser third
Jolliet def. Huntley Project 25-18, 25-21, 25-17
State C
Malta
Thursday
Fort Benton def. Melstone 22-25, 25-21, 25-16, 25-19
Manhattan Christian def. Fairview 25-13, 25-12, 25-12
Bridger def. Simms 25-16, 25-14, 25-9
Plentywood def. Charlo 25-17, 25-16, 25-12
Manhattan Christian def. Fort Benton 25-21, 25-14, 25-21
Bridger def. Plentywood 25-22, 25-19, 22-25, 25-11
Friday
Melstone def. Fairview 19-25, 25-17, 25-19, 19-25, 15-7, loser out
Charlo def. Simms 23-25, 25-19, 25-13, 25-22, loser out
Plentywood def. Melstone 25-11, 25-13, 25-14, loser out
Fort Benton def. Charlo 25-13, 25-21, 22-25, 25-21, loser out
Bridger def. Manhattan Christian 18-25, 23-25, 25-23, 25-23, 15-10
Plentywood def. Fort Benton 25-21, 21-25, 25-14, 25-22, loser fourth
Saturday
Manhattan Christian def. Plentywood 25-18, 25-18, 25-12, loser third
Bridger def. Manhattan Christian 25-19, 19-25, 25-22, 25-15, championship
---