Gap Fillers helps schools cover essential needs for students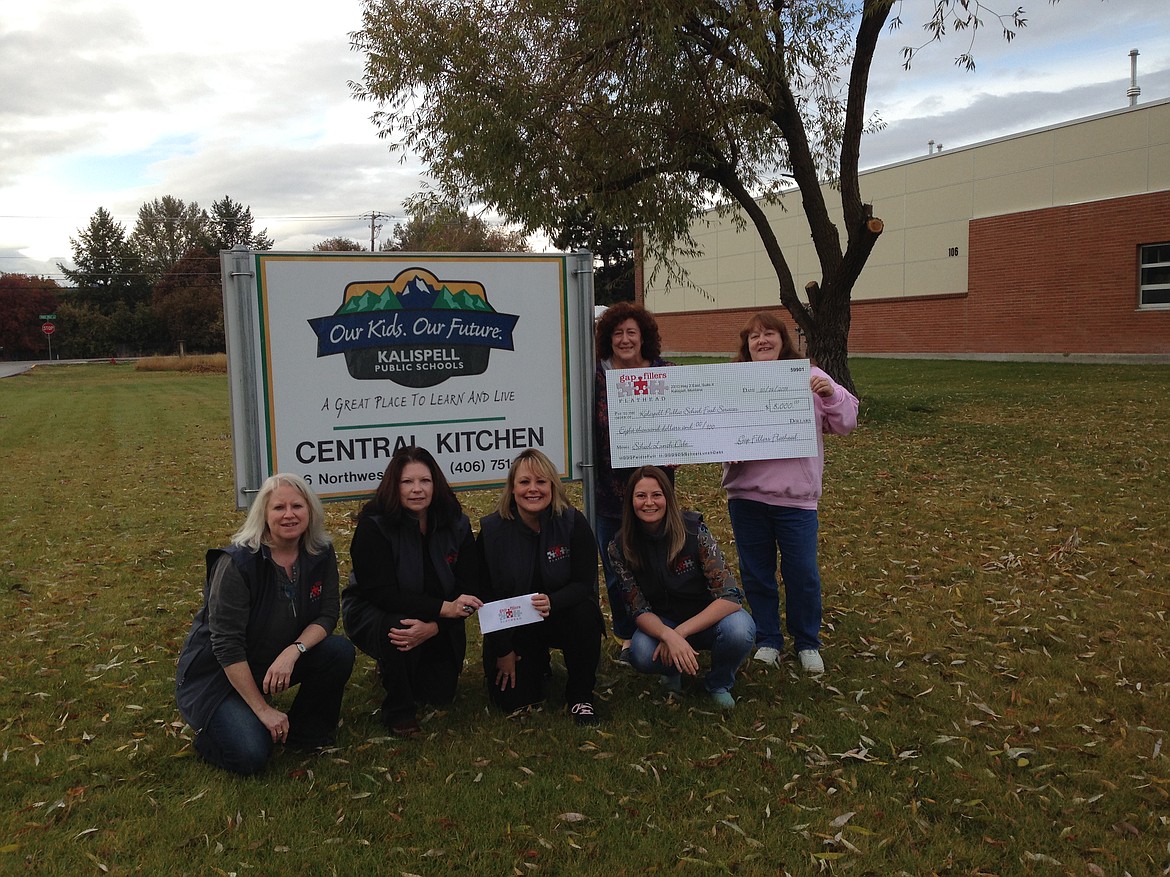 Paying off lunch debt is one initiative of Gap Fillers Flathead. From left to right, Gap Fillers Flathead board members: Mickey Lapp, Dee Kirk-Boon, Tammi Fisher and Sarah Stahlberg with Kalispell Public Schools food service staff members. Board members not pictured include Michele Paine and Jeanne Parker. (Photo provided by Gap Fillers Flathead)
by
HILARY MATHESON
Daily Inter Lake
|
November 27, 2020 12:00 AM
Gap Fillers Flathead began in 2019 to make sure the basic needs of underserved students were met in a way that maintained their dignity and respect.
Its mission: "…to ensure that no child bears shame for lacking the funds for food, no girl bears shame for lacking the funds for basic feminine hygiene supplies, and every child has access to emergency medical equipment and life-saving medication at school.
Founder Tammi Fisher, a lawyer and former Kalispell mayor, said the idea came to her after hearing about student lunch debt in the news. Drawing from past experience working as a prosecutor of child abuse and neglect cases, she was determined to start a nonprofit for the first time.
"We can fix this," Fisher recalled thinking. "I know people who can fix this."
Community members and child advocates with expertise in schools, finances, law enforcement and marketing joined forces to make a difference, starting with wiping the slate clean for schools with student lunch debt.
Since its inception, the nonprofit has paid off lunch debts totaling roughly $35,000 in school districts around the valley. With 19 public elementary districts and four high school districts in the county, Fisher said there are only three remaining that the group is trying to get in contact with to see if they can help.
"One small school district was carrying a debt of $350 over the last two years. In the greater scheme of things it doesn't seem much but meant the world to the school," Fisher said. To the county's largest school district, Kalispell Public Schools, Gap Fillers has given a total of around $24,500 to cover the lunch debt.
Student lunch debt is typically created when parents or guardians do not, or cannot, pay for meals. School food service programs are meant to be self-sustaining, do not operate for profit and are restricted in using federal funding to cover debt.
The National School Lunch Program, managed by the U.S. Department of Agriculture (USDA) Food Nutrition Service, offers a subsidized meal program for low-income families where eligibility for getting either free or reduced cost meals is based on the federal poverty levels. Families have to apply — and reapply each year — with their respective district, providing income information to determine eligibility.
In talking with school district staff, Gap Fillers Flathead learned this lunch debt may create uncomfortable situations for students and staff whether they are served a different lunch than their peers because it's less costly but maintains nutrition standards, or are given reminders for their parents to pay.
"Kids sign up in class for what lunch they wanted and if it's pizza Friday they would get soup and a roll through no fault of the schools. They make do with what they've got," Fisher said, giving an example.
"Lunch lays kids in the middle. They have no ability to change that fact," Fisher said about their parents ability to pay.
Flathead High School Principal and Gap Fillers Flathead board member Michele Paine serves as the group's link to schools and a resource on what the needs are.
"Boy, it's been a huge help across school districts," Paine said in the group's approach to helping with sensitive issues such as school lunch debt.
SINCE THE USDA extended its free summer meals program through the school year due to the changing situations of COVID-19 leading to school closures or remote learning, Gap Fillers Flathead is focusing on other areas of needs such as personal hygiene.
While Fisher had heard the term "period poverty" before, she didn't realize the extent of it in the U.S. Currently, the federal Supplemental Nutrition Assistance Program and Women, Infant, Children program for low-income families do not cover menstrual pads or tampons.
"It became clear to me there are a lot of women who go without products when they need them," Fisher said.
This was another opportunity to make an immediate impact in an area over which youths don't have control. Puberty is awkward enough, Fisher and Paine agreed. For girls, having to go to the main office or nurse's office to ask for period products is not easy.
"I remember as a young girl being horrified discussing that issue or going to the nurse's office to ask for a pad or tampon," Fisher said.
The nonprofit provides free period product dispensers and menstrual pads and tampons to schools so that all girls have access no matter what their financial situation or circumstance may be.
"We wanted to make feminine hygiene products free of charge in a manner that maintains their dignity and privacy," Fisher said.
Schools then contact the nonprofit when dispensers need to be restocked.
"It's worked really well," Paine said about the free dispensers installed at Flathead High School. "It's used pretty regularly."
The group started creating personal hygiene kits to address the question of what children do when school is not in session, if that is the place where many of their needs are being met. When schools closed last year due to COVID-19, the kits were distributed along with school meals. Kits are also made available to organizations that serve children and teens. The hygiene kits are for girls and boys and contain shampoo, conditioner, a brush, comb, toothbrush, toothpaste, deodorant, and for girls, pads or tampons.
Gap Fillers is now reaching out to school nurses in providing lifesaving medical supplies including automated external defibrillators, epinephrine autoinjectors, known by the brand name EpiPen, which are administered when someone is experiencing anaphylaxis, and naloxone, more commonly known by the brand name Narcan, which is given to help reverse opioid overdoses.
When it comes to these expensive supplies that have shelf-lives, schools typically seek funding or donations to get them in schools and buses.
"Really what Gap Fillers is all about … is identifying what's not easy to fill in schools," Paine said.
"We just don't want schools to be torn, which life-saving devices they have in stock," Fisher said. "This is the type of stuff that keeps school nurses up at night."
Fisher estimates Gap Fillers Flathead needs to raise about $35,000 a year to support these initiatives.
"There is no overhead, we are all volunteers. All of us come together and make sure every dollar donated goes to the kids," she said.
"It's shocking how much community statewide and national support we've gotten for the program," Fisher said.
Paine added, "We've been blessed the community has been very generous."
For more information, or to donate visit gapfillersflathead.org.
Reporter Hilary Matheson may be reached at 758-4431 or by email at hmatheson@dailyinterlake.com.
---