Called to serve: Local Highway Patrol trooper promoted to sergeant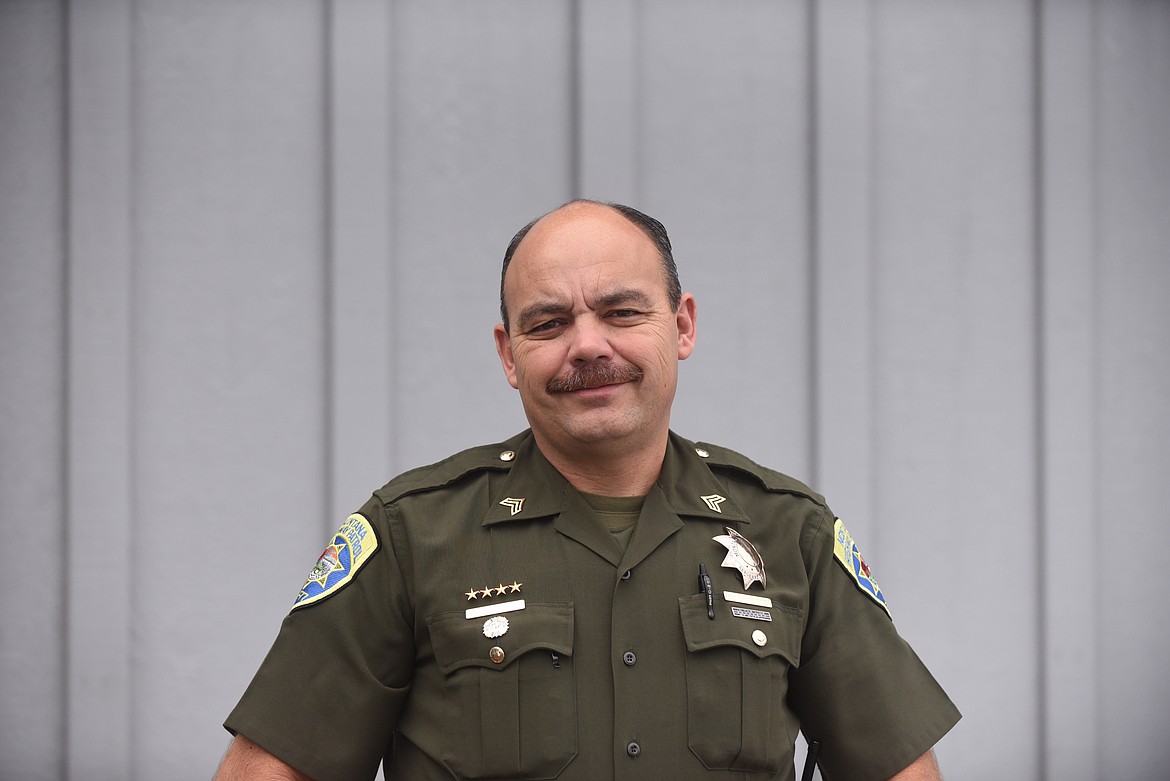 Montana Highway Patrol's Jerry Ren has served 20 years with the agency and was recently promoted to sergeant. (Scott Shindledecker/Daily Inter Lake)
by
SCOTT SHINDLEDECKER
Daily Inter Lake
|
November 30, 2020 12:00 AM
Many law enforcement officers have a variety of stories to share and Montana Highway Patrol Sgt. Jerry Ren is no exception.
Ren, 48, is a native Montanan who was born in 1972 in Hardin where his father, Montana Highway Patrolman Mike Ren, was first stationed.
Mike's next station was in Eureka where he worked from 1975 until his death on April 8, 1978, when he was shot and killed by a man who had been released from a state mental-health facility.
The killer had violated his terms of release and Mike Ren was working with a Lincoln County Sheriff's Office deputy to arrest the man.
After a high-speed chase, the man fired a round from a .308 rifle, killing Mike Ren.
"It was very confusing to me," Jerry Ren recalled. "I remember being told God needed police officers, too, but I couldn't understand why he'd take my dad."
Ren said he struggled with his dad's death.
"My parents had divorced before he died, so there was some support for my mom and I from the family, but there was some strain there after the divorce," Ren said.
As he grew older, Ren began to do ride-alongs with some of the older troopers.
Another big influence was his mother, Carol Ott. She worked as a dispatcher for the Columbia Falls Police Department and with the volunteer ambulance association.
Ren's aunt also worked for the Columbia Falls Police.
He recalls two incidents from high school that shaped his world.
"I was a senior in high school and I was stopped by an officer after I was driving around town with 27 girls in the back of my pickup," Ren said. "Another time, my cousin and I, we were like brothers, took our hot rods and burned some rubber in town to the point where you couldn't see because of all the smoke.
"The assistant chief got ahold of us and we both were disciplined," he said with a grin.
Ren said he always wanted to be a trooper.
"I played a lot of cops and robbers as a kid," he said.
After graduating high school, Ren joined the volunteer ambulance service in Columbia Falls. Several relatives worked there and his girlfriend's parents worked there, too.
He attended Flathead Valley Community College, but struggles there prompted him to join the Air Force in 1993, following in his father's footsteps.
While stationed at Travis Air Force base in California, he married his wife Michelle. Last Tuesday, they celebrated their 27th anniversary.
While serving in the Air Force, Ren decided it was time to pursue his law enforcement career. He applied for the California Highway Patrol but missed out.
"I may never have made it back to Montana if I had been hired there," Ren said.
But he returned to the Flathead in the late 1990s, working in detention for the county and as a reserve officer for Columbia Falls. His county job had a schedule of seven days of work followed by seven days off. When he was off, he worked for Columbia Falls.
Then, in 2000, Ren was hired by the Montana Highway Patrol. He was first stationed in Valier, then got the chance to get closer to home with an assignment in Bigfork, followed by Kalispell.
"I knew MHP was where I wanted to be," he said.
He became a field training officer in 2006. Things were going well, but a difficult time followed when three fellow troopers, David Graham, Evan Schneider and Michael Haynes, each died in car crashes in the Flathead between 2007 and 2009.
One of them was a student of Ren's.
"I really struggled with it, wondering if there was something more I could have done in training," he said.
REN SAID this year, his 20th with the agency and one in which he recently was promoted to sergeant, has been his most challenging.
Ren was in an officer-involved shooting in Bigfork in June.
Richard L. Mason had shot and killed a woman, Maxine L. Heil, June 9 and was being chased by law officers.
"When I first got the call, all I knew was he had shot someone," Ren said. I heard the deputy's call that he was on Montana 82. I was on Montana 35 and headed back to the station because my radio wasn't working well.
"I looked up and he was coming at me. He saw me and turned around and I chased him," Ren said. "I had a feeling it wouldn't end well."
Mason made it into Lake County where officers used spike strips to flatten his tires. Flathead County Sheriff's Deputy Matthew Vander Ark used a maneuver to stop the car and then Mason shot at him, drawing return fire from Vander Ark and Ren.
"I really thought he had shot the deputy at first and he was still shooting," Ren said.
Mason died at the scene.
Ren said many people reached out to him.
"It was very emotional my first week back, trying to come to grips with what had happened and why he (Mason) did what he did," Ren said. "Then it was trying to get back to feeling somewhat normal.
"My wife wanted me to retire and I thought about it, but I wanted to go out on better terms. I wanted to know if I could do it, overcome the fear," he said.
"Soon after returning to active duty, one of the sergeants asked me if I'd apply for a sergeant position. I had been a runner-up before, but I decided to try again and then I got the call."
Ren now spends his workweek in Helena, teaching and supervising two troops. He's looking for a place to live. His oldest child, a daughter, is taking classes at Flathead Valley Community College, while his son just started college.
When he's not working, Ren and his wife and kids like the outdoors and spending time hunting, fishing, hiking and camping.
"It's been a very big whirlwind year," Ren said. "I was ready for something different. When the shooting went down, I knew I needed a change.
"I'm glad the end of the year has been a little bit better," Ren said.
Scott Shindledecker may be reached at 406-758-4441 or sshindledecker@dailyinterlake.com.
---