County undersheriff brings years of experience to new role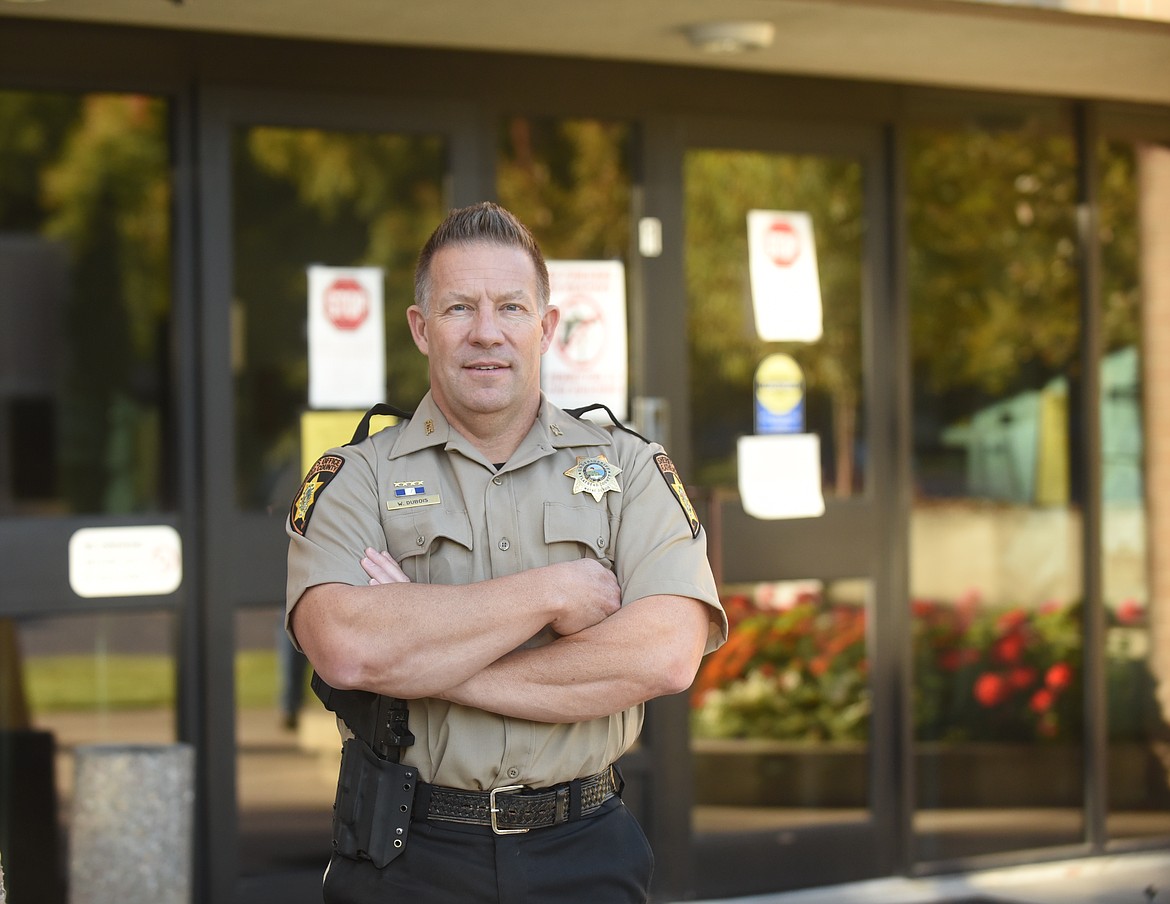 Flathead County Undersheriff Wayne DuBois is a U.S. Army veteran and brings more than two decades of law enforcement experience in the state of Washington to Northwest Montana. (Scott Shindledecker/Daily Inter Lake)
by
SCOTT SHINDLEDECKER
Daily Inter Lake
|
October 5, 2020 12:00 AM
Flathead County Undersheriff Wayne DuBois has an abundance of energy and enthusiasm for his work.
Less than two years into his tenure as sheriff Brian Heino's No. 2 man in charge, DuBois, 49, says he is enjoying his new role as an administrator.
"I was ready to move into more of an administrative role, but I've never worked harder," DuBois said. "I've been a student of leadership and if you're not engaged with your people and they don't think you care, they can feel kind of worthless.
"It's very rewarding to be working with our people, staying engaged and giving them the support and tools to do their job."
DuBois came to the Flathead largely in part due to a near-decade long relationship with Heino. DuBois was at a training session in 2009 where a number of Flathead lawmen were in attendance.
"I met Brian at the training and we maintained a friendship over the years," DuBois said. "When Brian was running for sheriff, we started to talk about me coming here.
"He knew I had quite a bit of experience in an area that had experienced a rapidly growing population."
DuBois, a native of Tallahassee, Florida, moved to the Tri-Cities area in Eastern Washington with his family when he was 7. His father, a union electrician, moved at times to where there were better work opportunities.
One day after his high school graduation in 1989, DuBois began a four-year stint in the U.S. Army. He was stationed in Germany and worked as a surveillance systems operator during the Gulf War.
After returning home, he worked at Costco while earning a two-year degree in criminal justice at a local community college. DuBois then joined the Benton County Sheriff's Office for seven and a half years. He worked as a patrol deputy, on the gang task force, a member of the SWAT team and as a detective, occasionally investigating major crimes.
He recalled one memorable shift when he investigated a homicide, a suicide and a double homicide in a period of 12 hours.
"That was way out of the norm, but when I wasn't answering calls from dispatch, I was hunting bad guys," DuBois said. "That's what I really enjoyed doing."
DuBois continued his law enforcement career with the Richland Police Department where he worked for 15 years. He worked as a patrol officer and on its Pro-Active Crime Team as well as a supervisor with the Street Crimes Unit and a Senior SWAT Team leader. He is also an instructor for the National Tactical Officers Association and a member of its executive board.
"There was a marked change in the number of violent criminals and there were a lot more officer-involved shootings," DuBois said. "It was a very busy time. Criminals were using technology more and more and we had to adjust to it."
"We used a lot of technology there to investigate crimes because of the proliferation of it among criminals," DuBois.
DuBois said the Sheriff's Office is using more data to drive its decisions and help it be more proactive in dealing with crime, rather than just reacting when something happens.
"I wasn't surprised at the level of narcotics-related crimes here because it's everywhere, but it was a surprise to me the department wasn't more proactive in its approach when I arrived and the lack of consequences for the actions of those committing crimes," he said. "It's a combination that's not good."
DuBois said the Sheriff's Office has made changes in its schedule to have more deputies on patrol when things are happening. Also, the addition of the K-9 unit helps with drug investigations."
DuBois said those efforts are works in progress. He also said the office is working more with its partners on the federal level.
"If we can charge federal crimes, we'll do it," DuBois said. "Our administration is supportive of our detectives' efforts to do it and they need it to hold more people accountable for these drug crimes."
DuBois also spoke of the office's monthly report which provides statistics, which can be analyzed to track crime trends.
"We meet monthly to talk about the trends and how we can do a better job of going after more major criminals," he said.
DuBois said some of those investigations have led to three pending federal indictments against longtime, well-known offenders in Flathead County.
"We're very optimistic about our direction," DuBois said. "I knew Brian was the right man for the job and I knew he wanted change. So I feel we can do some really special things here to better protect the community."
DuBois has been married for 25 years and he and his wife have two sons, both currently in the military, and one daughter, who lives and works in the Tri-City area.
DuBois said he enjoys hunting and recently fly fished for the first time. He said he has a home gym where he enjoys working out and he and his wife enjoy water sports as well as hiking.
"I really enjoy the area and love working with good people that want to do good things," DuBois said.
Reporter Scott Shindledecker may be reached at 758-4441 or sshindledecker@dailyinterlake.com.
---