FVCC trades program creates conduit to local manufacturers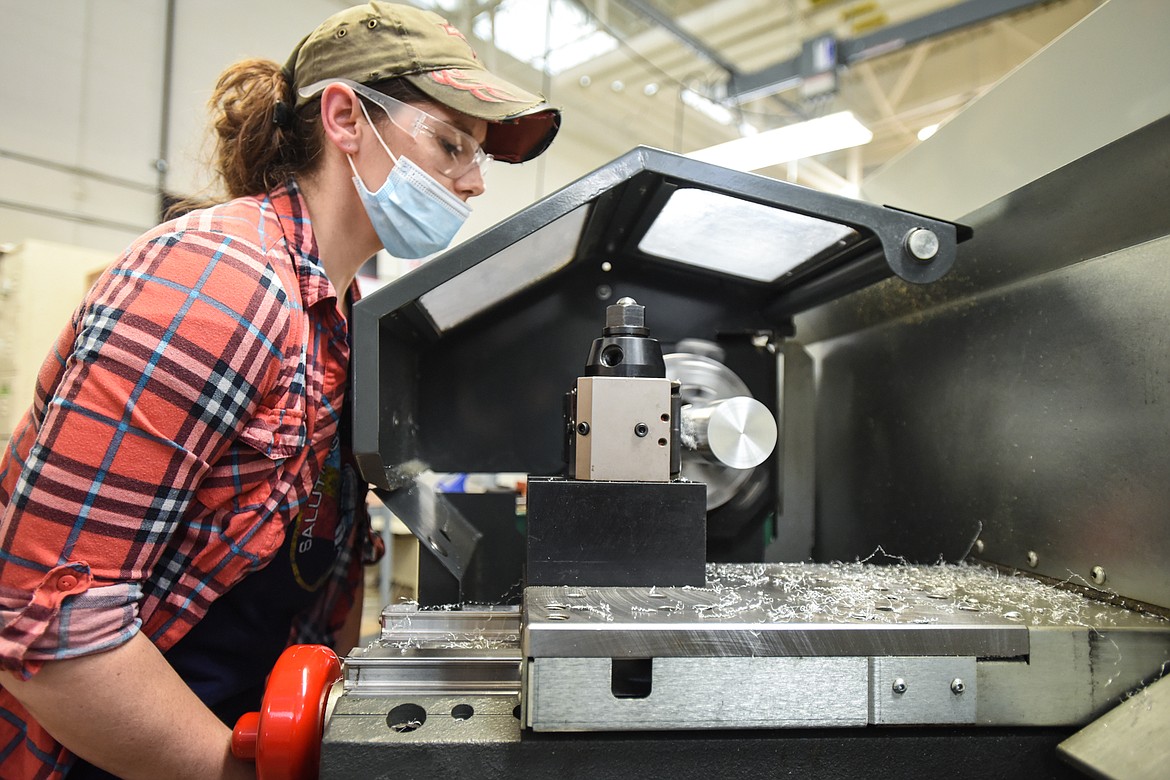 Michelle Dirham works on creating a bishop for a chess set on a CNC lathe at the Occupational Trades building at Flathead Valley Community College in Kalispell on Tuesday, Oct. 6. (Casey Kreider/Daily Inter Lake)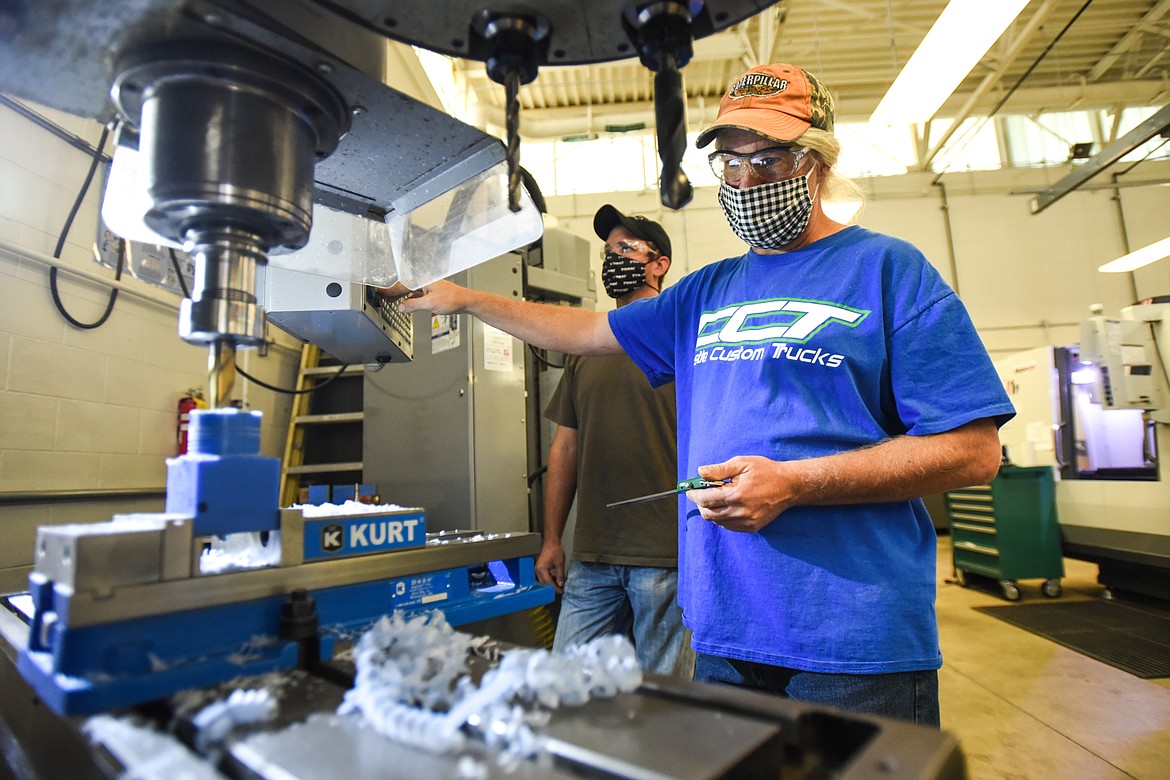 Brian Hollingsworth, right, and Jake Biondich practice cutting an internal spline on a piece of plastic with a milling machine at the Occupational Trades building at Flathead Valley Community College in Kalispell on Tuesday, Oct. 6. (Casey Kreider/Daily Inter Lake)
Previous
Next
by
BRET ANNE SERBIN
Daily Inter Lake
|
October 11, 2020 12:00 AM
Manufacturing isn't all about making products. It's also about the people who make them.
That's the mentality in the Occupational Trades building at Flathead Valley Community College, where cutting-edge machinery and instruction is creating a pipeline of skilled workers for local manufacturers.
"We're in the business of trying to train a skilled workforce to support manufacturing initiatives here in the valley," said Dan Leatzow, a professor of Advanced Manufacturing.
Demand for well-trained tradespeople is on the rise. FVCC instructors said they are constantly fielding calls from area employers looking to fill openings in welding, machining and other manufacturing positions. Local companies such as Proof Research, Falkor Defense and Applied Materials are all common destinations for FVCC graduates once they complete the program.
"There are more opportunities presenting themselves every day," Leatzow observed.
Even though FVCC can open doors to well-paying local jobs in a variety of manufacturing fields, the college's faculty believes its Occupational Trades offerings are still underutilized.
"A lot of people in the valley don't know what they have sitting here at this college," Leatzow said.
His colleague Peter Fusaro agreed. As the director of Trades and Industrial Arts, Fusaro oversees 11 different disciplines in the Occupational Trades building. These include everything from commercial driver's license training, to welding, to firearms technology.

But Fusaro, who has been in the director position for four years, said there's still a lot of room for the program to grow, especially when it comes to the attitudes of potential students.
Prior to FVCC, Fusaro served as the principal of Flathead High School and taught technology education for seven years. He's seen four-year colleges become the dominant path for many high school graduates, while vocational training has fallen by the wayside.

For many would-be welders and machinists, FVCC's programs and the career opportunities they lead to simply aren't on the radar.
"It's our job to educate the students on what options are out there," Fusaro said. "We want to show students, 'hey this is a good opportunity. You can make a good living.'"
FVCC HAS pushed to make its Occupational Trades programs more visible through events such as Making Montana and Connecting the Classroom to Careers, which introduce high-schoolers to different vocational career options.
The college has also endeavored to make its studies more affordable through scholarships from the Gene Haas Foundation, which provides grant money to schools that teach students to use Haas equipment, and "Learn While You Earn" programs that provide job opportunities alongside classroom instruction.
Some of these efforts already seem to be paying off. Careers such as welding, for example, are growing in popularity, in part thanks to initiatives like welding classes Leatzow started at Columbia Falls High School two years ago.
But while some career tracks are taking off, others haven't generated as much interest, and FVCC faces the constant challenge of staying up-to-date with industry trends.
"Industry and technology is hard to keep up with," said Professor Harry Smith, who has watched manufacturing evolve over 15 years of teaching at FVCC. "We're trying to keep up with the equipment needs that we need to teach cutting-edge technology," he said.

That means focusing on burgeoning fields like machining, which isn't taught in very many Montana schools. Even where machining classes can be found, many students don't get the experience they can find at FVCC. According to Leatzow, FVCC has the largest number of machines of any Montana school, including hard-to-find devices such the only Swiss CNC machine in the state.
THE FVCC faculty hopes the program will continue to expand, but it seems plenty of local students are already recognizing the unique opportunities available right at home in the Flathead Valley. This year, enrollment in the Occupational Trades at FVCC is up 20%, even amid the COVID-19 pandemic.
Remote learning is particularly tricky to implement in fields that require hands-on learning, lab experience and on-the-job training. But a wrench in the plans is actually seen as a good problem to have in the Occupational Trades.
Leatzow and others have taken this challenge as an opportunity for an educational experience. Since the onset of the pandemic in March, he and his students have been testing three different approaches to manufacturing medical masks using 3-D printing, CNC machining and injection molding. He called it a "real life case study" in adapting manufacturing to meet a changing need.
"This unfortunate situation of a pandemic has pushed me as an instructor to extend what I can do, which then will be passed on to students that are coming up through our program," Leatzow said.
Reporter Bret Anne Serbin may be reached at 758-4459 or bserbin@dailyinterlake.com.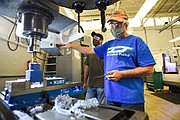 ---