Glacier girls, boys splash into next round of playoffs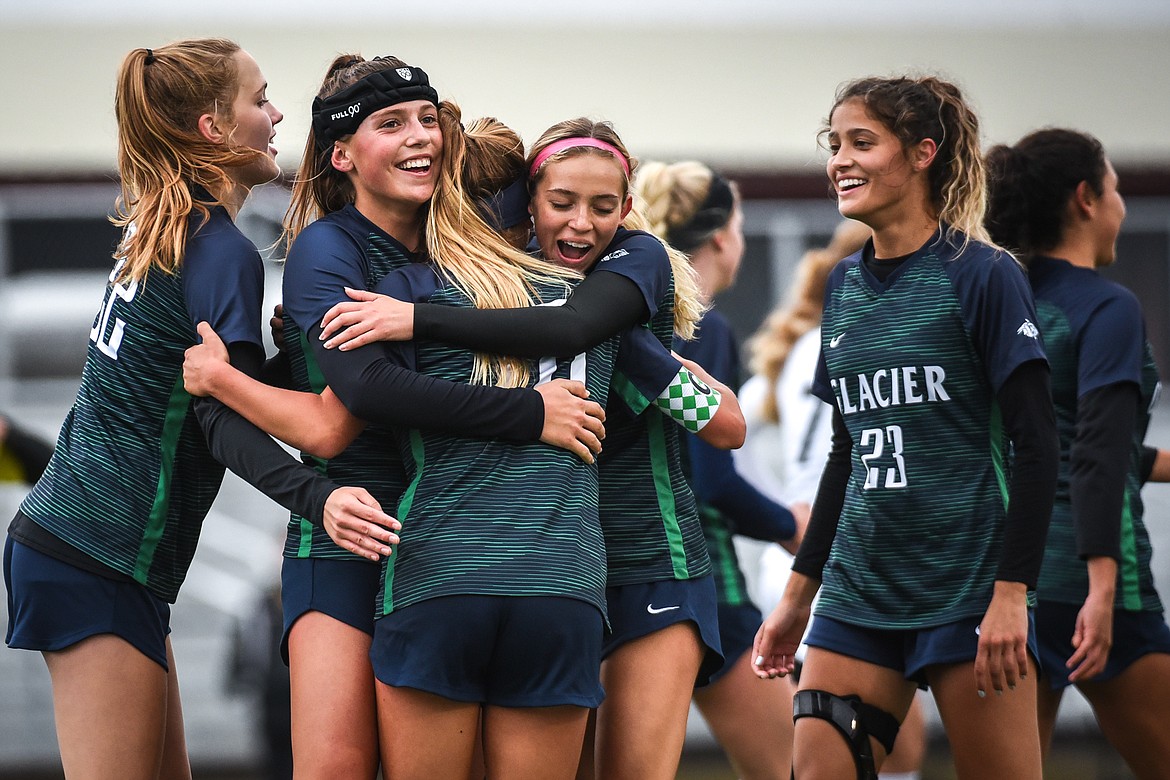 From left, Glacier's Ellie Keller (22), Emily Cleveland (2), Madison Becker (18), Kate Sheldon (4) and Taylor Brisdendine (23) celebrate after Becker's goal in the first half against Helena Capital at Legends Stadium on Tuesday. (Casey Kreider/Daily Inter Lake)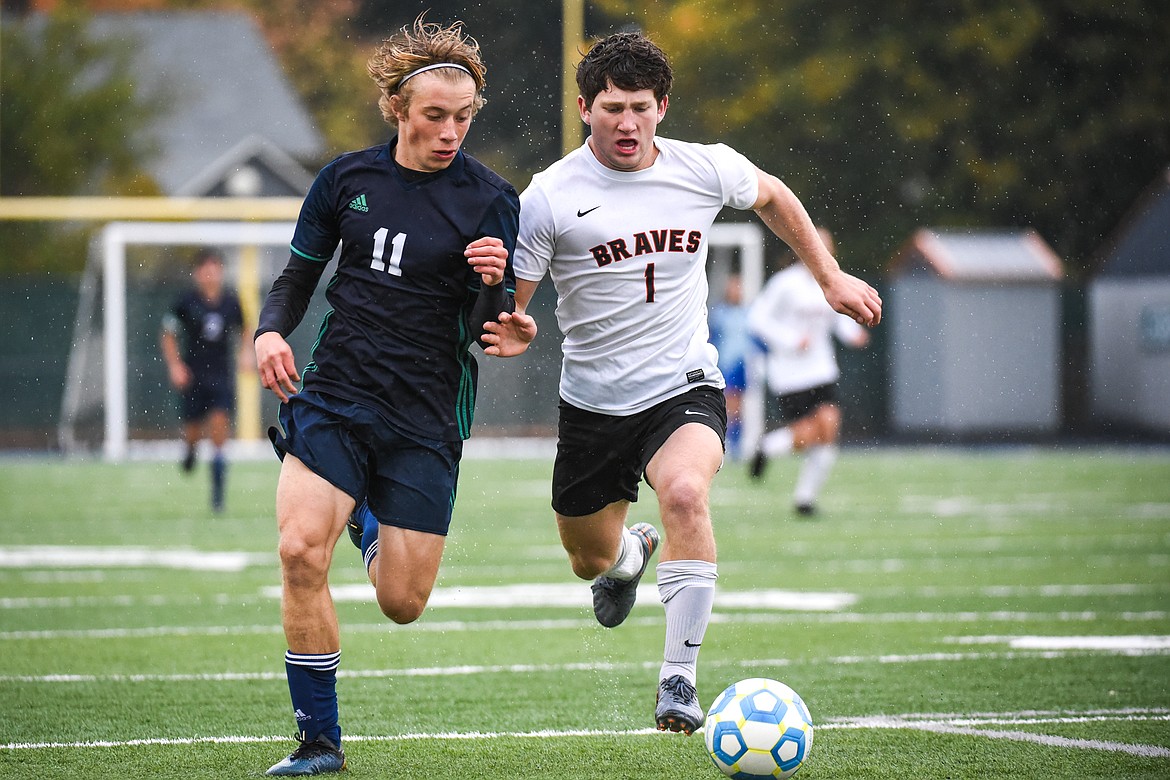 Glacier's Parker Creer (11) and Flathead's Fin Nadeau (1) chase down a ball in the first half at Legends Stadium on Tuesday. (Casey Kreider/Daily Inter Lake)
Previous
Next
by
Daily Inter Lake
|
October 13, 2020 10:54 PM
The Glacier Wolfpack girls soccer team didn't allow the rainy weather to stop them from advancing to the Class AA quarterfinals by beating Helena Capital 6-0 at Legends Field on Tuesday.
Madison Becker fed Taylor Brisendine for a goal in the 13th minute to start the scoring. Becker scored off a pass by Emily Cleveland a few minutes later that gave Glacier a 2-0 lead that carried into the half.
Cleveland added her own goal and an assist on one of Reagan Brisendine's second-half goals.
Keeper Ella Wilson made four saves.
"The girls played extremely well from beginning to end," coach Brenden Byrd said. "It was good to put some goals away … These girls have been getting some quality shutouts this season, which is good.
Byrd also complimented the "fantastic" play of midfielders Ady Powell, Reagan Brisendine and Emily Cleveland.
Glacier (11-4) will have a quarterfinal game at home on Saturday, the opponent is yet to be determined.
Helena Capital 0 0 — 0
Glacier 2 3 — 5
G - Taylor Brisendine (Madison Becker), 13:00
G - Becker (Emily Cleveland), 20:00
G - Cleveland (Reese Leichtfuss), 43:00
G - Reagan Brisendine, 66:00
G - R. Brisendine (Cleveland), 70:00
Shots on goal - Capita 4, Glacier 22. Goalie saves - Capital 10 (Brooklyn Brisco), Glacier 4 (Ella Wilson). Corner kicks - Capital 2, Glacier 7. Fouls - Capital 4, Glacier 10. Cards - Capital 1.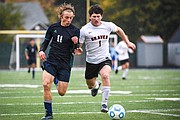 Boys
Glacier 6, Flathead 0
It was a soggy night, but the Glacier Wolfpack boys soccer team got the job done Tuesday, beating crosstown opponent Flathead 6-0 in a first round Class AA playoff game at Legends Stadium.
Glacier (10-3-2) had only 17 players available and two starters unavailable for Tuesday's game, and were forced to rely on depth players.
"It's just a good collective team effort and we relied on players that haven't seen a lot of playing time throughout the season," Glacier coach Ryan Billiett said. "This was a night where we really dug down and some of the younger guys really stepped up and made it possible for us to get the result tonight."
Sullivan Coggins scored two goals and assisted on Blake Marlow's second half goal. Diego Mendoza checked in with a goal and an assist.
Glacier will host a quarterfinal game Saturday, opponent TBD.
Flathead ended its season 2-12-1.
Flathead 0 0 — 0

Glacier 1 5 — 0
G - Sullivan Coggins (Diego Mendoza), 14:00
G - Parker Creer (Daniel Camp), 42:00
G - Burke Fox (Hans Coggins), 45:00
G - Mendoza, 47:00
G - Blake Marlow (S. Coggins), 66:00
G - S. Coggins, 73:00
Shots on goal - Flathead 2, Glacier 10. Goalie saves - Flathead 4, Glacier 1. Corner kicks - Flathead 0, Glacier 4. Fouls - Flathead 3, Glacier 3. Cards - none.
Class AA soccer playoffs
First round
Tuesday
BOYS
East
Bozeman 9, Great Falls CMR 0
Billings Senior 6, Belgrade 0
Billings West 1, Bozeman Gallatin 1, West advances 4-3 on penalty kicks
Billings Skyview 2, Great Falls 1
West
Missoula Hellgate 10, Missoula Big Sky 0
Kalispell Glacier 6, Kalispell Flathead 0
Helena 1, Helena Capital 0
Today
West
Butte (3-11-0) at Missoula Sentinel (9-3-2), 4:30 p.m., at Sentinel High School
GIRLS
Tuesday
East
Billings West 5, Great Falls CMR 0
Bozeman 2, Belgrade 1
Billings Senior (4-8-1) at Billings Skyview (7-3-4), 7 p.m., Amend Park
Bozeman Gallatin 1, Great Falls 0
West
Helena 10, Butte 0
Kalispell Glacier 5, Helena Capital 0
Missoula Hellgate 5, Kalispell Flathead 1
Today
West
Missoula Big Sky (5-5-3) at Missoula Sentinel (7-3-4), 2:30 p.m., at Sentinel High School
---