Wish granted: Foundation covers Stillwater student's tuition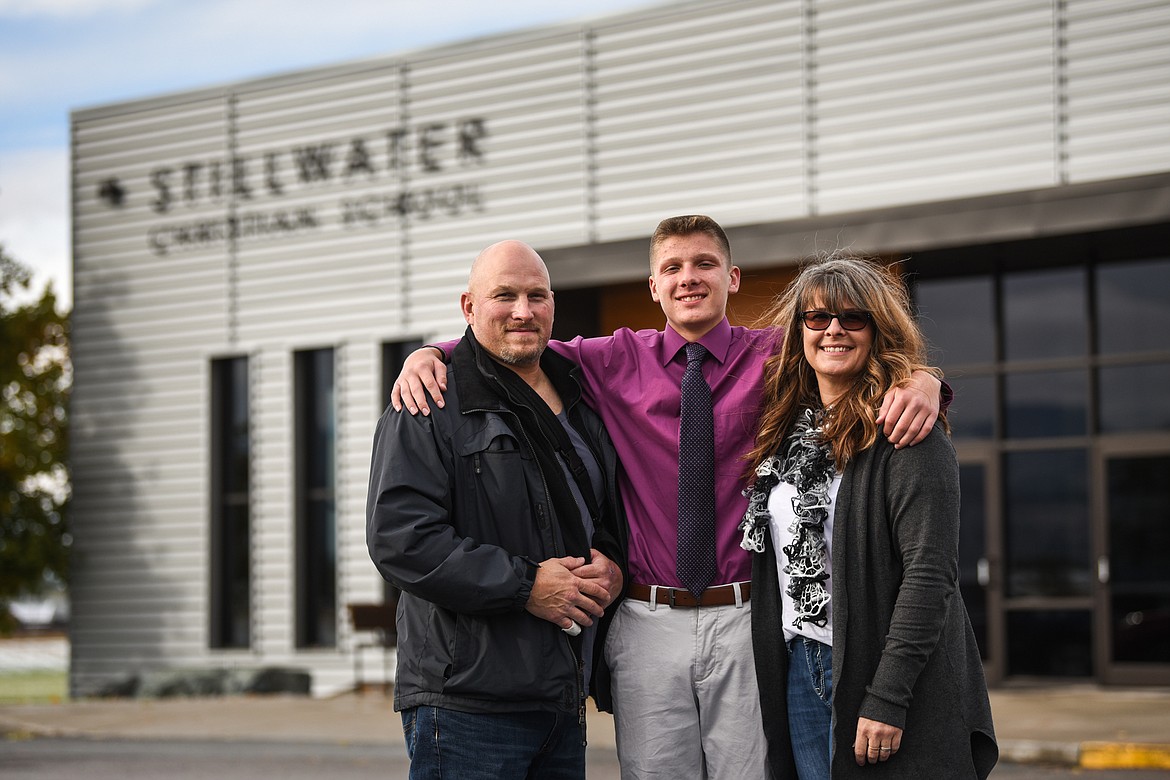 Conner McNealey with his parents Lane and Rosie outside Stillwater Christian School in Kalispell on Wednesday, Oct. 21. (Casey Kreider/Daily Inter Lake)
On the day before his 16th birthday, Conner McNealey's wish was granted.
The Swan Valley teen was given a year of tuition to attend Stillwater Christian School through the Make-A-Wish South Dakota and Montana. The nonprofit grants wishes for children and teens with critical illnesses.
On Wednesday, Make-A-Wish volunteers Jessica Heil and Kim Christopherson presented the Stillwater sophomore with a tuition check and a letterman jacket during a ceremony in front of family, staff and school board members.
"Together we are here to celebrate a very special kid, Conner," Heil said. "Kim and I met Conner a little over a year ago. From that very first meeting Kim and I noted Conner's easygoing nature and his obvious love for friends, family and faith."
"During our last meeting with Conner we learned how important this school is to him. The combination of faith and education at Stillwater Christian has provided a steady foundation in Conner's life, especially during these uncertain times," Heil said.
Conner McNealey has attended the private school since fourth grade. As a high school student, he said he continues to attend because of the teachers and music program, noting he always looks forward to attending choir and band.
"The teachers are so understanding of what I was going through," he said.
Conner McNealey's wish also marks the first one granted following Make-A-Wish Montana merging with South Dakota, which became official in September.
"Make-A-Wish Montana recently aligned with South Dakota. It's part of a larger vision to further extend capabilities of the organization and continue to grant life-changing wishes to children across our region," Heil said.
IN MAY 2019, Conner McNealey was diagnosed with synovial sarcoma of the foot.
Synovial sarcoma is a rare cancer affecting soft tissue such as muscle or ligaments. In addition to affecting the foot, it is often found in the arm and leg, or near joints such as the wrist or ankle, according to the National Cancer Institute.
According to the institute, a person with synovial sarcoma may first notice a painless lump. If a tumor grows near a nerve, however, it can cause pain.
For Conner McNealey, the pain was noticeable around seventh or eighth grade, particularly if someone stepped on his foot, which happened to the student athlete. He was taken to the doctor, his family wondering if it was due to "growing pains," or flat feet. He started physical therapy, but the pain became excruciating and an MRI scan was done. Doctors initially thought it appeared to be a noncancerous lump called a ganglion cyst, but they sent the images to Mayo Clinic for further examination, and received the life-changing diagnosis, according to his mother, Rosie McNealey.
After the diagnosis, the McNealey's sought two medical opinions, where treatment options ranged from amputation to surgery and radiation. Together as a family, Conner, his father Lane and Rosie weighed the recommendations, success rates and quality of life and chose the latter treatment.
Since then, has been through three surgeries and every three months he gets an MRI to make sure cancer cells aren't growing. Every six months he gets scans of his chest, since the cancer is known to spread to the lungs. Every trip to the doctor or hospital — "We wait and see," Rosie McNealey said.
"He's really taking it in stride. He said, 'This is a trial I'm going through and God's taking me through it," she said, her voice trembling.
The avid basketball and soccer player wasn't able to play sports for more than a year and, for a time, struggled to complete school assignments.
When a family friend suggested Make-A-Wish and they learned it wasn't limited to terminally ill children, Rosie McNealey decided to refer her son, hoping it would be something he could look forward to as he underwent radiation treatment.
"A wish can really be a turning point in a child's medical journey," said Sue Salter, president of Make-A-Wish South Dakota and Montana. "It gives them something different to talk about other than their illness. It's one thing in their life they can control. It's a very powerful thing and it's all based on a child's creativity."
The Make-A-Wish process for Conner McNealey began in fall 2019.
Coming up with one wish can be a daunting task, which is why the organization spends considerable time assisting families.
"For an organization to make it about the individual. To show the kids they are special individually and personally — I don't think many organizations do that anymore," Rosie McNealey said.
What first came to mind for the athletic teen was meeting professional basketball player Kyrie Irving and attending the NBA finals, but the COVID-19 pandemic led Make-A-Wish to postpone travel and large events for the vulnerable children it serves until it's deemed safe to resume.
Connor McNeely, however, didn't want to wait.
"He said, 'Mom, what about tuition to school? I said ,'Well, if that's what you want. We don't mind waiting. He said, 'No. That's where I want to be. That's where I want to go to school," Rosie McNealey said. "I think he understands it's really a gift to be going there at all. It's not something that everybody can do."
"He's just a practical kid. Just a very practical kid." she added with a laugh.
Micah Hunter, choir director at Stillwater, said he is also an exceptional and deserving young man.
"He is intelligent, faithful, conscientious, and loyal. He has a wonderful sense of humor and a wit that often entertains and impresses not only his friends but his teachers as well," Hunter said.
Salter said the impact of wishes have a way of extending beyond a child and his or her family.
"One of the greatest things about wishes is that they bring out the best in everyone," Salter said. "Think about the number of lives a wish touches — a Wish child's family, extended family, all the way to medical providers, volunteers and donors who provide funds for wishes."
For more information about Make-A-Wish South Dakota & Montana visit www.sdmt.wish.org.
Reporter Hilary Matheson may be reached at 758-4431 or by email at hmatheson@dailyinterlake.com.
Recent Headlines
---