Young guns lift Wildcats to state final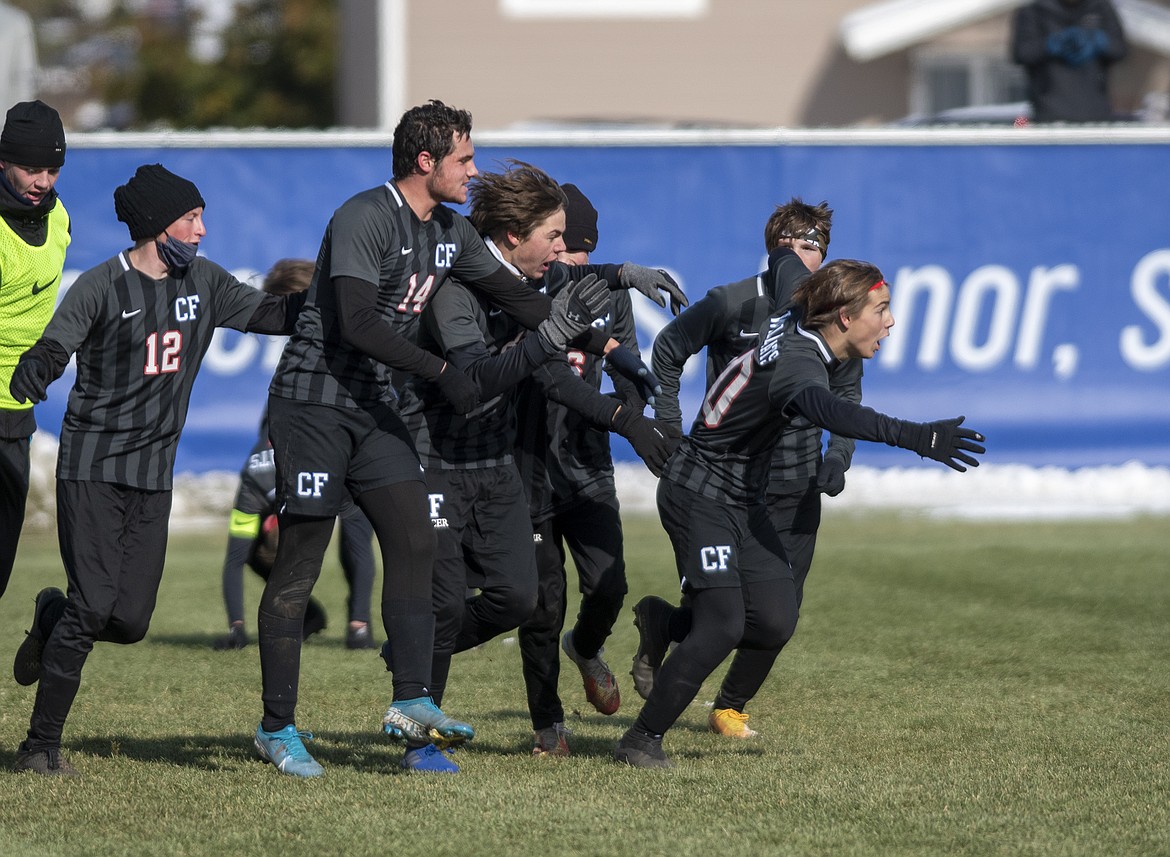 Columbia Falls' Kai Golan gestures back to the crowd after scoring the game-winning goal against Billings Central Saturday at Flip Darling Field in the semifinals of the State A playoffs. (Chris Peterson/Hungry Horse News)
by
KATIE BROWN
Daily Inter Lake
|
October 24, 2020 10:33 PM
COLUMBIA FALLS — There were a lot of moving parts involved in getting the soccer field at Columbia Falls High School ready to play after a historic winter storm, including athletic director Troy Bowman working with the grounds crew at 4:30 a.m. Saturday.
All the hard work was worth it when the Columbia Falls Wildcats walked off that field with a 2-1 comeback victory over the Billings Central Rams and a trip to the state championship game.
To get there, the Wildcats had to rely on their youth – they're the youngest team in the state with a starting group including six sophomores and a freshman.
It was freshman midfielder Kai Golan who scored the game-winning goal with nine minutes left off a long pass from Tyler Hull, and sophomore Finley Sundberg who scored the tying goal early in the second half.
"It says a lot about how young we are," Wildcats' coach O'Brien Byrd said. "We had to rely on a freshman for a game-winner. That's rare. Really, really rare. But for the first time in 15 years this program's back to the big dance."
After a shaky first half, the Wildcats threw the game plans out the window – things just weren't working. They'd underestimated the Rams to an extent.
"We saw some film of them that we weren't really impressed with so we weren't ready for them," Byrd said. "The first half, we just didn't play our game and the second half was all heart, all grit. Tactics pretty much went out the window and it was just surviving. That's playoff soccer."
That heart and grit performance paid off. Columbia Falls will drive about seven miles to Smith Fields to play Whitefish, which is gunning for a third straight state title in its fourth state final appearance. The Bulldogs thumped Corvallis 6-0 in the other semifinal Saturday.
There's a lot of new territory being discovered. Fifteen years is a long time to go without a trip to the chipper – and the current group of seniors has never been farther than the semifinals. The feeling at the game's final whistle was one of pure joy and also relief.
"It was amazing," senior Jason Albin said. "I crumpled to my knees and all the seniors, we just got together and gave each other big hugs. It was really great."
"This town is gonna become a soccer town, officially," Byrd said. "It's the start of a lot of good things to come."
Billings Central 1 0 — 1
Columbia Falls 0 2 — 2
BC - Sam Dull
CF - Finley Sundberg (Tyler Hull)
CF - Kai Golan (Jason Albin)
---