Masks, social distancing bring different feel to first day of school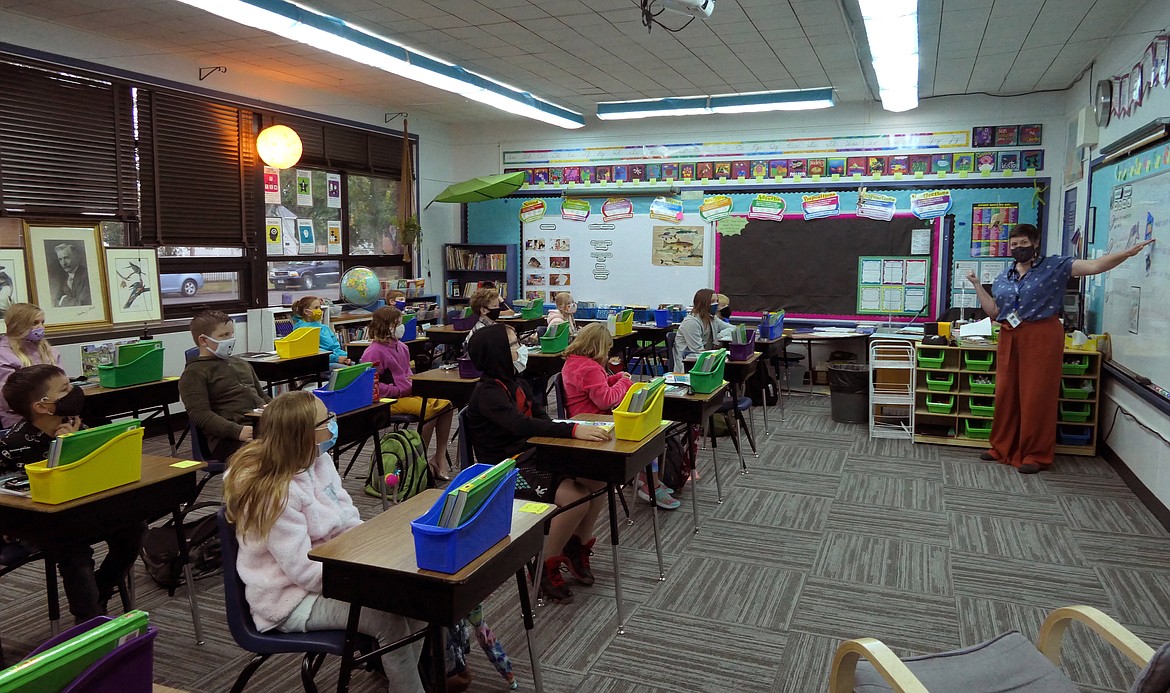 Elrod Elementary fourth-grade teacher Kara Basko goes over the three "W's," wash your hands, watch your distance and wear a mask, with students at the start of the first day of school on Monday, Aug. 31 as part of new safety measures put in place in efforts to reduce the transmission of COVID-19. (Hilary Matheson/Daily Inter Lake)
by
HILARY MATHESON
Daily Inter Lake
|
September 1, 2020 1:00 AM
Despite a rainy Monday morning, masked Elrod Elementary students waited outside the school for the first bell to ring on the first day of school amid the COVID-19 pandemic.
"My expectations are to be as close to a regular school year as we can despite all of this," Elrod principal Jeff Hornby said, referring to the added health precautions schools are putting in place in efforts to reduce transmission of the virus.

Students who were eating breakfast at school waited by an entrance off the cafeteria being supervised by Elrod head custodian Tammy Jackson. Jackson said her responsibilities have grown as part of the district's efforts to take additional sanitizing measures, which now extend to playground equipment.
"Breakfast?" she asked, opening the door to a couple of students.
The students nodded and walked in.
"Hand sanitize," she said, pointing to a unit on the wall.
It's all hands on deck for staff to assist in teaching and modeling new health precautions of what the district is referring to as the "three W's" — "wash your hands, watch your distance and wear masks."
COVID-19 is understood to be transmitted primarily through respiratory droplets when people talk, sneeze or cough, according to the Centers for Disease Control and Prevention.
In addition to the hand sanitizer and masks, Plexiglas desks shields have been placed at desks used by teachers, but it was a bit of a mad dash to install them — and for teachers to ready their classrooms.
"It was all installed last week," Hornby said. "They were feverishly working the last month and some of these smaller schools got it the end of last week, but this building, in particular we had all new flooring installed, so because of that it pushed back those other pieces like the Plexiglas."
To help students with physical distancing, some classrooms have dots placed on the floor. Of the "three W's" Hornby thinks "watching your distance," will be a challenge, which is why it's important for everyone to wear masks.
"I mean they're kids. They want to give their teacher a hug," Hornby said, especially on the first day of school. "I think we'll do air high fives. I know our kindergarten teachers talked about that."
Third-grade teacher Lisa Tannehill agreed that maintaining physical distance might be more of a challenge for elementary students than wearing masks. This is her 30th year in education and teaching during the pandemic has been unlike anything she's experienced in her career.
"We're breaking ground here," she said.
If schools close due to COVID-19, teachers have been asked to run students through the computer programs they would need to access if instruction goes completely online.
"We're definitely making plans in case we have to [go remote]," Tannehill said.
The goal for Tannehill and Hornby is for schools to stay open as long as it's safe to do so because of the benefits of in-person learning where teachers can easily engage, connect, support and encourage students. Students also had the option to learn remotely. Roughly 21 Elrod students have decided to do so.
"At school, you know, you need somebody that's your cheerleader, somebody that's egging you on, somebody that can say 'you can do this,' 'it's exciting it's fun,' 'you can do this,'" Tannehill said.
Speech language pathologist Sean Iddings echoed a similar sentiment.
"To have the opportunity to open schools to be in-person with kids is, just exciting to me, especially when I think about comparing it to last spring when we couldn't," Iddings said.
"As far as remote services I just think that that's hard for kids and for families. It's hard for me just not to be in person and so I think it's important for all of us to do all that we can to stay safe," he said, later adding, "And those special education services I think are much more effective when we're in person even if we're in the same room six feet apart."
This year, Iddings does have students who chose to learn remote and he will provide speech therapy primarily through video conferencing. The challenge in providing this service through remote instruction, is that it's highly dependent on the quality of audio and video both at the school and at a student's home. As a speech pathologist, hearing and seeing facial movement is critical.
"As an example, if a student is working on their "S" sound and the video is fuzzy, or the audio is fuzzy, I can't tell if they're doing an "S" or SH" or an "F" sound. That's a pretty simple example of the need for really high quality video audio," Iddings said.
While excitement was in the air, there remains some anxiety in what lies ahead — or if schools close again, which is what makes parent Tasha Van Horn nervous, based on the experience of remote learning during the emergency school closures last spring. Van Horn's child is starting first grade this year.
"I was highly disappointed in the system they set up as far as schooling at home. They would book us for two 45-minute classes online a week and they wouldn't even last 20 minutes. It was more so 'how are you,' with the kids than any actual learning," Van Horn said, noting that the lack of structure was frustrating and the academic content not challenging enough.
She said communication is where the district did well.
"They were very good with their communication, very thorough with their communication and helping us out when we did need help and very responsive. There was never a time I felt like I wasn't being heard or being responded to," she said, however, " I feel like there's definitely been — with not knowing as much about what this year was to bring — a lack of communication coming into school, but there was no way around that."
Her hope is that as the school year progresses, the district returns to a high level of regular communication, even if it's just to say there isn't new information.
Michael and Jennifer Kalagian are parents of a first-grader and two fourth-graders. They are grateful the district reopened.
"The kids were really excited about coming to school. They all love it. They love being here and we aren't an immune compromised family, so COVID wasn't a huge concern for us," Michael Kalagian said. "They have their friends here, they enjoy their teachers, they have fun."
While the Kalagians thought the district did a good job of communicating to parents during the spring closure, their experience with the remote learning was enough to bring them to a decision to home school rather than try remote learning again.
"If there's a closure we'll do a home-school curriculum. We're not going to do remote learning. The remote learning I felt was too difficult, too time consuming, so I feel like they would get a better education doing home-school curriculum," Jennifer Kalagian said.
"The programs were also really difficult to navigate," Michael Kalagian said. "You spend more time navigating the programs than actually focusing on the assignments."
Schools were suddenly closed in March under the governor's orders in efforts to reduce the spread of COVID-19, but it left school districts in the lurch to cobble together a plan to continue instruction entirely remotely — something, districts hadn't faced before.
When the directive was lifted in April, many school districts around the valley chose to keep buildings closed for the remainder of the year, but many teachers weren't introducing new concepts and districts loosened grading requirements given the circumstances.
The district has created a separate entity to improve the remote learning experience, which has been called the Remote Education Center.
Reporter Hilary Matheson may be reached at 758-4431 or hmatheson@dailyinterlake.com.
---