PHOTOS: Bigfork rushes past Cut Bank, 59-7
Bigfork running back Cormac Benn (7) breaks free for a 62-yard touchdown run in the second quarter against Cut Bank at Bigfork High School on Friday. (Casey Kreider/Daily Inter Lake)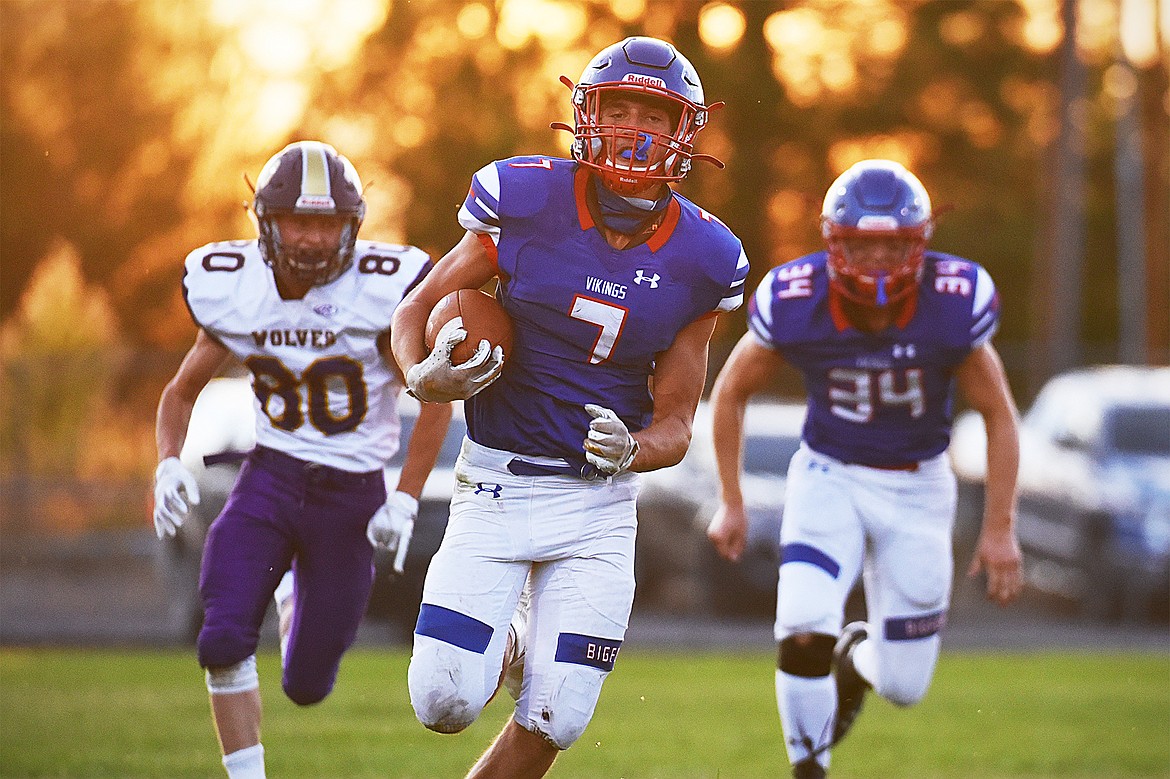 Bigfork running back Cormac Benn (7) breaks free for a 62-yard touchdown run in the second quarter against Cut Bank at Bigfork High School on Friday. (Casey Kreider/Daily Inter Lake)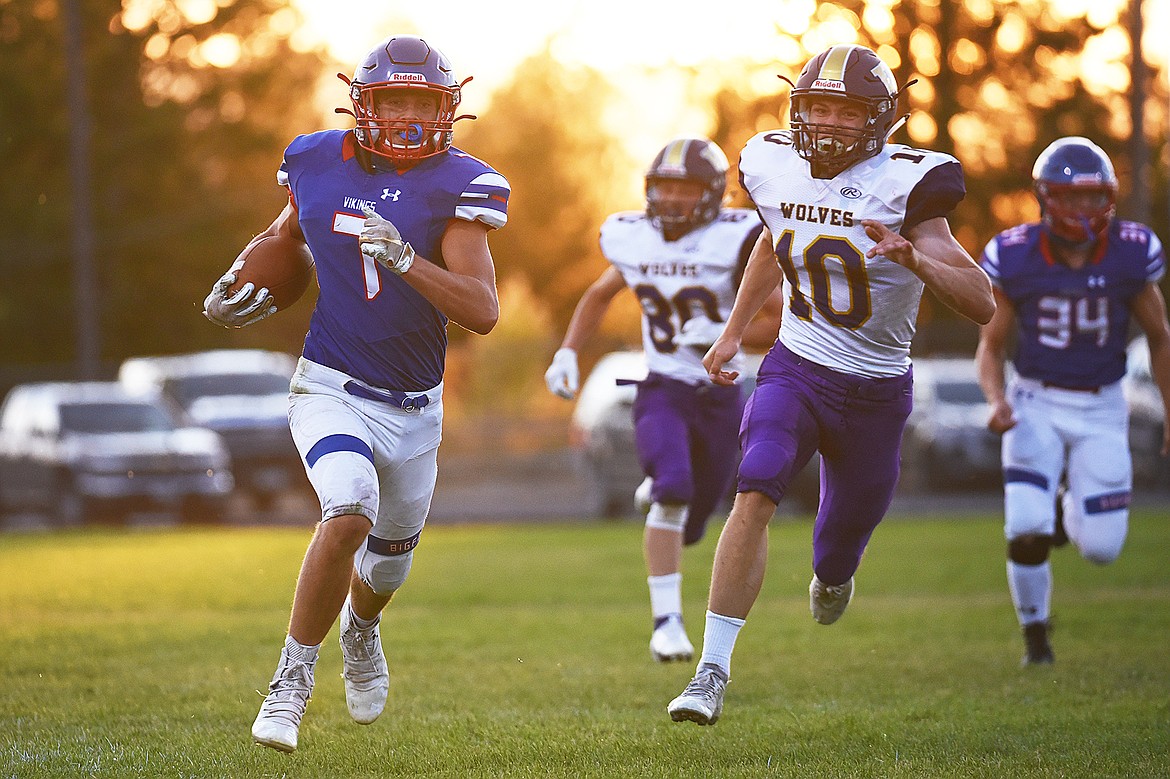 Bigfork running back Cormac Benn (7) breaks free for a 62-yard touchdown run in the second quarter against Cut Bank at Bigfork High School on Friday. (Casey Kreider/Daily Inter Lake)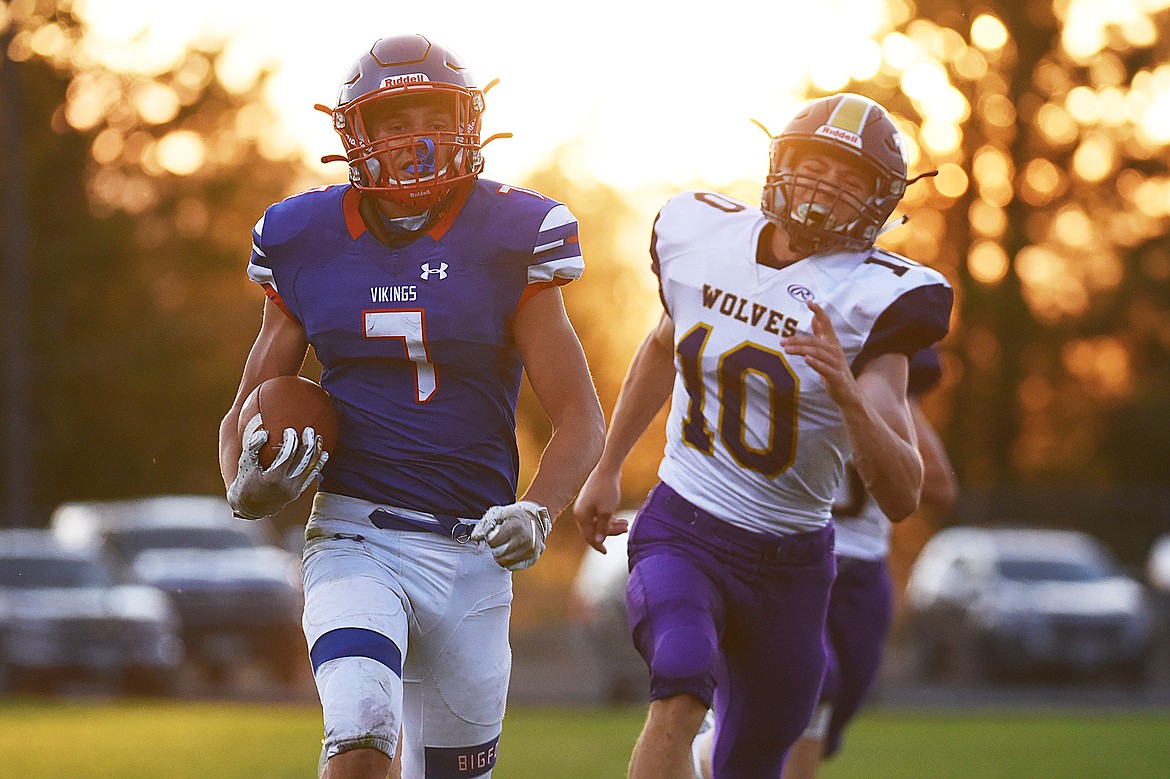 Bigfork running back Cormac Benn (7) breaks free for a 62-yard touchdown run in the second quarter against Cut Bank at Bigfork High School on Friday. (Casey Kreider/Daily Inter Lake)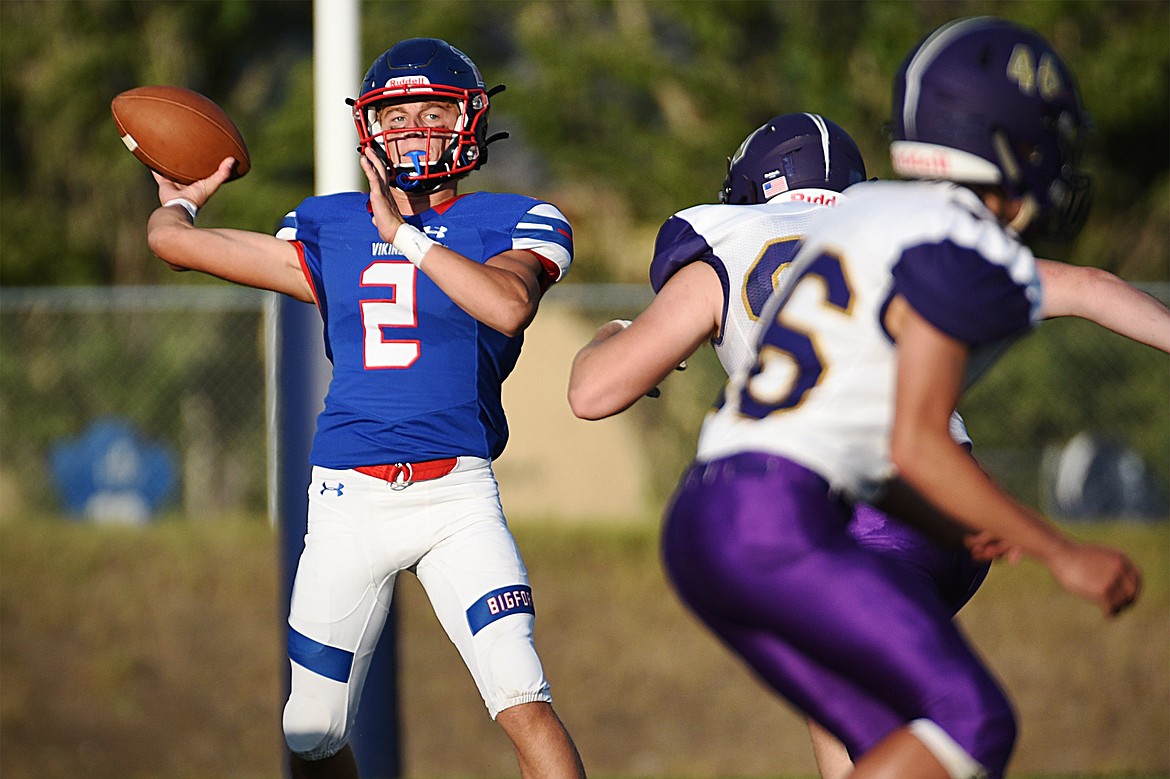 Bigfork quarterback Patrick Wallen (2) looks to throw in the first quarter against Cut Bank at Bigfork High School on Friday. (Casey Kreider/Daily Inter Lake)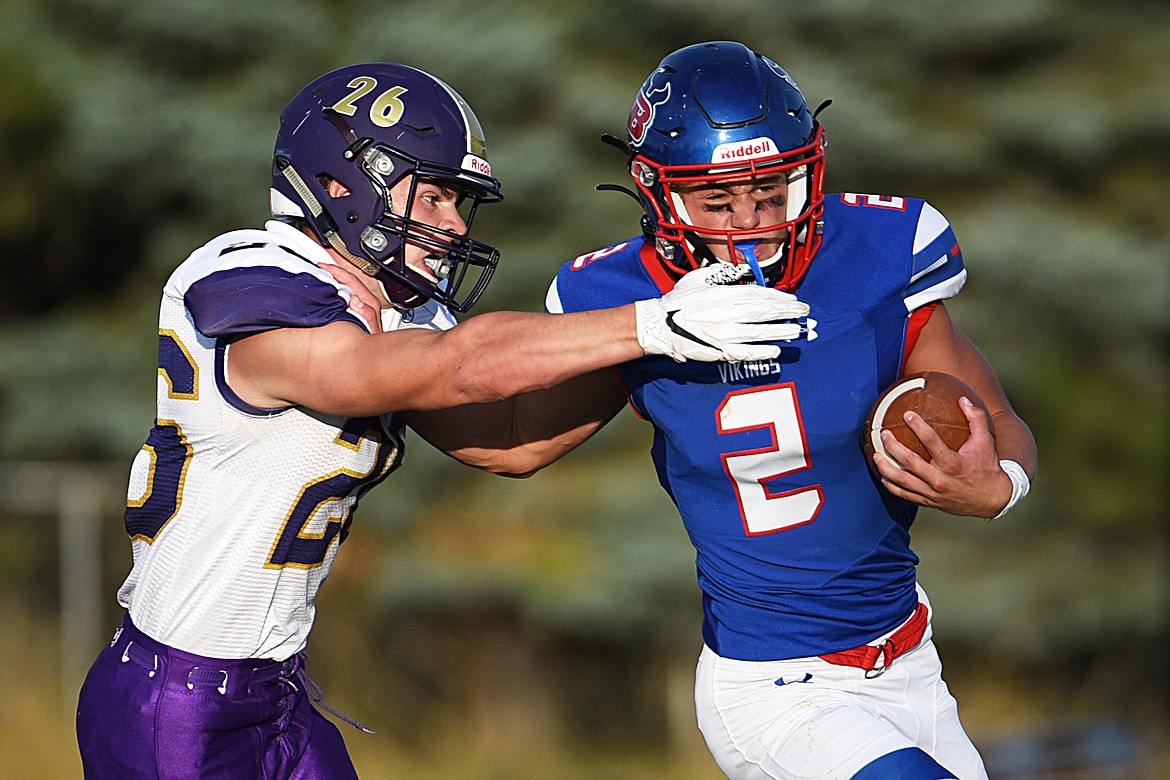 Bigfork quarterback Patrick Wallen (2) extends a stiff-arm to Cut Bank linebacker Hayden Hedges (26) during the first quarter at Bigfork High School on Friday. (Casey Kreider/Daily Inter Lake)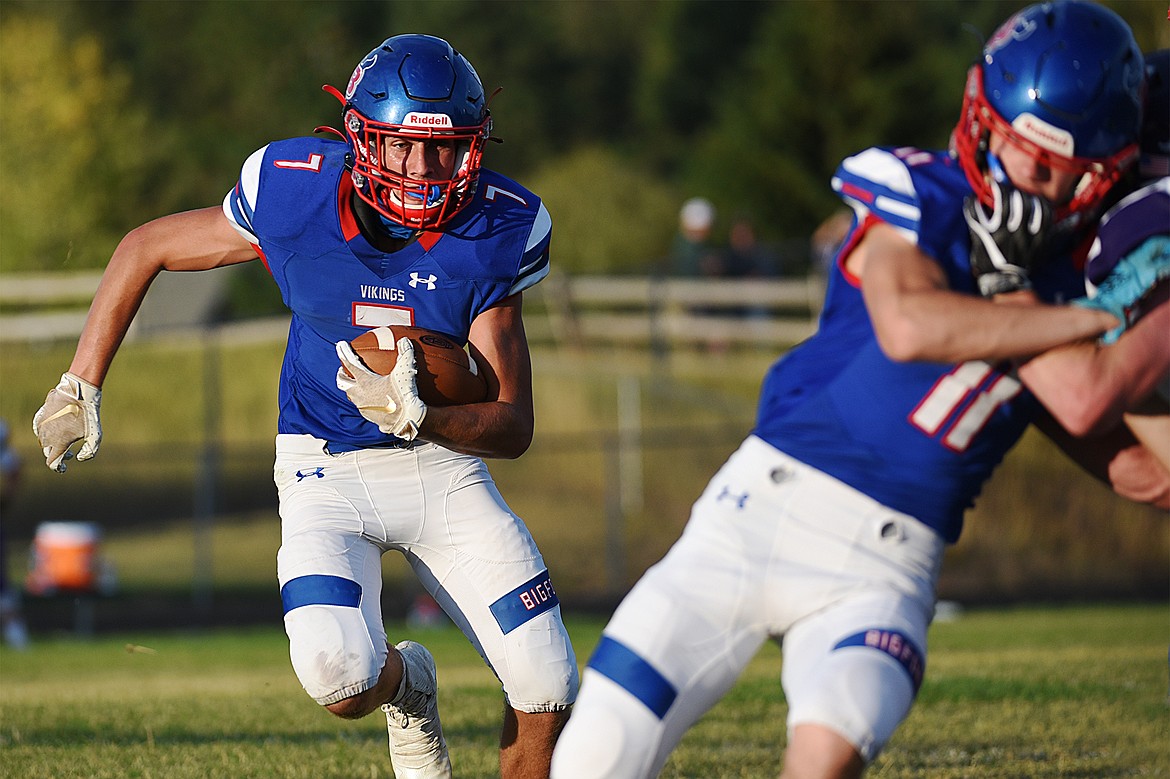 Bigfork running back Cormac Benn (7) looks for running room in the first quarter against Cut Bank at Bigfork High School on Friday. (Casey Kreider/Daily Inter Lake)
Bigfork quarterback Patrick Wallen (2) extends a stiff-arm to Cut Bank linebacker Hayden Hedges (26) during the first quarter at Bigfork High School on Friday. (Casey Kreider/Daily Inter Lake)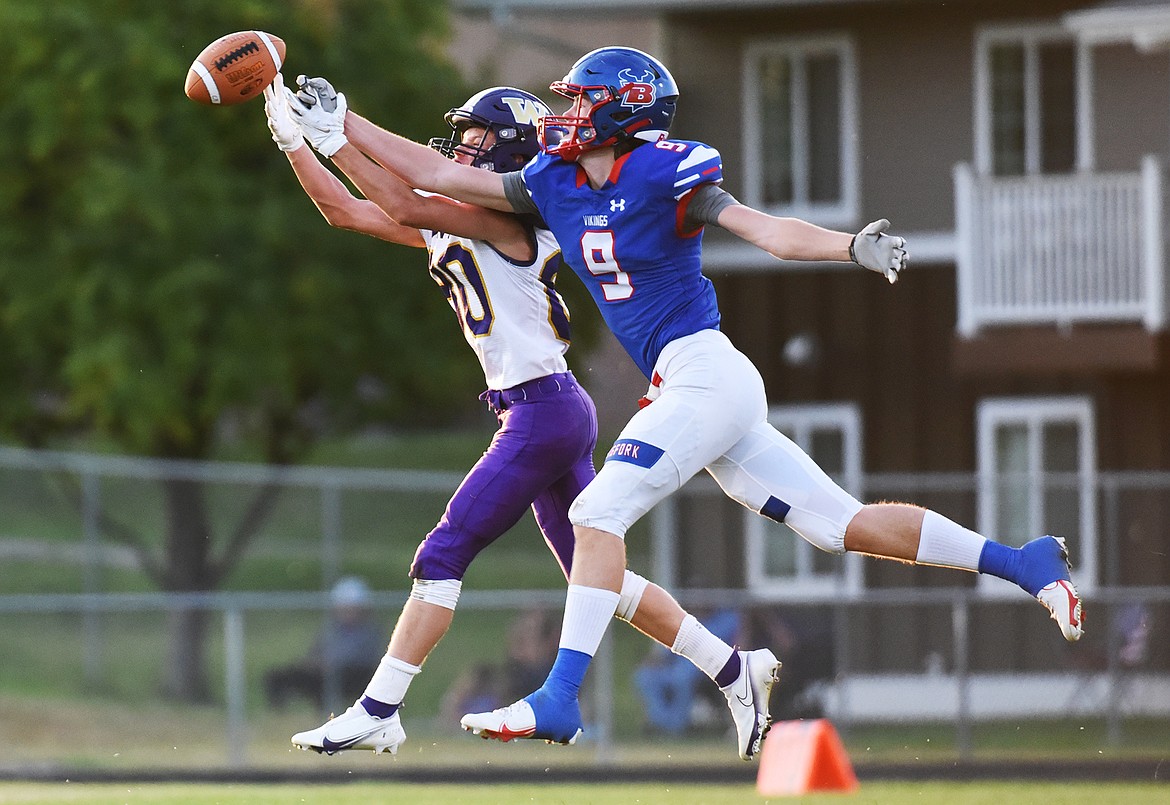 Bigfork defensive back Isak Epperly (9) deflects a pass intended for Cut Bank wide receiver Wyatt Berkram (80) in the second quarter at Bigfork High School on Friday. (Casey Kreider/Daily Inter Lake)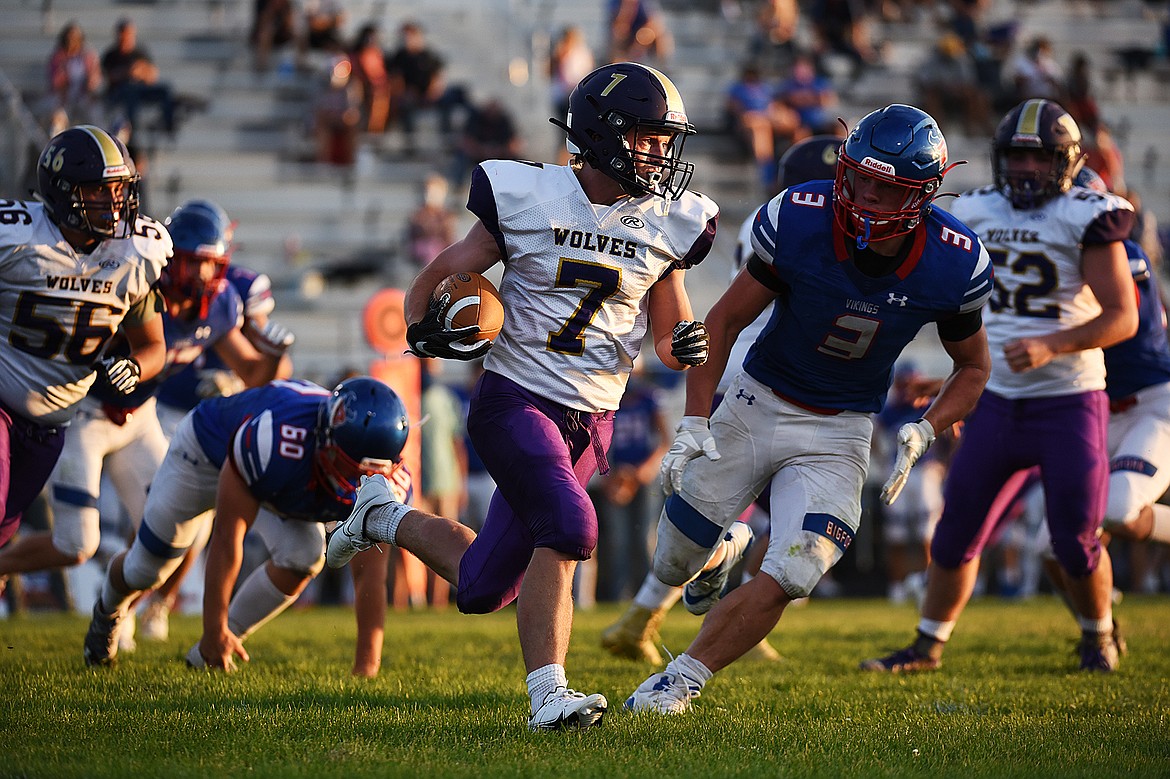 Cut Bank wide receiver Matt Larson (7) looks for running room after getting a handoff against Bigfork at Bigfork High School on Friday. (Casey Kreider/Daily Inter Lake)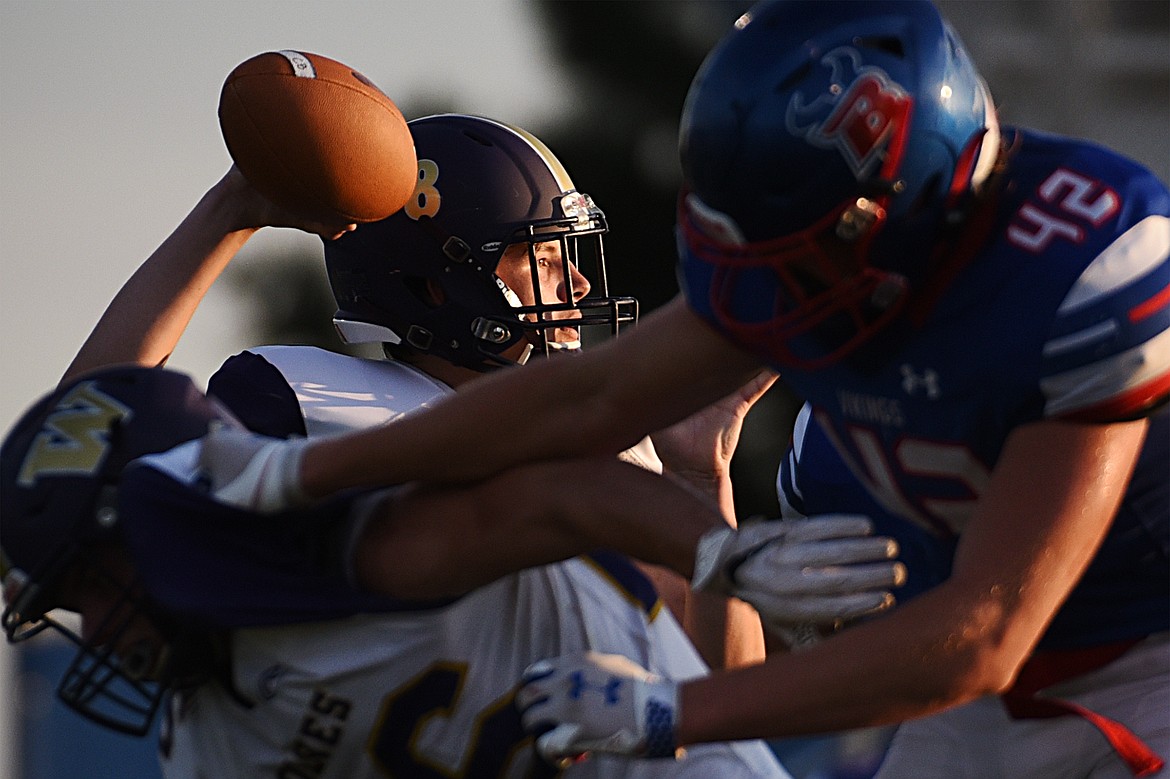 Cut Bank quarterback Caleb deManigold (8) looks to throw against Bigfork at Bigfork High School on Friday. (Casey Kreider/Daily Inter Lake)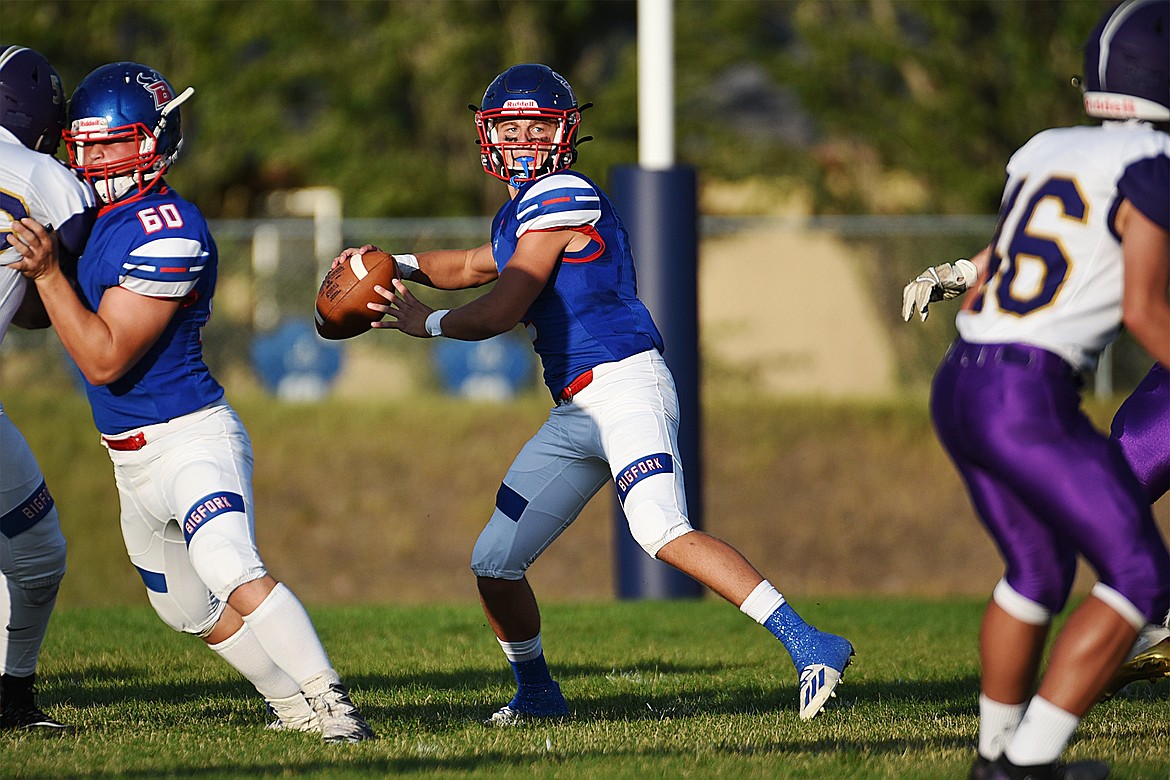 Bigfork quarterback Patrick Wallen (2) looks to throw in the first quarter against Cut Bank at Bigfork High School on Friday. (Casey Kreider/Daily Inter Lake)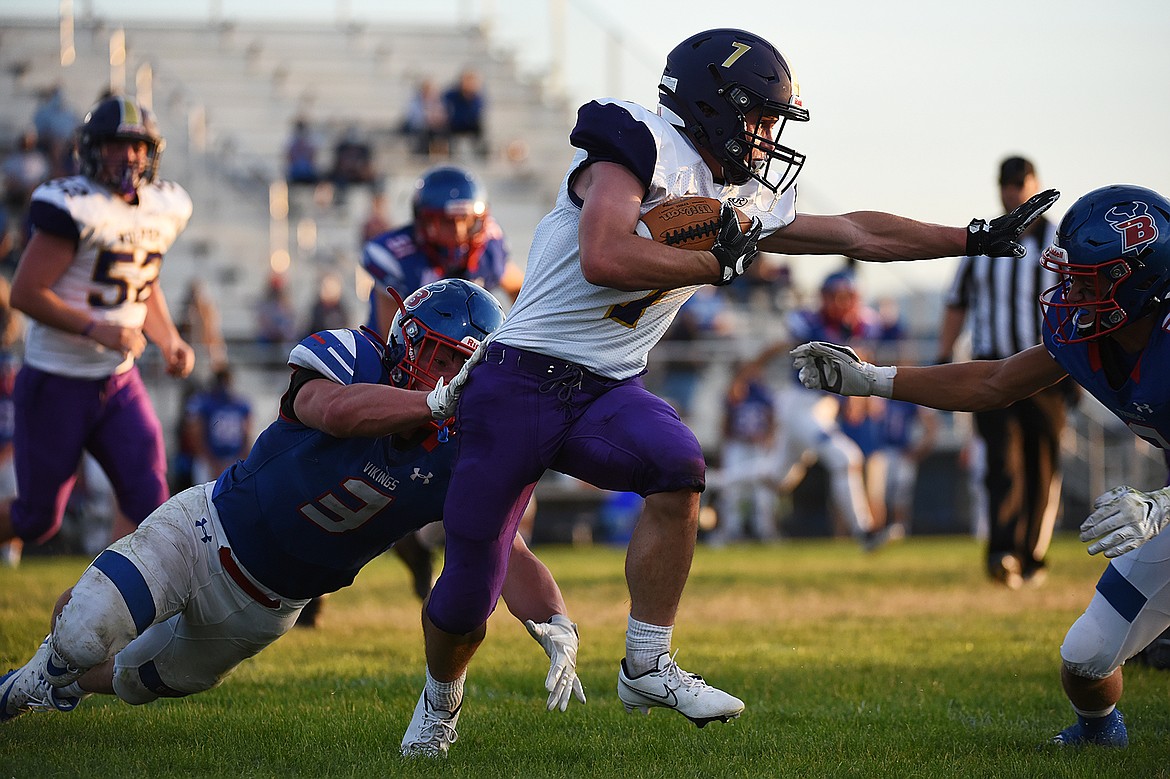 Cut Bank wide receiver Matt Larson (7) looks for running room after getting a handoff against Bigfork at Bigfork High School on Friday. (Casey Kreider/Daily Inter Lake)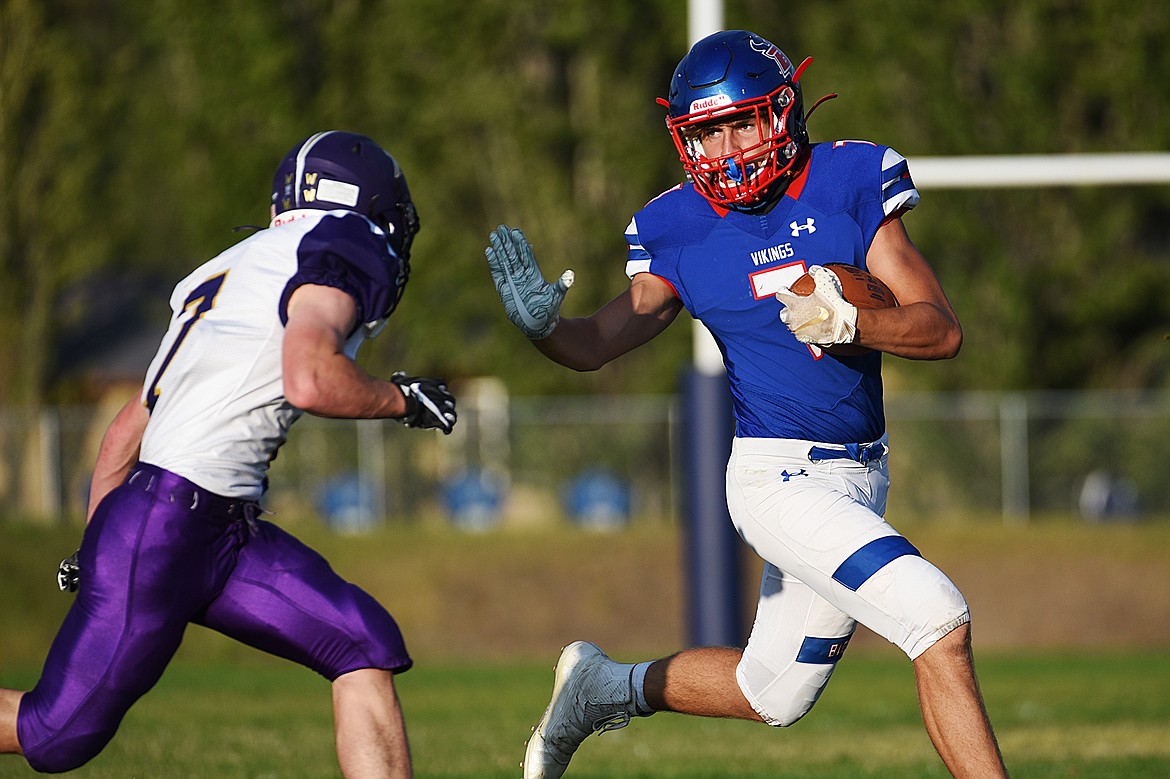 Bigfork running back Cormac Benn (7) extends a stiff-arm to Cut Bank defensive back Matt Larson (7) during the first quarter at Bigfork High School on Friday. (Casey Kreider/Daily Inter Lake)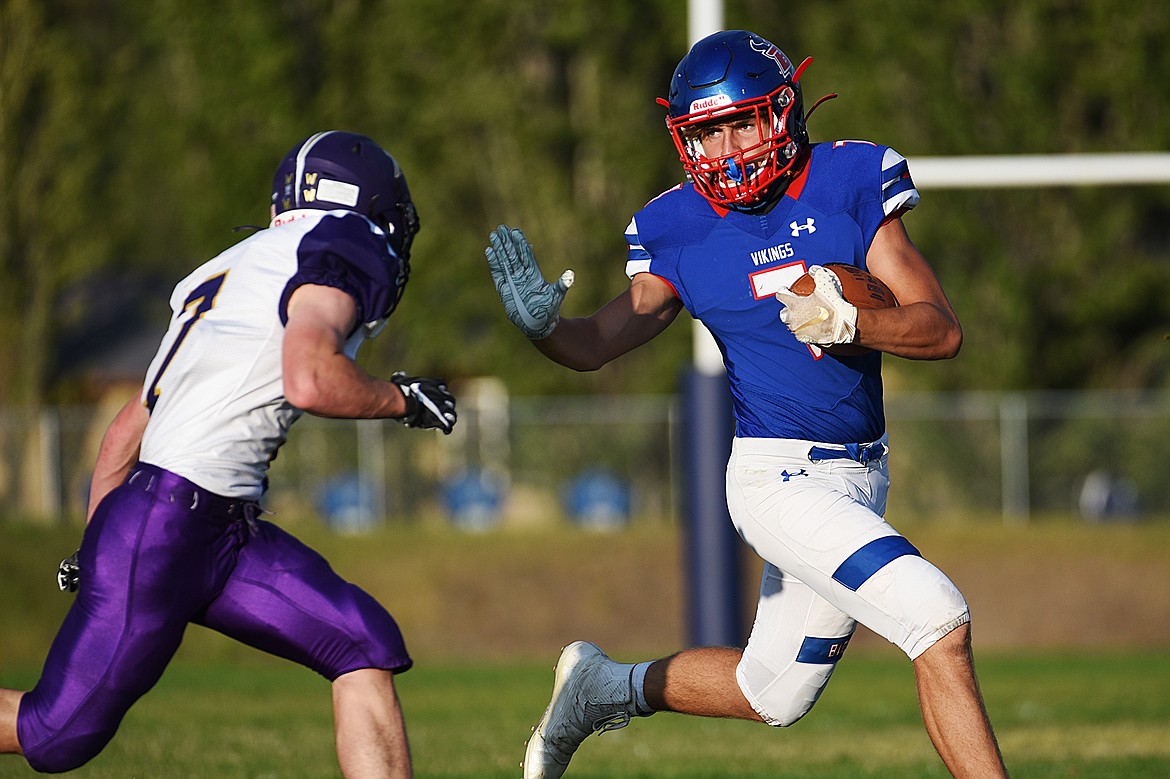 Bigfork running back Cormac Benn (7) extends a stiff-arm to Cut Bank defensive back Matt Larson (7) during the first quarter at Bigfork High School on Friday. (Casey Kreider/Daily Inter Lake)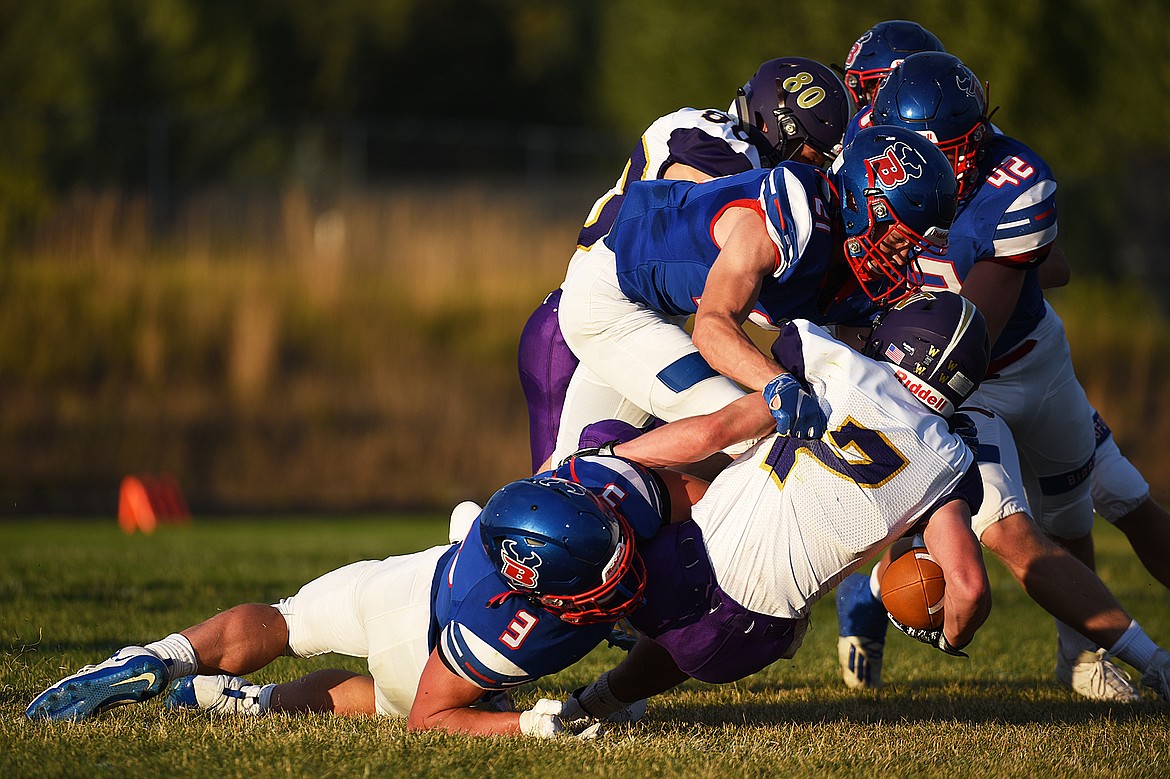 Bigfork's Levi Taylor (3), Jackson Abney (21) and Isaac Bjorge (42) team up to bring down Cut Bank wide receiver Matt Larson (7) in the second quarter at Bigfork High School on Friday. (Casey Kreider/Daily Inter Lake)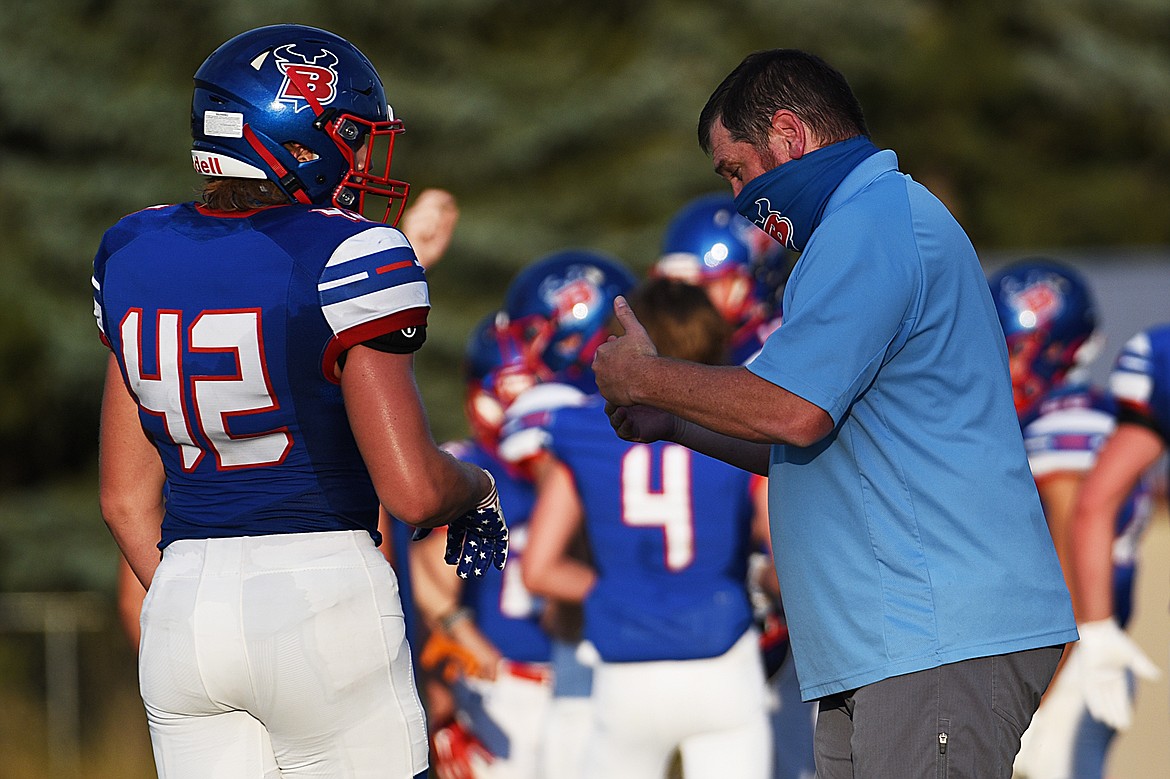 Bigfork head coach Jim Benn talks over a play with defensive end Isaac Bjorge (42) as they play Cut Bank at Bigfork High School on Friday. (Casey Kreider/Daily Inter Lake)
Previous
Next
|
September 4, 2020 9:35 AM
Cormac Benn ran 21 times for 262 yards and three touchdowns, and returned an interception for another score to lead Bigfork past Cut Bank 59-7 in Class B football Friday.
It was a non-conference game for the Vikings (2-0), who scored 27 points in the second quarter to open up a 35-7 halftime lead. Benn had scoring runs of 21, 62 and 9 yards; Patrick Wallen ran for one TD and threw for another for Bigfork.
Wyatt Herd added two short touchdown runs and Levi Taylor had a 44-yard burst in the second half. Wallen's TD pass covered 11 yards to Walker Fisher -- the only completion Bigfork had in two passing attempts.
Dayne Barbie's touchdown reception got the Wolves (0-2) on the board in the second quarter.
The Vikings piled up 482 rushing yards and outgained Cut Bank 493-133.
---