Art and his autos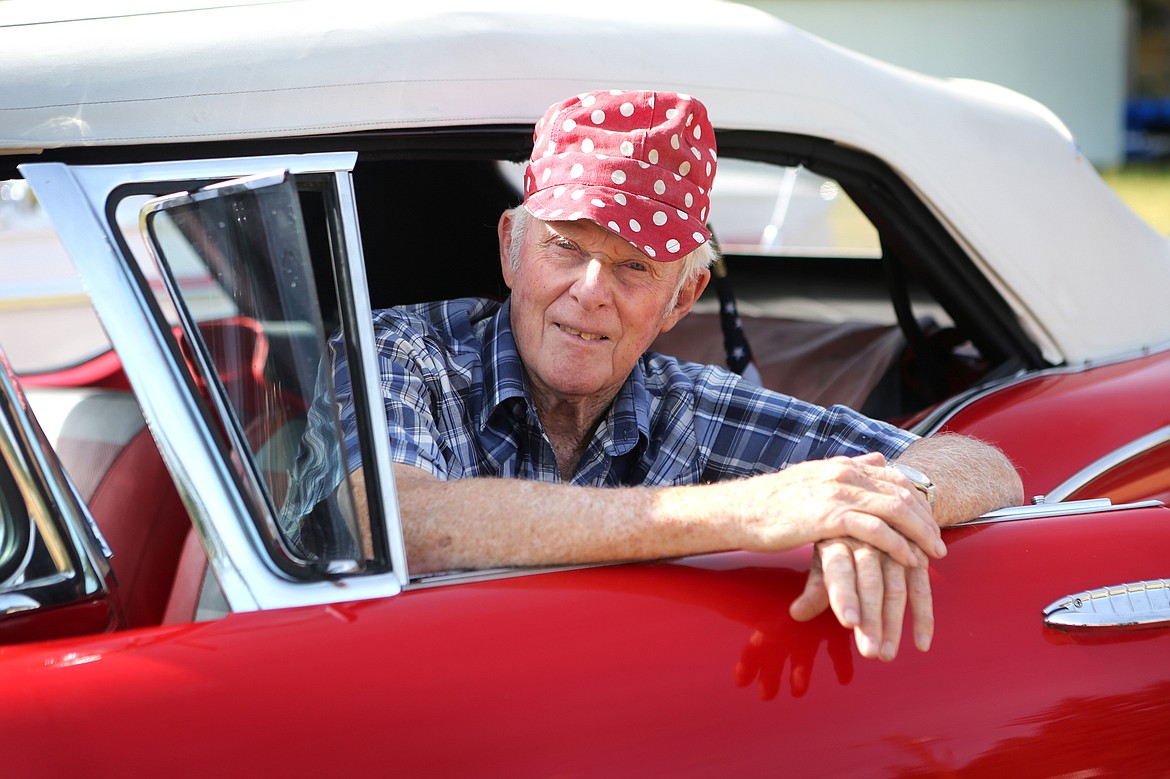 Art Olson, 87, of Evergreen is pictured inside his most prized vehicle, a 1958 Chevrolet Impala convertible. Olson searched for 20 years to find one that he could restore.
Mackenzie Reiss
by
MACKENZIE REISS
Daily Inter Lake
|
September 6, 2020 12:00 AM
Art Olson walks past decades of automotive history each time he passes through his shop.
Among the 17 cars in his collection are early models like his 1910 Mitchell, along with several Chevrolet Roadster convertibles ranging from the late '20s to 1975. Olson, 87, speaks humbly about the vehicles he's amassed and restored over the last 60 years, stating that he's simply loved cars all his life — and enjoys preserving their history, too. It's a history he keeps alive, not just for looks, but for function.
Take his Model T, for example, which Olson built in 1959 using a 1926 body, upgraded with a 110-horsepower Mercury engine from the early '50s. His forest-green Model T fires up without hesitation, all eight cylinders chugging along in a symphonic rumble. For 35 years, he used the classic car as his daily driver, on trips to Canada and Spokane — and even for plowing snow.
Some of Olson's classic cars will be among those participating in the Evergreen Show 'n Shine virtual car show Sept. 12.
Olson's mechanical mind wasn't always focused on cars — in fact, the avid collector began tinkering with objects much, much smaller. During his four years in the U.S. Navy, Olson repaired typewriters and calculators until a spot opened up in the watch shop, where he turned his attention to timepieces. Upon leaving the service, he worked at Olson Jewelry in Evergreen, spending a decade as an employee and the subsequent 33 years as proprietor.
During this phase of Olson's life, cars became a hobby.
He started collecting in 1957 and his first acquisition was a 1935 Oldsmobile rumble-seat coupe — a car with attitude and beautiful curves. Over the years, his collection grew and evolved, but always reflected his love for convertibles. They're more valuable than their sedan counterparts and require the same amount of work, Olson noted.
He's sold about 20 vehicles over time, often parting with two lesser models to pursue a real gem. He buys most of his cars through word-of-mouth and does all the restoration work himself from the inside out.
Perhaps most impressively, Olson is entirely self-taught and learned new skills through the painstaking process of trial and error.
"I'd do things two or three times over until I got it right," Olson said.

A case in point was his 1941 Packard.

"It's got a great big hood on it and I painted it nine times before I finally got it the way I wanted it," he said. "Every night I'd come home and sand it down and prime it, something would happen and I'd do it again and do it again."
TO KEEP the jewelry store running and fuel his passion for cars at the same time, Olson kept odd hours. He'd work at the jewelry store from 8 in the morning until 5, come home for supper and then it was back to the shop.
"Then I'd come home about nine or so, change clothes and come out here in the garage and work until about 1 or 2 in the morning — And I did that for 10 years straight," he said.

He's also added a few motorcycles to his collection. A particularly eye-catching model is the green 1920 Harley Davidson, complete with a sidecar.
"I went over Logan Pass with it one time," Olson said, grinning. "I used to give a lot of rides — I still do."
His prize is undoubtedly a cherry-red 1958 Chevrolet Impala convertible. It is both his favorite vehicle and the most valuable in his collection — back in its heyday, the car fetched a price of $1,735 to $2,800. These beauties can easily go for upward of $65,000 today, according to Hemmings valuation.
It took Olson 20 years of searching before he found one that he not only liked but also could afford.
"When they first came out, nobody wanted them because they didn't think they looked right. They were using them for demolition cars and race cars … but now, it's different," he explained. "The ones that are gone makes the ones that are left a lot more valuable."

NOW, OLSON has come full circle, turning his attention once again to watches. It'll take all day to look through them, he said, laughing, after a tour of his automotive treasures. As far as the cars go, his goal is to keep them running.
"There's always something …. something leaking, the battery's bad, a tire's leaking. If you don't use them, they deteriorate," he said.
Maintenance is just one more excuse to drive these showpieces around town to show off all the hard work, dedication to excellence and countless hours of labor he's invested over the years.
"Don't give up. Don't tear it all up and then sell the parts and end up with nothing," Olson said. "Keep at it until you get 'er done. If you do a little every day, it's surprising how much you get done."
Reporter Mackenzie Reiss may be reached at 758-4433 or mreiss@dailyinterlake.com.
---