Flathead Valley worker shortages continue into fall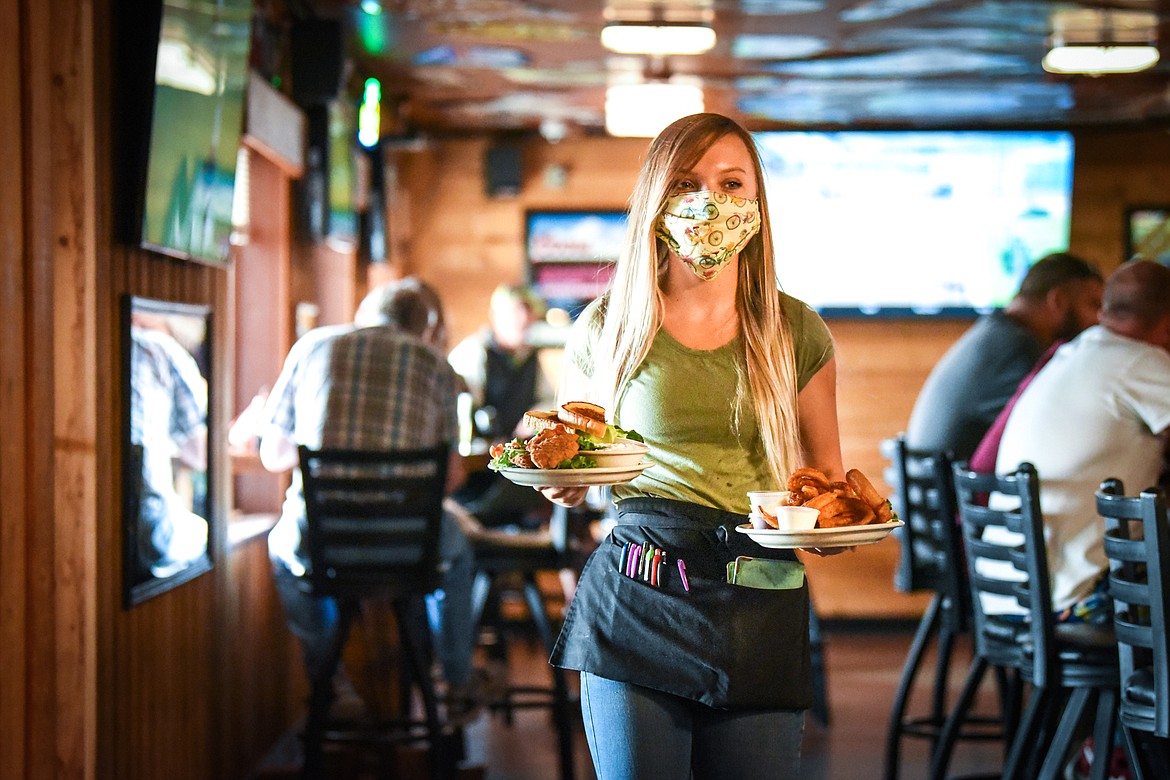 Brittney Brutscher, a server at Scotty's Bar in Kalispell, delivers dishes to patrons at the restaurant on Thursday, Sept. 17. (Casey Kreider/Daily Inter Lake)
by
BRET ANNE SERBIN
Daily Inter Lake
|
September 20, 2020 12:00 AM
Staffing shortages are nothing new in Northwest Montana. While the COVID-19 pandemic recently improved the outlook for some businesses, others are still operating on a short staff with no end in sight.

"There's always a deficit, but this is by far worse than it ever has been," said Karla Levengood-Swank, owner of Scotty's Bar and Brannigan's Pub in Kalispell. "We never had this type of staffing issues before."
Like many other local restaurateurs, Levengood-Swank said it has become nearly impossible to fill the needs in the back of house. But while this problem has been plaguing local restaurants for many seasons in a row, the virus outbreak only seems to have made things worse. With some workers receiving federal assistance and restaurant operations undergoing an upheaval, there simply aren't enough interested, qualified applicants to go around.
"The hiring pool out there is very slim at the moment," said Levengood-Swank reported. She currently has about six open positions in her two kitchens, and little hope to fill them.
Even when there is interest from potential employees, their resumes usually fall short or their commitments don't last long, she added. "You can get applications in left and right, but it doesn't help," if they don't have the necessary experience, she pointed out.

Despite a few reliable regulars who keep the lights on, newcomers seem to filter in and out without the consistency needed to support the restaurants. "You have the core group of people that you rely on," Levengood-Swank said, but "we've had turnover. Replacing the turnover's been very difficult."
Though the busy tourist season — which was a little underwhelming this year — is now dying down, Levengood-Swank fears her staffing challenges will only get worse.
"Fall is the most difficult season," she explained. "It's always difficult but this is the worst."
Although the change in seasons portends ongoing issues in the service industry, other industries look much more promising.

Business is booming for construction companies such as Schellinger Construction, where the leadership expects to stay busy with all hands on deck at least through Thanksgiving.

"Construction has been going really well, the last few years anyway," said Arlyn Baumgartner with Schellinger Construction. "It still seems like it's picked up from last year.
"It keeps everybody busy. Paychecks are coming in," he said. "Hopefully it stays that way."

Schellinger has been lucky, Baumgartner said, to avoid the staffing shortages and virus challenges that have descended on other local businesses.
"We're pretty fortunate with our crew of truck drivers right at the moment. We seem to be doing OK there," he said.
He doesn't anticipate any serious staffing issues until wintertime, when most of his crew will likely opt to find work indoors and construction work will largely be put on hold.

But even now, while the construction workforce seems more robust than most, Baumgartner said there are a few lingering openings.

"As always it seems like it's a little bit of a chore to find help these days," he said, highlighting loader operators as one of the hardest positions to fill.
Overall, however, he said the construction industry and its workers seem to be going strong.
Another industry seeing improvements in employment is health care. In April, Kalispell Regional Healthcare temporarily laid off about 600 staff members when the facility halted elective surgeries amid the pandemic. Now, hospital spokeswoman Mellody Sharpton reports, "The vast majority (more than 90%) of employees who were furloughed early in the pandemic have returned to work."
Sharpton added the hospital currently has about 170 open positions, ranging from nurses and certified nurse assistants to support positions such as food service, facilities maintenance, patient registration and financial support.
KRH has difficulty filling certain positions "due to a shortage of candidates," Sharpton explained in an email. These positions follow national industry trends and include nursing, imaging, lab, pharmacy and respiratory therapy.
"Traditionally, there are several positions that are difficult to fill in health care, regardless of the pandemic," Sharpton wrote.
AS KALISPELL Regional works to fill almost 200 open positions, another of the valley's biggest employers will also look to bring on hundreds of workers during the so-called shoulder season. Whitefish Mountain Resort employs about 500 full- and part-time employees, many of them seasonal staffers brought in from foreign countries or college breaks during the winter.

Marketing Director Nick Polumbus said hiring is "always a concern," for the resort, since the staff there is "the most important resource we have."
Despite plenty of changes since the lifts abruptly shut down last March, Polumbus said, "I wouldn't say it's any bigger of concern [this year] than it typically is."
Although the resort probably won't be able to hire its usual cadre of international workers, he said Whitefish is better poised than many ski resorts because they only rely on foreign workers for a small portion of their staff.

"We definitely like to have foreign workers. They're a good addition to our team, but we don't have a ton," he said, estimating the mountain only brings on about 20 to 30 international staff members each season.
He added the resort should have no trouble filling those gaps because many college students will be home during the winter due to changed course schedules this semester.
Winter holidays are the time Whitefish sees its biggest need for new hires, Polumbus said, so he expects the changes due to COVID-19 to balance each other out.
"[Hiring] is certainly a concern, but we feel like we know enough in advance of where our holes are going be that we can cover that in the meantime," he predicted.
Reporter Bret Anne Serbin may be reached at (406)-758-4459 or bserbin@dailyinterlake.com.
---