Wolfpack Theatre takes on sci-fi romantic comedy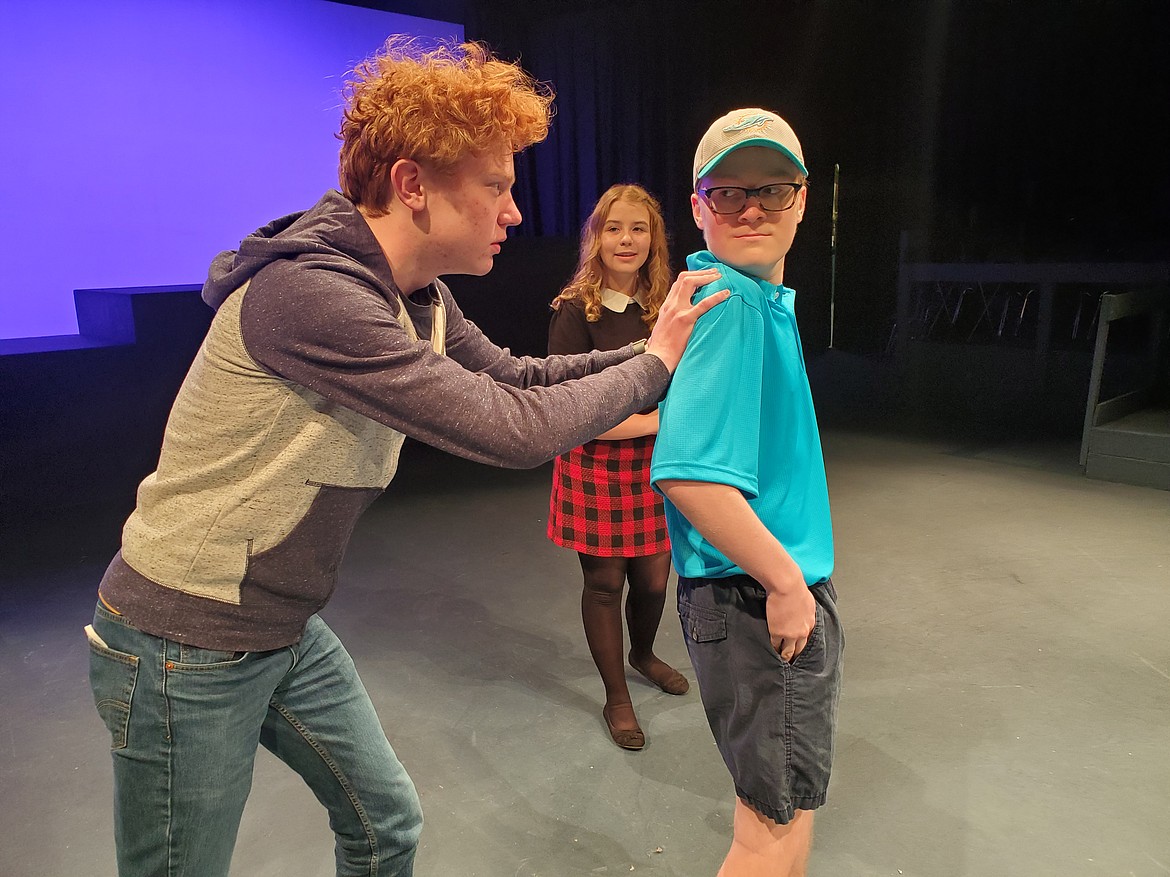 Bark, played by Alden Lamson; Chloe, played by Gabrielle Cantrell-Musson; and Lincoln, played by Sylan Patton, star in Wolfpack Theatre's production of "Crush."
The aliens have landed! The Wolfpack Theatre Company's Acting and Stage Production Class at Glacier High School presents the quirky and heart-tugging sci-fi comedy, "CRUSH," April 12 and 14 at 6:33 p.m. in the Wolfpack Theatre at GHS. Tickets, which are available at the GHS Main Office and at Photo Video Plus, are priced at $7 for adults and $5 for children, students and senior citizens. Seating is limited and masks are required.
Strange things are happening in the small town of Pin Cushion. Giant hearts are appearing on billboards, love struck teenagers are falling into comas, and the population is falling fast. Who can save this town from this supernatural phenomenon?
The play centers on a typical 16-year-old boy, Bark Melon, as he auditions for the high school play, "Our Town." Bark begins hearing voices when Aspen, a new student to Pin Cushion High, arrives. As strange things start to crop up, only Bark can understand that the new girl is not what she seems. In a breathtaking, interactive climax, Bark saves the world, revitalizes the town, earns the love he deserves and gets a reward that no one could have anticipated.
"The play explores what it means to love someone and what it means to be human, all told through the lens of high school stereotypes and aliens!" said director and class instructor Greg Adkins. "'CRUSH' is a challenging script with a heartwarming and hilarious plot. It is so unique and so different than anything else we are doing this season in the Wolfpack Theatre Company."
The cast of "CRUSH" includes Mac Adkins, Cassidy Bicknell, Gabrielle Cantrell-Musson, Layla Garner, Violet Guy, Naomi Hill, Kaitlyn Illi, Sophia Knapp, Alden Lamson, Toben Mallo, Kassidy Murphy, Kailie Owens, Dylan Patton, Elise Pitts, Briar Sager, Harrison Sanders, Madison Taylor, Braden Wakefield and Kiya Warner.
Behind the scenes, Alexa Wilton, Ashley Bruce, Sydney Fletcher, Zephy Hanson, Quinn Thomas, Jaiden Mallo and Ty Espeseth make up the sound, lighting and stage crew. The set design and props were built and designed by Sara Menssen's Theatre Arts Classes.
---