Montana infrastructure gets C grade in White House report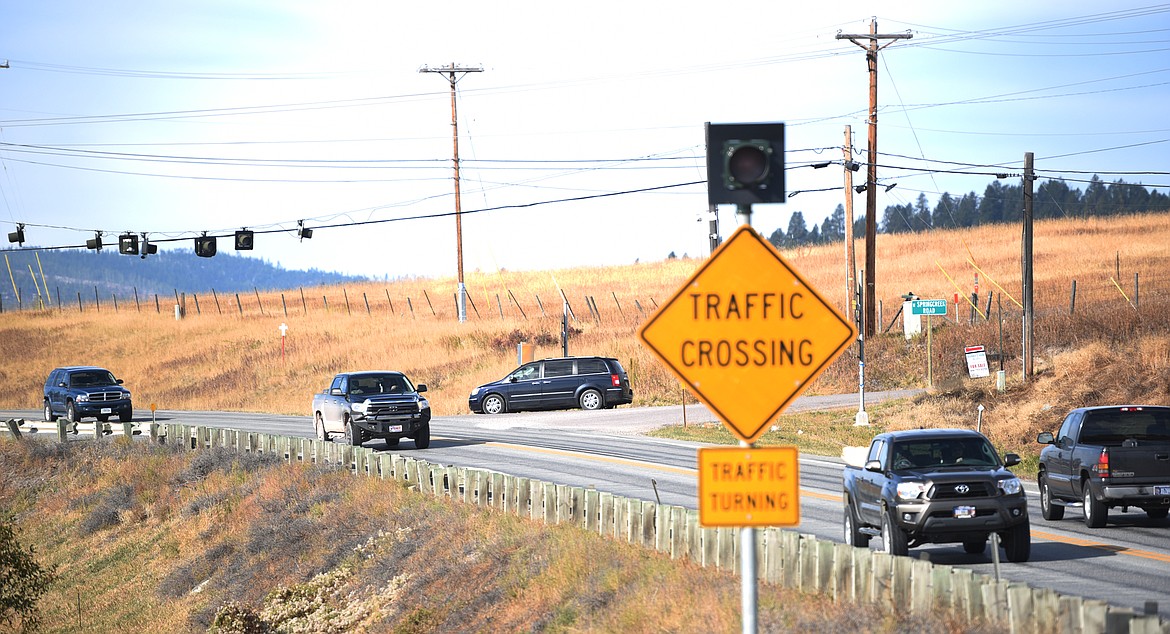 The intersection of Springcreek and Dern and U.S. Highway 2 is the site of a proposed roundabout. (Brenda Ahearn/Daily Inter Lake FILE)
by
CHAD SOKOL
Daily Inter Lake
|
April 12, 2021 3:30 PM
Montana has 377 bridges and more than 1,485 miles of highway in poor condition, and 1 in 4 of the state's public transit vehicles is ready for the scrapyard, according to a new "infrastructure report card" from the Biden White House.
The report card, released as part of the administration's push for a $2.3 trillion infrastructure package, gives Montana's overall infrastructure health a C grade and highlights how the package would address various needs.
The report finds Montanans' commute times have increased by 3.9% since 2011, and the effects of driving on roads in disrepair cost each motorist in the state an average of $472 a year.
But the report goes beyond crumbling roads and bridges, noting costs associated with housing, home energy, broadband access, child care, veterans' health care, clean energy and manufacturing — all of which would be covered under the massive spending plan.
Other takeaways include:
• In part due to a lack of affordable housing, 57,000 Montanans are rent-burdened, meaning they spend more than 30% of their income on rent.
• Montanans who take public transportation spend an extra 72.8% of their time commuting. Nonwhite households are 1.3 times more likely to use public transportation. And 27% of trains and other transit vehicles in the state are past their "useful life."
• Montana experienced 12 extreme weather events from 2010 to 2020, costing the state up to $5 billion in damages.
• By one definition, 28% of Montanans live in areas where there is no broadband infrastructure that provides "minimally acceptable" internet speeds. Where infrastructure is available, there is often only one internet provider and the service may be prohibitively expensive. Some 15% of Montana households do not have an internet subscription.
• Montana's drinking water infrastructure will require $1.2 billion in additional funding over the next 20 years.
• Montana schools need an additional estimated $191 million to do maintenance and make improvements, and 60% of residents live in a "child care desert."
• The average low-income family in Montana spends 6-8% of its income on home energy costs, "forcing tough choices between paying energy bills and buying food, medicine or other essentials."
The three members of Montana's congressional delegation offered mixed reactions to Biden's infrastructure plan on Monday.
"For decades we've been living on our grandparents' infrastructure, so we are long overdue in making real investments that will drive our economy well into the 21st century," Democratic Sen. Jon Tester said in a statement to the Daily Inter Lake. "I am working with Republicans and Democrats as we review this proposal closely, and I will ensure that any infrastructure package works for rural America, creates jobs and grows Montana's economy."
Meanwhile, Republican Sen. Steve Daines lambasted the proposal for its investments in electric vehicles and said it's "filled with tax hikes on Montana businesses."
The plan primarily targets big, multinational companies and would raise the corporate tax rate to 28%, partially reversing a 2017 Republican tax law that slashed the corporate rate from 35% to 21%.
"There is bipartisan support for infrastructure in Congress, but while President Biden likes to talk about bipartisanship, his record shows he'd rather jam through wasteful, partisan spending bills than work across the aisle to benefit the country," Daines said in the statement.
A spokesman for Republican Rep. Matt Rosendale said the congressman "is waiting to see the legislative text for this bill and will be looking closely at it for its impact on Montana in both cost and benefits."
Reporter Chad Sokol can be reached at 758-4439 or csokol@dailyinterlake.com
Recent Headlines
---