Man credits A.L.E.R.T. helicopter, Bigfork Fire Department with saving his life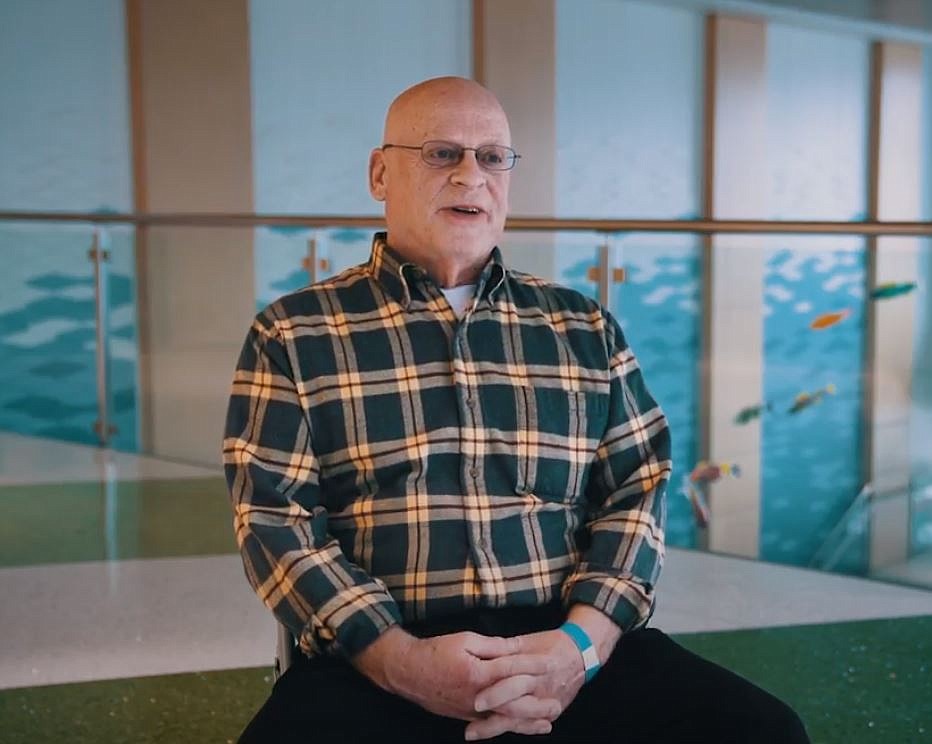 Kenneth "Ken" McKee (pictured) credits Kalispell Regional Healthcare's A.L.E.R.T. helicopter service and the Bigfork Fire Department with saving his life after a tree fell on him during a March 2020 windstorm in Bigfork. (Photo provided by Kalispell Regional)
by
KIANNA GARDNER
Daily Inter Lake
|
April 21, 2021 5:00 AM
A little more than one year ago in March of 2020 a monstrous windstorm swept the Flathead Valley, toppling hundreds of trees in its wake, many of which ended up strewn across roadways and power cables.
One of the hardest hit corners of the valley was the Bigfork and Ferndale area, where several weather resources estimated wind gusts reached 80 mph. It would be nearly one week before cleanup crews and locals removed the vegetative debris from main roads and driveways.
And while many earmarked the storm as one of the worst they had ever seen, very few people have experienced, let alone lived through, what Bigfork resident Kenneth "Ken" McKee did that day after an accident that required a swift responses from the Bigfork Fire Department and A.L.E.R.T. helicopter service.
MCKEE, THEN 72, had departed his home that afternoon with his chainsaw in tow, eager to help remove trees and debris from his people's driveways. It wasn't until 5 p.m. or so, after wind speeds had grown to what McKee estimated was 70 mph, when he decided it was best to work his way back home.
But as he was headed back, he stopped his truck on South Ferndale Drive to cut the top off a tree that had collapsed across the road and was partially blocking his route back to Bigfork. McKee was only a few seconds into the job when another tree came down and clipped him in the tailbone, thrusting him forward.
The impact resulted in a broken pelvis, five cracked vertebrae and a compound fracture in his left leg, which took the brunt of the force after the tree lurched McKee forward.
"The wind was blowing so hard you couldn't hear anything when you were out there," McKee said in a recent interview with the Daily Inter Lake. "The tree came out of nowhere and I've never felt anything like it when it hit me."
The incident elicited a quick response from emergency personnel, who were notified by a nearby witness that called 911. Within moments, the Bigfork Fire Department arrived at the scene, where they managed to free McKee from underneath the tree.
First responders then quickly determined that, due to the number of trees that had fallen over roadways that evening, it would be best if McKee - who at that point had lost a dangerous amount of blood - was airlifted to Kalispell Regional Medical Center for treatment.
Responders called the hospital's A.L.E.R.T. helicopter service, which despite dangerous air travel conditions, landed minutes later in a nearby field. After the multiple gurney transfers, McKee was placed in the helicopter and flown to Kalispell Regional Medical Center where his bleeding was brought under control, his leg was treated and his pelvis was stabilized.
A few days later, when the weather finally calmed, he was airlifted once again, this time in the A.L.E.R.T fixed-wing aircraft, to Seattle's Harborview Medical Center where he underwent various surgeries.
FROM WHAT McKee has been able to gather from first responders and other medical personnel that came to his rescue that day, if A.L.E.R.T not been called, it's very likely he would not have survived the incident.
"It's pretty simple really. They saved my life," said McKee, whose voice broke slightly when describing the event. "The Bigfork Fire Department and A.L.E.R.T. deserve all of our support. The pilot alone should receive a hero award for even attempting to land the helicopter in those winds."
Now, a little more than one year after the accident, McKee is recovering at his home in Bigfork and describes himself as "mostly back to normal." His back is sore some mornings, and there is a 200 millimeter screw over his tailbone that will forever remind him of the event, but he is grateful just to be here.
"If that tree had fallen another couple inches toward me, they all would have been scraping me up off the road," he said.
McKee's mischance in Ferndale and the emergency response that ensued will be highlighted at tonight's 43rd Annual A.L.E.R.T. Banquet, a fundraising event put on by Kalispell Regional Healthcare every year in support of the helicopter service. This year's event is free, will be held online due to the ongoing COVID-19 pandemic and will feature an online auction.
The A.L.E.R.T. program, which performs hundreds of rescue and life-saving missions per year in the greater Flathead Valley is largely supported by proceeds from the banquet, in addition to donations from the community.
The annual banquet first launched in 1978 after the program, which started as the second hospital-based advanced life support helicopter system in the United States, faced various financial difficulties. That year, the hospital's website states "local community members rose to the potential crisis" with the formation of the A.L.E.R.T. Board, which is made up of community members, business leaders, primary rescue individuals, logging industry representatives and people from the Forest Service personnel.
The board members anticipated they would need to garner more widespread financial support from the community in order to keep the program afloat and decided the banquet would be a good avenue to do so. The banquet has now sustained the program for more than 40 years.
The 43rd Annual Banquet begins Wednesday at 6:30 p.m. More details can be found on Kalispell Regional Healthcare's website.
Reporter Kianna Gardner may be reached at 758-4407 or kgardner@dailyinterlake.com
---