Rep. Skees announces 2nd run for Public Service Commission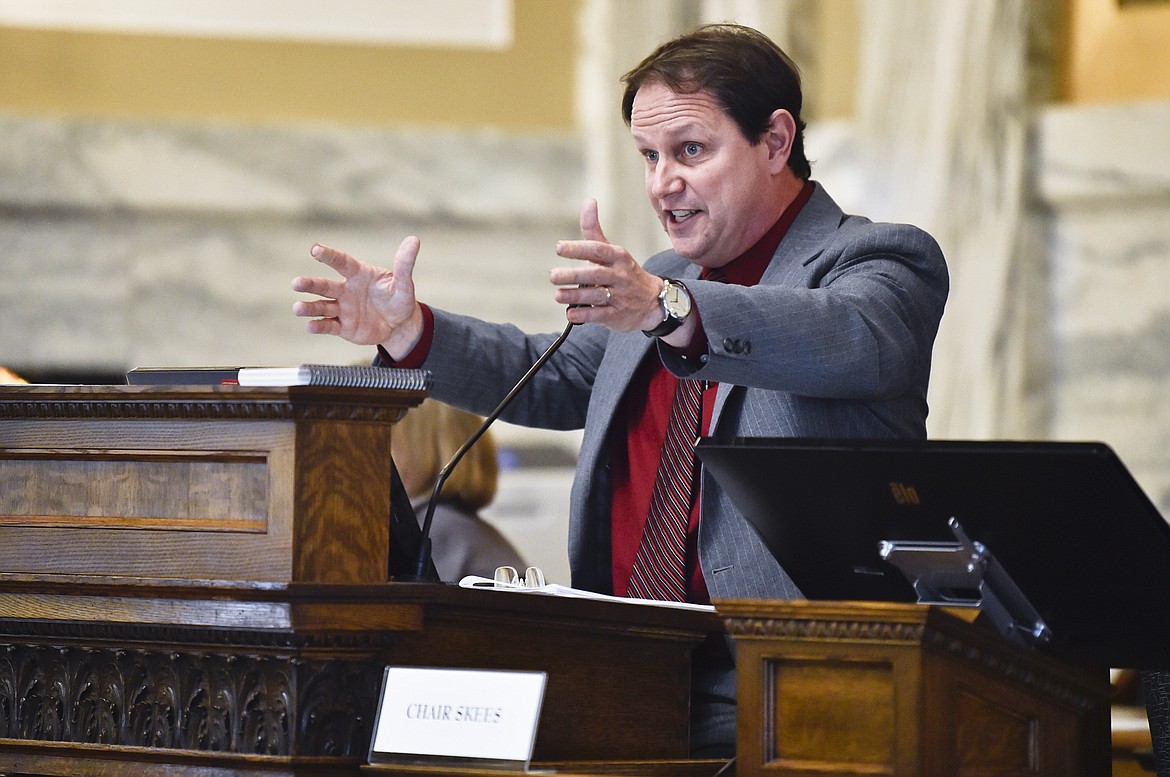 Rep. Derek Skees, R-Kalispell, speaks during a meeting of the Joint Rules Committee on Monday, Dec. 7, 2020, on the House floor of the Montana State Capitol, in Helena, Mont. (Thom Bridge/Independent Record via AP)
by
CHAD SOKOL
Daily Inter Lake
|
April 29, 2021 12:36 PM
State Rep. Derek Skees announced Thursday he will run a second time for a seat on Montana's Public Service Commission, the five-member board that regulates water, gas, electric and telephone utilities in the state.
The Kalispell Republican said he will pursue the seat representing District 5 — which includes Flathead, Lake, Glacier, Pondera, Teton and Lewis and Clark counties — during the 2022 election cycle.
Skees didn't immediately return messages seeking comment Thursday, the last day of the legislative session. But in a written announcement, he said he has "developed many relationships in the counties comprised in district" and "plans to run a very aggressive campaign to represent Montana in the role of commissioner."
The seat is currently held by Brad Johnson, a former Montana secretary of state who beat Skees in a Republican primary in 2013 during Skees' first PSC campaign.
Skees, an ardent conservative who chairs the House Energy, Technology and Federal Relations Committee, is serving his fourth two-year term in the Legislature. He represented House District 4 from 2011 to 2013, then took two years off after running unsuccessfully for the PSC. He was re-elected to represent House District 11 in 2016, 2018 and 2020.
Skees, who also sits on the House Judiciary Committee and chairs the influential Rules Committee, won't be allowed to run for the House next year due to term limits. Likewise, Johnson can't run for another term on the PSC.
Skees previously chaired the Energy and Telecommunications Interim Committee, which oversees the PSC, and he has worked on various pieces of energy legislation.
This session, he sponsored a controversial bill that lays the groundwork for nuclear energy production in Montana and removes the ability of voters to have the final say on proposed nuclear plants. The bill was sent to Gov. Greg Gianforte's desk this week after passing both chambers of the Legislature on near-party-line votes.
Skees also recently broke with some Republican colleagues when he voted to table a bill that would have weakened the PSC's oversight of utility monopolies to guarantee NorthWestern Energy a rate of return on new coal-fired energy from Colstrip. The proposal was later partially revived in the Senate.
Reporter Chad Sokol can be reached at 758-4439 or csokol@dailyinterlake.com
---