Flathead hotels smash June occupancy records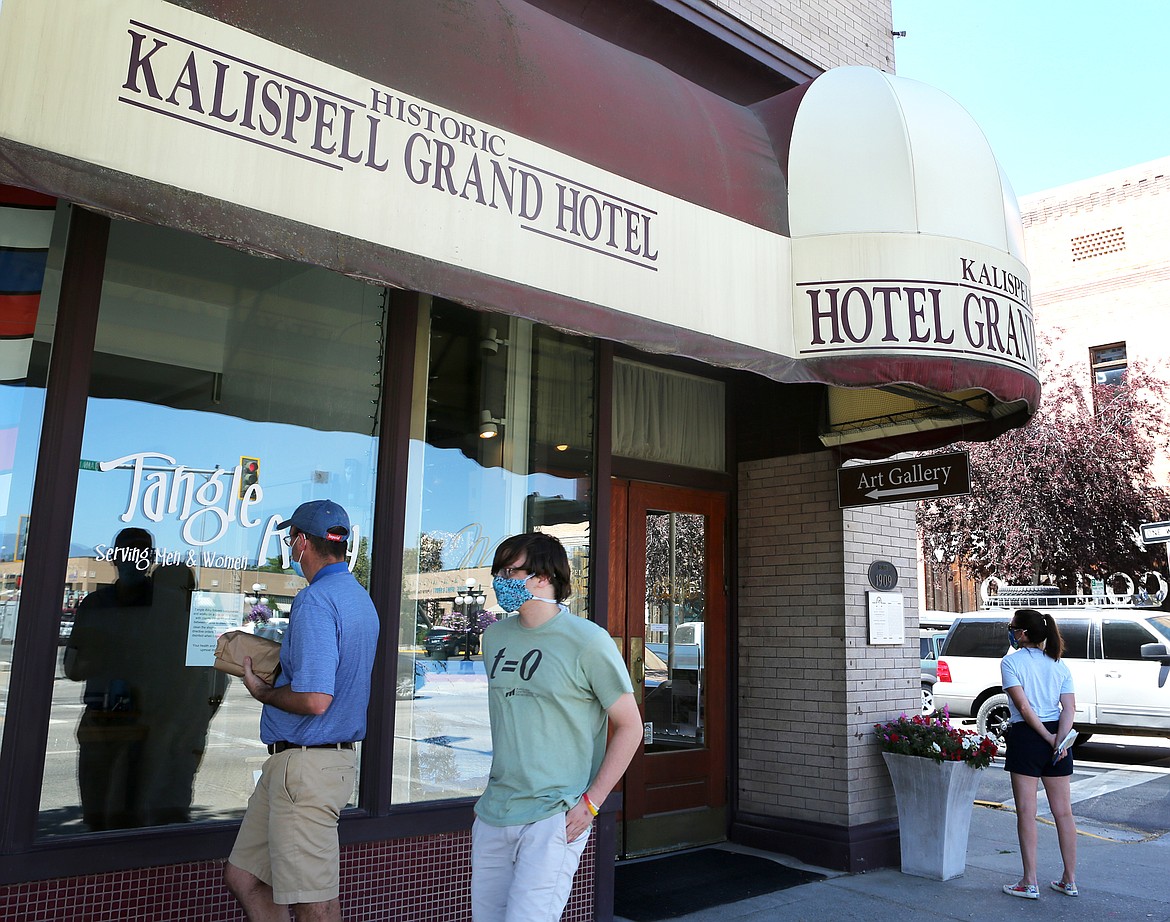 Tourists takes a peak at the Kalispell Grand Hotel on a walk through downtown Kalispell in this Aug. 5, 2020, file photo. (Mackenzie Reiss/Daily Inter Lake)
by
BRET ANNE SERBIN & CHAD SOKOL
Daily Inter Lake
|
August 1, 2021 12:00 AM
Hotels and other traditional lodging accommodations in the Flathead Valley have been jam-packed this season despite a shortage of employees to clean rooms and tend to guests — and despite the proliferation of short-term rentals, which are also booking up at record rates.
"We're having a banner year," said Dylan Boyle, executive director of the Whitefish Convention and Visitors Bureau, also known as Explore Whitefish.
The June occupancy rate for traditional lodging in Whitefish was 80%, according to the bureau's survey data. That's a 7.4 percentage point increase over the pre-pandemic record set in June 2019.
It's a similar story in Kalispell, where hotels and motels were 77% full in June — up 16% over June 2019, according to Diane Medler, executive director of the Kalispell Convention and Visitors Bureau, or Discover Kalispell.
Medler said the trend has held steady, with Kalispell's hotel occupancy averaging 86% through the first 18 days of July. And, she said, those figures don't reflect the actual availability of rooms because some properties have closed rooms due staffing shortages.
"So for rooms available to rent, the occupancy would be closer to 95% or greater," Medler said.
"For the hotels, it's been a very busy season, and they are servicing all these guests with a shortage of staff," she said. "For some properties, that means for certain nights they have to put some rooms out of order because they don't have the staff to clean them."
Explore Whitefish projects the traditional lodging occupancy rate will be around 85% to 90% the next three weeks. The bureau's latest trend report suggests occupancy will dip to around 70% in mid-August.
In July 2019, Whitefish's traditional lodging occupancy rate was 68%, and in August of that year, it was 60%.
Businesses should still anticipate a pronounced "shoulder season" October through May, Boyle said. In years past, the off-season occupancy rate for traditional lodging has peaked around 50% and bottomed out around 30%.
BOOKINGS FOR short-term vacation rentals also have been setting records in the valley.
In a ranking published Wednesday by Airbnb, the company identified Whitefish as one of the most popular outdoor destinations on its platform.
"A Whitefish host can earn more than $4,500 per month by sharing an entire home with four guests and their vehicle on Turo," the company reported.
Average Airbnb host earnings for the summer months were $2,300 from 2018 to 2020, but that figure is projected to jump 60%, to $3,700, this summer.
Boyle, with Explore Whitefish, estimated the city now has about 1,100 short-term rental units listed on sites like Airbnb and Vrbo, with an average of just over two bedrooms per unit. That's about double the number of hotel and motel rooms in the city, he said.
Medler, with Discover Kalispell, said the city has 1,936 hotel and motel rooms. She estimated there are about 400 short-term rental units in Kalispell with an average of three bedrooms each, which equates to roughly 1,200 guest rooms.
Short-term rentals have been filling up at record rates, even though there are many more of them available than in past years.
In Whitefish, the June occupancy rate for short-term rentals was 66%, up more than 50% from June 2019. In Kalispell, the June 2021 occupancy rate was 80%, according to the visitor bureaus. (June 2019 data wasn't immediately available for Kalispell).
Boyle noted the proliferation of short-term rentals has been blamed for siphoning some hotel business and contributing to a dearth of affordable housing in the valley. Short-term rentals were identified as the highest-priority issue resulting from Whitefish's growth in its Sustainable Tourism Management Plan, adopted in fall 2020.
THE SURGE in June visitation coincided with the first full month of Glacier National Park's new reservation system for the Going-to-the-Sun Road corridor.
Before the park implemented the ticketing system, many local business owners worried about the effects it might have on tourism in the area. Some wondered if visitors would divert their trips elsewhere if they couldn't get tickets.
Boyle said that hasn't happened.
"There is no indication that there's any negative impact of the ticketed entry system," he said.
Both Boyle and Medler emphasized it's been years since their organizations marketed Whitefish and Kalispell to tourists during the summer. People visit from all around to see the park, regardless.
"For us in the summer, it's all about visitor education," Boyle said.
Assistant editor Chad Sokol may be reached at 406-758-4439 or csokol@dailyinterlake.com. Reporter Bret Anne Serbin may be reached at 406-758-4459 or bserbin@dailyinterlake.com.
---