Summer school enrollment doubled at local high schools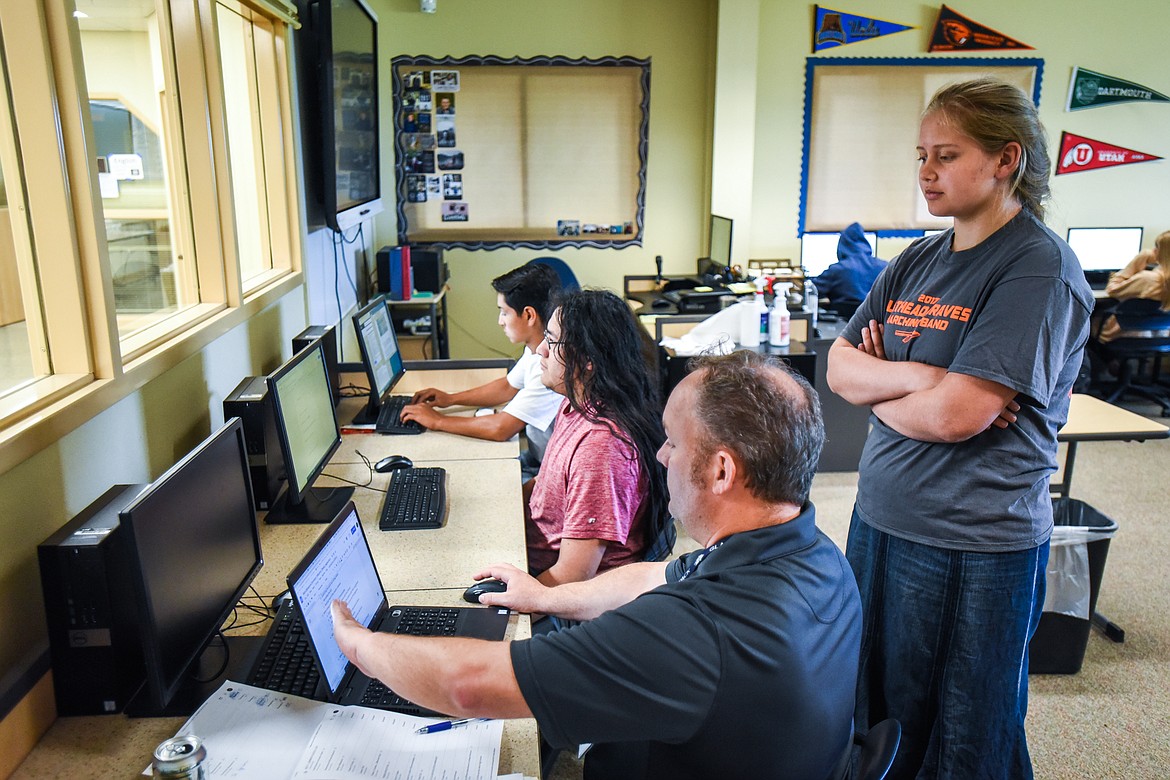 Flathead High School student Priscilla Wagoner receives instruction from business teacher Cameron Rozell during Kalispell Public Schools' high school summer school program at Glacier High School on Tuesday, July 13. (Casey Kreider/Daily Inter Lake)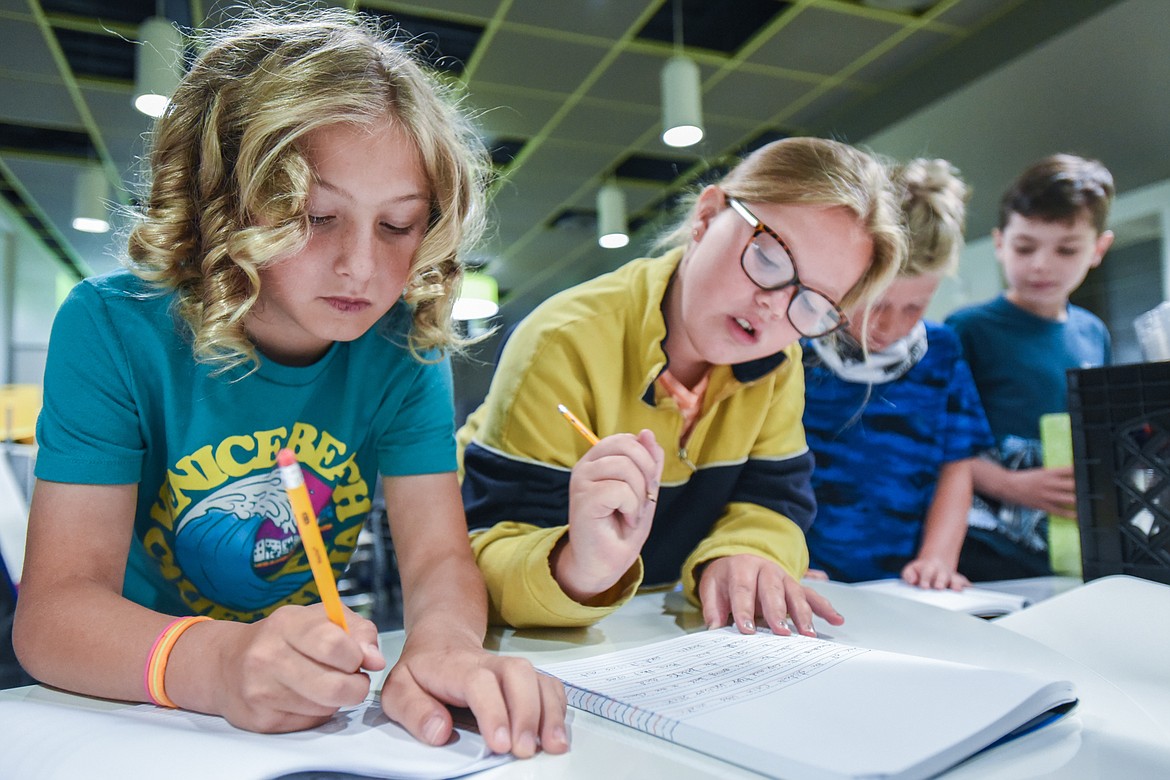 From left, incoming fourth-graders Elijah Walrath, River Knudsvig, Finn Irwin and Lucious Hatch work on a writing exercise during summer school at Muldown Elementary School in Whitefish on Tuesday, July 13. The students were given an abstract subject and asked to use adjectives and transitions to increase their writing stamina. (Casey Kreider/daily Inter Lake)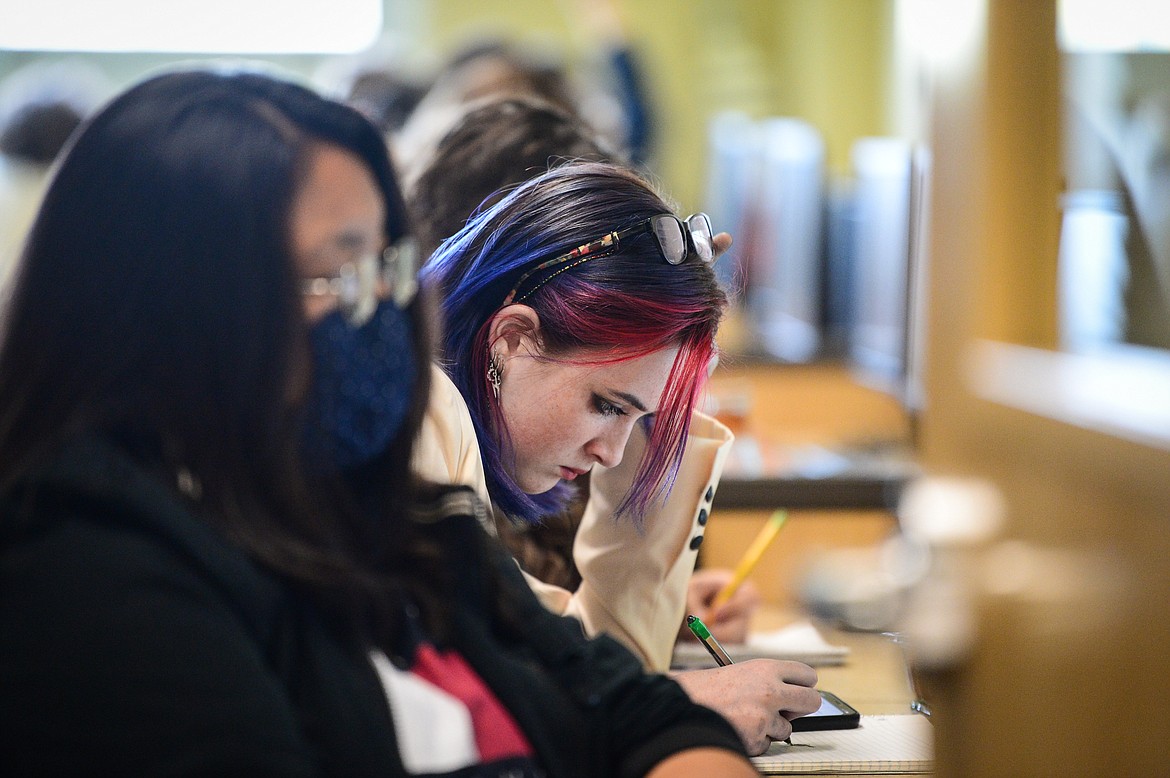 Flathead High School student Athena Wallace works inside a social studies and business classroom during the Kalispell Public Schools' summer school program at Glacier High School on Tuesday, July 13. (Casey Kreider/Daily Inter Lake)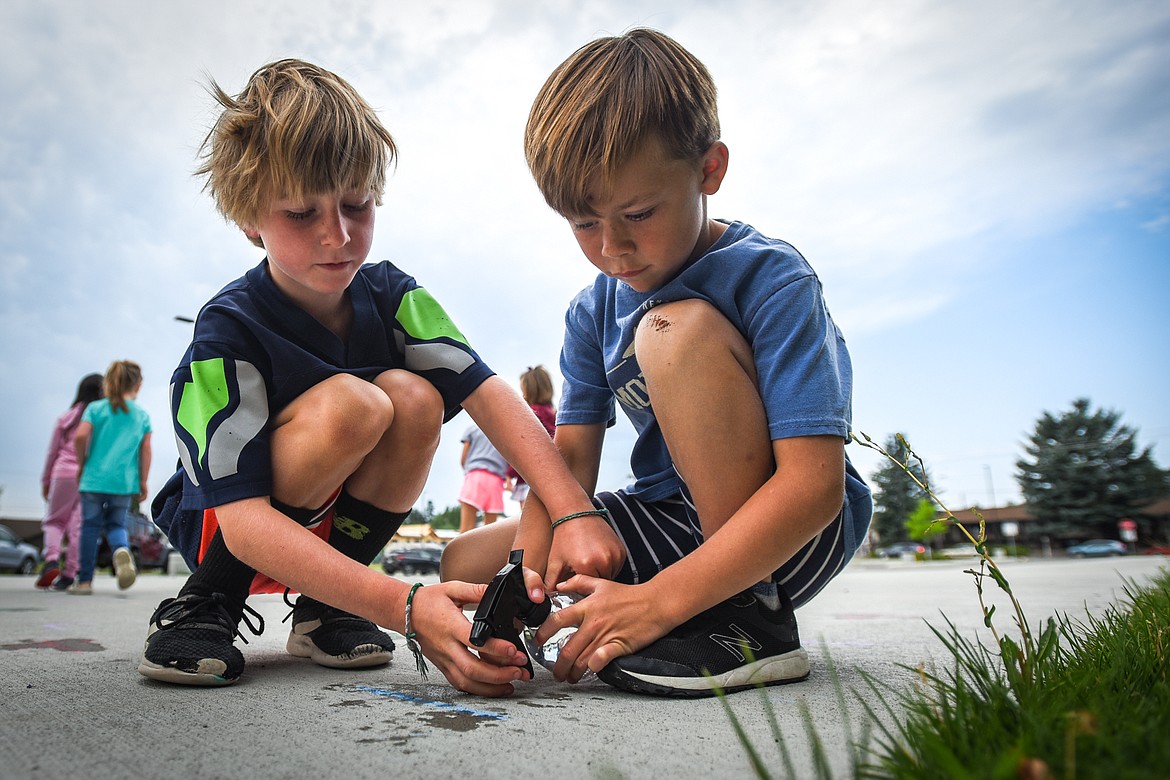 Stetson Morris, left, and Charley Duffey work on removing a letter written in chalk with a spray bottle during a summer school exercise at Muldown Elementary School in Whitefish on Tuesday, July 13. (Casey Kreider/Daily Inter Lake)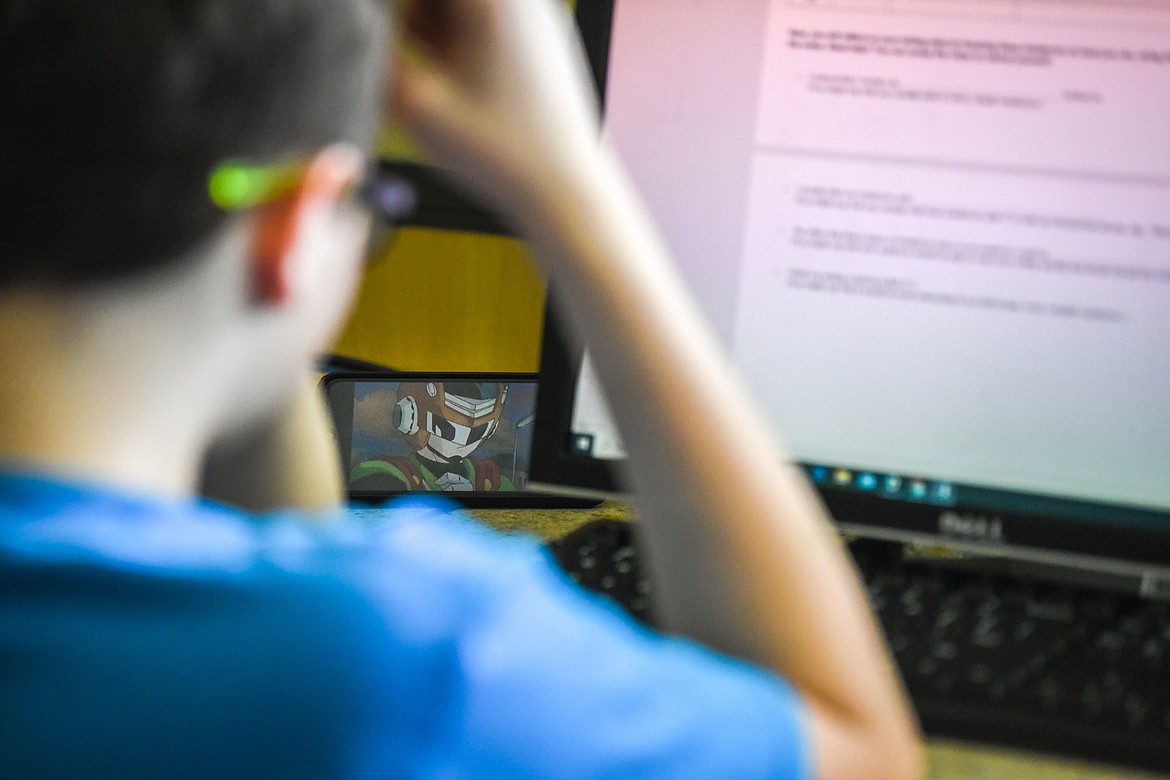 A student watches a video on his phone while working inside a lab during Kalispell Public Schools' high school summer school program at Glacier High School on Tuesday, July 14. (Casey Kreider/Daily Inter Lake)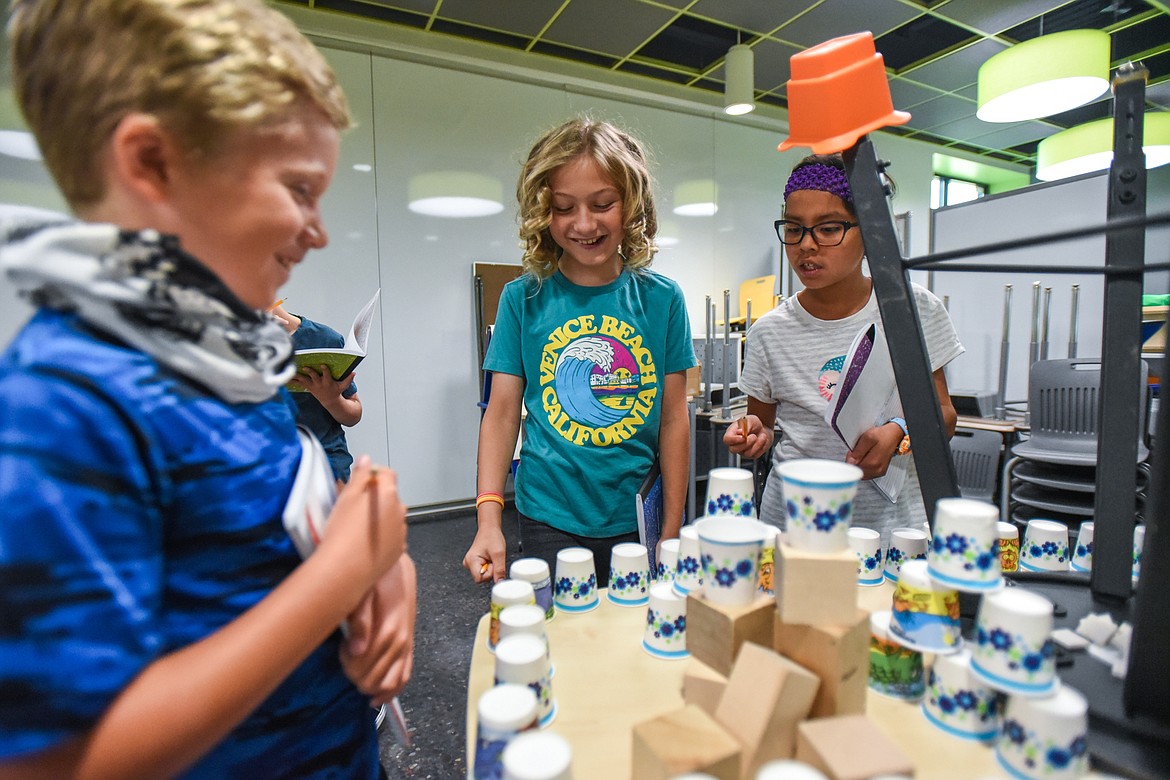 From left, incoming fourth-graders Elijah Walrath, River Knudsvig, Finn Irwin and Lucious Hatch work on a writing exercise during summer school at Muldown Elementary School in Whitefish on Tuesday, July 13. The students were given an abstract subject and asked to use adjectives and transitions to increase their writing stamina. (Casey Kreider/Daily Inter Lake)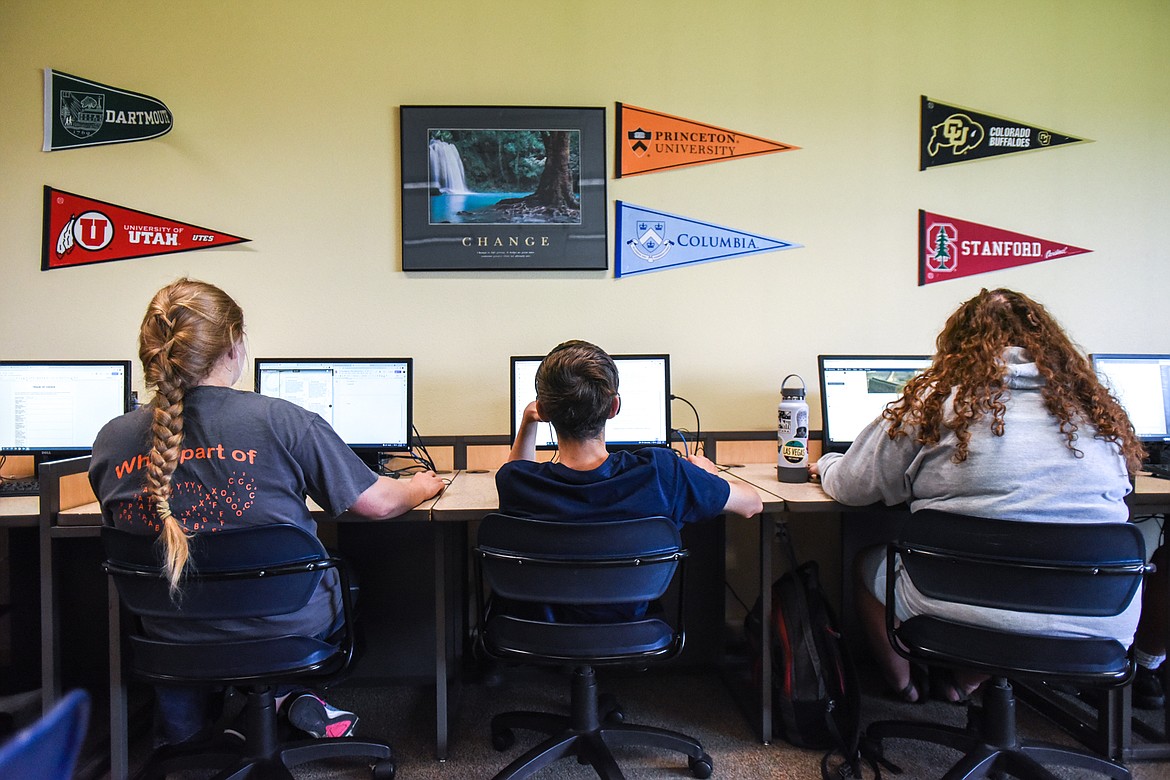 Students work at computers inside a social studies and business lab during Kalispell Public Schools' summer school program at Glacier High School in this July 13, 2021, file photo. (Casey Kreider/Daily Inter Lake)
Previous
Next
by
HILARY MATHESON
Daily Inter Lake
|
August 1, 2021 12:00 AM
Summer-school programs in the Kalispell, Whitefish and Columbia Falls school districts have seen enrollment double at the high school level this summer as students strive to compensate for challenges posed by the pandemic during the past school year.
Although many school districts in the Flathead Valley remained open with in-person learning when hundreds of schools around the nation went fully remote during the pandemic — quarantines and cancellations have taken a toll on students academically and emotionally.
How much of a toll is yet to be defined as the pandemic evolves.
For the 2020-21 school year, Kalispell and Columbia Falls schools kept classes on-site. Whitefish chose to continue a hybrid model of on-site and remote learning. Districts also offered full-time remote options to students.
Despite providing credit recovery and tutoring opportunities during the year,
"I think the combination of the teachers, the school board, the community really did a fantastic job of saying, 'What do we need to do to get kids here in class?" Kalispell Public Schools Summer School Director Anthony Lapke said. "At the same time, there were students who would be close contacts and would have to quarantine for 10 days and sometimes that happened to them multiple times in a semester and that's just so much harder for them to maintain their courses. Even if great efforts were made — it's just harder."
At the high school level, students typically take core classes in English, math, science and social studies at summer school. Students usually are referred to the program by staff or parents, and students themselves can opt in if they failed a class or need more credits to graduate. Sessions typically last a few weeks and are computer-based.
This summer, about 244 students from Flathead and Glacier high schools attended, up from 102 students in 2020.
Columbia Falls and Whitefish school districts also saw increased participation at the high school level. Both estimated the number of participating students doubled compared to last summer.
Whitefish School District Summer Learning Program Coordinator Kate Preston said more than 40 students attended this year. Columbia Falls High School Principal John Thompson said roughly 80 to 90 students attended summer school.
Schools will continue with credit recovery opportunities in the coming year to continue helping students who fall behind. For example, Columbia Falls will add a third credit recovery class period where students have time to focus on catching up, according to Thompson.
WHILE DISTRICTS work to place all students who want to attend summer school, programs received a financial boost from state and federal COVID-19 relief money.
This year, Kalispell added more staff members, which meant more one-on-one time with students.
"This year, we made a big jump. I added five teachers and a para, so I almost doubled our program in terms of staffing," Lapke said.
Columbia Falls and Whitefish added elementary programs — not just to help struggling students get back at grade-level benchmarks, but to offer fun, structured educational activities over the summer and curb potential summer learning loss.
"A lot of our academic testing showed our students did not suffer great learning loss, so we're looking just for those opportunities to move students forward, but also enhance learning," Columbia Falls Superintendent Dave Wick said.
Preston and fellow Whitefish School District Summer Learning Coordinator Jen Hilder said their elementary program has a different focus in its morning and afternoon sessions.
"The morning is more tailored to individual student goals I would say," Hilder said, such as in core subjects of reading, writing and math interventions. "Teachers who refer students also send over learning goals for each of the students and the activities we've built for each grade level are based on the learning goals sent over by the teachers."
The afternoon sessions are geared toward experiential learning Preston said, with a variety of hands-on projects and outdoor activities.
"It's not what you would call a conventional summer school, it's an extension of learning and we are able to provide this because of the ESSR funding available in the district," Hilder said.
With children missing a lot of days due to quarantines, Hilder said summer school is an avenue to build student's stamina.
"The stamina to read more, to write more," Hilder said.
Both sessions, however, had "fun" built in with a multisensory approach to planning activities, and, of course, letting children make those critical social and emotional connections the school year provides.
"And a lot about this summer is just kids reconnecting with friends and social/emotional learning," Hilder said.
THE PANDEMIC has shined a spotlight on how social interactions during the school day or disruptions to routines affect mental health and wellbeing for children of all ages.
"The best way to learn is not only face-to-face with teachers, but with classmates," Wick said. "Students are also learning from others and interacting. Learning in isolation is difficult. When you're face-to-face with a screen it's different from being live with someone," Wick said.
Academics will probably be the easiest, or most accessible, for educators to assess and tackle. The mental-health aspect may be more challenging.
"The social aspect didn't manifest itself right away," Thompson said.
Maintaining connections is where some really struggled when going remote, which affected their motivation to do schoolwork.
"I think, overall there was just an increased level in stress and anxiety through this year that I think made it harder for students. I think everybody's jobs became harder," Lapke said.
Kalispell high school student and summer school participant Nick Barran was in quarantine twice, once with COVID-19 where he experienced a fever, sore throat and coughing severe enough at one point, he said he coughed up blood, and was gone for two weeks. The second time he was in quarantine after being identified as a close contact.
"When I got quarantined again as a close contact, at that point I had caught up with the two weeks [out with COVID]," Barran said.
"And then I got behind again, and then I got behind again, and then I was just kind of over it," he said.
The switch between missing school, going from remote classes on the computer to in-person traditional classes disrupted routines and the adjustment was stressful, impacting his grades.
"I did a little bit of work, but I didn't do a ton because for me, when I'm at home I'm kind of distracted with all the stuff so it's hard to do school work," Barran said.
He added that the experience has led to a mix of emotions such as frustration and depression.
"I never thought I'd be in summer school. I'm a 4.0 student for the first two years [of high school] and the first semester of my junior year I got a 4.0 and then I kind of went downhill," Barran said. Hoping to get back on track to graduate on time this coming school year, he took history, English and math at summer school.
The experience has led him to reevaluate his goals after graduation. For now his goal is to finish high school.
"Get good grades and see from there. I think I'm going to take a gap year before college and I'm not even 100% sure if I want to go to college," Barran said. "Student debt kind of scares me."
TAKING CLASSES remotely also took an emotional toll on Kalispell high school student Diego Rojas.
"I was getting tired and I was stuck in a super depressive mindset because of everything that was going on and I just felt like I didn't have anyone around me to help me and push me with that extra step," Rojas said. "I missed having all my friends around. I was stuck in the house, I think, for about four months."
Rojas had a hybrid schedule built with all but two classes to be done remotely after a rough start to last school year when he experienced the loss of family members and needed to be home to care for a parent who had a heart attack.
"... which I was thankful for," Rojas said, "but at the same time after awhile I just kind of lost motivation for doing any of the work, which is why I didn't do too well in a couple of my classes and I want to play football next year and in order to play football I need to be eligible and I'm doing this summer school so I can play."
"I'm doing it for myself and for my parents and for my coaches," he said.
WHILE SUMMER school student Jazlyn LaPierre also struggled with mental health, she saw a silver lining to how the pandemic appeared to provide a commonality among students. Despite differences in backgrounds, academic and athletic abilities, social circles or popularity perceptions, many students were experiencing, or working through, some degree of stress, anxiety, depression or isolation, which was eye-opening to LaPierre. She said the pandemic had a way of humanizing people who others may have preconceived notions about.
LaPierre herself was quarantined twice and worked hard to make it into her school's select choir only to see traveling performances canceled because of pandemic restrictions.
"I feel bad for a lot of the kids who were used to a lot of the social events, like those main events, and sports activities and everything because a lot of them were affected by it and they weren't used to that," LaPierre said.
At some point, the soft-spoken student considered dropping out of school and working.
"I was skipping school a lot and one of the times I came in my counselor called me down and said, 'Hey summer school is an option, and I was like, 'Yes, I want to,'" LaPierre said.
She said earning a diploma was not just about stepping into young adulthood on the right foot, but "have everyone see I'm doing better and being strong for them."
One and a half credits later, LaPierre earned her diploma with 22 other students in Kalispell's summer school program.
"It means a lot because I didn't think I would make it. I had a lot of doubt in myself and that I'm actually doing it is helping a lot with how I feel about myself," she said.
Lapke added, "It's been a hard run. For them to be able to get these successes it just gives them hope for the next year."
Reporter Hilary Matheson may be reached at 758-4431 or by email at hmatheson@dailyinterlake.com
Recent Headlines
---