Evacuation orders remain in place for Boulder Fire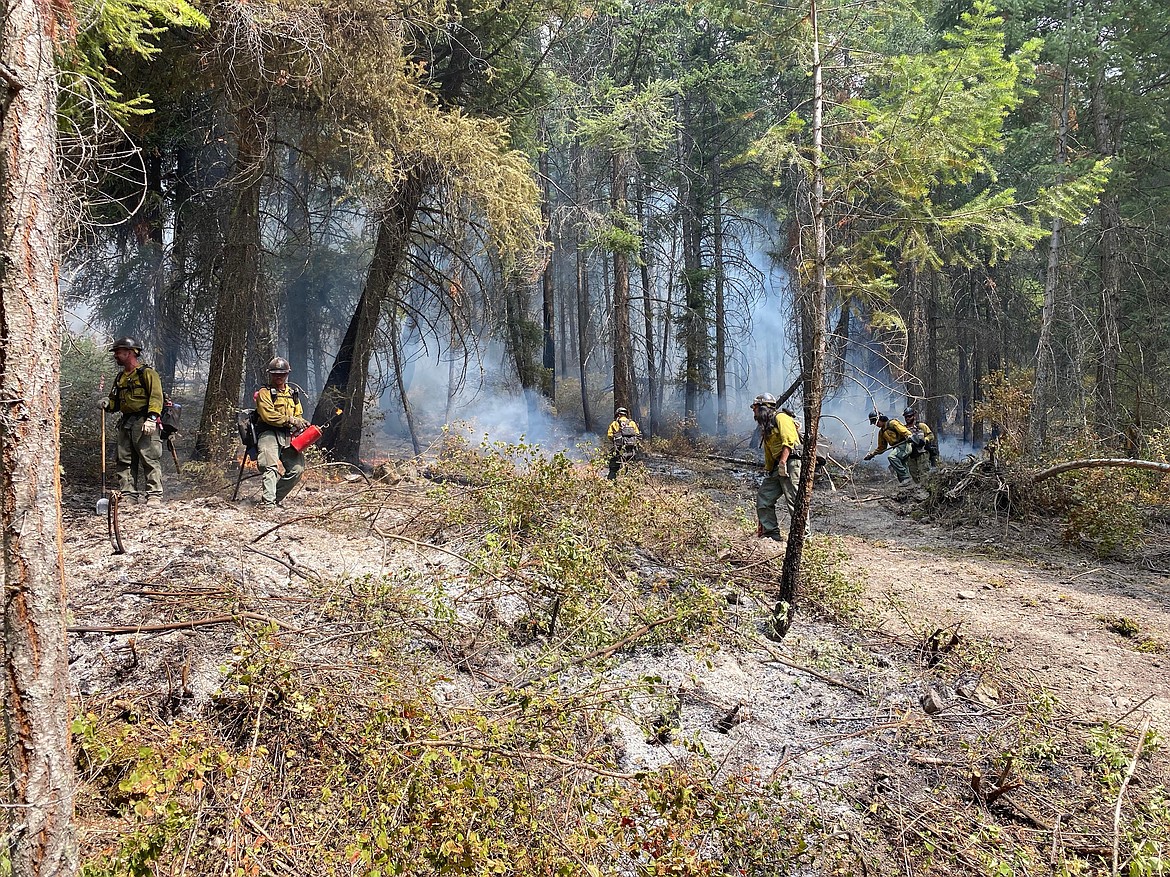 Firefighters work on the perimeter of the Boulder 2700 Fire east of Polson on Monday, Aug. 2, 2021. (InciWeb)
by
CHAD SOKOL & MATT BALDWIN
Daily Inter Lake
|
August 2, 2021 11:00 AM
Evacuation orders remained in place Monday for residents displaced by a wildfire burning in the Mission Mountains along the east shore of Flathead Lake.
The Boulder 2700 Fire had burned more than 1,100 acres and was 0% contained as of Monday. Crews had used air tankers to drop lake water and retardant on the blaze, and Monday's drizzly weather offered a temporary reprieve after gusty winds on Saturday made the fire explosive and unpredictable.
"It's an extraordinarily hot fire," said Lt. Bryce Muench of the all-volunteer Finley Point/Yellow Bay Fire Department. "We've got a lot of deadfall on the ground and it's not helping the situation. That hillside hasn't burned in a long time."
Residents of the lakeshore east of Polson were ordered to evacuate early Sunday as the wildfire crossed Montana 35 and burned structures between mile markers 9 and 10.
Though one official previously estimated up to 20 structures may have been destroyed, Finley Point Fire Chief Brent Burland said the actual number was fewer than 10 as of Monday. He wouldn't say how many of those structures were homes.
The fire is believed to be human-caused and is under investigation.
The fire area received about 0.10 to 0.5 inches of rain overnight Sunday, which fire managers described as "insignificant." Higher humidity and cooler temperatures, however, were helping the firefighting efforts on Monday.
"We've got our hands around it," Muench said. "Structures, at this moment, are in a safer condition than they have been in the last few days. So I'm confident that this weather today is helping things, and we're doing the best we can, at this point."
Burland cautioned that temperatures were forecast to exceed 90 degrees on Tuesday, which could quickly exacerbate the situation.
"When it gets hot again, it's going to just light back up," he said.
The evacuation order affects all of Finley Point and the Skidoo Lane area, and homes on Montana 35 from mile marker 6 to marker 13. The highway is closed in both directions from the junction with U.S. 93 in Polson to Blue Bay at mile marker 15.
AMONG THOSE who evacuated were Russ Harshberger, his wife Lori Frank, their 16-year-old son and two of his teenage friends, who were visiting friends along Skidoo Lane and camping in a travel trailer nearby.
Harshberger, a Kalispell native who now lives in Happy Valley, Oregon, said the sky emitted "a red glow" when his group tucked in Saturday night.
"We couldn't go to sleep because we were worried about the fire," he said. "Once it got dark, the fire really started taking off."
Around 1 a.m., Harshberger said, a sheriff's deputy stopped by and said they needed to leave immediately. It was pitch-black outside and he didn't feel comfortable hitching up the trailer, so everyone piled in the truck and they drove away — only to be evacuated a second time from their friends' house on Skidoo Lane.
A Northern Rockies interagency incident management team took command of the fire at 6 a.m. Monday and was working to protect structures and establish containment lines on the northern and southern flanks. Fire crews also are helping the Lake County Office of Emergency Management assess structure damage.
Burland, Muench and other fire officials are pleading with residents to be patient as they work to get the blaze under control.
The Red Cross has established a shelter at Linderman Elementary School, 312 Fourth Ave. E. in Polson, and a community meeting was planned Monday evening at Polson High School.
Recent Headlines
---