New brewery opens in Thompson Falls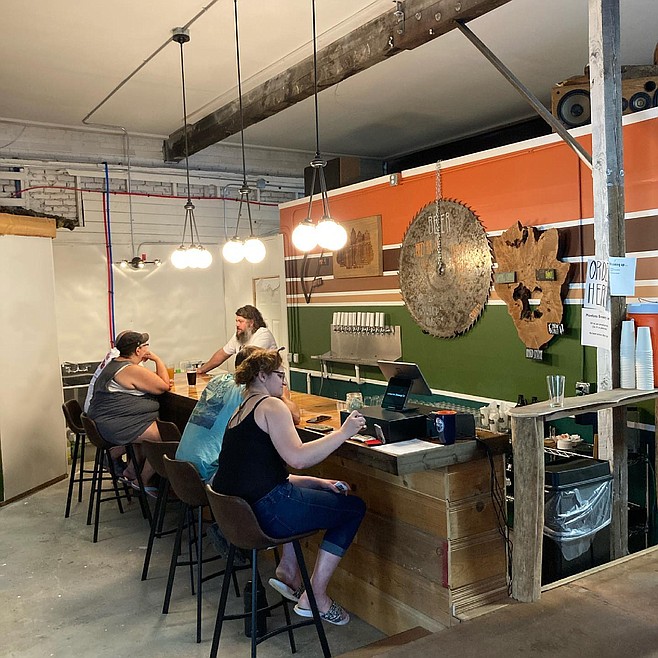 Zach Whipple-Kilmer chats with customers at his new business, Limberlost Brewery, in Thompson Falls. (Courtesy of Limberlost Brewery)
by
ADAM LINDSAY
Valley Press
|
August 8, 2021 12:00 AM
After more than a decade in the making, Limberlost Brewing Co. is open in Thompson Falls.
Two northwestern Pennsylvania natives — Zach and Kate Whipple-Kilmer — learned from a close friend how to brew beer more than a decade ago. They saved their money, bought their equipment and bided their time.
In 2015, the couple bought the building that housed Montana Coin World. It was most notably home to Westland Chevy and was also a flower shop, the location of AA meetings, and a salon.
History is a major component of Limberlost, too.
The wood used to build the bar was milled at the former Diehl Mill in Plains. It was originally used to build the ski lodge on Montana's Baldy Mountain.
Two old saw blades displayed in the brewery are a nod to the rich legacy of the region's timber industry. One blade from the Anaconda mill in Bonner, Montana, is used as the beer board; the other hails from an old mill in Superior.
The Whipple-Kilmers bought original tongue-and-groove lumber from the Corona Lake Ski Club Lodge in Plains, and Billy and Nicole Setter did the remodeling.
In preparation to open Limberlost, the Whipple-Kilmers traversed Montana, trying as many different breweries and beers as they could find. Their goal was to create a style no one else had.
Two of their major inspirations were Northwest Montana breweries — Bonsai Brewing Project in Whitefish and Backslope Brewing in Columbia Falls.
The Whipple-Kilmers put together the brewery little by little, buying and installing things as the money came in. They've both had an interest in brewing for a long time and used to do small custom batches at home. Zach Whipple-Kilmer said the biggest differences between brewing at home and doing it as a business are the scale and level of sterilization involved.
"The ultimate goal of our business is to provide a way that a young family in the valley can make an honest living," he said. "However, money is not everything to us. Being able to give back to our community and help our local nonprofits [is important.] We love Sanders County, and we want to keep our rural way of life intact. We also want to provide a family-friendly atmosphere and a community gathering place for folks in the Lower Clark Fork Valley, including Hot Springs and eastern Sanders County."
The Whipple-Kilmers received a grant in 2019 from the Montana Agriculture Development Council's Growth Through Agriculture program, but the $19,000 grant required an even match from them. The grant program was established by the Legislature to strengthen and diversify Montana's agriculture industry by developing new agricultural products and processes.
Limberlost brews not only beer, but also seltzers and sodas.
Future improvements to the brewery will include a map where people can leave markers of where they're from, an outdoor seating area and a stage.
Limberlost is open from 3 to 8 p.m. Wednesday through Friday, from noon to 8 p.m. on Saturday and from noon to 6 p.m. on Sunday.
Recent Headlines
---